advertisement
Scorpion Bay Surfing and Fishing Club Scorpion Bay Hotel available! ... founded by Fred Borrelli

_______________________________________________________________________________________________________________________

all photos and content are the strict copyright of TheSocialDiary.com
no downloading!!
photos are available for purchase if it is of you!
Very 'Cool Women' Honored
at Tiffany's
"The Girls Scouts provide a wonderful opportunity for young women to achieve their potential. I am honored to be named by the Girls Scouts as one of San Diego's 10 Cool Women of 2009 and wish both organizations continued success in our community."
- Joan Waitt, 2009 'Cool Women' Honoree

Some very 'Cool Women' gathered March 11th, 2009 at Tiffany's Fashion Valley for some delicious coffee, breakfast by the bite, shopping, and most importantly, a ceremony to honor this year's Girl Scouts San Diego -Imperial Council cool list. That would be 'San Diego's 10 Cool Women of 2009!'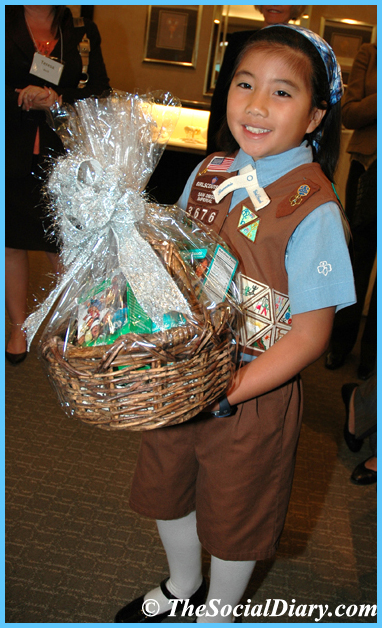 Brownie Girl Scout Sabrina Nguyen greeting guests
These are the women who are "outstanding role models for girls, balancing work, family, friends and service.
The Girl Scouts 10 Cool Women of 2009 are:
Judith Harris - Chair of the San Diego Public Library Foundation, Community Volunteer, and committed board member to the Dian Fossey Gorilla Fund International.
Divya Kakaiya, Ph.D. - Founder / Clinical Supervisor, Healthy Within Inc.
Gail Levin - Chair, Alzheimer's Association Board, Community Volunteer
Patricia McQuater - Senior Corporate Counsel, Solar turbines, Inc.
Fay Moini - Rotary International representative to the U.S. National Commission to UNESCO
Robin Nordhoff - Community Volunteer
Sarah Reinerstsen - Paralympian
Debra Scott - Executive Chef/Partner, Indigo Grill, Kemo Sabe, Island Prime/C Level Maureen Sullivan - President and Publisher, San Diego Magazine
Joan Waitt - Community Volunteer
And there was so much more to the event.
Solveig Deuprey, the President of the Board of Girl Scouts San Diego / Imperial Council spoke from the heart about leaders and setting an example.
Solveig added this when speaking to attendees. "I represent the local Girl Scout membership of nearly 30,000 girls and 12,000 adults. The mission of our 97 year old organization is to build girls of courage, confidence, and character, who make the world a better place.
Girl Scouts is America's premier leadership development program for girls. We hope today's Girl Scouts grow up to become just like the courageous, confident, charismatic and cool women we're honoring today."
And they were cool. Girl Scout Roshni Kakaiya was there to witness her mother's honoree award. Also there was Brownie Girl Scout Sabrina Nguyen.
More there at this special event were Event Chair Marla Black, Jo Dee Jacob the Chief Executive Officer of Girl Scouts San Diego-Imperial Council, and Barbara Bry from the initial first year of Cool Women, class of 2001. Other Cool Women there from past years included Marissa Bejarano, Linda Katz, Delores McNeely, Carol LeBeau, Rana Sampson, Patti Roscoe, and Mary Walshok.
Representing sponsor Merrill Lynch, Krista Niswander was there too.
Cool Woman Darlene Shiley did a great job being a one woman stimulus package. She bought a very pretty emerald ring.
Lucky were all guests going home with a Tiffany's bag. Inside were Girls Scout cookies. 'Cool Thin Mint Cookies of course!
And Remember....
The Girl Scout Promise
On my honor, I will try:
To serve God and my country.
To help people at all times.
And to live the Girl Scout Law.
The Girl Scout Law
I will do my best to be
honest and fair,
friendly and helpful,
considerate and caring,
courageous and strong, and
responsible for what I say and do,
and to respect myself and others,
respect authority,
use resources wisely,
make the world a better place, and
be a sister to every Girl Scout.
To learn more about the Girl Scouts San Diego -Imperial Council, please visit www.girlscoutssdi.org
Please enjoy the photos!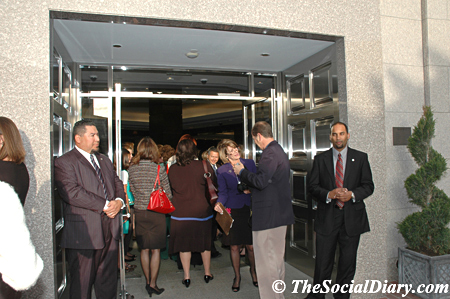 Guests entering Tiffany's past the Security Team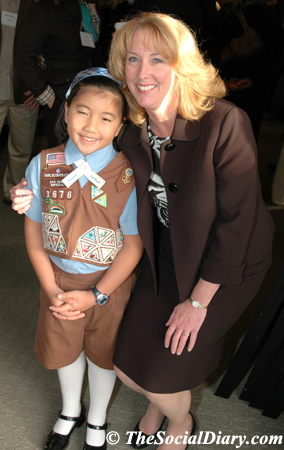 Sabrina Nguyen with Peggy Stephenson
Gail Levin with Joyce Glazer, Darlene Shiley and Jo Dee Jacob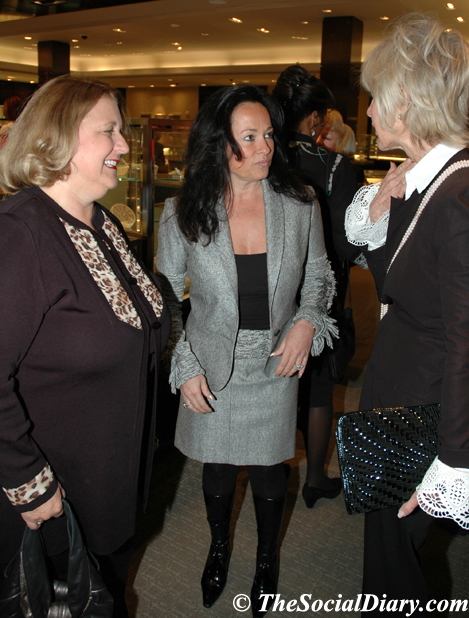 Guest with Joan Waitt and Judith Harris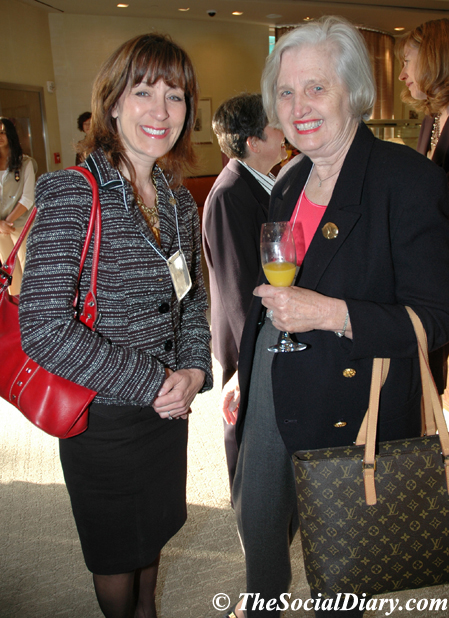 Barbara Janszen with Barbara Groce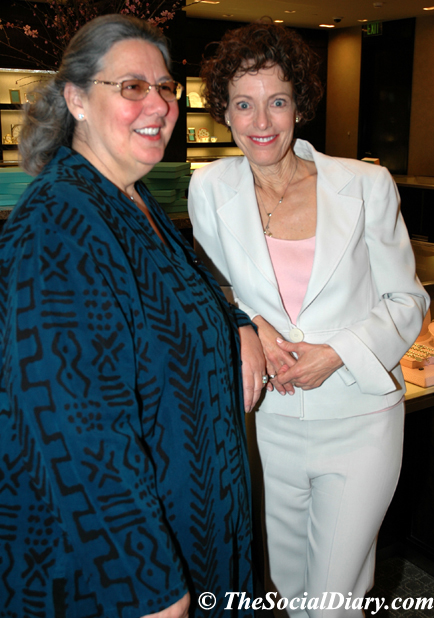 Darlene Shiley with Linda Katz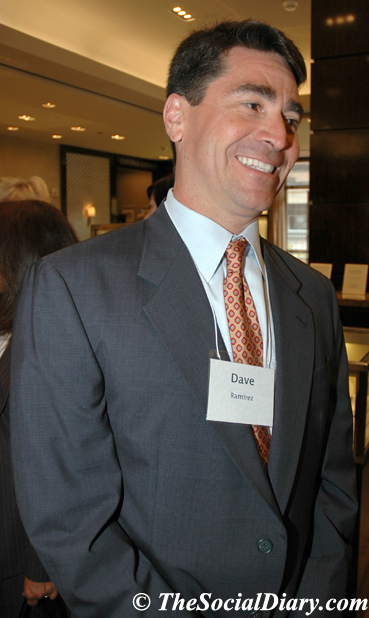 David Ramirez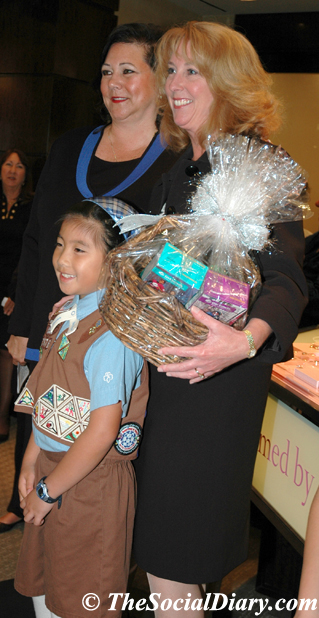 Brownie Girl Scout Sabrina Nguyen with Marla Black and Peggy Stephenson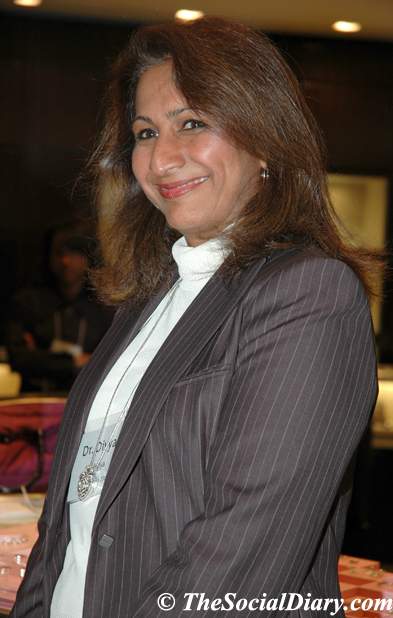 Divya Kaikaiya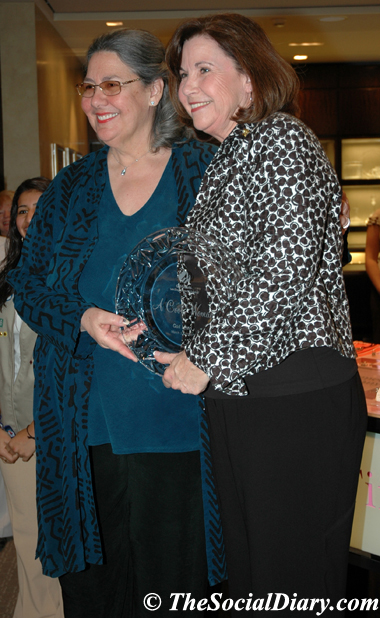 Darlene Shiley with Gail Levin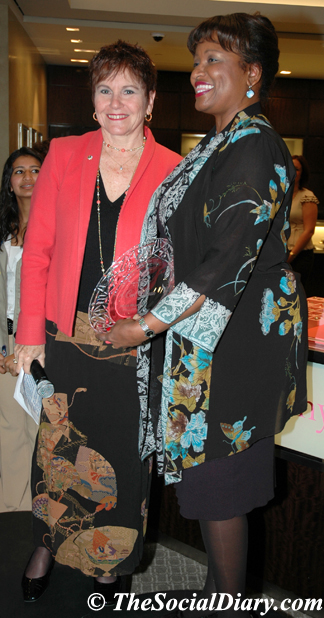 Patti Roscoe with Patricia McQuater
Have a great week!
The Buzz
Kima and Hugh Jackman.....
Oh yes, that was Kima, The Social Diary's German Boxer kissing actor Hugh Jackman last Sunday morning. Kima was hanging with Mom and Dad in the lobby of their hotel in Beverly Hills when who came over but Wolverine, star of Australia the Movie, The Oscar's emcee, Hugh Jackman. He was very cordial and loved Kima....so Kima loved him back with lots of kisses. Hugh was there with his son Oscar. They were later followed by Hugh's wife Deborah Furness. They make rather the golden good looking couple with oodles of talent.
more star kissing by Kima ............
And Kima was on a kissing rampage in Beverly Hills over the weekend. The night before her encounter with Hugh Jackson, Kima was at the Genesis Awards for the Humane Society of the United States. Among the stars kissing Kima and vice a versa were Corey Feldman and his wife Susie, Jennifer Coolidge, the MILF in American Pie, and the ever sexy gal in Best in Show and Legally Blonde, and Paul McCartney's former wife Heather Mills, who is now better known as a terrific supporter protesting Canadian seal slaughter.
Malibu Sunday brunch at its finest.................
Meanwhile over in Malibu, Tra di Noi still serves up the best Sunday Brunch. And they do it with Italian panache.
And the shopping is great too!.... Madison's, Planet Blue and a stop in at the very cool Traditions Jewelers.
Need a house with some 'extra' closet space?? .......................
Candy Spelling was out and about supporting the Genesis Awards too. Candy is an animal lover big time. She's also big in the news for her gy-normous home for sale. It's 56,000 plus square feet.... lots of closet space and a steal (tongue in cheek) for $150 million..... Yipes!
Upcoming Events
April 25th - Red Shoe Ball celebrating the opening of the new Ronald McDonald House. Please visit www.RMHSD.org for more details and tickets.
May 1st - A fundraiser for Childhelp with a red white and blue theme. For more information please visit www.reddressball.com
May 9th - The feast of the feast many of the top San Diego restaurants! Mama's Kitchen will host their popular event at the Hyatt Aventine in La Jolla. Please visit Tickets are on sale now at www.mamaskitchen.org for tickets.
May 14th - TV Fashion Personality Leonard Simpson presents"Fashion Hits a High Note" the Lyric Opera San Diego's 30th Anniversary and the Birch North Park Theatre's 80th Birthday. Sally B. Thornton is Honorary Chair. To be held at the Birch North Park Theatre. VIP Gold Circle Tickets: $50, Reserved Seating: $35 (619) 239-8836 www.birchnorthparktheatre.net
May 16th - A Cheetah fundraiser in Pasadena with Laurie Marker. Please visit www.cheetah.org for details. Thursday,
May 21st - CCSSD will host its annual tea with Keynote Speaker Marian Wright Edelman. Please click www.ccssd.org for tickets.
June 6th - The Arthritis Foundation walk. The Arthritis Walk® is the Arthritis Foundation's annual nationwide event that raises awareness and funds to fight arthritis, the nation's most common cause of disability. It is a tremendous opportunity to help improve the lives of the 46 million men, women and children doctor-diagnosed with arthritis.
And Kima is the Dog Honoree for the walk! So 'Let's Move Together!'
To learn more about arthritis and this walk, please visit
www.arthritis-sandiego.org/walk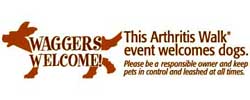 Dogs get Arthritis too!
Reported by Margo Schwab
________________________________________________________________
Photoshopping and Photography Services
Photos on this website available if it is of you
available by The Social Diary
~ 619-384-7333
email TheSocialDiary.com
_____________________________________________________________________
Email Commentary to be added
email editor@thesocialdiary.com
* Margo Schwab, more formally known as Margaret E. Schwab, has produced, written, interviewed and photographed for various media organizations since 1989. Schwab attended Holton Arms School, La Jolla Country Day School and La Jolla High School. Schwab has a B.A. from Scripps College, spent a business internship with S.A.I.C., Science Applications International Corporation, and earned a Masters of Business degree, M.B.A., from the University of San Diego. Schwab additionally took college courses from Harvard University, and Syracuse University. Schwab volunteers for numerous charity organizations. She also continues to support animal organizations and the prevention of people and animal abuse. Schwab is the editor of The Social Diary.
Warning ** photos, video and writing on this site are the
copyright of The Social Diary, San Diego Social Diary
no reproduction of any part or parts is allowed without written permission by The Social Diary