~ The Social Diary ~
____________________________________________________________
Golden Hanger Fashion Awards Gala Benefiting Make-A-Wish Children

December 15th, 2006
The Social Diary Columnist & Photographer Margo Schwab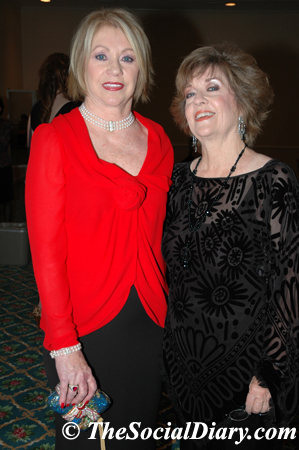 Philanthropic Honoree Joyce Glazer with Pat O' Conner, the Event Chairwoman and Event Founder
San Diego's Fashion Career College Founder and CEO, the formidable Pat O'Conner, has intricately woven two of her loves, design talent and Make-A-Wish fundraising into one spectacular event. The perfectly designed gala is aptly called the Golden Hanger Fashion Awards, and this year marked the 20th anniversary. This year the event was once again held at the Town & Country Resort & Convention Center.
Pat, who once again served as the Golden Hanger Chairperson, summed the event up poignantly. The "night was really about the talented fashion design students and all the hard work that went into their collections. I think you could feel the energy and spirit in the audience that this was an event that was not just about fashion but something more. It was about getting involved by participating in the event: getting up to give money for the wishes of the Make-A-Wish kids, cheering for their favorite student designer, applauding the models, celebrities, and Make-A-Wish children. There just seemed to be a whole lot of love in that audience!"
Joyce Glazer with Margo Schwab ** Joyce Glazer with Pat O' Conner ** Vicky Lavanty with Margo Schwab and Zandra Rhodes
At the VIP reception (and later during the regular program), Pat announced special recognition to Honorary Chair Zandra Rhodes and special Honoree, Joyce Glazer. You couldn't miss international designer Zandra Rhodes with her bright pink hair. Joyce was spectacular in Emanuel Ungaro. She bought the red ruffled gown in Paris. Joyce has also been known though to have custom gowns by FCC designers as well. And she knows well how to support the community too. On this night Joyce was honored for the multitude of philanthropic deeds that she has done for San Diego. From museums, to the arts, to Make-A-Wish. You name it, Joyce has been involved.
Deeply touched by the Golden Hanger Gala Honoree accolade, Joyce had this to remark. "To have an event that provides so much joy to children with life threatening illnesses is truly the best of the best. I have never done anything for others thinking about what I would get back for it or any recognition that I may receive, but I must say I was truly honored to receive this prestigious award."
Scott Johnston with Jemima Garcia-Rojas and Ruben Galvan ** Margo Schwab with Pat Brown and Jeanne Jones ** A young and fashionable guest
Fabulous dress back and tattoo ** Guest with Nanci Washburn ** Tanya McAnear
FCC Graduate and rising star designer Jemima Garcia-Rojas reflected on her design education culminating with the evening's gala. "My experience at FCC was great. I was able to learn everything I needed in order to start a career in fashion. The Golden Hanger event was the most exciting part of attending FCC. All of our hard work and dedication was finally on view to the public and it was amazing! Being a designer for the Make-A-Wish segment was the best part. It enabled me to meet with some wonderful kids and a fabulous celebrity! I feel honored to have been a part of something that can make a difference in our community."
Ed Glazer, guest, Pam Slater-Price and Hershell Price ** Golden Hanger Honorees of the Years
Troy Peckham's family with Margo Schwab ** Margo Schwab with Alyssa Monk's family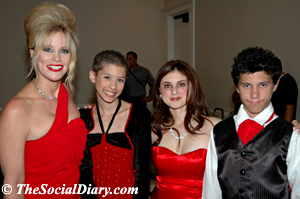 Event Celebrity Margo Schwab with Alyssa Monk, designer Jemima Garcia-Rojas, and Troy Peckham
advertisement
Sandra Maas had a great time as emcee and celebrity participant once again this year. "The Make-A-Wish Fashion Show is something I truly look forward to every year. Despite all they've been through, the kids I get to meet are so upbeat and resilient. And to watch their faces light up as they stroll the runway to all the cheers and applause is priceless."
Syndicated health food columnist and celebrity model Jeanne Jones agreed with the evening's premise. "What a wonderful way to support the Make a Wish Foundation--- and allow the children to have fun and feel good about themselves while you're doing it."
Jeanne also imparted this with a smile. Earlier in the evening a guest was swearing they had just seen Jeanne's beautiful one shoulder gown in Neiman Marcus. Jeanne informed them that actually her gown was was created by FCC student designer Michelle Delfiacco.... but the gown could easily have been in Neiman's!
Event Celebrities Ruben Galvan and Margo Schwab ** Scott Johnston in red ascot by Jemima Garcia-Rojas ** Margo Schwab with Alyssa Monk and designer Jemima Garcia-Rojas ** Alyssa Monk with her family
Scott Johnston with Event Celebrity Margo Schwab in coordinating ascot and gown by Jemima Garcia-Rojas ** Alyssa Monk, Margo Schwab and Zandra Rhodes ** Margo Schwab with Alyssa Monk and Jemima-Garcia ** Margo Schwab with Alyssa Monk, designer Jemima Garcia-Rojas, and Troy Peckham
With FCC's colossal design talent, San Diego fashionistas are already ringing up for fittings from this year's show.
On a personal note, my talented designer, Jemima Garcia-Rojas has already designed two additional couture dresses for me. Meanwhile her fitting schedule is starting to bustle. Everyone wants her number, and with reason. The gown she designed for me for this gala was deceptively ingenious and beautiful. The gown is actually two pieces, a lightly boned top, and a separate full skirt allowing more practical usage. The top is rusched, hand beaded, lightly boned, and has a removable sash to throw dramatically over one shoulder. What fun, what talent!
And there was even more talent on hand. Other student designers in addition to Jemima Garcia-Rojas were: Alana Davis, Elise Holmes, Robin Johnson, Althea McGowan, Michelle Novak, Jacklyn Porteus, Ereka Prevot, Lizzie Reardon, Amy Rivera, Christina Ruiz, Sarah Schneider, David Souza, Kate Stallons, Andrea Straw and Kristina Talaro. Melissa Davis, and Jeanie Haar. Michelle Baker, Jeni Bailey, Kristen Brown, Melanie Bukal, Cynthia Calderon and Fanny Carbonara.
Make-A-Wish stars included: Kristen Jansen and Daniel Pepper, walking with celebrity Pat Brown, all in Jennafer Carter designs, Haley Debolt and Jasmine De Andres walking with celebrity Jeanne Jones in Michelle Delfiacco designs, Marissa Straton and Augustin Gatus walking with celebrity Ruben Galvan in Alana Davis and Robin Johnson designs, Angelina Held and Leticia Bruce walking with celebrity Sandra Maas in Tasha Beckman designs, and Alyssa Monk and Troy Peckham walking with celebrity Margo Schwab in Jemima Garcia-Rojas designs.
Alyssa looked beautiful in her sparkling red gown with gold sparkles in her hair. Alyssa carried a toy poodle. Troy looked quite dashing in vested attire with an ascot. Alyssa is interested in multi-media. Her wish was granted when she traveled to Hawaii with her family. There she enjoyed a helicopter ride, a luau and swimming with dolphins. Troy loves sports, video games and reading. In November Troy got his wish by going to Panama with his parents and his best friend.
And wishes do come true thanks to Make-A-Wish and the support from a ballroom of guests. Toni and John Bloomberg were there, and so were many past honorees including Jordan, Peggy Matthews, Lilo Miller, Barbara ZoBell, Arline Fisch, Janet Sutter and Nanci Washburn.
And it wouldn't be a New York worthy fashion show without the incredible talent of Tanya McAnear of Bad Madge Productions organizing the show and Jim Crawford of Jim Crawford Productions choreographing and producing it. Hollywood would give this event their version of a Golden Hanger.... a Golden Globe, an Oscar!
Special event sponsors included F Street Corporation, John parker, Ingrid Hibben, Zandra Rhodes and Salah Hassanein, Joyce and Ed Glazer, Jazzercise/Jazzertogs, Sycuan Resort and Casino, Cox Communications.
To learn more about how you can become involved, please visit Make-A-Wish and FCC.

Without further adieu... THE GOLDEN HANGER FASHION SHOW!
Wedding Gowns and the following red gowns by Jemima Garcia-Rojas!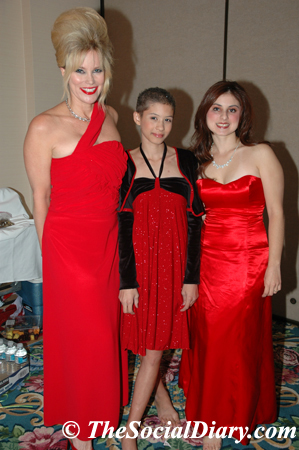 ~~~~~~~~~~~~~~~~~~~~~~~~~~~~~~~~~~~~~~~~~~~~~~~~~~~~~~~~~~~~~~~~~~~~
* Margo Schwab has produced, written, interviewed and photographed for various media organizations since 1989. Schwab has a college degree from Scripps College and a Masters of Business degree from the University of San Diego. Schwab volunteers for numerous charity organizations. She also continues to lobby for water safety and for family violence mitigation. Schwab is the owner and publisher of The Social Diary.
back to New this Week.....Margo Schwab Archives...... Home
Warning ** photos, video and writing on this site are the
copyright of margomargo.com and Margo Schwab.
no reproduction of any part or parts is allowed without written permission by Margo Schwab