~ The Social Diary ~
the on-line magazine covering High Society ..& more
____________________________________________________________
Fashion and Fashion Walk

April 17th, 2006
The Social Diary Columnist & Photographer Margo Schwab
(page 1 of 2 pages)
It was a fashionable scene April 8th, 2006 as guests, 'chi chi chic' guests, gathered at the Doubletree Hotel in Fashion Valley. The reason? A night of cocktails, casual dinner, and a creative and hip fashion show produced by Leonard Simpson. And it was all for the launching of the chic new residences by D.R. Horton. The new condos are appropriately called Fashion Walk, and America's Home Builder D.R. Horton promises the condos will be stylish, fun, social scene residences.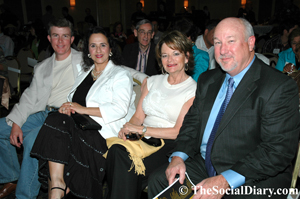 On par with Fashion Walk's level, was the fashion parade of guests and the fashion show. Lily Pulitzer, Let's Go La Jolla, M.I.L.K. Handbags, Glidia Kay La Jolla, Le Bel Age, Peaches En Regalia Del Mar, Styles by Sara Boutique, Holly Lauren Jewelry, Bobby Imperial T-Shirts, paintings by John Brooks and Aimee Fuller Jewelry were just a few of the zippy, hip fashions paraded down the runway.
Aimee Fuller in fact was quite busy. She served as Co-Host that night with Leonard Simpson as well as being jewelry designer and voted The Social Diary's 'Best Dressed' of the evening. Aimee wore a strapless Cache dress.
Francis Florendo, all 10 or so years of him, wowed guests with his Sinatra styled voice. Dancer Ben Allen later added his hip happening dancing.
All in all it was a scene to be seen at. Just like Fashion Walk will be the address to live at.
For more details please visit www.LiveFashionWalk.com .... and look for more fun events like this in the future!

continue to >> Page 2
More Parties......Margo Schwab Archives........New This Week.......Home
* Margo Schwab has produced, written, interviewed and photographed for various media organizations since 1989. Schwab has a B.A. degree from Scripps College and a Masters of Business degree from the University of San Diego. Schwab volunteers for numerous charity organizations. She also continues to lobby for water safety and for family violence mitigation. Schwab is the owner and publisher of The Social Diary.

Warning ** photos, video and writing on this site are the
copyright of the author, The Social Diary, San Diego Social Diary, margomargo.com and Margo Schwab.
no reproduction of any part or parts is allowed without written permission by Margo Schwab