Where Pets Are Always In Style.....

~ The Social Diary ~
the on-line magazine covering High Society ..& more
____________________________________________________________
The Buzz - June 30th

June 30th, 2006
The Social Diary Columnist & Photographer Margo Schwab
Yes, California's Governor is a busy man. Yesterday alone Arnold Schwarzenegger was out and about at multiple stops in San Diego. First stop, a press conference backing "Jessica's Law," the petition up for stricter predator monitoring laws. Among the political mix were Mayor Jerry Sanders, District Attorney Bonnie Dumanis and Sheriff Bill Kolender.
pictured here - Off duty Police Officer Scott Johnston, District Attorney Bonnie Dumanis, Sheriff Bill Kolender and Martin Wilson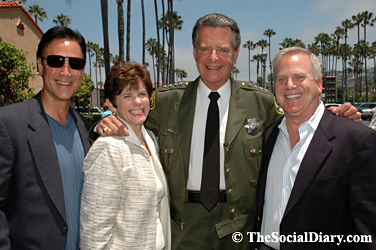 Then it was off to a luncheon at the La Jolla Beach and Tennis Club with a who's who mix of www.JoinArnold.com guests. Chris McKellar, had these remarks to say regarding Arnold's visit.
"Our Governor was exceedingly eloquent, friendly, and highly complementary of the LJB&TC and its natural beauty.

Talking about how much he is enjoying the campaign, he said his wife Maria is beginning to equate him to the Kennedys. He asked her "My speeches remind you of Jack's and Robert's?". "No," she replied, "Your growing waistline reminds me of Teddy."

He spoke about the surging economy, and that his resistance to advice of others that he increase taxes has had the effect of keeping businesses here. He says his predictions have proved correct; tax revenues increased $20 billion over budget in the last fiscal year, and now there is money for needed infrastructure.

He spoke at length about working closely with the Democratic state legislature, building trust and focusing all in power on keeping the interests of the people of California foremost in all their actions.

Very impressive guy."

Other impressive guests there included Madeleine and T. Boone Pickens. Pickens as you probably know, is the smarts behind Mesa Oil and more. The Pickens are also the incredibly kind couple who contributed millions to aid Katrina victims, people and pets alike. Seems Arnold and his guests have a common goal, making things better for people's lives.
..............
In the golf world, there are some clever entrepreneurs. One is photographer Don Kohlbauer of the Union Tribune. Don reached an agreement with golfing great Jack Nicklaus. Don took a photo of Jack's last putt. The last putt. The photo, along with a Scottish 5 pound note with Jack's image on it, a sports agreement with Jack, have all melded together for a slick limited edition. To learn more about this fun collector's item, go to www.jackslastputt.com .
For those of you who are Hawaii bound this Summer, make sure to check out Aku Bone in Waikiki. This is not a tourist trap, it's a pure local hang. Incredible food, reasonable prices and live Hawaiian music every Wednesday, make this a venue worthy of Hawaii surf and The Chart House legend Joey Cabell.
And don't forget to check out "tiny bubbles" singer Don Ho. An incredible entertainer with an incredible heart. In fact it's his heart that has experienced quite the life saving miracle. Don went to Thailand for stem cell injections into his failing heart. The result? Don is back on stage where he thrills so many millions of other hearts. Don is 45 years strong on stage with song, wit, and yes a lot of heart for people.
Don Ho and some of his favorite friends including Yana Deaton and Joey Cabell, and Big Lennie!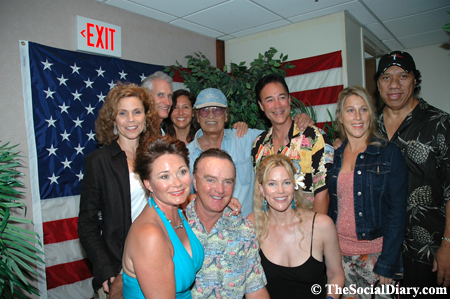 Aku Bone musical entertainment.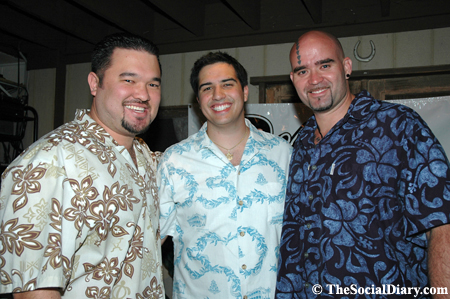 Dean Spanos of the Chargers was accoladed at a recent Boys and Girls Club of San Diego event. Look for more photos soon on The Social Diary.
Best quote in recent movie land comes from Pride and Prejudice - "not all of us can afford to be romantics."
Until next time.........
Warning ** photos, video and writing on this site are the
copyright of the author, The Social Diary, San Diego Social Diary, margomargo.com and Margo Schwab.
no reproduction of any part or parts is allowed without written permission by Margo Schwab