~ The Social Diary ~
~~~~~~~~~~~~~~~~~~~~~~~~~~~~~~~~~~~~~~~~~~~~~~~~~~
A Look Back at the Great Events of 2006 -
Martin 'Yan Can Cook' for KPBS at the Roppongi Restaurant, and "You Can Too"

January 20th, 2007
The Social Diary Columnist & Photographer Margo Schwab
KPBS invited guests to celebrate "The Artistry of Asian Cuisine with Martin Yan" at the Roppongi Restaurant and Sushi Bar October 16th, 2006. And come they did. The sold out evening had the unique flair and presence of Chef Martin Yan, famous for his 'Yan Can Cook, and You Can Too' motto, combined with the ambiance of Roppongi and and its acclaimed Owner and Chef, Stephen Window.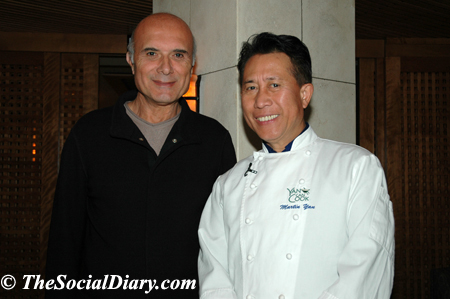 Sami Ladeki, Roppongi and Ladeki Restaurant Group owner, with Chef Martin Yan
At the festive reception outside, Martin Yan and Stephen Window mixed with guests as passed drinks and appetizers of seared ahi and the like went round.
The dinner call soon came and so started the taping for yet another great educational KPBS show.
Martin Yan wowed everyone with his one take ability, his zest, and his amazing skill at fine vegetable slicing. All hands and fingers intact.
The menu was knock out great! All wines noted were from San Pasqual Winery. The first course was Maine lobster and sweet potato potsticker, with tobiko caviar and lemongrass reduction. Recipe and preparation by Stephen Window. The starter was matched with a Ramona Sauvignon Blanc. Ooohs and aahhhs resonated throughout the dining room. And throughout the evening actually!
Next, sesame crusted tiger shrimp and ginger rice noodle salad with Thai basil. Again recipe and preparation by Stephen Window. The matching wine, a "Del Mar" Chardonnay.
Then it was time for Martin Yan to demonstrate the next course. A five spiced macadamia nut chicken with "Del Mar" Chardonnay. By the way, Martin Yan demonstrated his blazing ability to filet an entire chicken in seconds. You have to see him live or on KPBS to believe it.
Soon came the Ancho Brandt beef short ribs with scallion potato and Hoisin sauce. This dish was prepared by Stephen Window. Everything phenomenal.
The Yin and the Yan of the evening was that it was so good, but it had to end... until next time!
Until then, remember "You Can Too!"
For more information regarding the March 15th event at SAKS and other upcoming KPBS events, please click upcoming events or visit www.kpbs.org under lectures.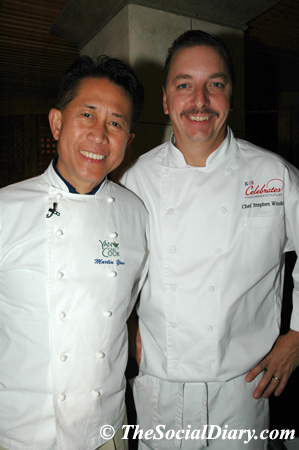 Chef Martin Yan with Roppongi Owner and Executive Chef, Stephen Window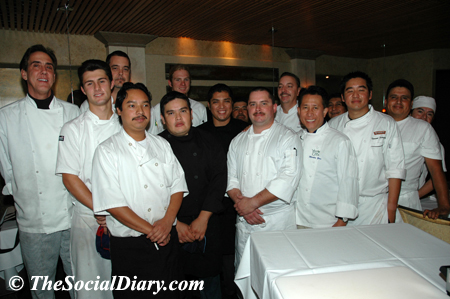 Roppongi's kitchen staff with Martin Yan and Stephen Window
Martin Yan ** Floral centerpiece arrangement
Martin Yan mixing in with guests at the reception ** The Reception for KPBS and Martin Yan
Martin Yan with Scott Johnston on the right and guests ** Martin saying "Cheers"
Scott Johnston ** Margo Schwab with Chef Martin Yan and Chef Stephen Window
Sensational Cuisine!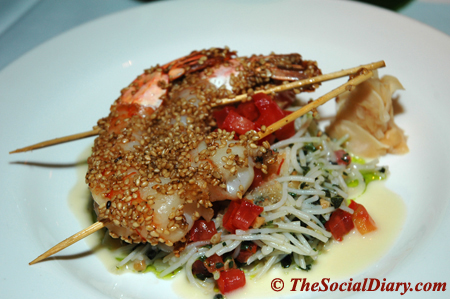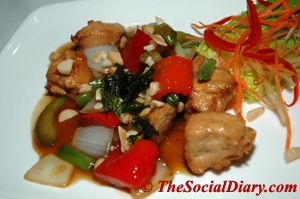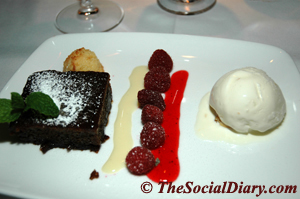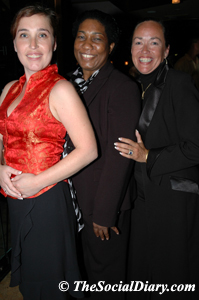 Megan Burgess with Dawn Edwards and Cruz Zahran
* Margo Schwab has produced, written, interviewed and photographed for various media organizations since 1989. Schwab has a college degree from Scripps College and a Masters of Business degree from the University of San Diego. Schwab volunteers for numerous charity organizations. She also continues to lobby for water safety and for family violence mitigation. Schwab is the owner and publisher of The Social Diary. Margo is currently writing a book based on La Jolla.
back to New this Week.....Margo Schwab Archives...... Home
Warning ** photos, video and writing on this site are the
copyright of The Social Diary, San Diego Social Diary, margomargo.com and Margo Schwab.
no reproduction of any part or parts is allowed without written permission by Margo Schwab