San Diego Social Diary LLC All rights reserved 2011 (This material may not be published, broadcast, rewritten or redistributed)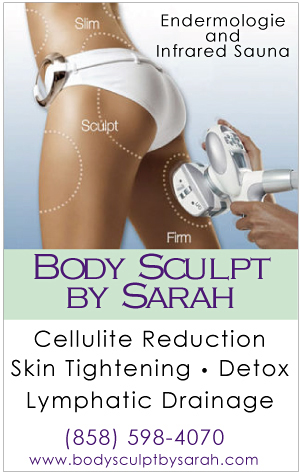 Eclat Culinary Experience
Excellence Delivered
Catering Available
619-708-1933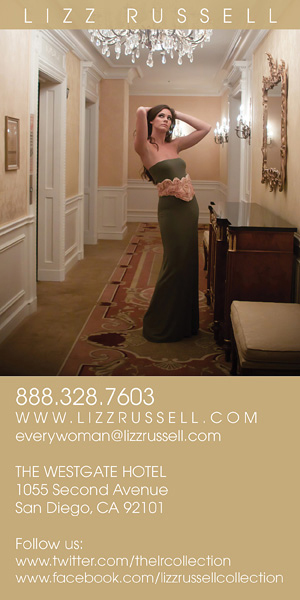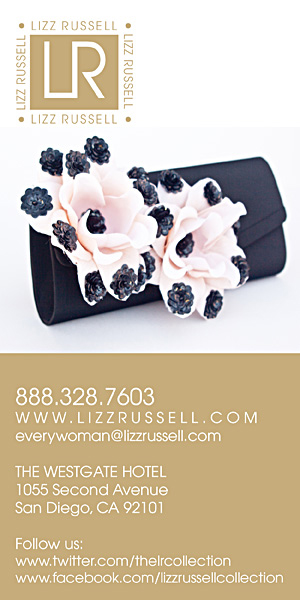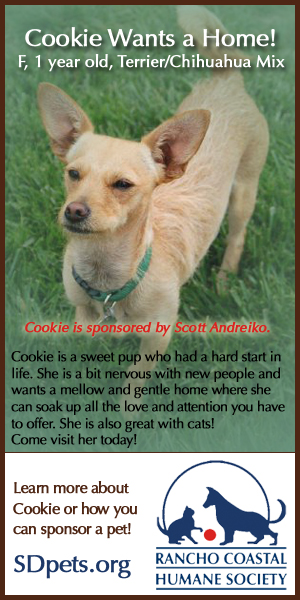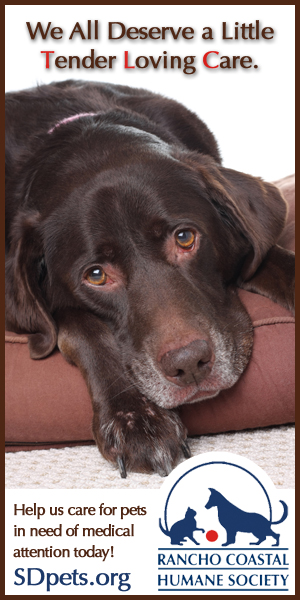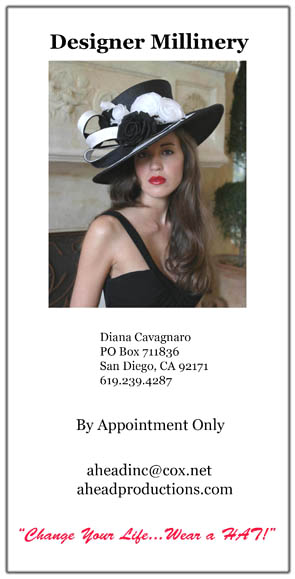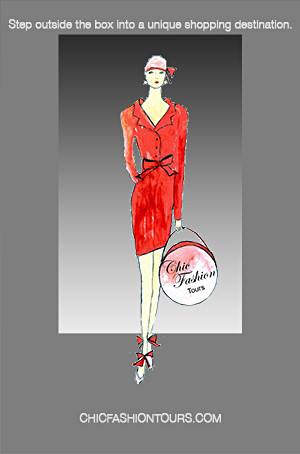 ________________________
Security Consultation
Services by Scott Johnston
SDPD Offcr. (Ret.)
619-384-7333
_______________________
Now Open for Dinner Friday & Saturday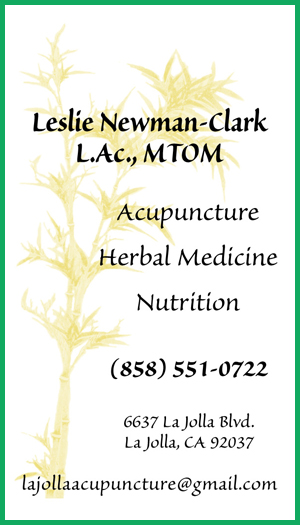 WineSellar & Brasserie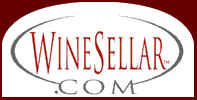 858-450-9557
Restaurant, Gary Parker's Wine Club,
Wine Store and
~ Wednesday & Saturday wine tasting's ~
XXXXCheck out Gary Parker's Pick... X...XXXXXXXa 2007 Clos de la Roche, Grand XXXXXXXXCru for $54 WineSellar Club XXXXPrice,this Pinot Noir is STELLAR!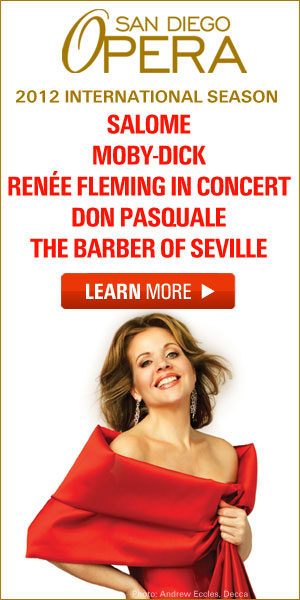 _________________________
For Advertising, please
your inquiry.
Ask about you can support your favorite organization!
_________________________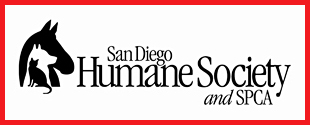 SpaSAN DIEGO HUMANE SOCIETY & SPCA
GAINES STREET CAMPUS
5500 GAINES STREET
SAN DIEGO, CA 92110
(619) 299-7012
www.sdhumane.org rky
with other dogs or cats.

Where the locals dine
for Homemade Pastas, Raviolis, and Sauces
Cafe Milano
711 Pearl St, La Jolla
858- 454-3806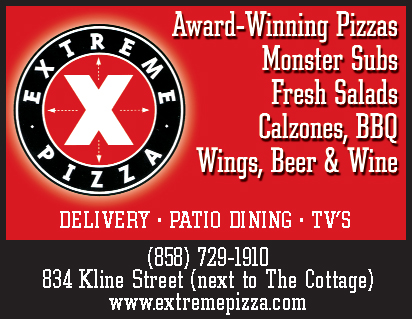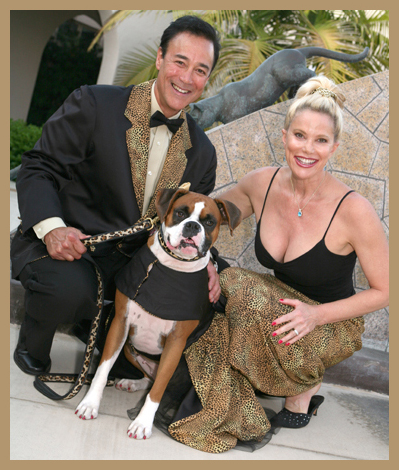 Scott Johnston, Margo Schwab and Kima!
University Club Hosts Juma Ventures and Bill Walton
More Social Diary Event Coverage ....HOME
The University Club Atop Symphony Towers, San Diego's chic private members-only club, kept their philanthropic efforts in high gear with a reception hosted by the Giving Group's Charity and Wine events headed up by Chair Bob Alden July 13th, 2011.
On the scene were many of San Diego's caring movers and shakers including John Dadian, Jackie Harris, Social Diary Magazine's Margo Schwab and Scott Johnston, and Council Member Marti Emerald.
The focus of the evening was Juma Ventures best explained by special guest and basketball Hall of Famer Bill Walton.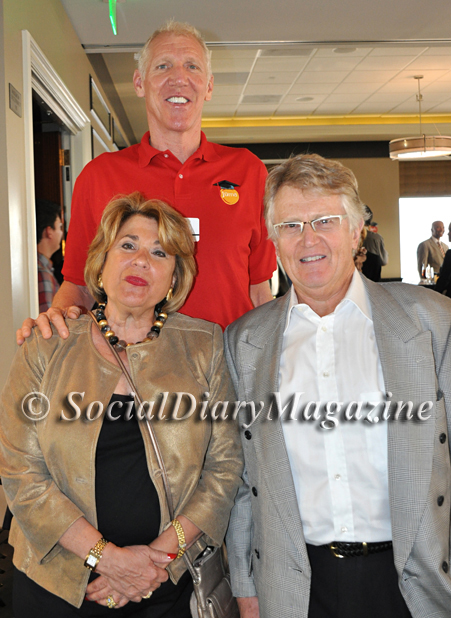 Hall of Famer Bill Walton and big Juma Ventures Supporter with new University Club members Eve Benton and Malcolm Bund
"Juma is a fantastic organization that is doing front line work with the most vulnerable members of our society" explained Bill Walton. "These young people desperately need and rightfully deserve our love, support, encouragement and attention. The terrific children in the Juma programs are only looking for the chance that so many of us take for granted in our own lives. They are not asking for a hand out, rather a hand up. Think of all the sacrifices that other people have made for us in our climb up the mountain in the game of life. We cannot pull the ladder up behind us. With privilege and success come responsibility, duty and obligation. Make a difference. Give Juma and the dreams for a better tomorrow that burn so brightly in the hearts and minds of our young people a chance to blossom. I am proud of and loyal to the Juma cause, mission and purpose. Please, won't you come with me? Let's be the difference."
Well said Bill.
Juma's mission is explained by the following. "Juma Ventures San Diego Juma is a unique organization that breaks the cycle of poverty by ensuring young people complete a four-year degree. They do this by employing low-income youth as vendors at Qualcomm Stadium and PETCO Park – Juma obtains bank accounts for youth-earned funds while administering financial literacy and providing college services and mentoring. Juma's ultimate goal it to ensure the successful completion of high school and college. Over 97% of Juma Ventures' Youth graduate high school, with a 91% college going rate!"
"Charity and Wine is not just a knowledge forum and reception; it is a unique fundraising opportunity," explained Giving Group Chair Bob Alden.
Cool too is that for the month leading up to Charity and Wine events, invited guests are extended an exclusive invitation to join the University Club. The club then donates the new member's enrollment fee directly back to the non-profit! .... How cool is that!
Social Diary Magazine's Margo Schwab and Scott Johnston were happy to support this Juma Ventures event.
P.S. - The University Club in San Diego is known as San Diego's finest private business club for a reason...it's done right!
To learn more about the University Club (one of ClubCorp's many great clubs worldwide) and/or arrange a private tour of the clubhouse, please contact the club by visiting them online at www.uc-sandiego.com.
To learn more about Juma Ventures please visit wwwJumaVentures.org
Be advised strictly no downloading, publishing, broadcasting, printing, or copying of photos or content.
Enjoy the Photos!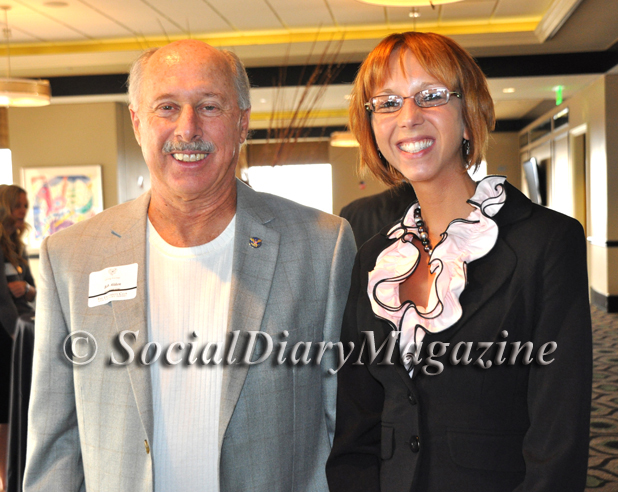 Giving Group Chair Bob Alden with Amy Present, an intern with ClubCorp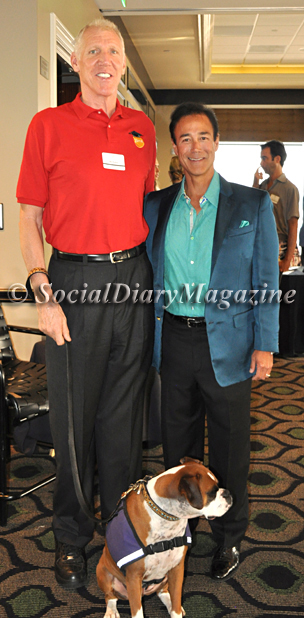 Bill Walton with Scott Johnston and Kima the Service Dog.... Bill Walton's wife Lori Walton did her psychology thesis on the benefits of Service Dogs.... the Walton household has 4 service dogs.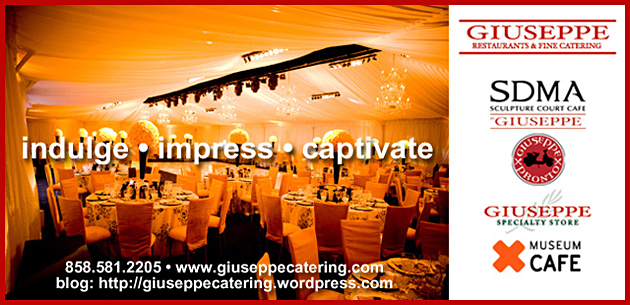 Some of the delightful ClubCorp appetizers by the University Club's Chef Eric Mauritzen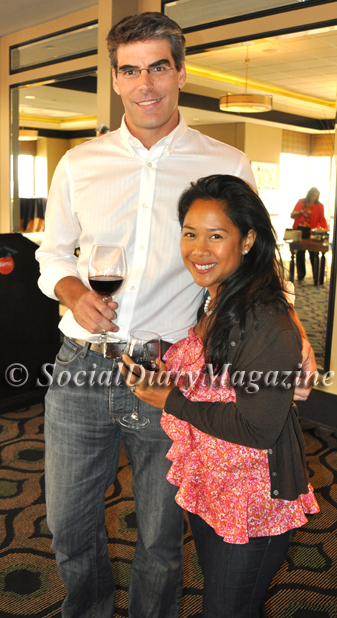 Caio and Grace Buzzolini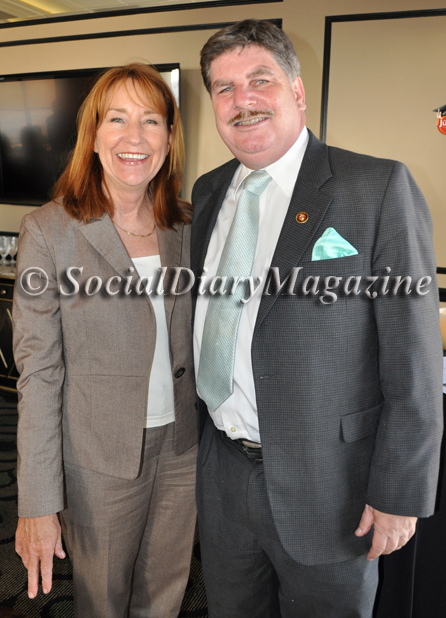 Jackie Harris with John Dadian.... John is a longtime friend who knows everything going on in politics...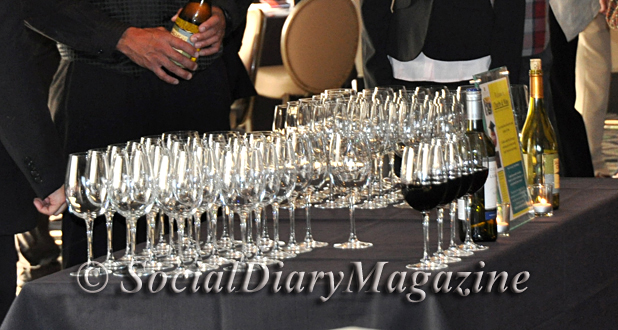 And the wine went perfectly with the magnificent ClubCorp views of sunset....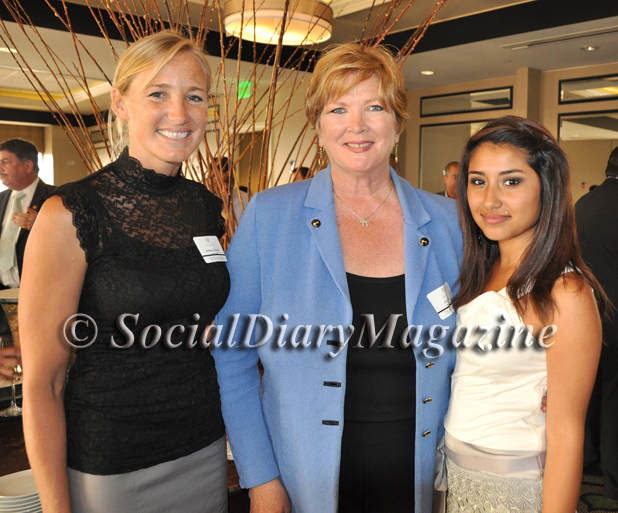 Brittany with Council Member Marti Emerald, and Yoana Gallardo
p.s. - Golf Inc.'s Most Powerful Person in Golf, Eric Affeldt & CEO of ClubCorp, is pictured here with the Social Diary Magazine's Margo Schwab (we are long time friends) and Kima Schwab-Johnston.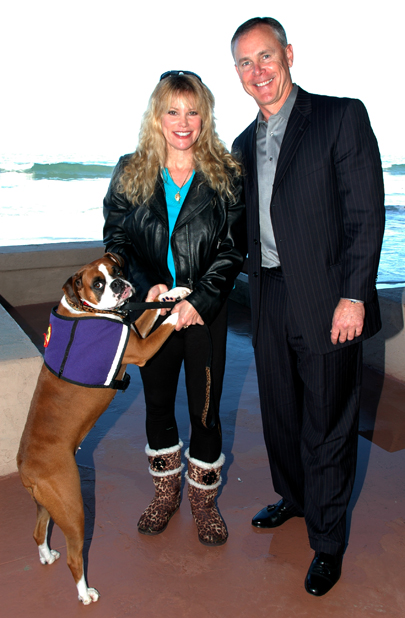 More Social Diary Event Coverage ....HOME
More events of interest....
The University Club's 2010 Annual Charitable Event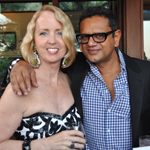 Naeem Khan / Globe Guilder's VIP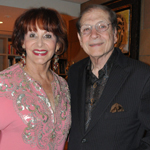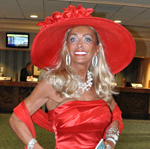 Stars & 'Studs' at Del Mar Opening Day - Page 1 of 3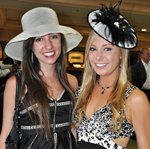 Stars & 'Studs' at Del Mar Opening Day - Page 2 of 3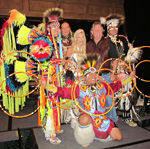 Stars and Stallions 2011 at DMCC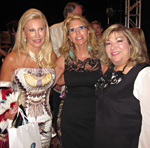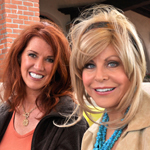 Social Diary Magazine at LJBT&C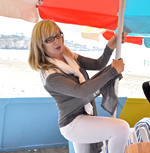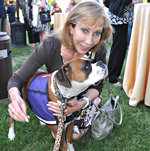 Alzheimer's Gala & Michael Reagan
reported and photographed by Margo Schwab
web technical support by Scott Johnston
Please join us for fun informative updates on Twitter and Facebook

The Town Gossip
(sponsored by Neptunic)
Meanwhile down the way in Montenegro, Nat Rothschild threw quite the birthday bash hosting 300 of his closest friends for 3 days of fun including an over the top disco poolside. Rumoured to have cost upwards of 1 million pounds plus.... the guest list included quite the coterie of Euro / NYC mega-socials including one Social Diary Magazine friend who described the event as "AMAZING." ..... and she thought she had seen it all...
.... Meanwhile the La Jolla Beach & Tennis Club has had 2 major celebs recently. Separately but A-List all the way... Sharon Stone and Leonardo Di Caprio.
.... Meanwhile Scott Johnston at the gun range in Kearny Mesa ran into the cast from MTV....they were there filming..
.................
Best way to see Dita Von Teese up close and personal and support the MCASD is this September 10th, 2011.... the after party is going to be off the charts... a bargain at $150!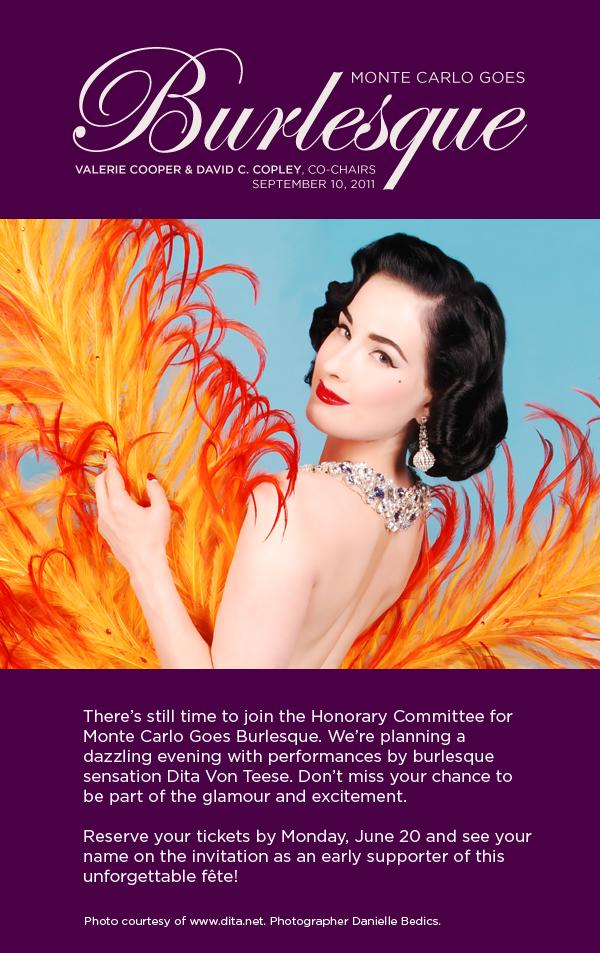 Email Commentary to be added
email TheSocialDiary.com
* Margo Schwab, MBA, more formally known as Margaret E. Schwab, has produced, written, interviewed and photographed for various media organizations since 1989. Schwab attended Holton Arms School, La Jolla Country Day School and La Jolla High School. Schwab has a B.A. from Scripps College, spent a business internship with S.A.I.C., Science Applications International Corporation, and earned a Masters of Business degree, M.B.A., from the University of San Diego by way of Claremont Graduate School . Schwab additionally took college courses from Harvard University, and Syracuse University. Schwab volunteers for numerous charity organizations. She also continues to support animal organizations and the prevention of people and animal abuse. Schwab is the editor and co-owner of The Social Diary.
Margo Schwab and Scott Johnston of The Social Diary Magazine are pleased to announce a partnerships with the San Diego Humane Society and SD METRO Magazine. They have also partnered with Country Friends and the San Diego American Heart Association and the Arthritis Foundation.
Margo Schwab and Scott Johnston are both members of the La Jolla Beach & Tennis Club (Margo Schwab since 1974) and both are now members of the University Club and its worldwide ClubCorp Compass Society. Margo Schwab and Scott Johnston are Police Press credentialed by the Chief of Police, William Lansdowne.
San Diego's The Social Diary would like to say a special thank you to our advertisers.
Eclat Catering by Athanasia Ampelas - Home Delivery Availabe Too
Hoehn Motors Land Rover
Lizz Russell Couture Designed Gowns and Purses
Diana Cavagnaro's Designer Millinery
Jordan's Art Couture
San Diego Center for Children - March 12th. 2011 Gala
Designer Millinery by Diana Cavagnaro
Juelerie by Pamela Pogue
The Museum of Contemporary Art San Diego
Giuseppe Restaurants and Fine Catering
The University Club Atop Symphony Towers and ClubCorp
Leslie Newman Clark - La Jolla Acupuncture
Maggie B fashion and style in Rancho Santa Fe Plaza
Papalulu's Restaurant and Catering in La Jolla Shores
Nancy's Nails on Pearl Street in La Jolla
H. Moradi Fine Jewelers on Prospect Street in La Jolla, now 2 locations!
San Diego Opera
WineSellar & Brasserie - featuring the Gary Parker Wine Club
Cafe Milano on Pearl Street La Jolla
Extreme Pizza in La Jolla
Neptunic Sharksuits
The Animal Hospital of La Jolla
Eugene Ladopoulos of Mistra Estates Olive Oil
Warning ** photos, video and writing on this site are the
2011 copyright, all rights reserved, of The Social Diary LLC and its subsidiaries including San Diego Diario Sociales - Su Conexión Con la Sociedad, no reproduction of any part or parts is allowed without written permission by Social Diary Magazine