Scorpion Bay Surfing and Fishing Club

Private, Picturesque ......and Scorpion Bay Hotel too! ..., founded by Fred Borrelli
~~~~~~~~~~~~~~~~~~~~~~~~~~~~~~~~~~~~~~~
~ The Social Diary ~
all photos and content are the strict copyright of TheSocialDiary.com
no downloading!!
photos are available for purchase if it is of you!
~~~~~~~~~~~~~~~~~~~~~~~~~~~~~~~~~~~~~~~~~~
Timken Museum of Art's 2008
Holiday Party
"I'd heard about these legendary Timken Holiday Parties and the reality lived up to the advance billing. It was a splendid evening with our most loyal supporters enjoying the festive celebrations in perhaps the best location for a party in San Diego: a great building in a lush park amidst fantastic works of art."
- John Wilson, Director
Timken Museum of Art
And beautiful it was. On December 11th, 2008 patrons of the Timken Museum of Art in Balboa Park gathered for an intime, and perfectly festive evening. With fine art and current, rarely exhibited outside of Japan exhibition of Kimono as Art:The Landscapes of Istchiku Kubota as the backdrop, guests mingled.
Among the those there were Carolyn Yorston and Barden Wellcome, Denise and Michael Hager, Phyliss Haynes, Mary Berend and Bob Alcantara, Maurice Kawaishma, Paul Mosher, Mr. and Mrs. Peter Ellsworth, Deborah Turner and Conrad Prebys, Dr. and Mrs. Alpert Cutri .... Dr. Cutri is the President of the Board of Directors for the Timken Museum, and Jeanne Jones and Don Breitenberg.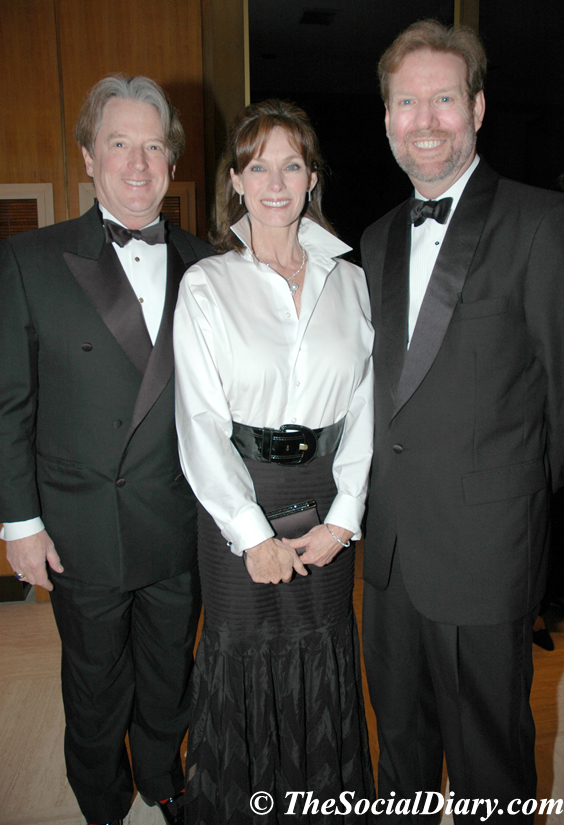 Bob and Karen Hoehn with Timken Museum of Art Director, John Wilson
Jeanne was gearing up for a big trip with her grand-daughter to safari in South Africa. It's an annual learning adventure they take together with a different location chosen each year. Last year was Egypt. Exotic locations that inspire Jeanne's very health oriented, in demand cookbooks.
Speaking of food, the catered evening proffered up tasty sushi, savory roast beef mini sandwiches, and a healthy array of tray passed appetizers.
Musicians provided the Christmas music, and guests added to the wow factor of the fine art filled ambiance. More there supporting the arts and the Timken Museum were Dr. and Louis Alpinieri, Dr. Derrick Cartwright the Director of the San Diego Museum of Art, Anne Otterson, Ingrid Hibben and Victor La Magna, Norma Hildalgo-Del Rio, Karen and Robert Hoehn, Kate Adams and Donald Roon, and Pat O'Connor of Fashion Careers College.
By the by, FCC will hold its second annual Art of Fashion event at the Timken this August 29th. The event combines art masterpieces with interpretive fashion worn by models. Quite the hit!
But back to the Timken holiday party.
Carolyn Yorston enthused about the new Director of the Museum, John Wilson. In fact an old school mate and forever fan of John's did likewise. Happens to be my sister Katherine Schwab who is now an Associate Professor and Director of the Art History Program, Department of Visual and Performing Arts at Fairfield University.
A new energy is at the Timken.
More enjoying the 'new' Timken included Viviana and Chuck Polinsky, Lavinia and Maurizio Seracini, Mr. and Mrs. Robert Ames, William Beamer, Dolores Clark, Mary Clark, Johna Chaney with Mrs. Anne Hartley, Gloria Cooper, Mary and James Berend, Lucy Kelts, Betsy and Scott McClendon, Christine and Fred Stalder, Rebecca Heyl, Maryann and Arnold Ginnow, Janet Sutter, and Lisa Zinne and Nick Lorber.
A traditional holiday tree twinkled with more than 1,000 handmade ornaments designed by artists Elizabeth Schlappi and the late Florence Hord. All ornaments were San Diego inspired.
Inspiring too is the collection of fine European and American Art at the Timken. With masterworks from over 600 years, the Timken offers an inspiring visual array including painters Veronese, Il Guercino, Petrus Christus, Jacques-Louis David and John Singleton Copley. Noteworthy too, the collection also includes the only Rembrandt painting on public display in the area.


For more information visit www.timkenmuseum.org
The Timken Museum of Art is open from 10 a.m. to 4:30 p.m. Tuesday through Saturday and Sundays 1:30 p.m. to 4:30 p.m. It is closed on Mondays, major holidays and the month of September.
Please enjoy the Photos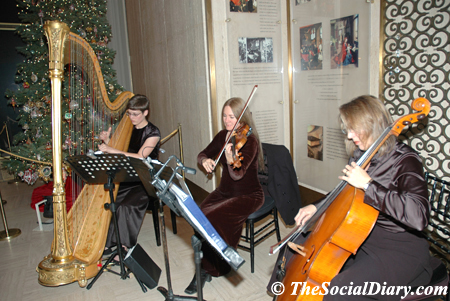 Musicians playing festive traditional songs
Fred and Christine Stalder ** Chuck and Viviana Polinsky
Ingrid Hibbens beautiful shoes! ** Pat O'Connor with Janet Sutter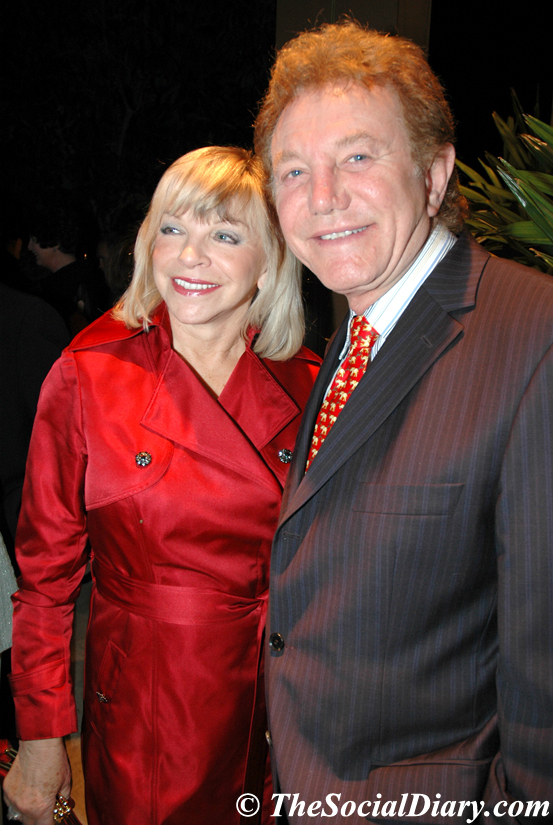 Ingrid Hibben with Victor La Magna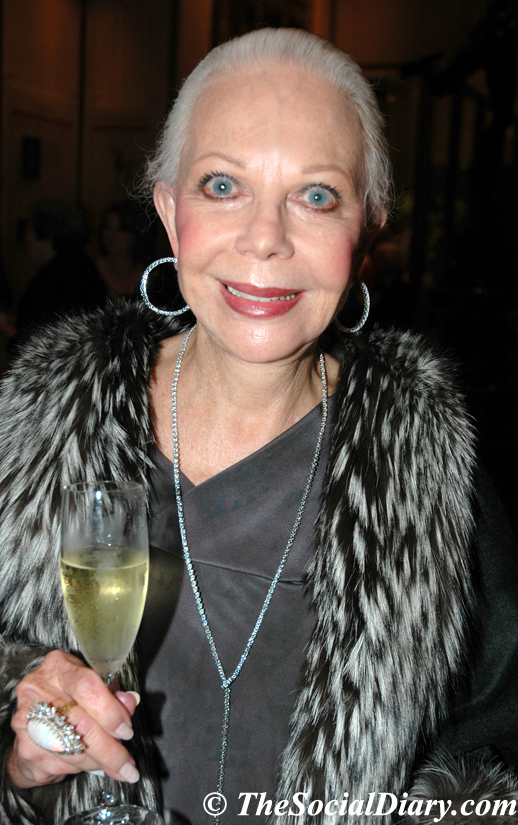 Jeanne Jones
______________________________________________________________
______________________________________________________________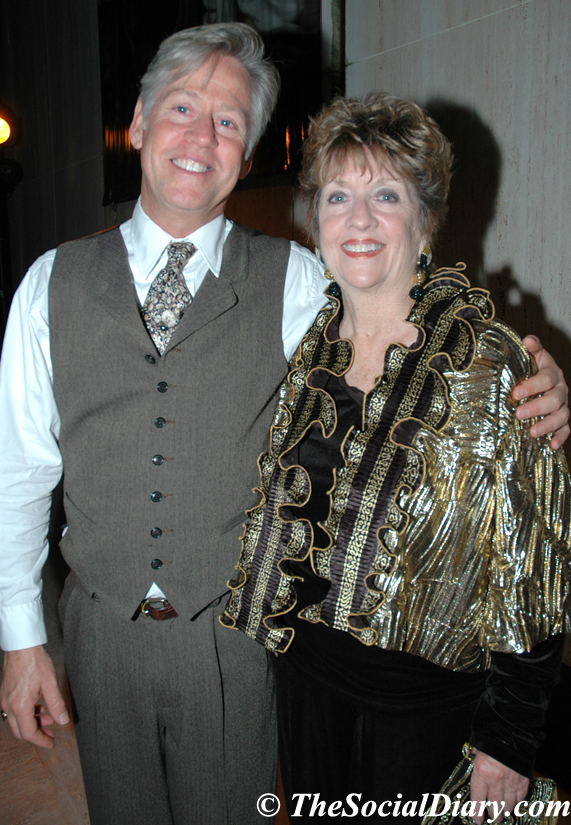 Guest with Pat O'Connor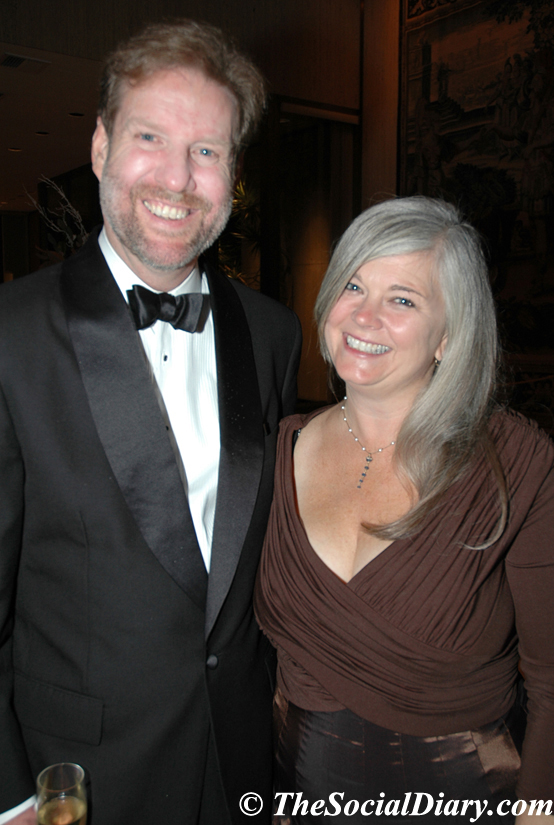 John Wilson and Annasue Wilson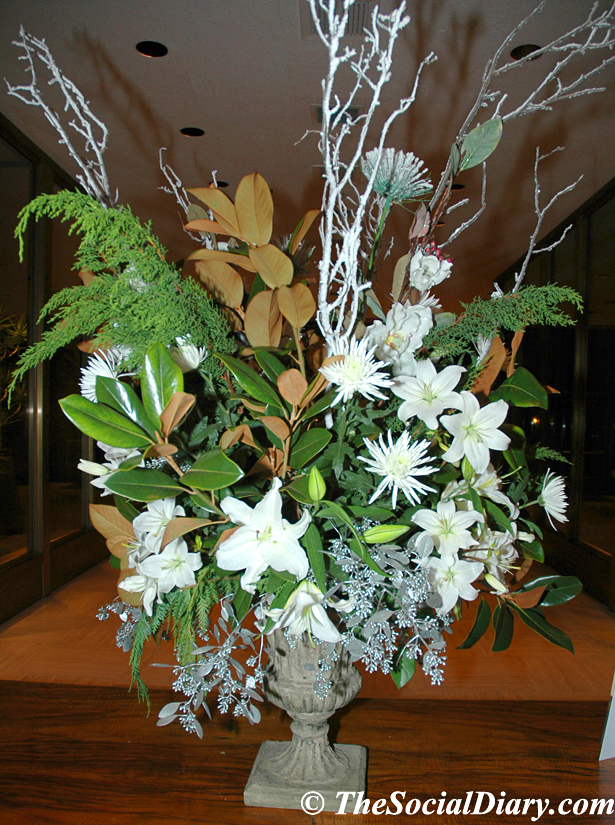 A beautiful floral display
A special thank you to John and Annasue Wilson, and Rebecca Heyl for making us feel so welcome!
Reported by Margo Schwab and Scott Johnston in Versace and Zal Pileri
____________________________________________
The Buzz
Yes that was local renowned Dr. Stuart Jamieson on the hit show 'The Doctors' the other day. The show put a spotlight on pulmonary thromboendarterectomy or PTE, and in layman's terms, that's my 'understanding' of layman's terms, PTE is the detection of life threatening embolisms that travel to the lung. Dr. Jamieson is literally on the cutting edge for correcting this problem by a procedure that requires draining the patient's blood, lowering the patient's body temperature to 60 degrees, and stopping the heart for 20 minutes at a go to get at removing the growth from the lung. Dr. Jamieson is a pioneer for this specialized surgery. He does bring a lot of smarts to the surgery table. Dr. Jamieson is the Head, Division of Cardiothoracic Surgery and Endowed Chair and Distinguished Professor of Surgery at the University of California San Diego. He's also a nice guy and gentleman cattle rancher too!
And even a a genius doctor like Stuart needs a time out. Stuart and wife Sheri Jamieson were among a collection of people taking a few days respite in St. Bart's over the holidays. Seen among the mix were Valerie and Harry Cooper, Tanya and Charles Brandes, David Copley, and a huge amount of celeb sorts including Beyonce and Jay Z, Donatella Versace, and yes that was San Diego's own, Andrew Shelton doing a fine job on a jet ski.
p.s. - Paul Allen's 'boat' Octopus, was the go to destination party invite December 30th.... more celebs per square mega-yacht foot.
Other San Diegans out and about on holiday included a number of the Jacobs family in Aspen. Thank heavens they were up the mountain when the whole bomb threat happened.
Other San Diegans in Aspen over the holidays included Linda and Don Swortwood, and Dianne and Jim Bashor.
Meanwhile back in beautiful San Diego.... a lot of fun sorts were out enjoying what makes San Diego great. That includes fun and fine dining!
Taylor Miller was seen dining at the fabulous Piatti's in La Jolla Shores with Barb and Frank Layden, and Mitt Romney, Virginia Monday and Christopher Sheppard were dining at Cafe Milano on Pearl Street and Kima on Rodeo Drive in Beverly Hills.
Actually Kima had a really great time at the new Montage in Beverly Hills and Rodeo . We can tell you personally that service was extra, extraordinary because of Kima.....there are a lot of dog lovers up that way... more on Kima's first Beverly Hills adventures soon. After all, she is the great-grand-dog-daughter of the Mayor of Beverly Hills. Paul E. Schwab Sr.!
Til' then!
Upcoming Events
January 24th - Tosca and the Gala Opening for the San Diego Opera.. To learn more about the San Diego Opera season and its special events, please visit www.sdopera.com
February 7th - Mainly Mozart Gala. To learn more the gala and about Mainly Mozart's other events, please visit www.mainlymozart.org
Nifty and Thrifty Restaurant Deals
Cafe Milano - Yes they are an advertiser on The Social Diary, but they are on here because they are that good. We've dined there on several different occasions with a veritable who's who of La Jolla. All were impressed. But what was great too is seeing how many other locals already know how great it is. Judy and Jack White, Sally and John Thornton, Virginia Monday, and Jeanne and Bill Larson, and more. The best deal they offer is a 3 course dinner for $17.95. Not that the aforementioned necessarily go for the 3 course supper. And it is great homemade Italian cuisine, and free street parking to boot.
Tapenade - $29.95 for the Sunset Menu gets you 3 courses of Chef Michel Diot's truly French and fabulous cuisine.
If you are a member at the La Jolla Beach & Tennis Club, you probably have heard the incredible buzz about Chef Brian Freerksen. Great too is the early half off specials Monday through Thursday. A total bargain!
And for the super deal for the family goes to Extreme Pizza. They say premium, affordable and delivered.... and they mean it! Delivered is a great way to go .... sign up for their emails and you can get specials like the recent 2 for 1 pizza deal....! p.s. - try their Back Country Betty salad with fresh spinach, bacon, red onion...
Zenbu Sushi Bar & Restaurant - Fabulous, fresh sushi with gourmet twists... a Happy Hour menu on Sunday and Monday, and Tuesday through Thursday 5-7 .... really great and the people watching is intense!
Aloha Sushi - sushi buffet on Wednesdays makes this place very popular... and it's good too! At $24.95, you can sushi yourself silly!
The Marine Room is offering a 3 course lobster dinner through March for $40 on Mondays....and the sunsets are free!
The Shores Hotel has a 3 course menu for $24 .... and the sunsets are free there too!
And one of the Best Deals if you are a wine lover...try Winesellar & Brasserie on Wednesday evening wine tastings. Always phenom wines. Prices vary but are really reasonable and the yummy appetizer nibblies are substantially great too!
Know Someone Looking for a Job??
Here's a thought - the arts and other charitable organizations always need wonderful volunteers. What better way to do good deeds, stay in the mix, and have rewarding fun while volunteering.
New Year's Resolutions
A New Year's resolution is
something that goes in one
year and out the other.
—Anonymous
...more next time!
____________________________________________
______________________________________________________________________________________
Photoshopping and Photography Services
Photos on this website available if it is of you
available by The Social Diary
~ 619-384-7333
email
______________________________________________________________________________________
Email Commentary to be added
email editor@thesocialdiary.com
* Margo Schwab, more formally known as Margaret E. Schwab, has produced, written, interviewed and photographed for various media organizations since 1989. Schwab attended Holton Arms School, La Jolla Country Day School and La Jolla High School. Schwab has a B.A. from Scripps College, spent a business internship with S.A.I.C., Science Applications International Corporation, and earned a Masters of Business degree, M.B.A., from the University of San Diego. Schwab additionally took college courses from Harvard University, and Syracuse University. Schwab volunteers for numerous charity organizations. She also continues to support animal organizations and the prevention of people and animal abuse. Schwab is the editor of The Social Diary.
Warning ** photos, video and writing on this site are the
copyright of The Social Diary, San Diego Social Diary
no reproduction of any part or parts is allowed without written permission by The Social Diary