~ The Social Diary ~
~~~~~~~~~~~~~~~~~~~~~~~~~~~~~~~~~~~~~~~~~~~~~~~~~~
Thornton's New Year's Day Celebration 2008
People, Pooches and a Pony... make that a Horse!
"ARF, ARF!
CANINE, EQUINE, EQUUS
"SHE WAS THE 'BELLE' OF THEM ALL!"
WHAT A DELIGHTFUL SURPRISE
TO RING IN THE NEW YEAR!
EXCITING SOUNDS ENTHRALLED
AS THE "PRINCE"
"TICKLED THE IVORIES"!
THE SUN SHONE, A CLEAR BLUE SKY,
GORGEOUS WHITE, FLUFFY CLOUDS!
"WHO COULD ASK FOR ANYTHING MORE?"
"GOOD LUCK", BLACK-EYED PEAS,
"SALLY'S SWEET CORN PUDDIN",
"I SCREAM, YOU…!"
AND OTHER DELECTABLE,
EARTHLY DELIGHTS!
WHAT FUN!
THANK YOU, GOD!"
SALLY B. THORNTON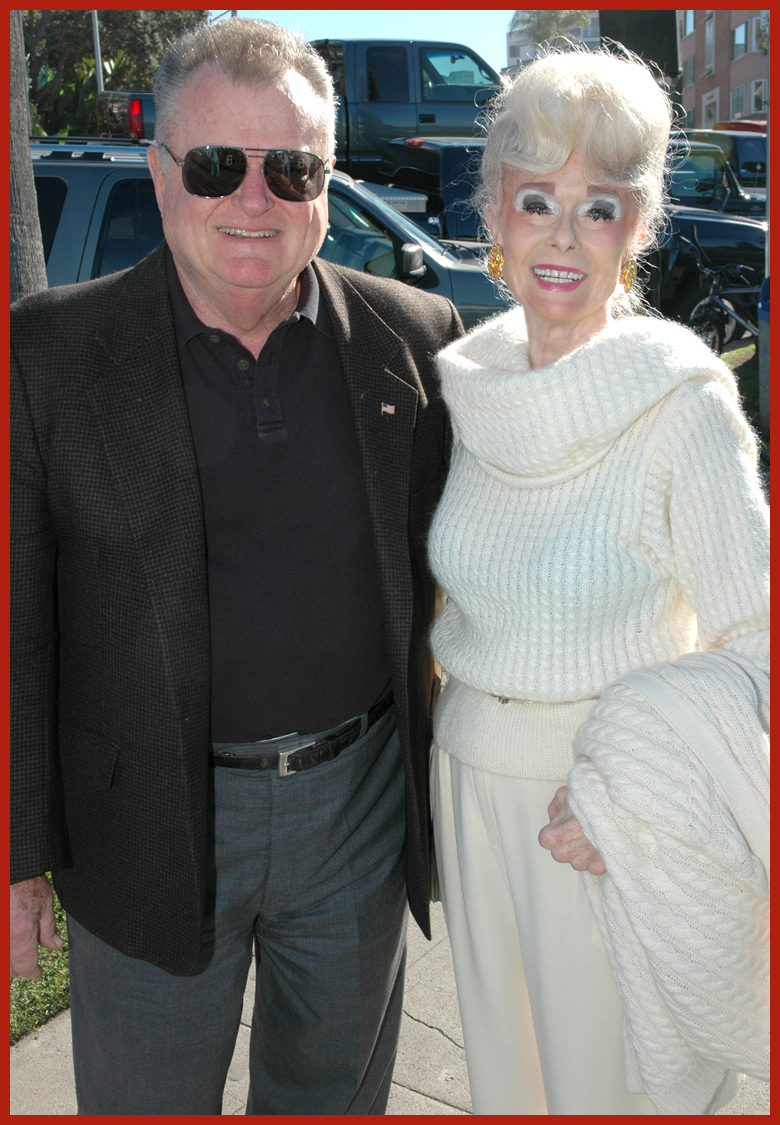 Super Hosts - John M. Thornton and Sally B. Thornton
- please note this photo was taken post New Year's Day
NEW YEAR'S DAY 2008 at John M. Thornton and Sally B. Thornton's home...
Featuring
HEAVILY MEDALED, AWARD WINNING,
•THORNTON WINES including:
2004 ESTATE SYRAH
VOTED •BEST RED• IN THE TEMECULA VALLEY
1996 BRUT RESERVE SPARKLING WINE
MANY AWARDS IN BLIND COMPETITION, INCLUDING •GOLDS•
2005 SAUVIGNON BLANC
MANY AWARDS IN BLIND COMPETITION, INCLUDING •GOLDS•
2004 VIOGNIER
MANY AWARDS IN BLIND COMPETITION, INCLUDING •GOLDS•
2005 CABERNET SAUVIGNON
NEWLY RELEASED
CUVEE ROUGE, NON-VINTAGE
MANY AWARDS IN BLIND COMPETITION, INCLUDING •GOLDS•
Lucky invited guests gathered January 1st, 2008 at Sally B. and John M. Thornton's sprawling hilltop estate in La Jolla. Guests, including four legged pooches, were welcomed by Sally, John and their son Steve.
It was a perfectly sunny and festive day. Among the fun people toasting to good health for the New Year were Sandra and Dr. Jeffrey Schafer, Lael and Jay Kovtun, Dianne York-Goldman and Dr. Mitchel P. Goldman, (they were at the Thornton Winery the night before for a special New Year's Eve dinner), Marilyn and Kim Fletcher, Jeanne Eigner with her schipperke Sherman, Barbara and Neil Kjos, Jeanne Jones and Don Breitenberg, Ronne Froman and Linden Blue, Laura Bradley and Fred Applegate, Patsy and Forrest Shumway, Judy and Jack White, Michael Allessio, Christopher and Leonard Simpson, Marie and Dr. Merrel Olesen, Karina Lion and Thom Tullis, Kristi Pieper and Michael Rossbacher, Virginia Monday, Denise Lara, Kima 'the RunAway Bride' in a gown by Jem, and Belle.
That's the horse Belle. She was brought by owner Matthew Midgett. Matthew knew of host Sally B.'s fondness for horses. After all, Sally did ride, compete, and win many championships in her childhood. So with that in mind, Matthew and Belle came. And they were quite the hit.
And it wasn't just people who were bewitched by beautiful Belle.
Kima didn't want to stop playing with her. Others watched, and all talked about it.
Meanwhile, Jay Kovtun, ever the wit, joked that he had left his pet goldfish at home.
Everyone enjoyed fun conversation, piano music by Peter the Prince of Piano, a delicious buffet luncheon from Café Champagne including lucky black eyed peas of course, mini lamb chops, perfect corn pudding, and award winning Thornton Wines.
Happy New Year!!
and enjoy the photos!
A petite Guest ** Jeanne Beach Eigner ** Dianne York-Goldman ** Margo Schwab with Dianne York-Goldman
Scott Johnston with Kima ** Kima playing with Belle, Matthew Midgett watching
A Pretty Pooch ** Reinette and Marvin Levine ** Karina Lion and Thom Tullis
Christopher and Leonard Simpson in Mister B Clothing ** Kima with Jack White ** Scott Johnston and Margo Schwab with Kima
Guests ** John M. Thornton
Floral display and dessert menu ** Bud and Marie Burnett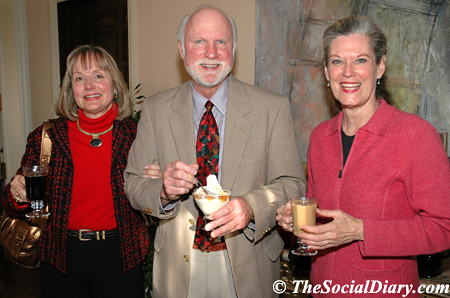 Julie Sarno, Vincent Andrunas, Pamela Hartwell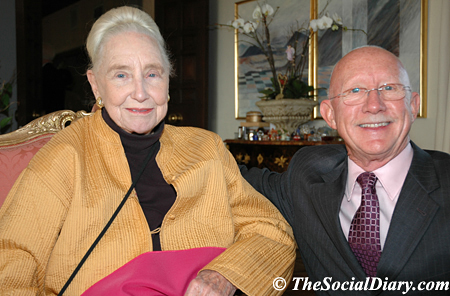 Martha Longnecker with Hershell Price
Scott Johnston with Kima ** Pam Slater-Price and Hershell Price ** Denise Lara with Steve Thornton
Virginia Monday with Chris Sheppard ** Steve Thornton and John M. Thornton ** Yiwei Zhang with Eric Rimmele
Eric Rimmele ** Scott Johnston and Kima with George ** A very pretty little girl and Poodle
reported by Margo Schwab
* Margo Schwab, formally known as Margaret E. Schwab, has produced, written, interviewed and photographed for various media organizations since 1989. Schwab attended Holton Arms School, La Jolla Country Day School and La Jolla High School. Schwab has a B.A. from Scripps College, spenta a business internship with S.A.I.C., Science Applications International Corporation, and earned a Masters of Business degree, M.B.A., from the University of San Diego. Schwab volunteers for numerous charity organizations. She also continues to lobby for water safety and for family violence mitigation. Schwab is the editor of The Social Diary. Margo is currently writing a book based on La Jolla.
Warning ** photos, video and writing on this site are the
copyright of The Social Diary, San Diego Social Diary
no reproduction of any part or parts is allowed without written permission by The Social Diary