~ The Social Diary ~
~~~~~~~~~~~~~~~~~~~~~~~~~~~~~~~~~~~~~~~~~~~~~~~~~~
The "Buzz" - DYG in D&G Honored by AHA, Mustique Mystique,
A Billionaire's Buying Spree & More!

February 15th, 2007
The Social Diary Columnist & Photographer Margo Schwab
Dianne York-Goldman, CEO and President of La Jolla Spa MD and DYG Mineral Makeup was honored at the recent American Heart Association luncheon for all of her many contributions to the organization. Dianne had this to say about the honor bestowed her. "The American Heart Association honored me as a circle of red member in addition I serve on the AHA committee." And Dianne was honored in style. The AHA pinned a red rose corsage on Dianne's Dolce & Gabbana red sweater. It went well with the D&G leopard skirt!
That wasn't the only attention Dianne was getting. Her DYG Mineral Makeup booth was barraged with the 'ladies who lunch and support causes' getting makeup touch ups. Dianne has rather become the 'modern day Evelyn Lauder' with her DYG makeup line already going international. The 'new must have' DYG Mineral Makeup was launched just a year ago!
Meanwhile Mustique and St. Barts have turned into the 'go to' spot for many La Jollans. Some with their mega, mega-yachts. What's to like? Privacy and some interesting elbow rubbing. Mick Jagger has a home on Mustique, in fact he's had it for years. Make that decades. It's built like a Japanese compound.Jagger's is one of 85 homes, some of which are available for rent. But bring your Swiss bank account. The going's not cheap. It's not just the rental and tipping of the full staff, it's the journey there too. Definitely off the commercial flight radar, but from La Jolla sources, well worth it!
And up the coast in Malibu, Oracle's billionaire, make that roughly '$19- 44 billion' billionaire Larry Ellison has been swooping up beach front properties. His just off the press recent purchase is the quaint Casa Malibu Hotel. For a reported $20 million plus. The Malibu Times' reporter Kim Devore has reported that this is part of Ellison's $180 million dollar shopping spree in Malibu alone.
(Note - the range of billions of Larry Ellison is due to which valuation of his stocks/ vs. liquidity you adhere to.)
Casa Malibu has seen quite a few luminaries including Lana Turner who liked staying there so much, a suite was named after her.
Funnily enough, Casa Malibu owners, and now sellers, Joan and Richard Page frequent La Jolla. Among one of their favorite stops, Piatti's in the Shores.
Others with large real estate holdings in Malibu include Univision's Jerry Perenchio and mega-producer David Geffen. Geffen had a long battle up that way to block a public easement on one of his property's. It was ultimately determined to be a public easement.
And La Jollans are still reeling from the home invasion at the Rady household in the La Jolla Shores area. A sad lesson that times have changed in our little community. Although that was not a random crime, home invasions have been attempted. Right in La Jolla Shores a woman witnessed a man trying to kick her kitchen door in. She was grabbing a frying pan and calling police, while her Scottish terriers were collecting a bit of evidence from the wannabe thief. A good bit of the perpetrators trousers and blood were collected later from the terriers by the police.
And what's the buzz on new money coming to town? Same as in New York. It's referred to as the Billionaire Russian Invasion. And wads of cash are not uncommon. One plastic surgeon revealed he was paid in cash for performing a face lift. Now that's putting money where your mouth is!
And the photo of the week that caused the most buzz..... Valerie Cooper in a Guy Laroche gown at the Charity Ball 2007!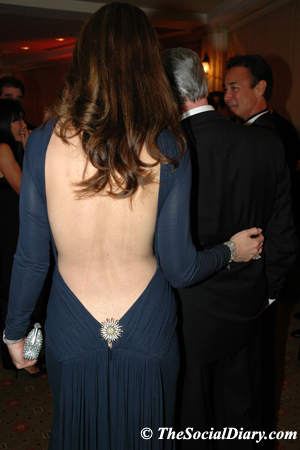 Sensational Smiles and Gowns at Charity Ball 2007
Til' Next Time, that's the "Buzz!"