~ The Social Diary ~
~~~~~~~~~~~~~~~~~~~~~~~~~~~~~~~~~~~~~~~~~~~~~~~~~~
St. Germaine's Silver Tea 2007
Months back, when St. Germaine President Karen Miller queried of us here at The Social Diary, whether we knew any extraordinary home that could accommodate 300 plus women for a great cause, the answer was easy. Ask Dawn Kearney Davidson.
Dawn, a very respected interior designer, had just finished her and husband William Davidson's new oceanfront home in South La Jolla.
Thankfully Dawn said yes and opened her doors December 11th, 2007 to quite a well dressed crowd of St. Germaine Childrens' Charity supporters for the Annual Silver Tea fundraiser..
Among the mix attending were Co-Chairs Sarah Burton and Sally Irwin, Jeanne Larson, Patty Hambleton, Emma Zuckerman in a pretty Akris suit, Gigi Cramer, Alice Brana, Mercedes LaFont, Dianne York-Goldman, Maurine Beinbrink, Elisabeth Bergan, Katy Dessent, Berneice Copeland, Barbara Brown, Karin Camp, Maree Mossmer, Jennifer Greenfield, Sook Hansen, Sue Kalish, Mary Johnson, and Terry and Greg Cooper.
The Cooper's were celebrating 25 years happily married. St. Germaine's Children's Charity will be celebrating 25 years next year too. That's 25 years in helping to prevent child abuse.
More there generously supporting an important cause were Susie Spanos, Claudia Johnson, Berneice Copeland, Betty Dow, Kathryn Murphy, Susan McClellan, Micki Olin, Pam Smith, Shannon Turner, Lee Clark, Constance Hughes, Barbara Enberg, Deborah Marengo, Vicky Eddy, Lisa Casey, Becky Glenn, Linda Rutgard, Marilee Warfield, Barbara Mulligan and Elaine Murphy.
Over $80,000 was raised by this event, with over $2 million raised since the group's inception in 1984 by the Founder, the late Barbara Christensen.
To learn more about the St. Germaine Children's Charitable organization, please visit www.stgermainechildrenscharity.org
Please enjoy the photos.
(high resolution photos available by request for purchase)
Co-Chair Sarah Burton ** St. Germaine President Karen Miller ** Host Dawn Kearney Davidson with Becky Glenn and Linda Rutgard ** Claudia Johnson
Alice and George Brana with Mercedes LaFont ** Terry and Greg Cooper ** Kathryn Murphy
A peak at the interior of the Davidson's home. ....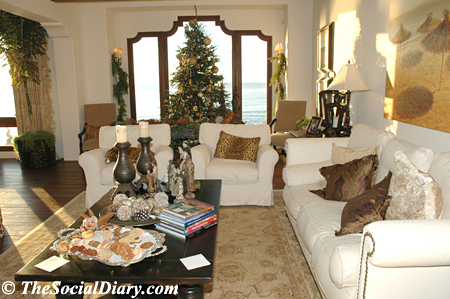 Gigi Cramer ** Patty Hambleton and Susan McClellan ** Lee Clark ** Dawn Kearney Davidson
Guest with Jeanne Larson and Patty Hambleton ** Emma Zuckerman ** Terry Cooper and Sue Kalish ** Ms. McDowell
* Margo Schwab, formally known as Margaret E. Schwab, has produced, written, interviewed and photographed for various media organizations since 1989. Schwab attended Holton Arms School, La Jolla Country Day School and La Jolla High School. Schwab has a B.A. from Scripps College, spenta a business internship with S.A.I.C., Science Applications International Corporation, and earned a Masters of Business degree, M.B.A., from the University of San Diego. Schwab volunteers for numerous charity organizations. She also continues to lobby for water safety and for family violence mitigation. Schwab is the editor of The Social Diary. Margo is currently writing a book based on La Jolla.
Warning ** photos, video and writing on this site are the
copyright of The Social Diary, San Diego Social Diary
no reproduction of any part or parts is allowed without written permission by The Social Diary