~ The Social Diary ~
~~~~~~~~~~~~~~~~~~~~~~~~~~~~~~~~~~~~~~~~~~~~~~~~~~
Starlight Starbright Fashion Luncheon 2006

January 8th , 2007
The Social Diary Columnist & Photographer Margo Schwab
The Starlight Society's Thirteenth Annual "Starlight Starbright" Luncheon and Fashion Show on November 18th, 2006 drew a very well dressed crowd to the Bahia Resort Hotel.
Phyliss Parrish *Starlight Society Sponsor Sally B. Thornton * Guest with Judy White
The fun and fashionable crowd enjoyed special boutique shopping, a delicious lunch, and a fashion show with Stars of Starlight from seasons past doing the modeling. And they did it well.
Among the very special Starlight models were Cinda K. Lucas, Priscilla Allen, Patti Goodwin, Dotti Howe, Maxine Mahon, and Jessica Wheeler.
Sally B. Thornton and her many guests enjoyed the event thoroughly.
As Sally later described the day: "Hats Off" to STARLIGHT! It was a perfect day. The BAHIA provided a gorgeous setting and delectable repast. The fashions were beautiful, wearable, and affordable. We all had an utterly delightful afternoon! Congratulations, STARLIGHT!"
Among those joining in the fun with Sally were Afife Baloyan, Raffaella Belanich, Kitty Kaufman, Charlotte Hogue, Sook Hansen, RoseMarie Pipitone, Mary Ann Ginnow, Wanda Kaufman, Jin Kim, Reinette Levine, Jeanette Maxwell, Julie Sarno, Kathy West, Lorenza Vildosola, Margo Schwab, Dottie Stanley, Judy White, and Phyliss Parrish.
Starlight Society President Marcella Quirk and Fashion Show Committee Chairwoman Merle Lotherington were quick to point out the importance of fundraiser's like these. Monies will go towards scholarships for outstanding performing arts students, and upcoming performances of the Starlight Musical Theatre.......... BRAVO!
Carol Karlovich and friends * Joan Bowes and Guest
Sook Hansen befeathered * Jessica Wheeler and Jennifer Wheeler with a stage star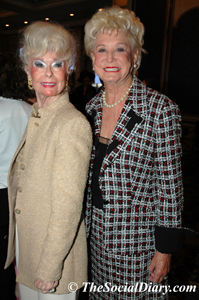 Sally Thornton and Wanda Kaufman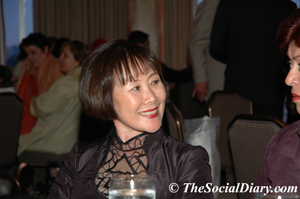 Jin Kim
advertisement
__________Zagat Accoladed....&.... "Culinary Genius!" says The Social Diary's Scott Johnston_______
* Margo Schwab has produced, written, interviewed and photographed for various media organizations since 1989. Schwab has a college degree from Scripps College and a Masters of Business degree from the University of San Diego. Schwab volunteers for numerous charity organizations. She also continues to lobby for water safety and for family violence mitigation. Schwab is the owner and publisher of The Social Diary. Margo is currently writing a book based on La Jolla.
back to New this Week.....Margo Schwab Archives...... Home
Warning ** photos, video and writing on this site are the
copyright of The Social Diary, San Diego Social Diary, margomargo.com and Margo Schwab.
no reproduction of any part or parts is allowed without written permission by Margo Schwab