~ The Social Diary ~
the on-line magazine covering High Society ..& more
____________________________________________________________
Overland Park, KS
May 29 to June 4, 2006
USTA National Senior Women's Indoor Championships
Indian Creek Racquet Club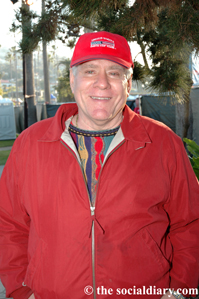 by The Social Diary Senior Women's Tennis Columnist Ron Harkins
Photos by Ron Harkins

"Ladies of Tennis Distinction"
by Ron Harkins
Phoenix, AZ

Once again the Indian Creek Racquet Club in Overland Park, KS hosted the 26th Annual Senior Women's 65/75/85 National Tennis indoors event. This year 68 senior ladies gathered to play both doubles and singles tennis. Standing out were 8 "Ladies of Tennis Distinction" ages 85 to 89 with only one thing on their minds but winning and some bridge.
Just this last May La Jolla, CA local tennis player Dodo Cheney won Gold Ball 351 winning the 90s singles at the Senior Women's National hard courts held at the La Jolla Beach and Tennis Club.In Overland Park, KS Dodo won the Sliver in 85s singles and another Gold Ball in the 85 doubles for a total of 352.
Silver 85s Singles Gold
Dodo Cheney, Loucille Dettmer
La Jolla, CA, Park City, UT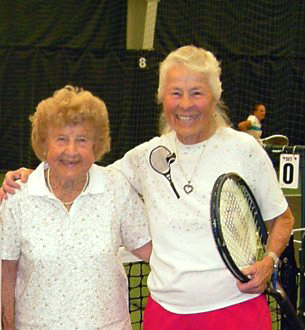 85 Doubles
Bronze Silver Gold Wd(ing)
left to right
Patrica Yeomans, Los Angles, CA
Mary Hill, Claremont, CA
Loucille Scoggins, Dickinson, TX
Ilse Jobson, Saratoga, FL
Dodo Cheney, La Jolla, CA
Loucille Dettmer, Park City, UT
Judy Stark, Los Angeles, CA
Maxine King, Phoenix, AZ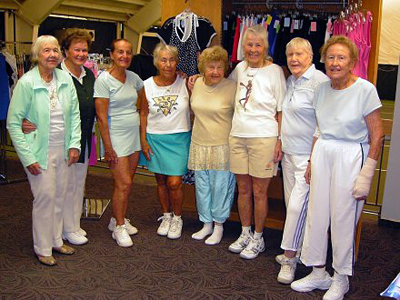 * Ron Harkins has been covering the USTA Senior Women's National Tournaments for over 20 years, providing photos to several local and National Tennis Magazines.* Ron can be reached at prodj34@hotmail.com
back to New this Week......Ron Harkins Archives.......Davis Cup Columns............ Home
Warning ** photos, video and writing on this site are the
copyright of the author, The Social Diary, San Diego Social Diary, margomargo.com and Margo Schwab.
no reproduction of any part or parts is allowed without written permission by Margo Schwab