~ The Social Diary ~
~~~~~~~~~~~~~~~~~~~~~~~~~~~~~~~~~~~~~~~~~~~~~~~~~~
The Who's Who with Chapeaux - Del Mar Opening Day!
.... 'The Fashionable and Fabulous'

July 19th, 2007
The Social Diary Columnist & Photographer Margo Schwab
(high resolution photos available by request )
It was hats, elegant hats, and more hats Opening Day at the Del Mar Race Track. A horse race loving who's who came out dressed to the nines. Among the mix of exclusive Turf Club, Sky Box and Director's room patron's were Darah Grimm in Dolce & Gabbana and feathery hat, Danica Ciulli pretty in rose adornment, Kathryn Murphy in festive flowers, Leanne Shapery in vibrant colors, Susan Kazmarek in sophisticated whites, and Phyliss Parrish in a Gerald Wendell exclusive chapeau from London, accompanied by the designer himself, and of course Phyliss's husband John. Valerie Cooper wore a daisy themed Oscar de la Renta with a hat by Nigel Rayment, and Dianne York-Goldman wore a summery Yigal Azrouel, with an elegant hat expressly flown in from her Monte Carlo designer friend, Isabell Kristensen.
Others there looking fabulous and ready to have a terrific day were Dianne Bashor, Denise Hug, Jesse Knight in an all white on white suit ensemble, Yolanda Walther-Meade, hatless, strapless and fabulous, Scott Johnston in perfect pinstripes by Ralph Lauren Polo, Leonard Simpson in a sleek suit, Carol Karlovich in light rainbow hues, designer Stephan McKellar, Sally Thornton vibrant as a peach from the South, and Diana Cavagnaro, lovely in lemon inspired colors and a hat made by herself. In fact Diana made quite a few of the millinery wonders seen on pretty heads at the Turf Club.
This day of fashion had more that couture clothing though. Some of the jewelry seen was very Monte Carlo worthy. And because of that, we will leave it to your imagination.
Big race horse owner and animal lover Madeleine Pickens regretfully had to miss Opening Day. Madeleine has been traveling through China and nearby whereabouts.
Bertrand Hug remarked that he and wife Denise had just returned from France. While there, they went to the races at Longchamps and bumped into friends Melissa and Jack Preston of Rancho Santa Fe and Texas. The Prestons are quite familiar with collecting bouquets in the winner's circle for their race horses.
Ron and Sook Hansen were there. They just returned from a whirlwind trip to Eastern Europe. They wouldn't miss Opening Day for the world.... or world travels!
After a thrilling day where all felt like winners, many continued festivities at various key après-track hotspots. Those included Sbicca's, L'Auberge del Mar Resort, Mille Fleurs, Delicias, WineSellar & Brasserie, Pamplemousse Grille, Piatti's, Barbarella's, George's, and Scalini's.
To learn more about the fun, special events and more at the Races this season, please visit www.dmtc.com
Enjoy the photos!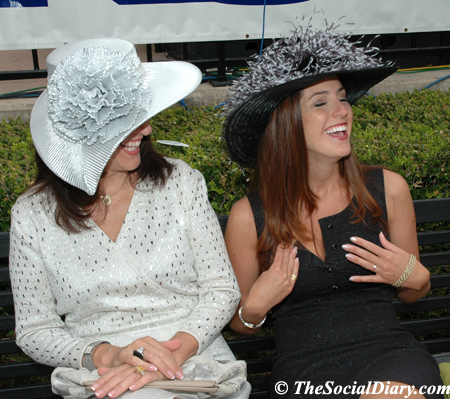 Daran Grimm and Darah Grimm
Edoardo Ciulli, Marshall, and Scott Johnston** Brittany Simpson and Kat
Reporters Scott Johnston and Margo Schwab ** Edoardo and Danica Ciulli
Scott Johnston with Leonard Simpson ** Darah and Marshall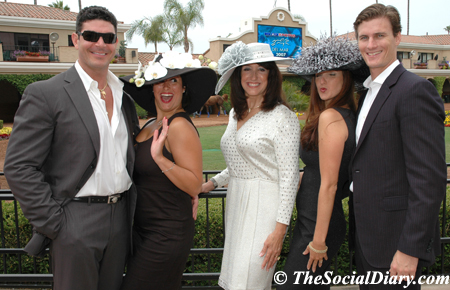 Daran Grimm with her Family
Brittany Simpson with her father Leonard Simpson ** Guests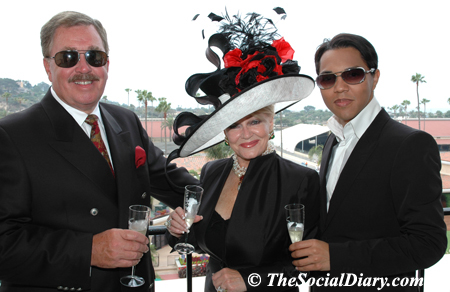 John and Phyliss Parrish with hat designer Wendell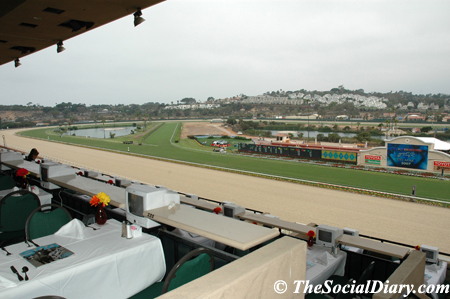 Turf Club view before the well dressed crowds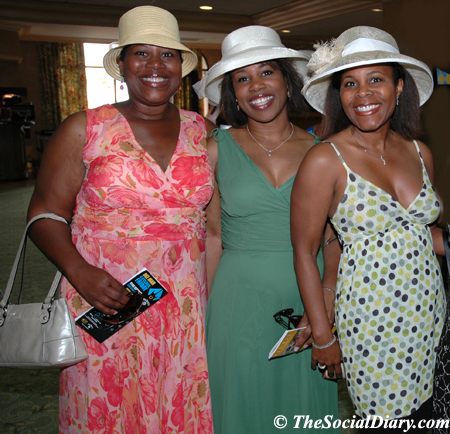 Pongee Kennedy, Toroshinia Kennedy, Vekeno Kennedy
Jesse and Joye Knight ** Sandra Maas and friends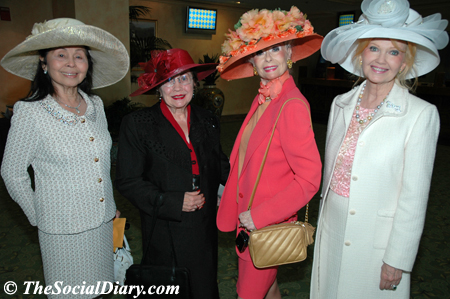 Edith Ricketts with Merle Lotherington, Sally Thornton and Cristull Hasson
Valerie and Harry Cooper ** Wanda Kaufman
Dianne York-Goldman ** Susan Kazmarek-Biddick and Craig Biddick, with Dianne York-Goldman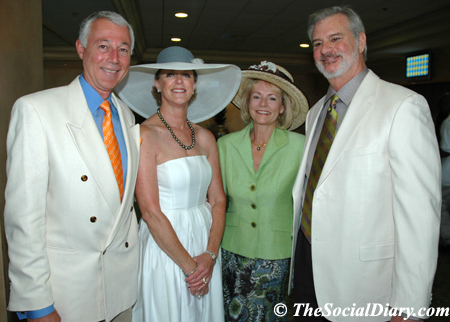 Craig Biddick and Susan Kazmarek-Biddick, with Sandra and Dr. Jeffrey Schafer
Dianne Bashor ** Denise Hug
Jim Bashor ** Bertrand Hug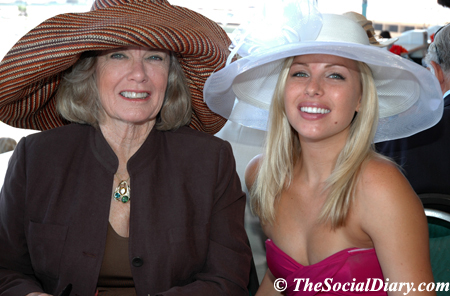 Guests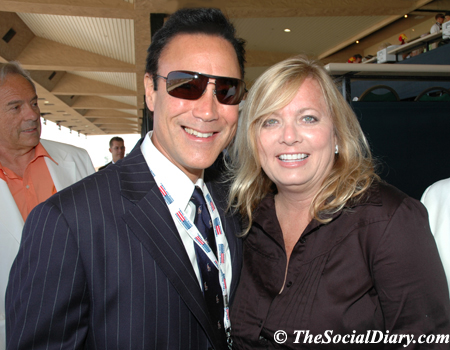 Scott Johnston with Amy Van Buskirk
Guest with Lynn Stewart ** Ron and Sook Hansen
Sandy and Leanne Shapery ** Yolanda Walther Meade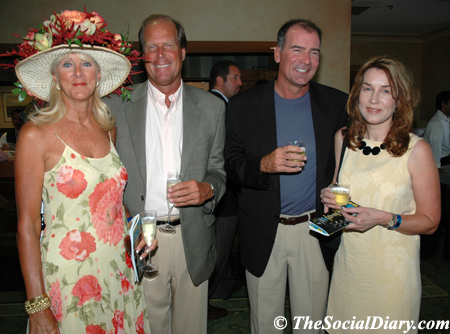 Kathryn Murphy and Lance Peto with Guests
Mary Walker and Carol Karlovich ** Diana Cavagnaro with husband George and Sandra Maas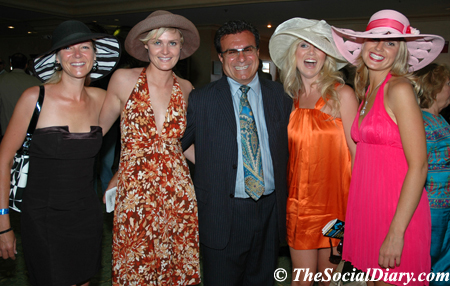 Ara, owner of Scalini's with his friends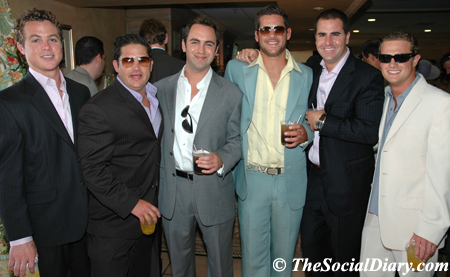 Guests
Karina Lion ** Dianne York-Goldman
KUSI's Dave Scott ready for a test bugle call ** Joe Harper, President of the Del Mar Thoroughbred Club
* Margo Schwab has produced, written, interviewed and photographed for various media organizations since 1989. Schwab attended Holton Arms School, La Jolla Country Day School and La Jolla High School. Schwab has a B.A. from Scripps College and a Masters of Business degree, M.B.A., from the University of San Diego. Schwab volunteers for numerous charity organizations. She also continues to lobby for water safety and for family violence mitigation. Schwab is the editor of The Social Diary. Margo is currently writing a book based on La Jolla.
Warning ** photos, video and writing on this site are the
copyright of The Social Diary, San Diego Social Diary, margomargo.com and Margo Schwab.
no reproduction of any part or parts is allowed without written permission by Margo Schwab