~ The Social Diary ~
the on-line magazine covering High Society ..& more
____________________________________________________________
Mama Mia! What A Heart!
Mama's Day 2006 Breaks Fundraising Record
SAN DIEGO – On Friday, May 12th Mama's Kitchen teamed up with more than 70 of San Diego's finest restaurants for Mama's Day 2006 - Mama Mia! What a Heart!, presented by Sycuan Resort and Casino and SAIC, lead corporate sponsor. The 15th annual event raised more than $177,000, breaking all previous Mama's Day fundraising records. This year, dozens of San Diego's most celebrated chefs served up and showcased their scrumptious specialties for over 900 guests at the Hyatt Regency La Jolla to help support Mama's mission: to provide food and nutrition to people affected by HIV/AIDS and other critical illnesses throughout San Diego county.
In addition to the public's support, Sycuan Resort and Casino and SAIC were joined by other generous Mama's Day sponsors including Union Bank of California, Hyatt Regency La Jolla, Neiman Marcus, Absolut Vodka, emcee Monique Marvez of JACK-FM 100.7 and DJ Tim Altbaum.
About Mama's Kitchen - Mama's Kitchen was founded in 1990 when volunteers from the AIDS Assistance Fund, a food bank for people with AIDS, discovered that many of their clients were becoming too ill to take care of themselves. They realized that a reliable home meal delivery service was needed to ensure that these individuals would continue to receive nutritious food. Today, Mama's Kitchen prepares and delivers three meals a day for every day of the week to about 300 men, women, and children affected by AIDS and other critical illnesses in San Diego County.
pictured here - Mama's Kitchen major donor Mary Beth Kellee and Mama's Kitchen Board President John Pelkey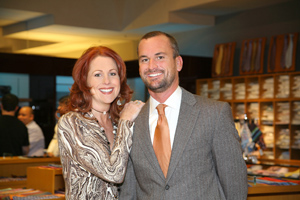 pictured here - Mama's Kitchen Legacy Donors David Henbest and Butch Furches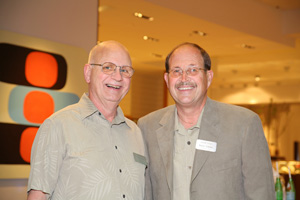 pictured here - Neiman's Fashion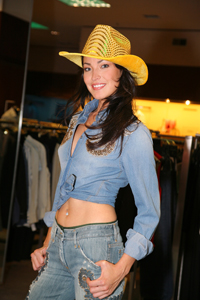 Jamie Lynn Sigler, Kim Guyader, Neiman's PR, Gillian Flynn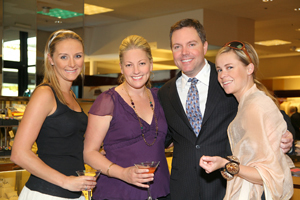 To learn more about how you can get involved, click Mama's Kitchen.
Warning ** photos, video and writing on this site are the
copyright of the author, The Social Diary, San Diego Social Diary, margomargo.com and Margo Schwab.
no reproduction of any part or parts is allowed without written permission by Margo Schwab