~ The Social Diary ~
~~~~~~~~~~~~~~~~~~~~~~~~~~~~~~~~~~~~~~~~~~~~~~~~~~
Mama's Haute Fashion Show Luncheon 2007
"BE HAUTE! IF YOUR' RE NOT, YOU'RE NAUGHT"- Honorary Chairman Sally B. Thornton
Honorary Chairman Sally B. Thornton and Fashion Forward's Leonard Simpson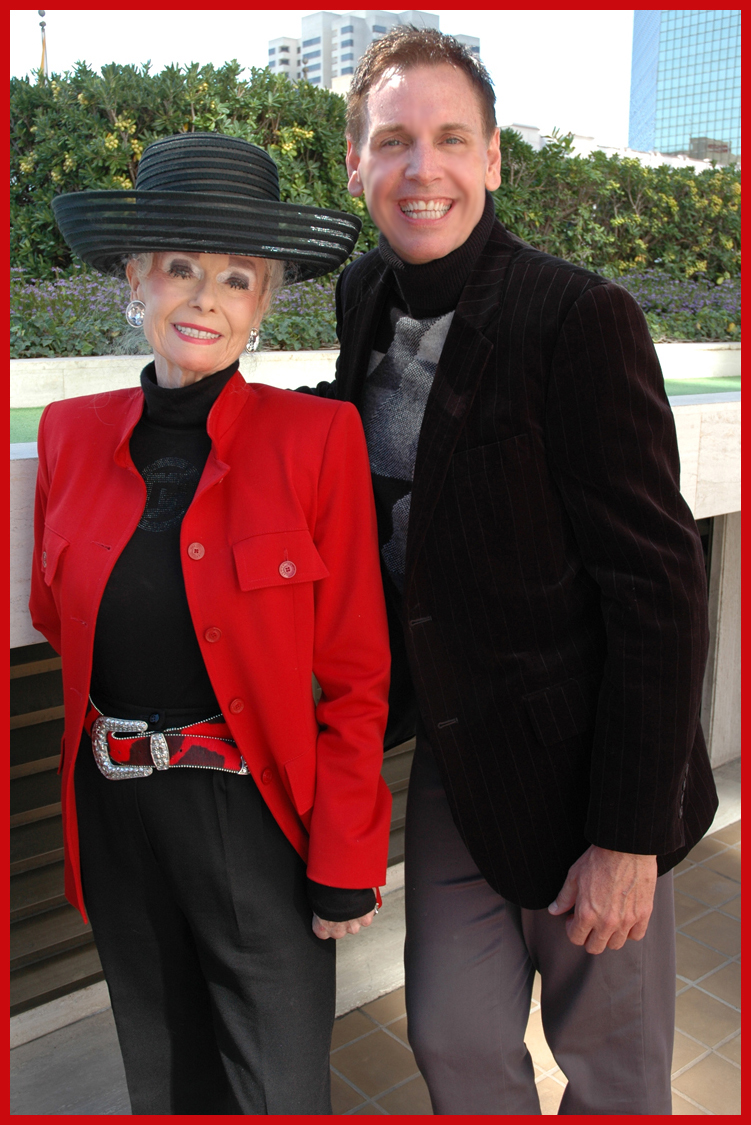 September 29th, 2007 the fun and the fashionable came out for a day of serious boutique and silent auction shopping, 'Westgate - Fabulous' lunch dining and a Fashion Forward Production by Leonard Simpson at the Fountain Terrace of The Westgate Hotel. All for a great cause, Mama's Kitchen. And all the clever concept of Honorary Chair Sally B. Thornton.
In Sally's words:
We had it all!
A MAGNIFICENT AFTERNOON!
ON THE ELEGANT,
WESTGATE HOTEL TERRACE.
EVERYONE WAS "HAUTE"!
OH! OH! OH!
THE "EYE CANDY" WAS
REAL "HOT"!
THE PERFECTLY, DELECTABLE
CUISINE WAS DIVINE!
FASHION SHOW GENIUS, LEONARD SIMPSON,
AS ALWAYS,
PRESENTED A FRESH, FUN, NEW AND EXCITING
FASHIONABLE, WEARABLE AND AFFORDABLE
COLLECTION.
IF YOU…, I'LL BET YOU,
"WISH YOU…".
REMEMBER, "MAMA" LOVE$ YOU!
MANY, MANY THANKS FOR
THE GREAT $UCCE$$!
Mama's Kitchen Executive Director Alberto Cortés, MBA was thrilled with the new concept for the fundraising day. "Our fashion show attendants had a wonderful time at our event. It was a beautiful day, the food was great, and Leonard Simpson put on a top-notch fashion show. One of our goals was to reach a different audience in the community and we had the presence of many who were first-timers at a Mama's Kitchen event. We thank Sally B. Thornton, our Honorary Chair, for making this happen."
Ruth Jacobowitz agreed and added this. "Mama's Kitchen's luncheon was haute, haute, hot. The guests were fabulously attired, the luncheon was delicious, and the fashion show was out of this world with female and male models that were as gorgeous and haute as the fashions. We made Mama proud!"
Among the VIP mix attending or sending support were Ruby Red Hot Committee Members Joni Alpert, Elisabeth Bergan, Marie Chemali, Susan Clifton, Joyce Grosvenor, Merle Lotherington, Phyliss Parrish, Dian Peet, Dakota Parrish, John Prosen, Sandra Schaefer, artist Dottie Stanley, Marian Trollan, Patti Cooprider, artist Judith Jarcho, Cindy Goodman, Doreen Schonbrun, Claudeen Cowell, Danah Fayman, Louise Hay, Jennifer Kearns, Carol Karlovich, Reinette Levine, Elaine Lipinsky, and Mary Walker.
Also there were Micki Farrell, Joye Knight, Lilo Miller, Cristull Hasson, Ofelia Alksne, Sue Greenwood, Monique Marvez, and Stephanie from Ooh La La Boutique in Del Mar Plaza and more. In fact, her boutique fashions were featured in the show.
Others participating in the boutique shopping and fashion show included Scott James East Village, Tucci Boutique, Village Hat Shop, Gentlemen's Tux Club, Forsythe Pearls, and Orange Blossoms.
The lunch served was Westgate perfect. So was the perfectly chilled Thornton Cuvee Rouge Champagne that prevailed at Sally's tables. Three tables of front row center guests no less.
About Mama's Kitchen - Mama's Kitchen was founded in 1990 when volunteers from the AIDS Assistance Fund, a food bank for people with AIDS, discovered that many of their clients were becoming too ill to take care of themselves. They realized that a reliable home meal delivery service was needed to ensure that these individuals would continue to receive nutritious food. Today, Mama's Kitchen prepares and delivers three meals a day for every day of the week to hundreds of men, women, and children affected by critical illnesses in San Diego County.
To learn more about upcoming events, to make a donation or to volunteer, and definitely to order Mama's Pies for Thanksgiving and the holidays, please visit www.mamaskitchen.org
Please enjoy the photos.
(high resolution photos available by request
Alberto Cortés ** Guest with Cristull Hasson ** Carol Karlovich and Mary Walker
Ruth Jacobowitz ** Joye Knight ** Diana Cavagnaro
Afife Baloyan ** Charlotte Hogue and Joye Knight ** Carole Laventhol with Doreen Schonbrun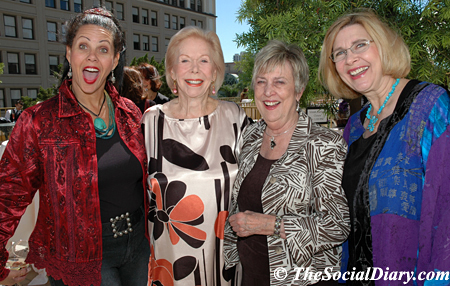 Exuberant Guests!
Designer Scott James ** Sue Greenwood ** Alberto Cortés with Sandra Maas and Guest
Brittany Simpson ** City Commissioner Nicole Murray Ramirez ** Floral centerpiece for the luncheon table
Sally B. Thornton with Leonard Simpson ** Alberto Cortés ** Joyce Grosvenor and Young Guest
Singer Julia Garlington and The Fashion Forward Show!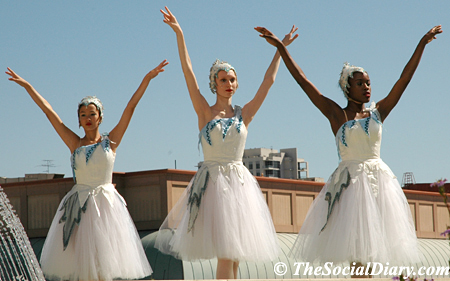 Ballerinas from California Ballet for the finale
And Sally B. Thornton would kindly like to remind you:
"AND, NOW,
OFF WITH THE "OLD"
ON WITH THE "NEW", 'CAUSE
"EVERTHING'S COMING UP ROSES…"
THE AMERICAN RED CROSS
"RED ROSE SOCIETY"
FASHION SHOW
FRIDAY, NOVEMBER 9TH
THE U.S. GRANT HOTEL
LEONARD AND I WILL BE
LOOKING FOR YOU,
SO, BE THERE!"

Reported by The Social Diary's Margo Schwab
The Social Diary would like you to note other great upcoming events including the Children's Hospital Gala, the Patrons Party for the San Diego Council on Literacy, the Candlelight Ball for Scripps Hospital and the Gingerbread Gala for the Epilepsy Foundation of San Diego.
* Margo Schwab has produced, written, interviewed and photographed for various media organizations since 1989. Schwab attended Holton Arms School, La Jolla Country Day School and La Jolla High School. Schwab has a B.A. from Scripps College and a Masters of Business degree, M.B.A., from the University of San Diego. Schwab volunteers for numerous charity organizations. She also continues to lobby for water safety and for family violence mitigation. Schwab is the editor of The Social Diary. Margo is currently writing a book based on La Jolla.
Warning ** photos, video and writing on this site are the
copyright of The Social Diary, San Diego Social Diary
no reproduction of any part or parts is allowed without written permission by The Social Diary