~ The Social Diary ~
~~~~~~~~~~~~~~~~~~~~~~~~~~~~~~~~~~~~~~~~~~~~~~~~~~
'Diamonds Are Forever'... A Very 'Bond, James Bond,' Gala at the La Jolla Playhouse
"The gala was a huge success, with all the excitement of Des, Jersey Boys, Diamonds, and a room full of people ready to celebrate" - Deni Jacobs
La Jolla Playhouse celebrated its 60th anniversary Gala December 8th, 2007 amidst rain sprinkles. But guests in evening wear were not sprinkled but rather dripping in diamonds. And it was a perfect match with the 'Diamonds Are Forever' theme. Quite a few diamond pieces draped they PYT, or 'Pretty Young Things' crowd. Among them were Chair Debby Jacobs, Laleh Roudi and Miriam Smotrich. Their jewels were lent by the prestigious XIV Karats of Beverly Hills.
Though that changed somewhat by night's end for Chair Debby Jacobs.. Debby's husband Hal Jacobs bid and won her earrings during the live auction. Nice treat for a great wife and a terrific gala chair. Debby not only organized this event once, but twice due to the Southern California fires in October that postponed the first gala date.
By the way, October floral arrangements for the gala were thoughtfully donated to burn victims from the fires.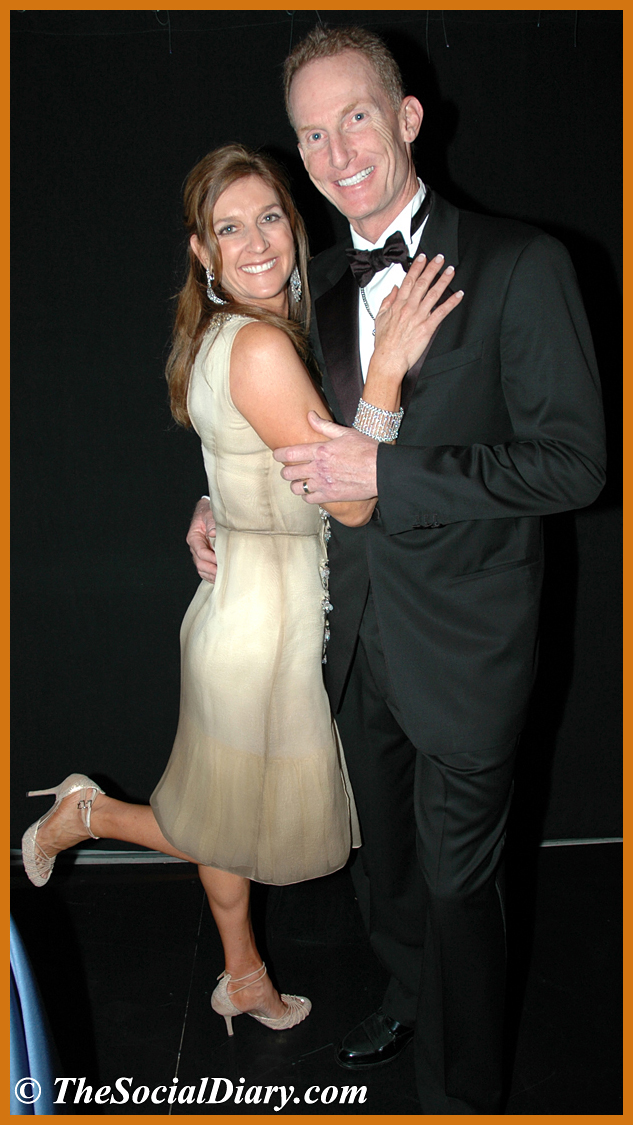 Debby and Hal Jacobs
This evening didn't miss a beat on fun and glamour though. Tony Award Winning John Lloyd Young took the pace up quite a few notches by performing excerpts from Jersey Boys. That's the Jersey Boys of Tony Award Winning fame.
And Des McAnuff, the La Jolla Playhouse's Director Emeritus, was toasted and roasted. Billy Crystal was in one of the video clips played during dinner. Billy had a great time poking fun at Des, Des's Tony Award winning talents, and of course Des's famous orange jackets.
Among the who's who enjoying the evening were Debby of course with husband Hal Jacobs, Lise Wilson and Steve Strauss, Karen and Warren Kessler, Joan and Irwin Jacobs, Judith Harris and Dr. Robert Singer, David Copley, Place Tegland, Julia McAnuff, Tanya and Charles Brandes, Margaret and Nevins McBride, Karen and Don Cohn, Sheryl and Harvey White, Jeanne Jones and Don Breitenberg, Deni and Jeff Jacobs, Valerie and Harry Cooper, Gail and Ralph Bryan, Audrey Geisel and Alex Butterfield, and Joy and Jim Furby..
If you noticed quite a few Jacobs names listed in the mix it's no surprise. Qualcomm was the generous lead sponsor. And as everyone knows, the Jacobs' Family is the intelligent force behind Qualcomm.
On the fashion front leading the way were Sheri Jamieson in mod, short black with a collar of crystals to frame her face. Her beautiful face. Other beauties there included Valerie Cooper in a short 'Goldfinger' Elie Saab, Karen Cohn in Oscar de la Renta, Sheryl White in Roland Nivelais, Deni Jacobs in a beaded black Elie Saab, Debby Jacobs in a short beaded Prada she had picked up in NYC, Emma Zuckerman in a sleek velvet suit by Gucci, and Lisa Bols in a terrific animal print by 'who cares.' She looked terrific.
So did Jeanne Jones. Jeanne dressed her coiffure in an elegant cloche web of diamonte sparklers.
The New Artistic Director Christopher Ashley was there, and so were Lee Clark and Dr. Jerry Pikolysky, Laleh and Alex Roudi, Melissa and Michael Bartell, Christine Forrester, Suzanne Figi and Clinton Walters, Brett Dickinson, Barbara and Karl ZoBell, Cindy and Tom Goodman, Judy and Jack White, Maree and Michael Mossmer, and Kimberly and David King.
The Kings had nothing but praise for the event. "The Diamonds Are Forever Gala was SMASHING. The entire evening was right on target, from the food, décor and entertainment, it was like a good martini, shaken, not stirred. Congrats to Des, San Diego misses you MADLY!"
That's décor by the incomparable Jim Lennox. With details down to 'diamonds' dripping from martini glass centerpieces.
There was the cuisine too. Robert Armstrong of Hyatt Regency La Jolla put together the menu. Winter green salad served had crabapples, crumbled blue cheese, champagne vinaigrette and Marcona Almonds that Robert discovered in Spain. Salad was followed by roasted filet mignon in Port wine demi-sauce, potato puree with baby vegetables, Bread & Cie Bread, and Club 007 Dessert
A whole lot of dancing followed, mixed with great quotables from these notables....
"Martini glass centerpieces dripping with diamonds, the best people watching, wonderful Jersey Boys performer, etc, etc, etc. What a great way to start the Holidays. Always one of the best parties anywhere. Love the Playhouse!" said Place Tegland.
Sheryl White concurred and added this. "The LJP gala was a blast! I especially enjoyed the entertainment! The rain did not appear to dampen anyone's spirits! Debby once again did a great job raising money for the theater!"
Deni Jacobs summed it up well. "Anytime a girl gets to be dripping in Black diamonds, it's a good thing. The gala was a huge success, with all the excitement of Des, Jersey Boys, Diamonds and a room full of people ready to celebrate"
Celebrating 60 years of La Jolla Playhouse. That's the multi-Tony Award Winning La Jolla Playhouse. And Des McAnuff always comes back as noted by Billy Crystal.
To learn more about the educational and outreach programs that events like these benefit, please visit La Jolla Playhouse.
Please enjoy the photos.
(high resolution photos available by request)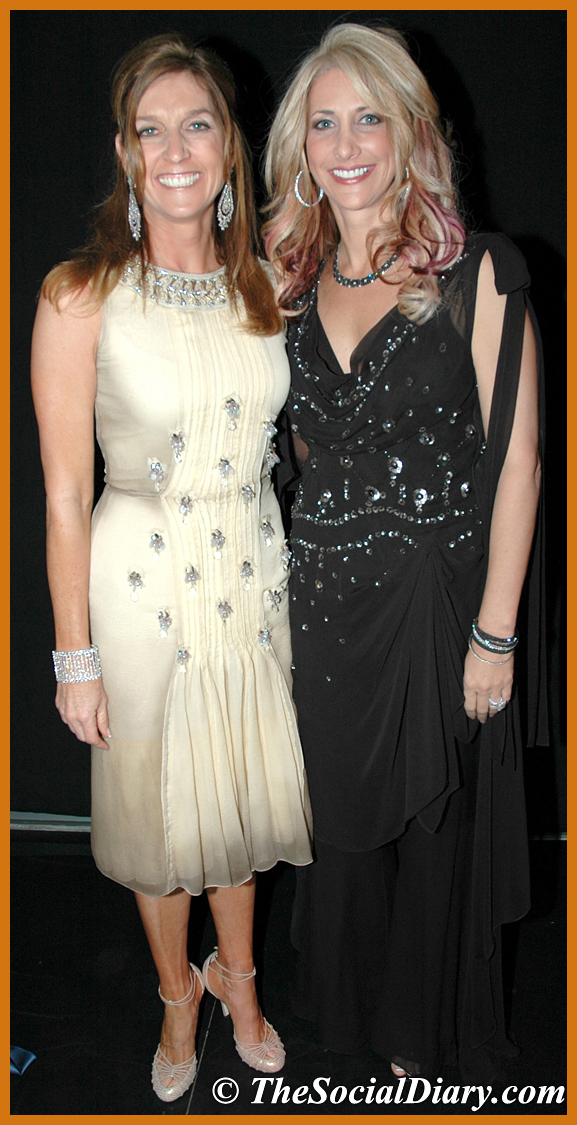 Event Chair Debby Jacobs and Deni Jacobs
Lisa Wilson and Steve Strauss with Debby Jacobs ** Debby and Hal Jacobs ** Debby Jacobs and Margo Schwab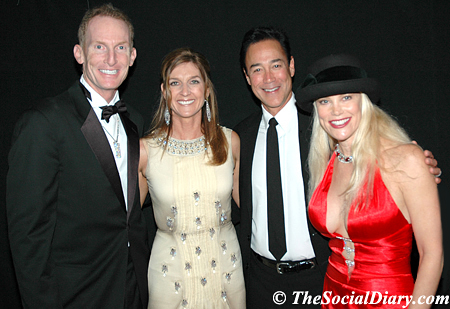 Hal and Debby Jacobs with Scott Johnston and Margo Schwab - photo by Hershell Price
Nick and Jane Wyer ** Nick and Jane Wyer with Poo Wyer ** Deni Jacobs
Diamonds Are Forever Floral Centerpiece ** Cindy Goodman
Debby Jacobs ** Don Breitenberg and Jeanne Jones ** Valerie Cooper laughing hard with Margo Schwab ** Sheri Jamieson
Harry Cooper and Sheri Jamieson in 'top secret' conversation ** Emma Zuckerman
Barbara ZoBell with Karen Cohn ** Sheryl White and Karen Cohn ** Michael and Maree Mossmer ** Stacy and Paul Jacobs
Don Cohn and Karl ZoBell ** Guest ** Lisa Bols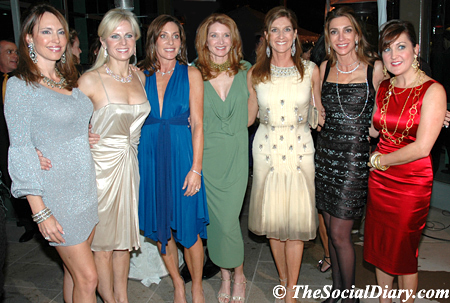 The 'Bond Girls' in XIV Karats of Beverly Hills
Laleh Roudi ** Debby Jacobs with Laleh Roudi ** Hanaa Hensersky** Dr. Robert Singer and Scott Johnston
Debby Jacobs with Brett Dickinson ** Jim and Joy Furby ** Miriam and David Smotrich with Deni Jacobs

reported by Margo Schwab
* Margo Schwab, formally known as Margaret E. Schwab, has produced, written, interviewed and photographed for various media organizations since 1989. Schwab attended Holton Arms School, La Jolla Country Day School and La Jolla High School. Schwab has a B.A. from Scripps College and a Masters of Business degree, M.B.A., from the University of San Diego. Schwab volunteers for numerous charity organizations. She also continues to lobby for water safety and for family violence mitigation. Schwab is the editor of The Social Diary. Margo is currently writing a book based on La Jolla.
Warning ** photos, video and writing on this site are the
copyright of The Social Diary, San Diego Social Diary
no reproduction of any part or parts is allowed without written permission by The Social Diary