~ The Social Diary ~
~~~~~~~~~~~~~~~~~~~~~~~~~~~~~~~~~~~~~~~~~~~~~~~~~~
'Liquid Nation Ball IV aka LNB4'
""My grandmother told me that giving is much better than receiving" - Fernando Aguerre
September 22nd, 2007
by The Social Diary Reporter & Photographer Margo Schwab
It's now 4 years for the annual 'must go to' Liquid Nation Ball, and there's no stopping the momentum. LNB4 as it is now called in the cool surf circles, has garnered top awareness and top support for surf related humanitarian causes. This year's event was once again sold out. And the reasons are simple. Great causes, a spectacular venue at the La Jolla oceanfront home of Vicky and Fernando Aguerre, incredible organization by SIMA (the Surf Industries Manufacturers Association), viewing of the Aguerre's awesome surf memorabilia and boards, South American libations, fine Pan Asian catered cuisine, incredible one of a kind auction items and exotic trips, dancing over the covered pool, and again the Aguerre's.
That's the Main Core Four. Vicky and Fernando, Cecilia and Santiago. Santiago Aguerre is the event's founder.
Cecilia Aguerre and a pretty petite one ** Santiago Aguerre ** Fernando Aguerre ** Vicky Aguerre
And in the surf industry, when the Aguerre's speak, people listen.
"What a wonderful evening with the 'Tribe' as Fernando and Santiago call this great group of incredible people giving back to causes in need." said supporter Paul Grayson.
And in this case they listened with their hearts and their wallets. To the tune of $250,000 plus, all for these great causes:
Keep A Breast - Raises funds for breast cancer education, awareness, prevention and treatment through art events. - keep-a-breast.org

Rabbit Kekai Foundation - Encourages healthy activities like surfing and education. - www.rabbitkekai.org
The Sumba Foundation - Improving the lives of the indigenous people of Sumba by improving health and education. - www.sumbafoundation.org

Jimmy Miller Foundation - Helps those who have physical and mental disabilities through surfing. - www.jimmymillerfoundation.org

Get A Board Foundation - Takes inner city youth surfing in Florida. - getaboard.org

Outdoor Outreach - Underprivileged youth gain self-esteem through participation in outdoor sports. - outdooroutreach.org

Surf Aid International - improving the health of people living in remote areas. - www.surfaidinternational.org

Life Rolls On Foundation - Started by Jesse Billauer, the foundation focuses on research and motivating young people who have a spinal cord injury. www.liferollson.org

Boarding For Breast Cancer - An education and fundraising foundation for early detection of breast cancer. - www.b4bc.org

Surfers Healing - Exposing children with autism to the unique experience of surfing. - www.surfershealing.org

Stoked Mentoring - Mentoring by placing "at-risk" youth with successful professional adults. - www.stokedmentoring.org
L.A. Surf Bus which charters buses to bring children from age 5-17 to the beach from L.A. and Orange County areas to learn about water safety and sports. - www.lasurfbus.org
Among the great folk involved with LNB4 are surf greats Kelly Slater, Greg Noll, Laird Hamilton, Rob Machado, and Lisa Andersen, charitable cause and industry leaders Justine Chiara, Exec. Director, Boarding for Breast Cancer, Andrew Campbell, Chairman, Get A Board Foundation, Shaney Jo Darden, Co-Founder/Exec. Director, Keep A Breast, Rachel Rabinor, Outdoor Outreach, Jeff Peterson, Director, Rabbit Kekai Foundation, Steve Larosiliere, Exec. Director, Stoked Mentoring, Sean Downs, President, Sumba Foundation, Dr. Dave Jenkins, Founder, Surf Aid International, Lou Niles, Exec. Director, Surf Aid International, Brian Pickett, Surf Aid International , Danielle Paskowitz, Co-Founder, Surfers Healing, and Jim Miller, Founder, Jimmy Miller Foundation.
More there included Gabriella and John Otterson, Murray Palmer, Paul Grayson, Debbie Kahn, Cadu Villela, Aubrey and Steve Keane, Rusty's Angie and Rusty Preisendorfer, documentary producer Robby Greaves, and quite the slew of genreous folk raising arms and waving for terrific auction items.
Among those who threw down big green for auction items were Candice Wolfswinkle of La Jolla for an All-Inclusive El Salvador 4 Star Surf Trip For Two to Las Flores Surf Club, El Salvador. (www.lasfloressurfclub.com), Kevin Tang of La Jolla for a Private Dining Package From Award-Winning Giuseppe Fine Catering for 10 served up at Fernando and Vicky Aguerre's home, and Jim Coccavo of La Jolla won the Ultimate Namotu Island Vacation in Fiji for two. In fact Jim was quite busy bidding. He also bid and won a Lightning Bolt surfboard hand shaped by Gerry Lopez with signed 1976 Pipleine Masters T Shirt, as well as a killer prize. A surf session with Laird Hamilton and a Dick Brewer shape tow-in board by Surftech and a Honda F12 Aqua Trax four stroke watercraft! Well done Jim!
And more winning bidders included Bernard Mariette of Quiksilver's for a custom Ancient 18' Hawaiian Koa Olo Board by Greg Noll, SIMA President Dick Baker's purchase of the Exclusive Quiksilver Tyax Dream Heliboard Trip in Vancouver, and Santiago Aguerre got a very cool One-Of-A-Kind Balsa and Abalone Inlay LNB4 Surfboard by Randy French/Surftech, signed by all of the surf legends and celebrities attending LNB4!
Then there was Fernando Aguerre's bid. Yes Fernando wasn't only emceeing the event and overseeing the auction, he was bidding too. Fernando bought the South Africa Surf and Safari trip which includes private game lodge viewing and plenty of action at Supertubes and Jeffreys Bay.
For Fernando, giving back was ingrained early on. "My grandmother told me that giving is much better than receiving… Liquid Nation Ball is about giving back, nurturing the givers, coming together for these 13 humanitarian surf related causes… What a great way to celebrate life…"
Event Founder Santiago Aguerre, and best friend and brother to Fernando explained their philosophy for this event this way."The Surf Industry once again gathers together to celebrate the fourth Annual Liquid Nation Ball, an event where the most fierce competing brands were present as good friends to help the humanitarian causes related to us through the sport of surfing and its locations around the world. This is a way for us to lead the way, to show the road of what is to come in the near future.
Ten years ago, the environmental move was not a main stream matter as it is now. Today we would not even think of buying a product that came from a company that did not include in its policy a very critical look at what their impact is on the environment. In another 5 to 10 years, the humanitarian angle will be at the same level itself. This is not just something nice to do, this is the responsibility of the companies, executives and people working in the decision making areas of the economy, from governmental to private organizations, they all know what is the right thing to do and they are just getting exposed to the fact that it is cool, right and human to have these kind of programs growing inside of their organizations.
My dream of 5 years ago is today shared by many important surf industry people that accepted the call to arms and the challenge of being on the leading edge of a new perspective and vision of the future of a humanitarian crusade that coexists well in harmony with a viable and positive economic result for themselves and the companies involved.
On we go."
And go fashionably Fernando Aguerre did. His black and white striped trousers looked quite reminiscent of the Greg Noll's trunks from Greg's famous big wave ride at Waimea. Actually Greg's trunks and quite a few of his boards are part of Fernando's collection too. Who knows what he will wear next year to top that, but one thing is for sure. Great energy and big support does help to change the world. One humanitarian step at a time.
News update: Poignantly, an urgent letter went out just after this party. The Mentawi Islands off Sumatra got hit by two major earthquakes. The result, extreme food and water shortages, incurring serious risks of disease and malaria outbreaks. Ironically, it was for the Mentawi's that the idea of the LNB was created.
To learn more about SIMA, and what you can do to support humanitarian efforts like the Mentawi Islands urgent problem, please visit www.sima.com
Please enjoy the photos!
(high resolution photos available by request)
Part of the surfboard collection ** Off-Duty Scott Johnston 5-0 by a Duke Surfboard ** The Aguerre's Dining Room
Greg Noll's Board shorts from his famous big wave ride at Waimea ** Fernando Aguerre's trousers and shoes
Surf memorabilia throughout ** The Bar Scene decorated with boards overhead
Guests
Guests ** Mark Richards' board & more ** Aubrey Keane ** Guests
The Scene** Little Ones
Murray Palmer ** Guest ** Guest with Debbie Kahn ** Margo Schwab with Vicky Aguerre
Guest ** Scott Johnston with Vicky Aguerre ** Guest with Santiago Aguerre
Greg Noll ** Vicky Aguerre ** Fernando Aguerre
Guests
Guests
Guests
Rob Machado ** Robby Greaves, Angie Preisendorfer and Scott Johnston ** Guest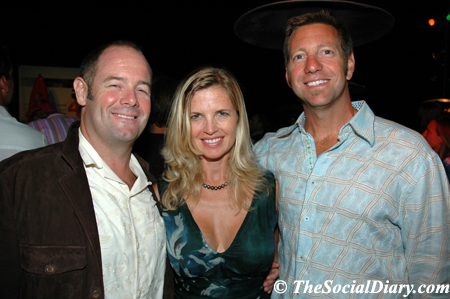 John and Gabriella Otterson with Paul Grayson
The SIMA Gals
Guests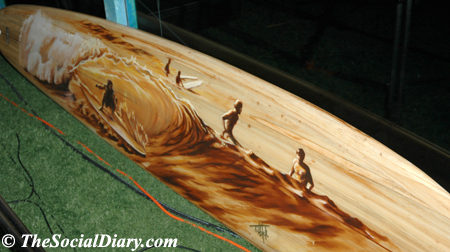 A great auction prize
Cadu Villela with Guests
Guests
Guests ** Debbie Kahn and Guest
And now for a flashback to last year ......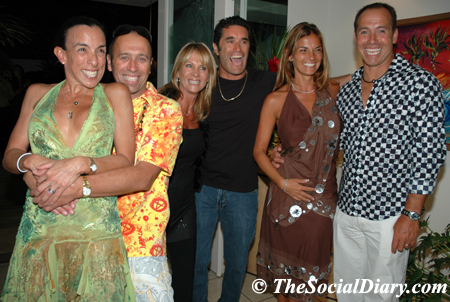 Vicky and Fernando Aguerre, Erica and Felipe Becerra, and Cecilia and Santiago Aguerre
* Margo Schwab has produced, written, interviewed and photographed for various media organizations since 1989. Schwab attended Holton Arms School, La Jolla Country Day School and La Jolla High School. Schwab has a B.A. from Scripps College and a Masters of Business degree, M.B.A., from the University of San Diego. Schwab volunteers for numerous charity organizations. She also continues to lobby for water safety and for family violence mitigation. Schwab is the editor of The Social Diary. Margo is currently writing a book based on La Jolla.
Warning ** photos, video and writing on this site are the
copyright of The Social Diary, San Diego Social Diary
no reproduction of any part or parts is allowed without written permission by The Social Diary