~ The Social Diary ~
~~~~~~~~~~~~~~~~~~~~~~~~~~~~~~~~~~~~~~~~~~~~~~~~~~
Las Patronas Beneficiary Luncheon 2008
~ at the La Jolla Beach & Tennis Club ~
January 16th, 2008 was cheery for many great causes. It was sunny. But first and foremost, it was the annual beneficiary luncheon day where Las Patronas, the formidable female force behind the Jewel Ball, hand out big checks to major designated San Diego organizations.
The luncheon took place at the exquisite oceanfront property of the La Jolla Beach & Tennis Club.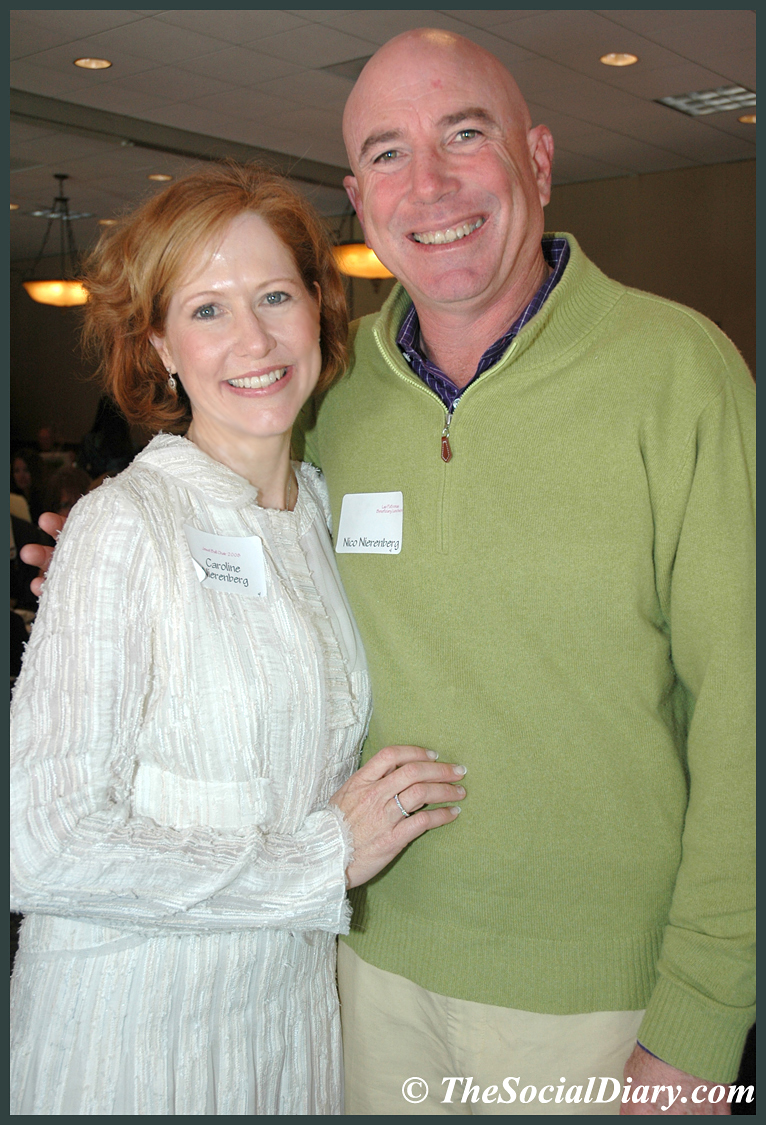 Jewel Ball Chair 2008 Caroline Nirenberg, with her husband, Nico Nirenberg
2007 Jewel Ball Chair Kathryn Stephens had this to say. "It was an honor to chair ARTRAGEOUS Jewel Ball 2007 and a privilege to personally hand our 11 Beneficiaries their checks from the Ball!"
Among the major beneficiaries were Camp Fire USA San Diego and Imperial Counties Council, The Old Globe, the Helen Woodward Animal Center, Family Health Centers of San Diego, Rady Children's Hospital – San Diego, the USS Midway Museum, The San Diego Museum of Art, St. Paul's Retirement Homes Foundation, University of San Diego School of Leadership and Education Sciences, Urban Corps of San Diego County, Voices for Children, and a special grant to the UCSD Regional Burn Center.
Kathryn Stephens explained, "we were able to fund a special grant to the UCSD Regional Burn Center in response to the recent San Diego wildfires. The Total Contact Mask we funded will provide burn mask scanning equipment for the treatment of burns to current and future fire victims.
It was an ARTRAGEOUSLY successful year and the luncheon to honor our Beneficiaries was the final celebration!"
Among those there were David Gillig from Rady Children's Hospital - San Diego, major Jewel Ball donors Dianne and James Bashor, Lisa Casey, Todd Schultz of the Old Globe, Elisabeth Bergan, Las Patronas President Barbara Mulligan, Kerri Smith, Teresa Hixson, Dawn Kearney Davidson, Terry Cooper, Kim Penny from Voices for Children, La Jolla Beach & Tennis Club President Bill Kellogg, La Jolla Beach & Tennis Club General Manager John Campbell, Derrick Cartwright of the San Diego Museum of Art, Steven Haynes of Athletes for Education, Scott Leggett of the Center for Orthopedic Arthroscopic Surgery and Treatment, Vicky Eddy, Cindy Salvato, Anita Bye from Sycuan Casino, and the fashion LP gals, Jennifer Greenfield in a Roberto Cavalli wrap dress, and Maree Mossmer in Chanel.
This August Jewel Ball's theme is 'Speakeasy' with Caroline Nirenberg as Chair. And it's looking to be quite 1920's FUN! Bring your hip flask and get ready to shake your flapper dress!
Enjoy the photos!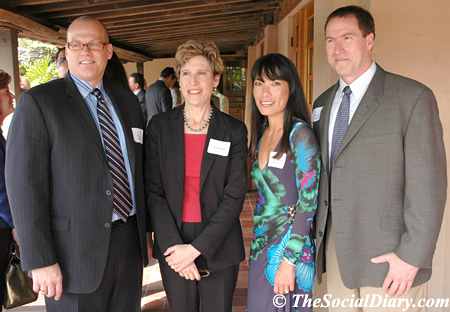 Anthony White with Janet Hoy, Jennifer Greenfield and Scott Leggett
Jennifer Greenfield and Maree Mossmer ** Lisa Casey ** Todd Schultz with Teresa Hixson ** Teresa Hixson
Elisabeth Bergan and Kerri Smith ** Dianne and James Bashor ** Terry Cooper
Dawn Kearney Davidson with Lisa Albanez ** Vicky Eddy and Sue Lakosil ** Cindy Salvato
David Gillig ** Liz Gotfredson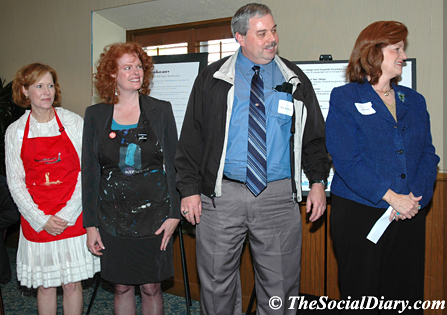 Caroline Nirenberg with Kathryn Stephens, and the generous Dunn Edwards representatives, Randy Martin and Julie Matibag
Micki Olin with Caroline Nirenberg and Kathryn Stephens** Dr. Bruce Potenza ** Steven Haynes with Scott Leggett
Anita Bye with Kathryn Stephens ** Derrick Cartwright with Terry Cooper and John Campbell ** Kim Penny
To learn more about Las Patronas and the Jewel Ball please click www.laspatronas.org
reported by Margo Schwab
* Margo Schwab, formally known as Margaret E. Schwab, has produced, written, interviewed and photographed for various media organizations since 1989. Schwab attended Holton Arms School, La Jolla Country Day School and La Jolla High School. Schwab has a B.A. from Scripps College, spenta a business internship with S.A.I.C., Science Applications International Corporation, and earned a Masters of Business degree, M.B.A., from the University of San Diego. Schwab volunteers for numerous charity organizations. She also continues to lobby for water safety and for family violence mitigation. Schwab is the editor of The Social Diary. Margo is currently writing a book based on La Jolla.
Warning ** photos, video and writing on this site are the
copyright of The Social Diary, San Diego Social Diary
no reproduction of any part or parts is allowed without written permission by The Social Diary