~ The Social Diary ~
La Jolla Playhouse 'Winter Fantasy 2006 Gala'

December 20th, 2006
The Social Diary Columnist & Photographer Margo Schwab
Gala Chair Debby Jacobs invited La Jolla Playhouse guests for a superb evening of entertainment by Tony Award winning Patti LuPone, appetizers and dinner from celebrity and connoisseur favorite Wolfgang Puck, and dancing into the night to the tunes of Zowie Bowie .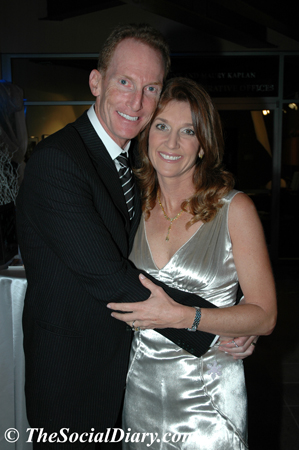 Hal and Debby Jacobs
The evening started early for VIP supporters. Caviar, martinis and fun set amidst a winter wonderland setting of white.
Debby Jacobs predicted the evening would be "sizzling hot"... and it was.
Clinton Walters, who is rather the expert on party planning, had this to say. "It was fun. Wolfgang Puck...blue cheese, beet, candied pecan salad...beef tenderloin, mashed potato...just truffles on table...dessert dancing in the other space....the one they use for opening night party. I liked Patty LuPone... fun. The Disco was nicely done...lots of lasers."
Clinton's date Suzanne Figi bought the trip for the opening day of the Jersey Boys (the hit show from La Jolla Playhouse) in San Francisco. It was the next day. Transportation was easy. Jetting there on the Jacobs' jet was part of the auction prize.
Among the many there enjoying the festive evening were La Jolla Playhouse's President of the Board of Trustees Ralph Bryan with his wife Gail, Barbara Bloom, Pam Slater-Price and Hershell Price, Lorna and Chris McKellar, Lynn Gorguze and Scott Peters, Marilyn and Roger Boesky, Susan and Richard Ulevitch, Laleh and Alex Roudi, Valerie and Harry Cooper, Lise Wilson and Steven Strauss, and Melissa and Michael Bartell.
More there included Jeanne Jones and Don Breitenberg, Carolyn Farris, Dave Copley, Judith Harris and Dr. Robert Singer, Andrew Shelton, Sheri and Dr. Stuart Jamieson, Ted Waitt, Colette and Ivor Royston, La Jolla Playhouse's Des McAnuff, Margaret and Nevins McBride, Julie and Lowell Potiker, Sheila Potiker, Ruth and Paul Jacobowitz, and a whole lot of Jacobs. Debby and Hal Jacobs, Joan and Irwin Jacobs, Stacy and Paul Jacobs, Deni and Jeff Jacobs. That's what you call family support... for a great cause!
And Gala Chair Debby Jacobs got a lot of praise. Barbara ZoBell said, "Debbie Jacobs out did herself...every thing shone."
___________Zagat Accoladed....&.... "Culinary Genius!" says The Social Diary's Scott Johnston____________
Pam Slater-Price added this. "All in all a fabulous evening, with Wolfgang Puck's wonderful food, drinks and expresso galore, beautiful people in festive finery celebrating La Jolla's award-winning Playhouse. Tables were lovely, Patty LuPone was in magnificent form, Zowie Bowie played on and a magical time was had by all!"
Ruth Jacobowitz agreed and added this. "A Winter Fantasy, The magical Playhouse Gala was truly an affair to remember. The décor glistened; the cocktails, canapés and the dinner were gourmet, and the piece de resistance was the performance of Patti LuPone who showed us that a star is star wherever you are. The Solstice Soiree, the desert and dance party that followed, warmed up the night with the fast-paced music of Zowie Bowie. Debbie Jacobs the hard-working, clever and charming chair of each of the Playhouse Galas for the past seven years has assured us once again that this was an affair that we won't soon forget."
Lynn Gorguze concurred. "It was a perfect evening from start to finish. Debby Jacobs has given so much energy to the Playhouse Gala for so many years. The Playhouse is so lucky to have her working on it's behalf."
Susan Ulevitch summed up the evening with a look to the La Jolla Playhouse's future. "I was happy to see many young (anyone under 50 is young to me!) people at the party who are very enthusiastic about the Playhouse. Also, Des was so gracious about his transition to a new position and very emphatic that he is continuing to be involved with the La Jolla Playhouse. This all bodes very well for the continued success of theatre in our city."
And the future looks great with hits like the Jersey Boys, The Wiz, How to Succeed at Business and so many more. Ralph Bryan expected the evening to net well above $400,000. That's a whole lot of Rent!
To learn more, click La Jolla Playhouse.
Jeanne Jones ** Hal and Debby Jacobs with Steven Libman, the Managing Director of La Jolla Playhouse
Guests ** The Wintery Centerpiece at the VIP Pre-Party
Debby Jacobs ** Margaret McBride with Steven Libman
Margaret McBride with Debby Jacobs ** Ralph Bryan with Hal Jacobs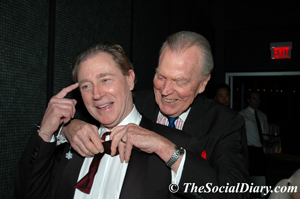 Nevins McBride getting his tie tied by Don Breitenberg
Margaret McBride and Gail Bryan ** Margaret and Nevins McBride (tie in place) with Gail Bryan
Debby Jacobs with Nick and Jane Wyer ** Tom Fat and Jeanne Jones
Tom Fat and Steven Libman ** VIP Guests' Ed Richard and Warren Kendrick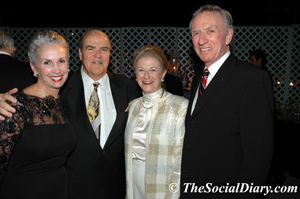 Judy and Jack White with guests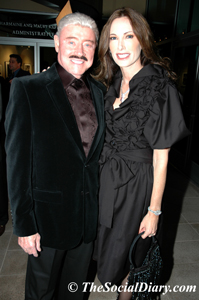 Harry and Valerie Cooper
Rick Tiland with Jo Ann Kilty ** Clinton Walters with Suzanne Figi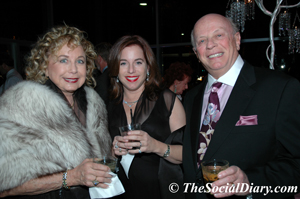 Julie Potiker, center, with her parents, Ruth and Paul Jacobowitz
Peggy and Peter Preuss ** Guests
Andrew Shelton with Dave Copley ** Carolyn Farris with Judith Harris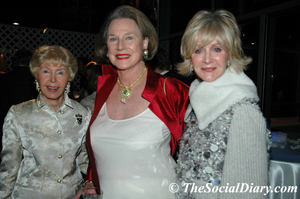 Audrey Geisel with Carolyn Farris and Judith Harris
Scott Peters and Lynn Gorguze with Lorna and Chris McKellar ** Hershell Price and Pam Slater-Price with Tom Fat
Roger and Marilyn Boesky ** Margo Schwab with Pam Slater-Price
Margo Schwab with Dave Copley ** Sheri Jamieson with Des McAnuff and Bryna McCann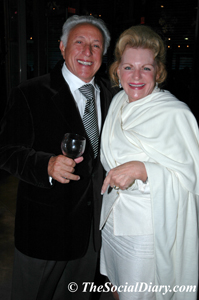 Peter and Judy Corrente
~~~~~~~~~~~~~~~~~~~~~~~~~~~~~~~~~~~~~~~~~~~~~~~~~~~~~~~~~~~~~~~~~~~~
* Margo Schwab has produced, written, interviewed and photographed for various media organizations since 1989. Schwab has a college degree from Scripps College and a Masters of Business degree from the University of San Diego. Schwab volunteers for numerous charity organizations. She also continues to lobby for water safety and for family violence mitigation. Schwab is the owner and publisher of The Social Diary.
back to New this Week.....Margo Schwab Archives...... Home
Warning ** photos, video and writing on this site are the
copyright of margomargo.com and Margo Schwab.
no reproduction of any part or parts is allowed without written permission by Margo Schwab