~ The Social Diary ~
~~~~~~~~~~~~~~~~~~~~~~~~~~~~~~~~~~~~~~~~~~~~~~~~~~
Kathryn Murphy & Lance Peto Celebrate Year of the Rat... How About That!
Kathryn Murphy and Lance Peto invited guests to celebrate the ' Year of the Rat,' Chinese New Year style. Guests arriving February 7th, 2008 to the private dining room at The Mandarin House Restaurant were greeted by festively dressed hosts Lance and Kathryn. They wore Mandarin jackets. Soon everyone did. Kathryn had a beautiful silk jacket for everyone there. The right size too. How did she know??
Among the fun set there were Erinn and Paul Leonhardt, Meghan Murphy and Doug Tompkins, Sarah Burton, Nora and Philippe Feune de Colombi, Laura Linden and Mitch Goldman, Susan and Craig McClellan, Kathy and Scott King, and Margo and Scott Rogers.
Margo brought Mardi Gras beads for everyone which just added to the fun.
Sarah Burton wore a special personal Chinese jacket in white. It had belonged to her mother.
Tray passed appetizers of egg rolls and other yummy bites mixed with flowing wine and conversation during cocktail time.
More joining in the fun included Susan and Wes Anson, Debbie and Chris Neils, Margo Schwab and Scott Johnston, Shannon and Jim Turner, Elita Murphy and her son Charlie Murphy, Jackie Pearson with her good friend Ken, Janet Becker and friend Susan, Anne and John Gilchrest, Jan and Dr. Dave Irwin, Sally and Dan Irwin, and Barbara and Kent Freundt.
Toasting occurred between courses of Peking Duck, Mongolian Beef and other scrumptious dishes. The tables were decorated with dragon puppets and Chinese candies. Lots of laughs as guests discovered their lunar year animal.
A great time was had by all of the 'rats, boars, ox, sheep, dogs' etc. guests of their lunar year births.
Kathryn later joked that she and Lance would have the party next year but would supply hats, trousers the year of that ..... you get the idea. Happy New Year from the 'La Jolla Rat Pack.'

Kathryn Murphy
Scott Johnston with Lance Peto ** Meghan Murphy with Doug Tompkins ** Paul Leonhardt wtih Sarah Burton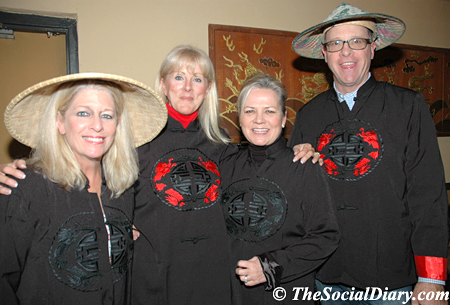 Shannon Turner with Kathryn Murphy, Kathy King and Ken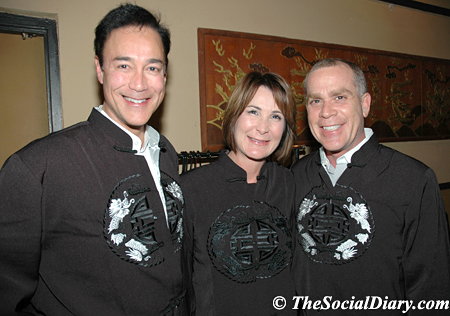 Scott Johnston with Laura Linden and Mitch Goldman
Mitch Goldman and Lance Peto ** Nora Feune de Colombi ** Margo Rogers handing out beads
Wes Anson ** Susan McClellan ** Philippe Feune de Colombi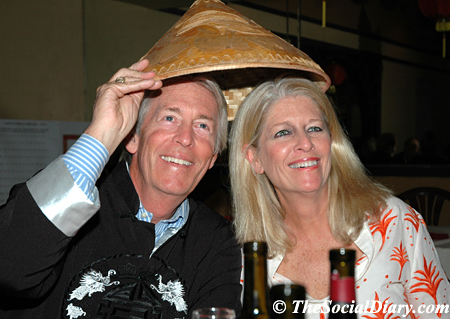 Jim and Shannon Turner
Peking Duck being carved up ** Margo Schwab
Kathryn Murphy ** Paul and Erinn Leonhardt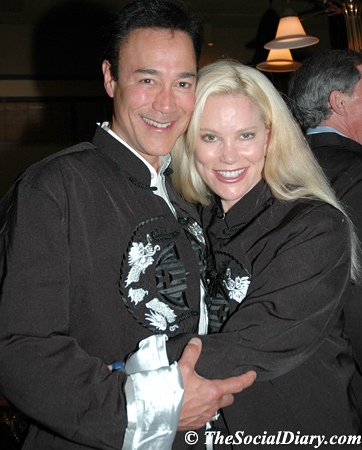 Scott Johnston and Margo Schwab
reported by Margo Schwab
* Margo Schwab, formally known as Margaret E. Schwab, has produced, written, interviewed and photographed for various media organizations since 1989. Schwab attended Holton Arms School, La Jolla Country Day School and La Jolla High School. Schwab has a B.A. from Scripps College, spenta a business internship with S.A.I.C., Science Applications International Corporation, and earned a Masters of Business degree, M.B.A., from the University of San Diego. Schwab volunteers for numerous charity organizations. She also continues to lobby for water safety and for family violence mitigation. Schwab is the editor of The Social Diary. Margo is currently writing a book based on La Jolla.
Warning ** photos, video and writing on this site are the
copyright of The Social Diary, San Diego Social Diary
no reproduction of any part or parts is allowed without written permission by The Social Diary