Scorpion Bay Hotel, Private, Picturesque ........VIP and Club Memberships Available >>> Scorpion Bay Hotel
an international destination for World Class Surfing and Fishing
founded by Fred Borrelli
~~~~~~~~~~~~~~~~~~~~~~~~~~~~~~~~~~~~~~~~~~~~~~~~~~~~~~~~~~~~~~~~~~~~~~~~~~~~~~~
~ The Social Diary ~
~~~~~~~~~~~~~~~~~~~~~~~~~~~~~~~~~~~~~~~~~~~~~~~~~~~~~~~~~~~~~~~~~~~~~~~~~~~~~~~~~~~~~~~~
Jewel Ball 2008's Speakeasy is
'Flapper Fun'
'It was the era called Prohibition. In 1919 the 18th Amendment to the Constitution was ratified making it illegal to distribute and manufacture distilled spirits in the USA. The 20's defied that and more. Hemlines went up, girls bobbed their hair, and The Mob ruled illicit drinking joints. They owned the politicians and the police too.'
Yes, this was the Jewel Ball's 'Speakeasy' Gala 2008 held on August 2nd, 2008. And it was the bees knees fun. Guests arriving at the La Jolla Beach & Tennis Club were greeted by flapper flirts and an entrance lined with vintage 20's cars. There were period police cars too from the San Diego Police Historical Association thanks to association President Richard Carlson. While the police aka coppers were packing tommy guns, the elegant guests were packing glam.
The scene stealer of the night goes to Emma Zuckerman. In a Ralph Lauren creamy satin gown evoking the esprit of The Gatsby era. Her husband Leo commanded respect.... after all he had a beautifully matching tuxedo and Emma on his arm.
More there in the theme spirit were Debby Jacobs in a gauzy Zac Posen number she picked up in New York, Valerie Cooper also in Zac Posen cinched in with an eye catching belt, Annika Kovtun in feather skirt with a beautifully beaded top all in black, Elaine Murphy in a glorious headdress, Dianne York-Goldman in a short beaded Isabell Kristensen, Lee Clark in vintage dress with big marbles, aka pearls, Joan Jacobs in feathered band headdress, Jeannie Larson in feathered finery paired with Armani , Constance Hughes in beaded dress with sparkly flapper headdress and long silky gloves, Colette Stefanko in beaded dress and killer net stockings on her stems, and Tahnee McKellar in a beaded number with black satin gloves, and her grandmother's jewelry. Lots of it.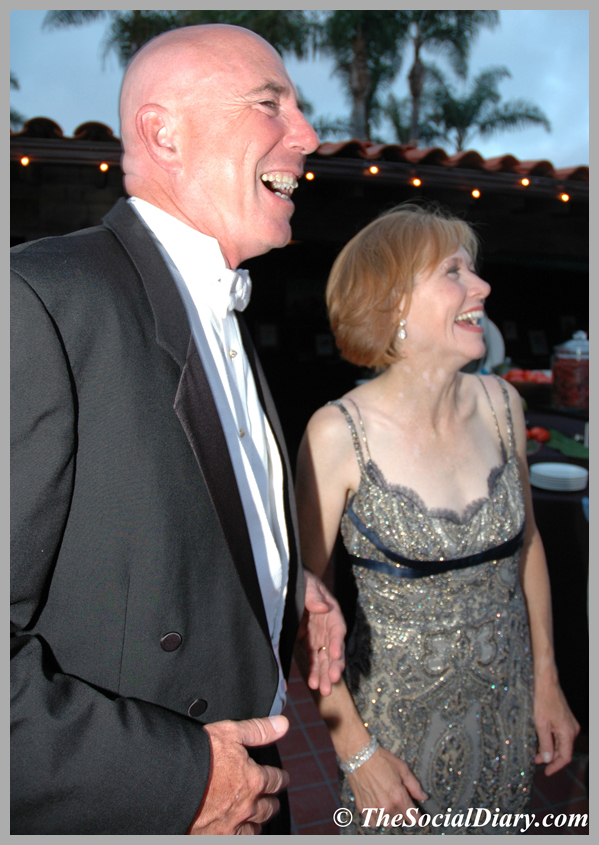 Nico Nierenberg with his wife, Jewel Ball Chair, Caroline Nierenberg
The men got into the theme too. Stefan McKellar and Bob Stefanko sported the traditional black and white lace up shoes. It all went well with their wide lapel tuxedo jackets.
Those sporting flapper flirt bobbed wigs were Cynthia Kronemyer, Wendy Kellogg, Tiffany Worst, and Tanya Brandes who also was wearing a vibrant yellow Michael Kors gown.
More there who were standouts in fashionable gowns were Iris Strauss in Blumarine couture, Sheryl White in a unique and very pretty Luly Yang, Lynda Kerr in Oscar de la Renta, Dianne Bashor in an off the shoulder Baracci, Lise Wilson in sophisticated Valentino, Laura Linden in a black scalloped detailed strapless, Maree Mossmer in a little, as in very short feathery and strapless Marchesa dress, Las Patronas President Barbara Mulligan in Badgley Mischka, Jewel Ball Chair Caroline Nierenberg wore a beaded Randi Rohm, and Gala Co-Chairs Tracy Lyon and Jennifer Greenfield in Jovani and Lanvin respectively.
Jennifer's gown was spectacular, and dramatic with a long train, all in green. It went well with her anniversary gift of emeralds from husband Dr. Richard Greenfield. Richard slyly slipped in more than a few bottles of rare vintage wines past the coppers.
Guests mingled and conversed with glasses of giggle juice, tasty appetizers, and lots of lettuce, that's cash to you and me, to bid on some enticing strictly top hat travel and fun auction items.
Hyatt La Jolla catered the dinner and NRG served up the dance music.
Capping off the evening for some was Louis XIII poured by Thom Tullis at one table.....'bootleg' of course.
The Las Patronas Jewel Ball nets big money each year for deserving San Diego organizations.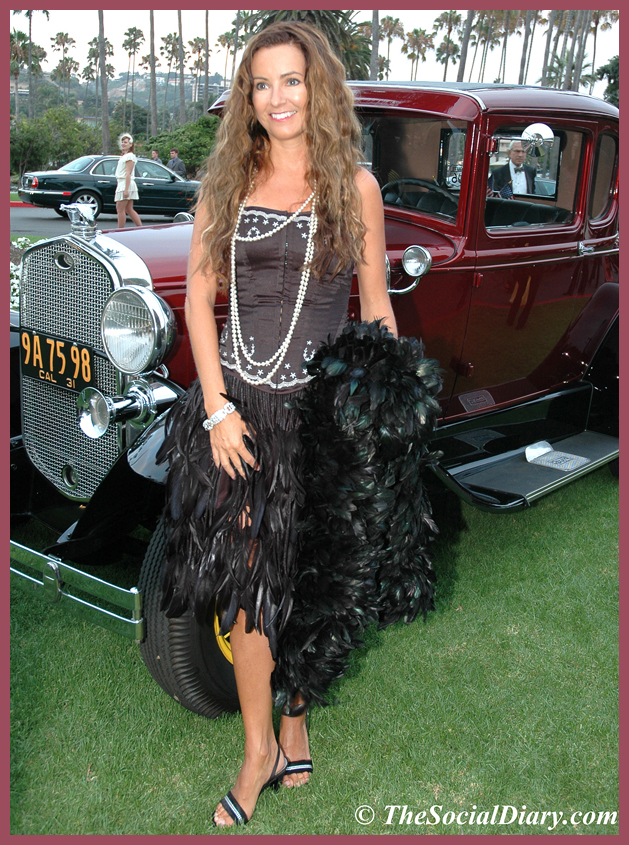 Annika Kovtun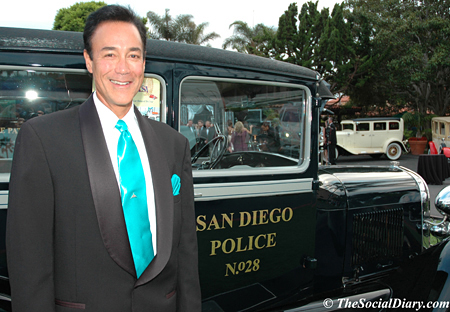 'Copper' Scott Johnston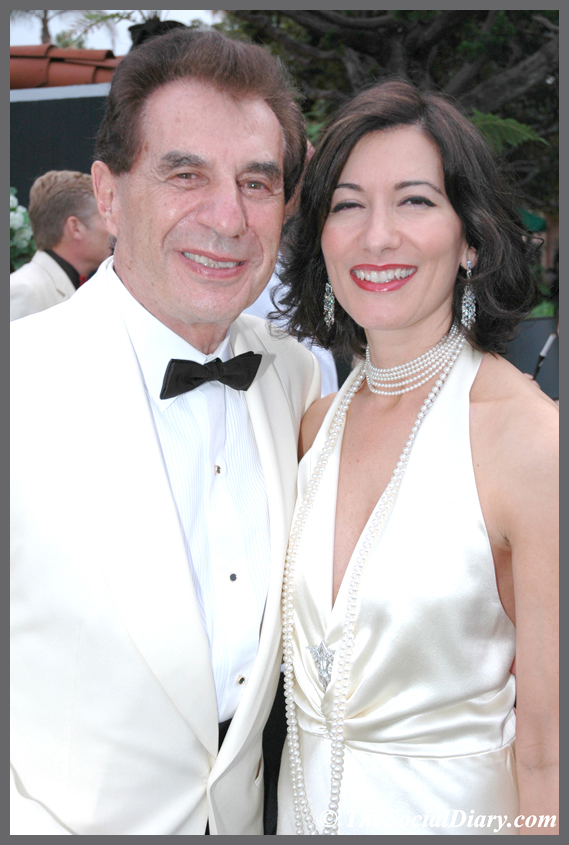 Leo and Emma Zuckerman
Rita and Michael Szczotka ** San Diego Police Historical Association President Richard Carlson with Scott Johnston and his tommy gun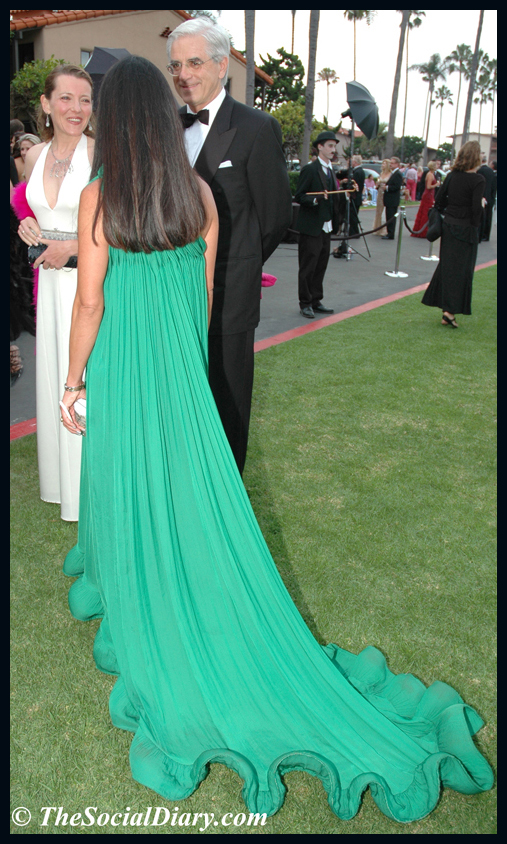 Jennifer Greenfield in Lanvin
Leo and Emma Zuckerman ** Jennifer Greenfield with Leo and Emma Zuckerman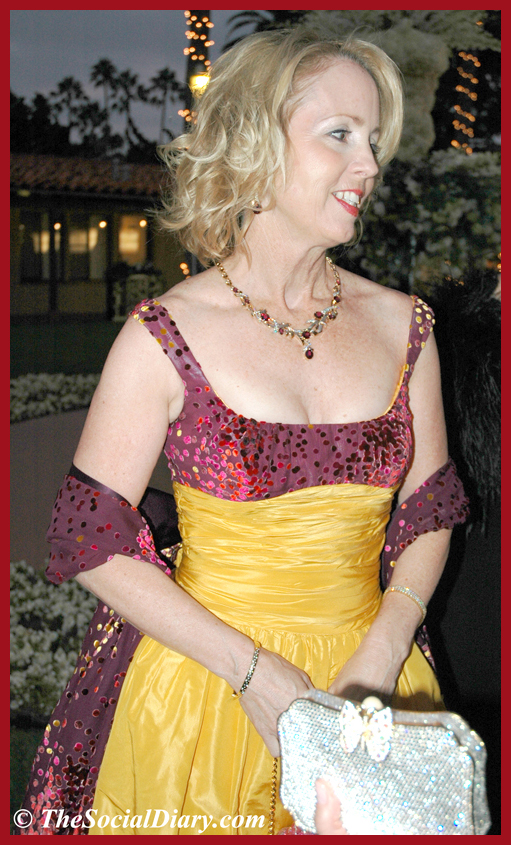 Sheryl White
Nancy O' Conner ** Valerie Cooper
Jennifer and Richard Greenfield ** Richard and Lynda Kerr ** Mary Walker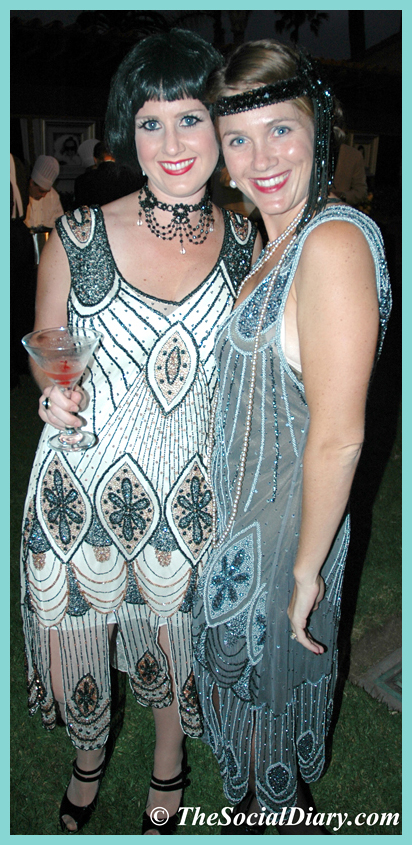 Wendy Kellogg and Tiffany Worst
Tanya Brandes ** Maree Mossmer and Lynda Kerr ** Lisa Bols
Tami Tucker and Lisa Schroeder ** Jennifer Greenfield ** Tahnee McKellar and Joerg Kruse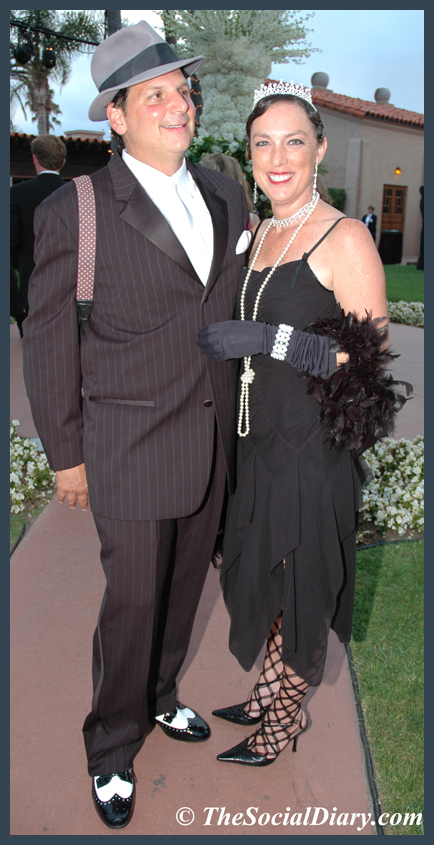 Bob and Colette Stefanko
Caroline Nirenberg ** Fred Applegate and Laura Bradley ** Greg and Terry Cooper
Courtney Cicourel and Robert Fudge ** Bob and Colette Stefanko with Jerry Pikolysky
Laurent and Kathryn Hamon ** Chris and Lorna McKellar
Karina Lion and Thom Tullis ** Caroline Nirenberg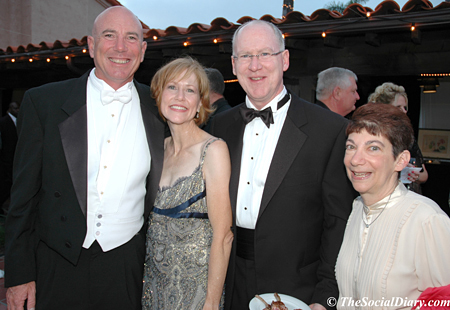 Nico and Caroline Nirenberg with family
Margo Schwab ** Monique Grey ** Constance Hughes
John and Kathryn Stephens ** Hal and Debby Jacobs ** Nancy O'Connor and Deirdre
Elaine Murphy ** Teresa Hixson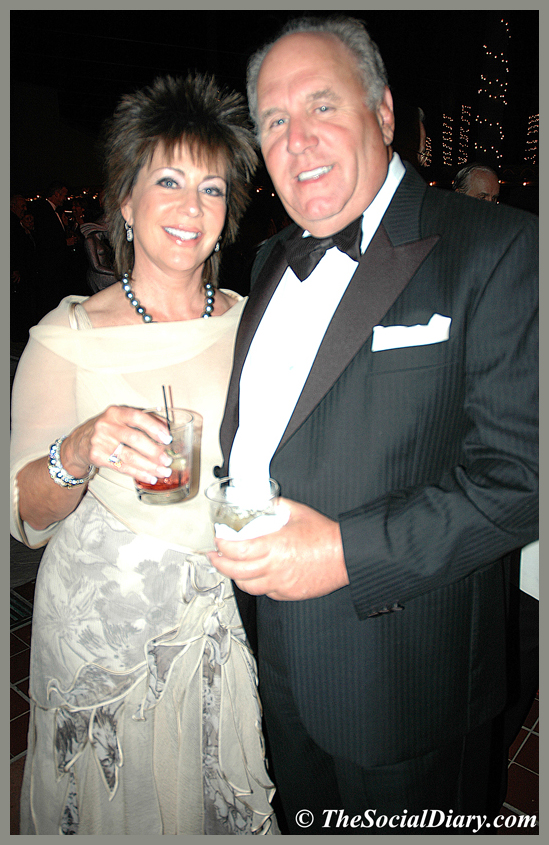 Donna and Mark Steinback
Harvey and Sheryl White ** Joan and Irwin Jacobs ** Kathryn Hamon
Scott Johnston and Paul Palmer ** Laura Linney and Mitch Goldman
Diane Bell with Claudia Johnson ** Wendy Kellogg ** Dave Machala with Wendy Kellogg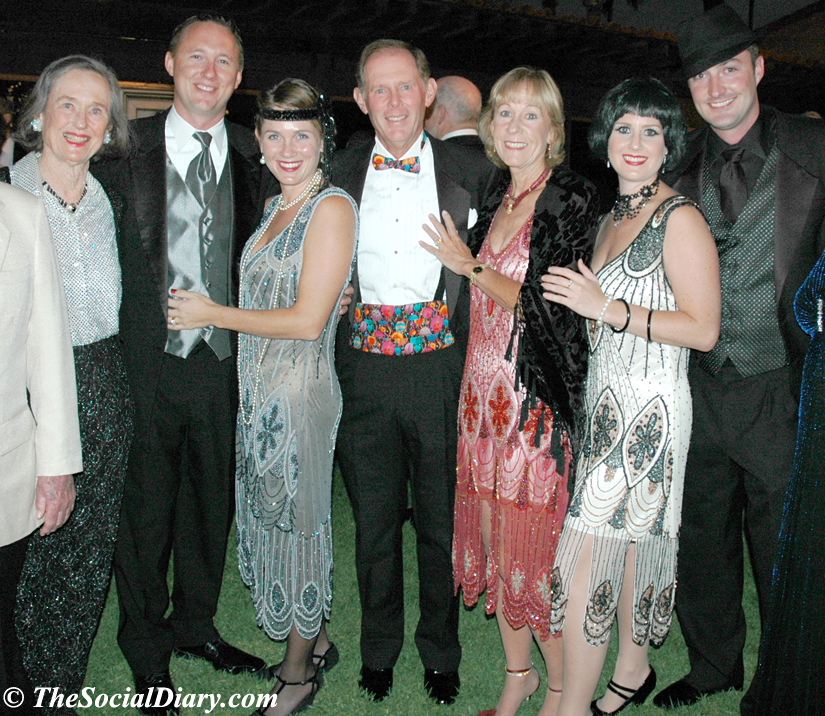 The Kelloggs et al. -Desdy, Shawn and Tiffany Worst, Bill and Tricia Kellogg, Wendy Kellogg and Dave Machala
Wendy Segall ** Jim McKellar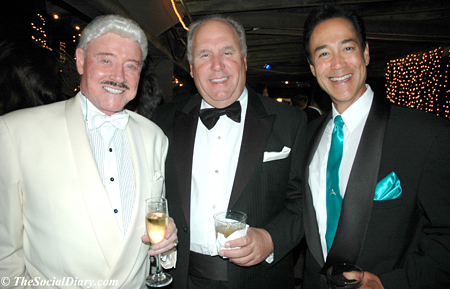 Harry Cooper with Mark Steinback and Scott Johnston
Stefan McKellar with his opa, Jim McKellar
Dianne and Jim Bashor ** Susan and Bob Blanchard
Gayle Allen ** Margo Schwab with Mitch Goldman and Laura Linney ** Michael Mossmer
Coppers ** Sook Hansen ** Ralph and Gail Bryan
Some Hyatt La Jolla dinner highlights......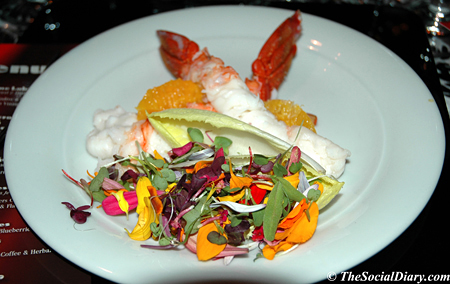 Poached Maine Lobster Tail with Baby Greens, Orange Salad and Lemongrass Vinaigrette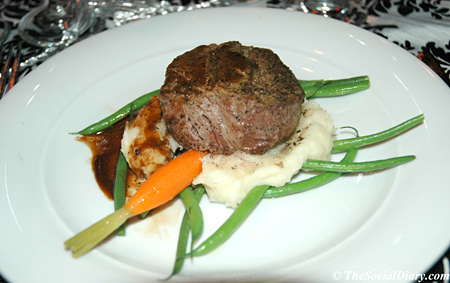 Filet Mignon with Perigueux Reduction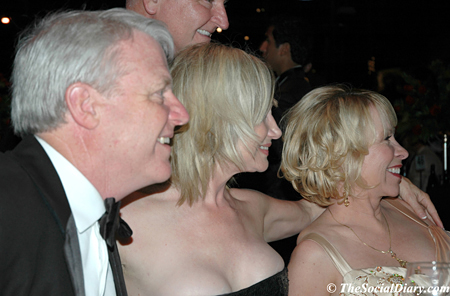 Richard and Lynda Kerr and Gayle Allen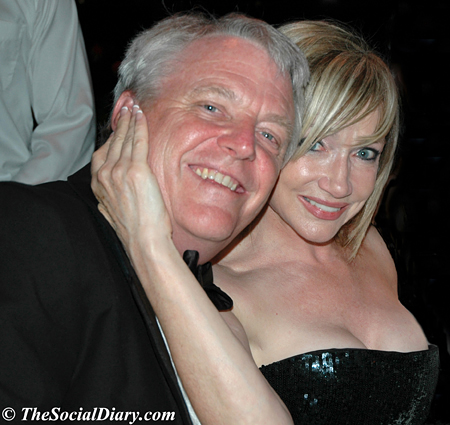 Richard and Lynda Kerr
Laurie Allen ** Kristi Pieper Rossbacher ** Ingrid Hibben with Katherine Kennedy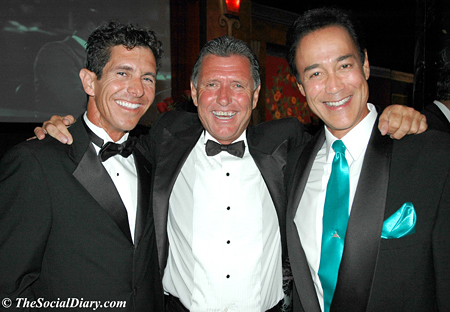 Nelson Alapi with Philippe Feune de Colombi and Scott Johnston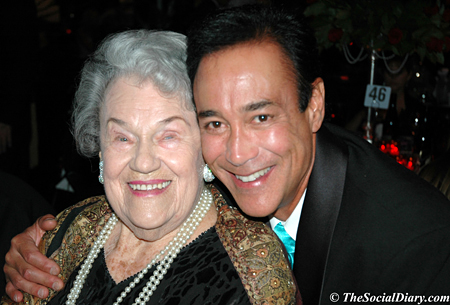 Helen Davis with Scott Johnston
Nelson Alapi with Philippe Feune de Colombi, Scott Johnston, Stefan McKellar and Monty Montemarano
Darcie and Patrick Garvey ** Lee Clark
Bill and Jeannie Larson
Margo Schwab and Scott Johnston who applaud Las Patronas for all of their hard work for the San Diego Community
A very special thank you to Lynda and Richard Kerr for having us as their Jewel Ball Guests!!
Email Commentary
"Oh Margo, it looked like such fun. You and Scott looked fabulous, as always. The pictures you sent were gorgeous. It was so interesting to see the gowns as well as who was with whom. Your coverage was certainly more interesting than the article in the La Jolla Light. Thanks again," - Taylor
"What a beautiful review of a spectacular evening!! Thank you for taking the time to cover the Jewel Ball ..........You, The Social Diary, always seems to capture the elegance and energy of the party!" - Best, Maree Mossmer
"Nice coverage for LP and great photos! Hope you had fun. You two looked great." - Jeanne Larsen, owner of The Collector Fine Jewelry
"Great coverage like always, I think Scott should have photoshopped my
xxxxx, though, they looked kind of out of control!!!!!!!!!!!!!!!!!" - XXXX
"Very good reportage." Karina Lion
"You and Scott look great!!". Mucho LUV.Veryl Mortensen
"Beautiful coverage..........thank you for thinking of me"...........Kristi Pieper Rossbacher
"PRETTY COOL!Nice pics.- P.S. You look stunning in the aqua outfit, which is incidentally my favorite color." -Matt Kashani
"Such fun to see!!!!...you are doing such good work!" - Barbara
"Thanks for all the wonderful pictures." - Susie Bond, Hawaii
"Wow" - Matthew Midgett
"Soooooo awesome! Thank you!" - Tiffany and Shawn Worst
"How cute are you! Great outfit....." - Andrea Muir, Athritis Foundation San Diego Chapter
"Thank you so much for emailing the Jewell Ball pictures! They are fabulous! Having attended the ball for so many years it is great fun seeing so many wonderful guests!" - Toogie aka Virginia Luscombe
reported by Margo Schwab in Badgley Mischka, masterfully altered by Kiki's Alternations in La Jolla, with Flapper head-dress designed by Jemima Garcia of La Jolla, Lizz Russell purse and vintage family jewelry, Scott Johnston is wearing custom tie and handkerchief by Jemima Garcia of La Jolla, with Neptunic tie embellishment
To learn more about Las Patronas, please visit www.laspatronas.org
* Margo Schwab, more formally known as Margaret E. Schwab, has produced, written, interviewed and photographed for various media organizations since 1989. Schwab attended Holton Arms School, La Jolla Country Day School and La Jolla High School. Schwab has a B.A. from Scripps College, spent a business internship with S.A.I.C., Science Applications International Corporation, and earned a Masters of Business degree, M.B.A., from the University of San Diego. Schwab volunteers for numerous charity organizations. She also continues to support animal organizations and the prevention of people and animal abuse. Schwab is the editor of The Social Diary.
Warning ** photos, video and writing on this site are the
copyright of The Social Diary, San Diego Social Diary
no reproduction of any part or parts is allowed without written permission by The Social Diary