Karen and Donald Cohn Host Naeem Khan
for a Globe Guilder's Patron Reception
VIP patrons of the Globe Guilders, a very fashionable philanthropic group that raises monies for the Old Globe, gathered June 20th, 2009 for a chic evening reception at the exquisite La Jolla home of Karen and Donald Cohn.
The main draw was to meet couture designer Naeem Khan. Known for his unique textile rich fabrics. The textiles are from his family's company I might add. But it's Naeem's talent that transforms the material into wearable art. Naeem is known as a master at draping and simplicity in the oh so feminine ways.
..... and Naeem is as nice a gentleman as he is talented as a designer!
Among the VIP Globe supporters there were Valerie and Harry Cooper, Valerie wore Naeem Khan, Sally B. Thornton, Lynda Kerr, Sandy Redman, Sandy is Co-Chairing the August 1st, Globe Gala with Debbie Turner, and Sheryl and Harvey White.
Sheryl was instrumental in convincing Naeem Khan into making a San Diego appearance this year. It is his second in a row.
In addition to Valerie Cooper, Lynda Kerr, Sheryl White and Karen Cohn each wore beautiful designs by Naeem Khan. Lynda chose a sleeveless orange and white brocade accessorized by Tamara Alter Jewelry, Karen Cohn chose a dazzling baby pink dress with side slit and Chanel shoes, and Sheryl White chose a colorfully brocade skirt with satin top and bow.
Sheryl laughed later, she had had the bow in the back. Naeem politely corrected and switched it to the front. All agreed, she looked great both ways and from any angle!
Guests enjoyed champagne and other cocktails, and delicious Indian curries, samosas and more from Hyatt La Jolla catering.
This event was a prelude to an exciting runway show the next day hosted by the Globe Guilders and Neiman Marcus. Naeem's designs are worn by a who's who veritably worldwide.
To visit the fashion show please click Naeem!
Additional tidbit: Three cheers to Karen and Donald Cohn who have been extremely generous to the Globe. Karen was also the Honorary Chair for this year's Globe Guilder fashion show featuring Naeem Khan.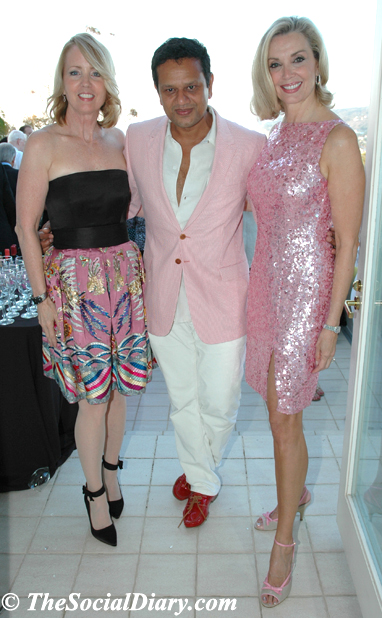 Sheryl White with Naeem Khan and Karen Cohn
Valerie Cooper with Todd Schultz and Lou Spisto of the Old Globe
Sheryl White with Naeem Khan and Karen Cohn ** Leonard Simpson and Harry Cooper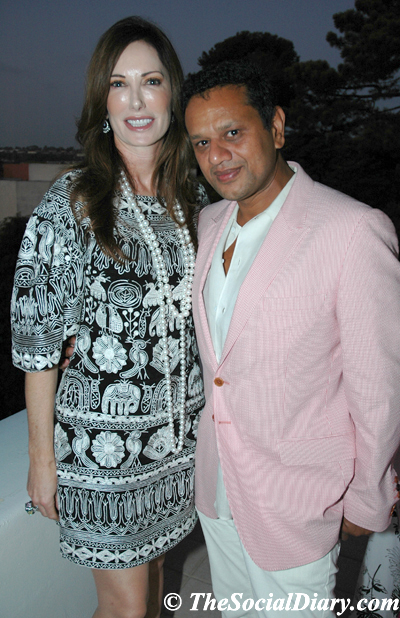 Valerie Cooper with Naeem Khan
Karen Cohn with Valerie Cooper ** Naeem Khan talking to Lynda Kerr
Lou Spisto with Karen Cohn ** Sheryl White
Host Don Cohn ** Tim Quinn with Valerie Cooper and Naeem Khan
Naeem Khan with Karen Cohn ** Karen Cohn with Lynda Kerr
Karen Cohn with Sheryl White, Sheryl's shoes are Lanvin ** Sandy Redman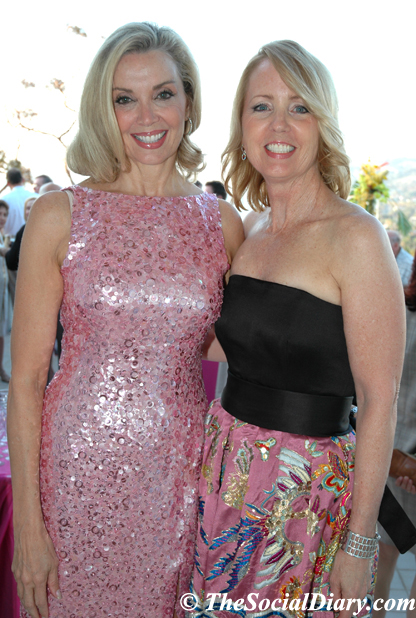 Karen Cohn with Sheryl White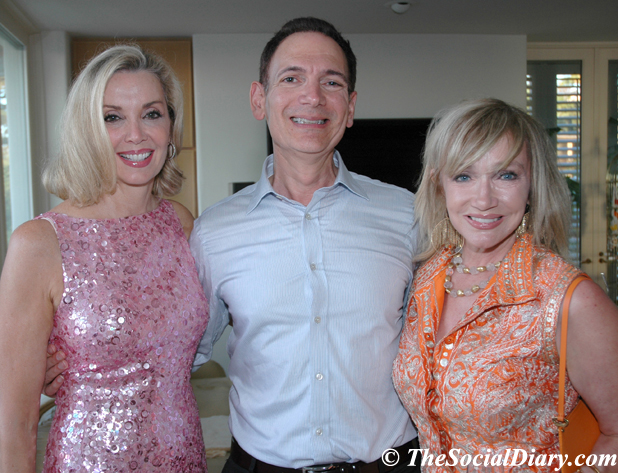 Karen Cohn with Lou Spisto, CEO/ Executive Producer of the Old Globe, with Lynda Kerr
The ice cream and cookie buffet with orchid centerpiece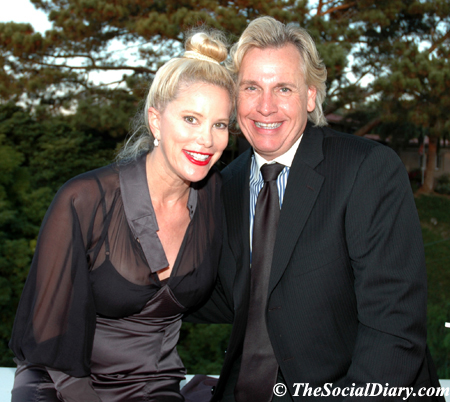 p.s. - don't miss the First Wives Club, click
www.oldglobe.org for details.
reported by Margo Schwab
pictured here in Gucci with Leonard Simpson
all photos and content are the strict copyright 2009 of TheSocialDiary.com and it's subsidiaries
The Buzz
.............Michelle Obama....
yes, Michelle Obama will be wearing a Naeem Khan gown at an upcoming ball....
.....................
Speaking of Naeem Kahn, his runway show was a runaway hit with the ladies. Quite a few dress orders were placed immediately after the show.
..............Caviar, Champagne.....
Yes that was Jim McKellar of the La Jolla Beach & Tennis Club family celebrating his 90th birthday with friends at the La Jolla Shores Hotel. The brunch featured traditional eggs, bacon and sausage, along with a robust amount of Beluga Caviar and Champagne. Cheers and Happy Birthday Jim!
Upcoming Events
July 30th - 'After the Finish Line's' summer fundraiser, A Tribute to the Majesty of Thoroughbreds. Please visit www.afterthefinishline.org for details.
July 31st - August 23rd - The La Jolla Music Society will host its SummerFest series. Please visit www.lajollamusicsociety.org for details.
August 1st - Old Globe Gala will host its black tie soiree to coincide with the production of the First Wives Club. Please visit www.oldglobe.org for details.
August 8th - Las Patronas will host its Silk & Spice themed Jewel Ball at the La Jolla Beach & Tennis Club. Please visit www.laspatronas.org for details and tickets.
August 13th - ChildHelp and Leonard Simpson fashion at the W Hotel. Details to come.
August 15th - The 'Catch the Royal Wave' will be the theme for the Fur Ball at the San Diego Humane Society. Please visit www.sdhumane.org for details.
August 23rd - The Moores UCSD Cancer Center will host the 1th Annual Luau & Longboard Invitational by Scripps Pier. For more information please ring 858-822-0023.
August 23rd - Country Friends will host an exciting new event called Hats and Flats. Sip champagne among the fashionable set. The event will take place at the San Diego Polo fields. Details to follow.
August 29th - The Art of Fashion at The Timken Museum in collaboration with Fashion Careers College's Pat O'Connor. For reservations, please visit www.timkenmuseum.org
September 11th - SIMA will host the 6th annual Liquid Nation Ball at the private oceanfront residence of Fernando Aguerre. This year the Humanitarian of the Year award will go to surf star Flea. Please contact Shannon Park at shannon@sima.com for more details or visit www.liquid -nation.com
September 17th - The Costume Council of the San Diego Historical Society will be hosting a one-of-a-kind event in Balboa Park to showcase select San Diegan's couture finds. The Social Diary is pleased to be a part of this showcase. For more information about this event, please visit www.sandiegohistory.org
September 17th - The San Diego Police Hisotrical Association will host a Legends Behind the Badge gala & awards evening at the U.S. Grant. San Diego Police Department's Chief of Police William Landsowne will serve as Honorary Chair with Ramin Portemeyer serving as Co-Chair. Please ring McFarlane Productions at 619-233-5008 for ticket information.
September 24th - The Country Friends will present the 54th annual "Art of Fashion" Runway Show at The Inn at Rancho Santa Fe. Proceeds from the luncheon, fashion show, boutique shopping and wine tasting will benefit Voices for Children, which provides court advocates for children in foster care. Couture fashions presented will be provided by South Coast Plaza. For ticket information, please contact The Country Friends at 858/756-1192, Ext. 4 or via email at events@thecountryfriends.org.
September 14th - Crime Stoppers Golf Tournament.
October 16th - The Rainforest Alliance will host it's gala. Details to follow.
October 22nd - The Walden Family Services will host their 6th Annual wine D'Vine event. Please visit www.waldenfamily.org for more details.
November 7th - The Golden Hangers / FCC benefit for Make-A-Wish and San Diego Variety Children's Network.

Proud to be partnered with San Diego News Network
________________________________________________________________
Photoshopping and Photography Services
Photos on this website available if it is of you
available by The Social Diary
~ 619-384-7333
email TheSocialDiary.com
_____________________________________________________________________
Email Commentary to be added
email editor@thesocialdiary.com
* Margo Schwab, more formally known as Margaret E. Schwab, has produced, written, interviewed and photographed for various media organizations since 1989. Schwab attended Holton Arms School, La Jolla Country Day School and La Jolla High School. Schwab has a B.A. from Scripps College, spent a business internship with S.A.I.C., Science Applications International Corporation, and earned a Masters of Business degree, M.B.A., from the University of San Diego. Schwab additionally took college courses from Harvard University, and Syracuse University. Schwab volunteers for numerous charity organizations. She also continues to support animal organizations and the prevention of people and animal abuse. Schwab is the editor of The Social Diary.
The Social Diary is pleased to announce new partnerships with the San Diego Humane Society and San Diego News Network.
Warning ** photos, video and writing on this site are the
2009 copyright of The Social Diary LLC and its subsidiaries.
no reproduction of any part or parts is allowed without written permission by The Social Diary