Naeem Khan's Couture a Runway Hit for the Old Globe
July 21st, 2009 brought out the well dressed set at the Sheraton San Diego Hotel and Marina for a fashion luncheon. And it was all for a great cause, the Globe Guilders, a dedicated group of women, with a few men in tow, who raise funds for the Old Globe Theatre and its educational programs.
Guests gathered to peruse silent auction items, sip champagne, mingle, and meet the featured designer, Naeem Khan. That's the worldwide renown designer Naeem Khan!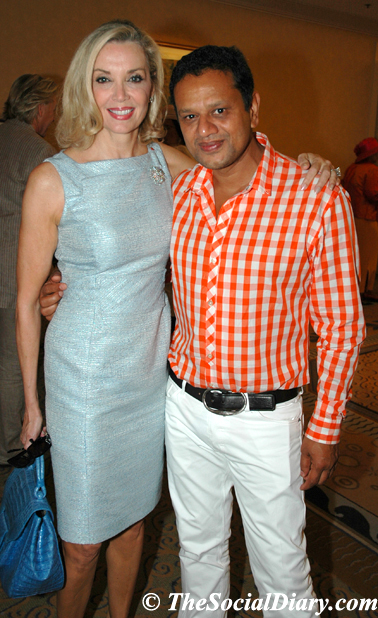 Honorary Chair Karen Cohn with Designer Naeem Khan
Among the many there to enjoy the event were Lee Goldberg, Pat Whalen, she bid big during the live auction, Fran Golden, Dianne Bashor in yet another beautiful Fe Zandi suit, Ovie Cowling, Linda Swortwood, Dixie Unruh, Fern Murphy, she's the Globe Guilder President, Jennifer Greenfield in Versace, Rana Sampson, Reena Horowitz, Lynda Kerr in Naeem Khan accessorized by a Tamara Alter custom pearl necklace, Joy Furby, Nina Doede, and Iris Strauss.
Iris is very happily back on the social scene after dealing with back issues. And we're happy to have her back too!
More there included Colette Royston, Bea Epsten, Barbara ZoBell, Jake Figi in a pretty knit Missoni, Jeanne Carlstead, Dana Alkasmi in a Pucci dress with a Valentino patent and pink purse, Sheryl White in Naeem Khan with Dries Van Noten shoes, and Karen Cohn in Carolina Hererra.
Karen served as Honorary Chair. She and husband Donald Cohn hosted the Patrons Party the night before.
Also there were Chair Pamela Stafford, Co-chair Marly daRosa, Darlene Davies, Gigi Cramer, Peggy Matthews, Kristi Pieper with her son Dane, social columnist Burl Stiff, Sally B. Thornton, Kay Hopkins, Carol Hasson, Barbara Bloom, Doreen Schonbrun, the Globe's Lou Spisto, he is the Executive Director, Todd Schultz of the Globe, Carole Laventhol, and Joyce Glazer with her right hand man, Gilbert Meza.
Valerie Cooper was there in a beautiful dress by Dior. The color was a rich purple. Friends joining Valerie included Emma Zuckerman, Tanya Brandes in a brilliantly cut white Versace dress, Diane Clarke, Rose Marie Piptone, Charlotte Hogue, Jeanne Jones, Judy Corrente, Nancy Gold in Oscar de la Renta, Denise Hug in Trina Turk, and one lucky reporter in Jordan.
Lunch was Chef Steve Black perfect. The mixed green herb salad with unusual ingredients like cucumber noodles, mint, dill, basil and cilantro was followed by chicken spinach crepes, and a light lemon mousse dessert with shortbread bar and dark chocolate bites.
Then it was time for the fashion show produced in conjunction with Neiman Marcus. With a song theme of the 'The Sun is Down," Denise Hug's favorite, models wearing Naeem Khan's beautiful designs..... well the photos speak for themselves!
p.s. - don't miss the Globe Gala and the World Premiere of the 'First Wives Club,' click
www.oldglobe.org for details.
first the reception photos....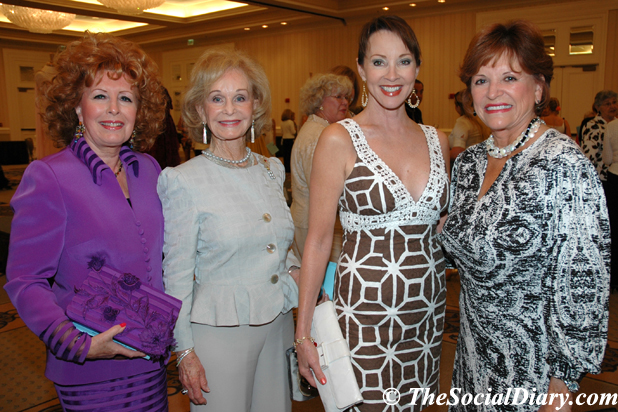 Dianne Bashor with Fran Golden, Denise Hug and Ovie Cowling
Nina Doede and Jeannie Carlstead ** Sheryl White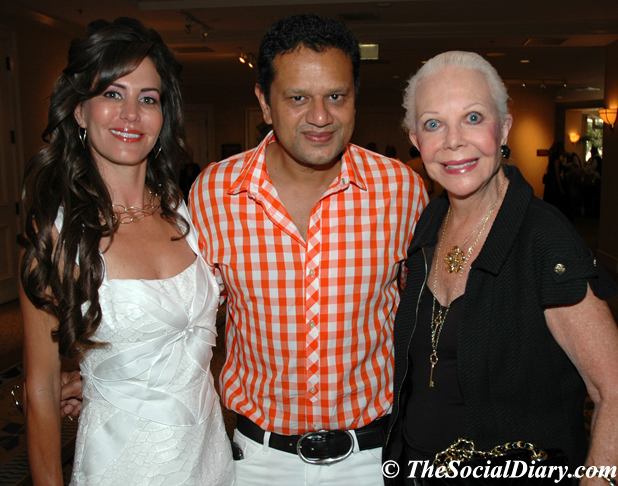 Tanya Brandes with Naeem Khan and Jeanne Jones
Darlene Davies with Peggy Matthews ** Dane with his mother Kristi Pieper
Dana Alkasmi ** Carol Hasson ** Denise Hug
Rachel Martin with Joni Alpert ** Tanya Brandes with Linda Swortwood
Mary Johnson with Chris Bresky ** Rita Szczotka with Lola Green
Rana Sampson with Jessica Johnson ** Gigi Cramer with Joyce Dostart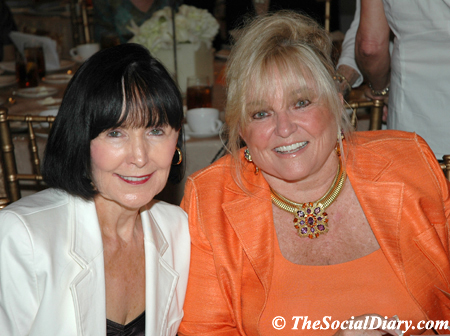 Charlotte Hogue with Diane Clarke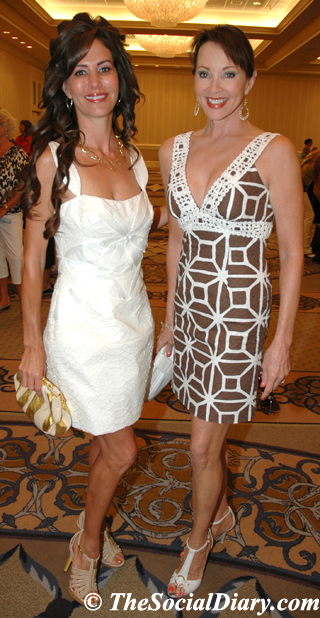 Tanya Brandes with Denise Hug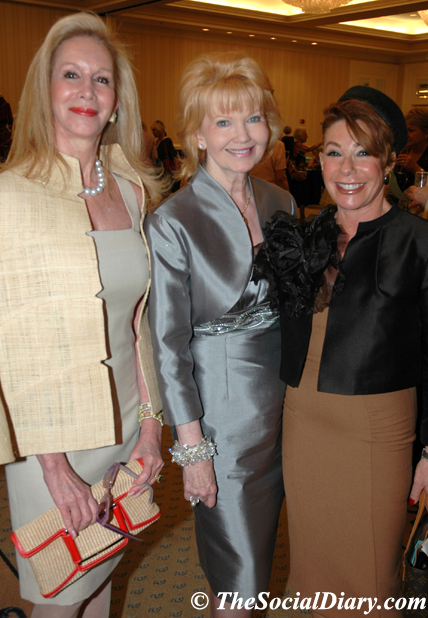 Linda Chester with Cristull Hasson and Karen Fox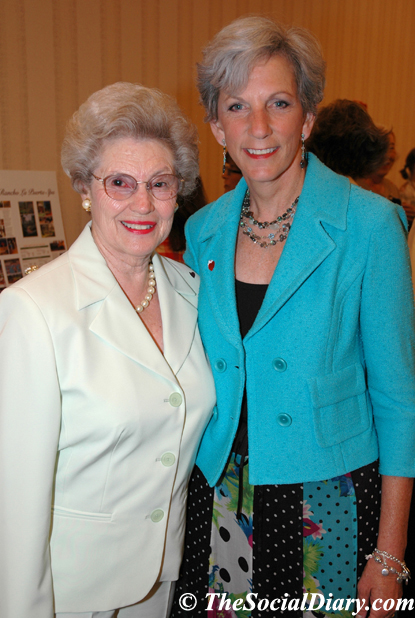 Betty Peabody with Nancy Spector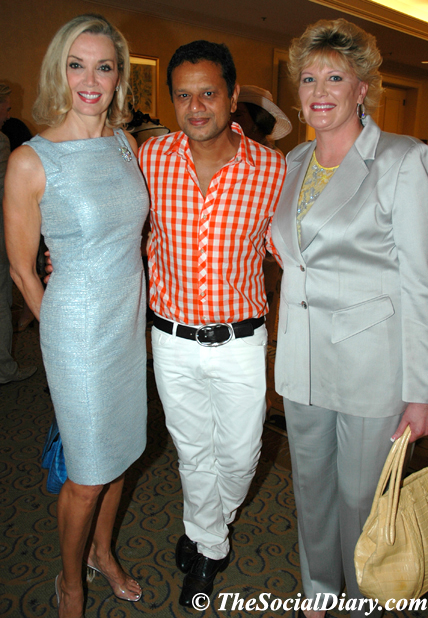 Karen Cohn with Naeem Khan and Lyndy Carreiro
Karen Cohn with Naeem Khan ** Lynda Kerr
Debbie Case with Lee Goldberg ** Jennifer Greenfield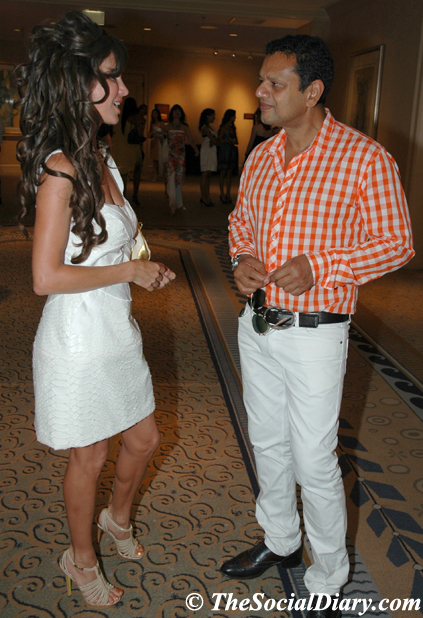 Tanya Brandes with Naeem Khan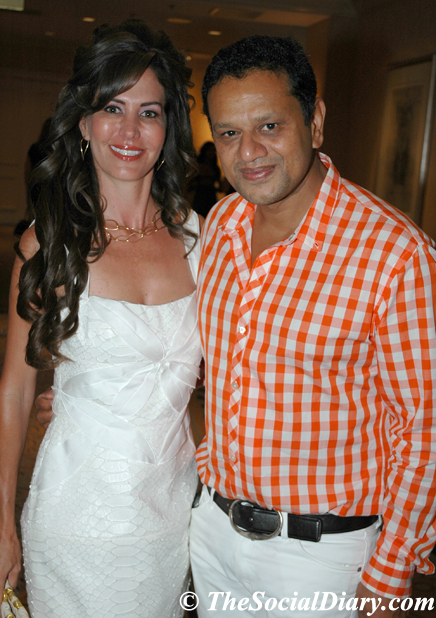 Tanya Brandes with Naeem Khan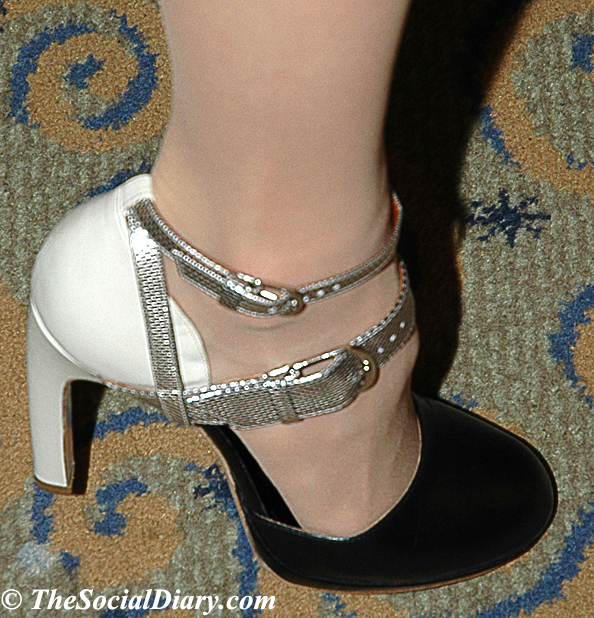 Sheryl White's Dries Von Noten Shoes!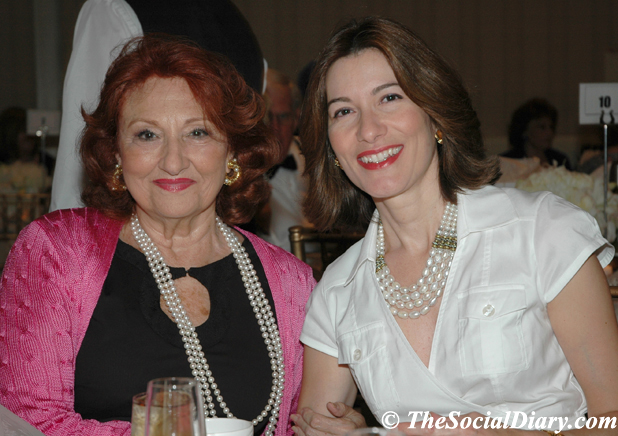 Rose Marie Pipitone with Emma Zuckeman
The Naeem Khan Fashion Show!
~ presented by Neiman Marcus ~
reported by Margo Schwab
all photos and content are the strict copyright 2009 of TheSocialDiary.com and it's subsidiaries
The Buzz
....Hear that Southern Accent in the Air?
The Texans are here...can you blame them? A tradition for many, the heat has annually chased them to San Diego. Always in time for their favorite past time...the Del Mar Race Track!
Jacqueline Rimel tells us the 'Cougar Roll' at Zenbu's in Cardiff is quite popular....it's definitely the hang of the 'beautiful' people. p.s. - Jacqueline is one of the beautiful people but she is non-cougar...she is very happily married to Matt!
Upcoming Events
July 30th - 'After the Finish Line's' summer fundraiser, A Tribute to the Majesty of Thoroughbreds. Please visit www.afterthefinishline.org for details.
July 31st - August 23rd - The La Jolla Music Society will host its SummerFest series. Please visit www.lajollamusicsociety.org for details.
August 1st - Old Globe Gala will host its black tie soiree to coincide with the production of the First Wives Club. Please visit www.oldglobe.org for details.
August 8th - Las Patronas will host its Silk & Spice themed Jewel Ball at the La Jolla Beach & Tennis Club. Please visit www.laspatronas.org for details and tickets.
August 13th - ChildHelp and Leonard Simpson fashion at the W Hotel. Details to come.
August 15th - The 'Catch the Royal Wave' will be the theme for the Fur Ball at the San Diego Humane Society. Please visit www.sdhumane.org for details.
August 23rd - The Moores UCSD Cancer Center will host the 1th Annual Luau & Longboard Invitational by Scripps Pier. For more information please ring 858-822-0023.
August 23rd - Country Friends will host an exciting new event called Hats and Flats. Sip champagne among the fashionable set. The event will take place at the San Diego Polo fields. Details to follow.
August 29th - The Art of Fashion at The Timken Museum in collaboration with Fashion Careers College's Pat O'Connor. For reservations, please visit www.timkenmuseum.org
September 11th - SIMA will host the 6th annual Liquid Nation Ball at the private oceanfront residence of Fernando Aguerre. This year the Humanitarian of the Year award will go to surf star Flea. Please contact Shannon Park at shannon@sima.com for more details or visit www.liquid -nation.com
September 12th - Club Monte Carlo is coming to the Museum of Contemporary Art San Diego. For details on this gala event, please visit www.mcasd.org
September 17th - The Costume Council of the San Diego Historical Society will be hosting a one-of-a-kind event in Balboa Park to showcase select San Diegan's couture finds. The Social Diary is pleased to be a part of this showcase. For more information about this event, please visit www.sandiegohistory.org
September 17th - The San Diego Police Hisotrical Association will host a Legends Behind the Badge gala & awards evening at the U.S. Grant. San Diego Police Department's Chief of Police William Landsowne will serve as Honorary Chair with Ramin Portemeyer serving as Co-Chair. Please ring McFarlane Productions at 619-233-5008 for ticket information.
September 24th - The Country Friends will present the 54th annual "Art of Fashion" Runway Show at The Inn at Rancho Santa Fe. Proceeds from the luncheon, fashion show, boutique shopping and wine tasting will benefit Voices for Children, which provides court advocates for children in foster care. Couture fashions presented will be provided by South Coast Plaza. For ticket information, please contact The Country Friends at 858/756-1192, Ext. 4 or via email at events@thecountryfriends.org.
September 14th - Crime Stoppers Golf Tournament.
October 16th - The Rainforest Alliance will host it's gala. Details to follow.
October 17th - Sundt Memorial Fundraiser. Details to follow.
October 22nd - The Walden Family Services will host their 6th Annual wine D'Vine event. Please visit www.waldenfamily.org for more details.
November 7th - The Golden Hangers / FCC benefit for Make-A-Wish and San Diego Variety Children's Network.

Proud to be partnered with San Diego News Network
________________________________________________________________
Photoshopping and Photography Services
Photos on this website available if it is of you
available by The Social Diary
~ 619-384-7333
email TheSocialDiary.com
_____________________________________________________________________
Email Commentary to be added
email editor@thesocialdiary.com
* Margo Schwab, more formally known as Margaret E. Schwab, has produced, written, interviewed and photographed for various media organizations since 1989. Schwab attended Holton Arms School, La Jolla Country Day School and La Jolla High School. Schwab has a B.A. from Scripps College, spent a business internship with S.A.I.C., Science Applications International Corporation, and earned a Masters of Business degree, M.B.A., from the University of San Diego. Schwab additionally took college courses from Harvard University, and Syracuse University. Schwab volunteers for numerous charity organizations. She also continues to support animal organizations and the prevention of people and animal abuse. Schwab is the editor of The Social Diary.
The Social Diary is pleased to announce new partnerships with the San Diego Humane Society and San Diego News Network.
Warning ** photos, video and writing on this site are the
2009 copyright of The Social Diary LLC and its subsidiaries.
no reproduction of any part or parts is allowed without written permission by The Social Diary