~ The Social Diary ~
~~~~~~~~~~~~~~~~~~~~~~~~~~~~~~~~~~~~~~~~~~~~~~~~~~
Globe Gala 2007
'A Catered Affair' Written and Featuring Harvey Fierstein
'The evening was incredible!" - Jeff Jacobs
Globe Gala Co-Chairs Deni Jacobs, Karen Cohn and Sheryl White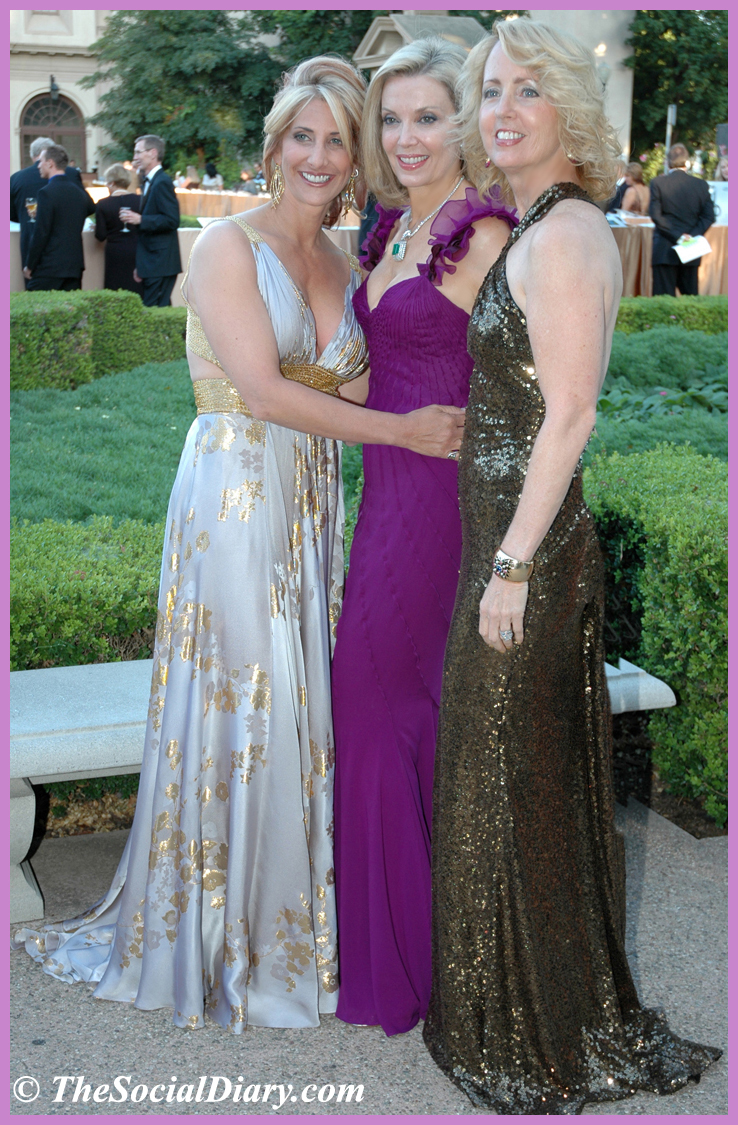 September 29th, 2007 the Tony Award Winning Old Globe Theatre hosted it 2007/2008 season opening with 'A Catered Affair.' The grand gala, organized by pretty Co-Chairs, Karen Cohn, Sheryl White and Deni Jacobs, was a hit with patrons.
Lisa Casey relayed enthusiasm and praise with these words. "It was a wonderful evening to celebrate the Old Globe Theater in San Diego. The evening began with a silent auction in the garden, followed by a rousing live auction in the theater, and the performance of "A Catered Affair." Following that, the guests were treated to a magical evening of fine dining (by the Sheraton San Diego Hotel & Marina) and dancing to the great music of the Wayne Foster Orchestra. We could have danced all night! Karen Cohn, Sheryl White, and Deni Jacobs put on a wonderful party."
Colette Royston agreed. "A beautiful evening and wonderfully successful for the Globe. Congratulations to Deni Jacobs and her Co-Chairs!"
Patrons enjoying the night included Jake Figi in electric blue Roberto Cavalli, the color matched her eyes. Karen Cohn wore a majestic purple Zac Posen gown that fluttered in the wind around her trim figure. Sheryl White chose a gold sequined Naeem Kahn with a slightly daring back. Tanya Brandes chose a deep green Roberto Cavalli, Colette Royston wore a purple tone Badgley Mischka with jeweled collar, Emma Zuckerman wore a pretty black Zac Posen with perfect coiffure by Eric, and Lee Clark looked trim and pretty in a golden ensemble with coat trimmed in fur by Escada. Lee's husband Dr. Jerry Pikolysky wasn't to be outdone. His custom tuxedo came from the exclusive Bijan store of Beverly Hills.
Deni Jacobs, fresh from a trip to Kenya, chose a stunning patterned silk gown with gold accents by Zuhar Murad.
Fashion was big that evening and so were fundraising efforts. More than $700,000 in fact. Very generous folk like Conrad Prebys, Darlene and Don Shiley, Iris and Matthew Strauss, all of the Jacobs Family including prominently Joan and Irwin Jabobs, Debby and Hal Jacobs, and Deni and Jeff Jacobs, contributed big. And so did Karen and Don Cohn, Sheryl and Harvey White, Audrey Geisel, Carolyn Yorston, Robert Gleason and Marc Matys, Jake and Todd Figi, Nina and Bob Doede, and the list goes on.
But it's stellar performances like this special evening's 'A Catered Affair' that garners the support. Tony Award-winner Harvey Fierstein's and Tony Award-winner John Doyle's production of "A Catered Affair' provided an insight into why this production is Broadway bound.... just like so many Old Globe Theatre productions before it.
The Globe's Executive Director Lou Spisto had this to say. "We are thrilled about this new project that John Doyle and Harvey Fierstein are bringing to the Globe." "John is one of the most innovative artists working in the theatre today, and we are delighted to have the opportunity to mount this world-premiere musical, penned by and starring the inimitable Harvey Fierstein, before it goes to Broadway."
And the gala evening was perfection too. Lee Clark remarked " The décor for the evening was magnificent, the gifts from Neiman's.were useful and beautiful. They were little round clocks with two rows of crystal around the face. Really a lovely gift for the underwriter category $3500 and up."
Jeff Jacobs added. "The evening was incredible. The setting was beautiful, the tables magnificent, the food delicious, and the band set the party atmosphere. And, of course, the co-chairs were stunning! We can't wait for next year."
In the meanwhile though, Jeff Jacobs managed to be up early the next morning for a bicycle training ride. Jeff, Dianne York-Goldman, and Dr. Mitchel P. Goldman are helping to raise funds for the Qualcomm Million Dollar Challenge for the Challenged Athletes Foundation. Their ride, a mere 120 miles on that training day!
To learn more about current and upcoming productions, future events and more, please visit the www.oldglobe.org
Please enjoy the photos.
(high resolution photos available by request
Co-Chairs Deni Jacobs, Karen Cohn and Sheryl White ** Judy and Jack White ** Barbara Kjos
Jake and Todd Figi ** Darlene Shiley and Guest ** Iris Strauss and Tanya Brandes
Marc Matys and Robert Gleason ** Karen Cohn and Tanya Brandes ** Drew Senyei and Donald Cohn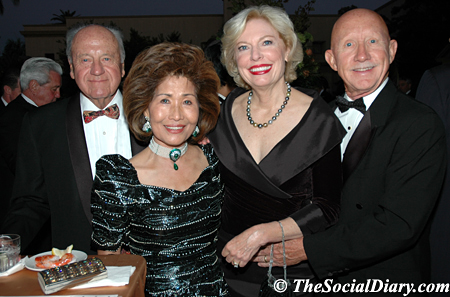 Ron and Sook Hansen with Pam Slater-Price and Hershell Price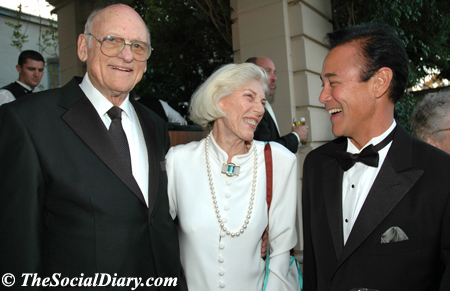 Barden Wellcome and Carolyn Yorston with Scott Johnston
Floral arrangement for the reception ** Guests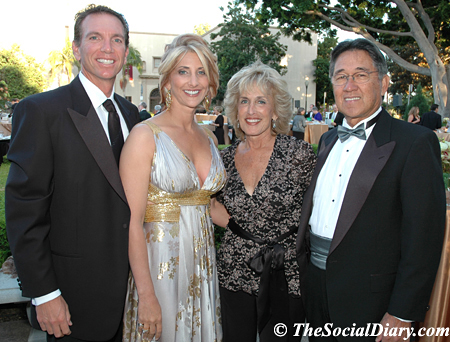 Jeff and Deni Jacobs with Judy Dveris and Lorenzo Torres
Deni and Jeff Jacobs ** Lee Clark and Dr. Jerry Pikolysky
Tanya Brandes with Jake Figi ** Jake Figi** Constance Hughes and Rick Wildman
Guests with Steve and Gayle Francis
Sheryl White and Todd Schultz ** Ofelia and Dr. John Alksne ** Dan Moore with Charles Pipitone and Scott Johnston
Drew Senyei and Don Cohn joking around ** Robert Gleason and Marc Matys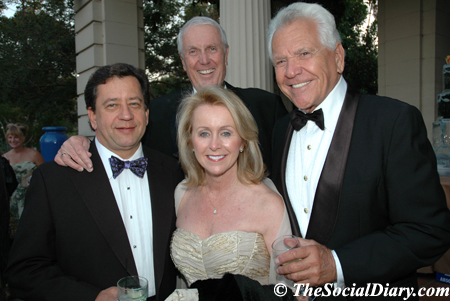 Drew and Noni Senyei with Harvey White and Don Cohn
Rick Woods with Phillip ** Colette Royston with Iris Strauss ** Harvey and Sheryl White
Deni and Jeff Jacobs ** Bob and Bea Epsten
Phillip with Rick Woods and Rick's sister ** Nick and Kathy Connor ** Muffy Walker Reed ** Sheryl White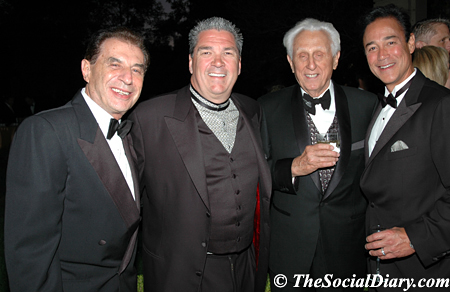 Leo Zuckerman with Dan Moore, Charles Pipitone, and Scott Johnston
Emma and Leo Zuckerman ** Elizabeth and Dene Oliver ** Jim and Susan Laslavic
Guests ** Deni Jacobs with Karen Cohn and Sheryl White
To learn more about current and upcoming productions, future events and more, please visit the www.oldglobe.org

Reported by The Social Diary's Margo Schwab
* Margo Schwab has produced, written, interviewed and photographed for various media organizations since 1989. Schwab attended Holton Arms School, La Jolla Country Day School and La Jolla High School. Schwab has a B.A. from Scripps College and a Masters of Business degree, M.B.A., from the University of San Diego. Schwab volunteers for numerous charity organizations. She also continues to lobby for water safety and for family violence mitigation. Schwab is the editor of The Social Diary. Margo is currently writing a book based on La Jolla.
Warning ** photos, video and writing on this site are the
copyright of The Social Diary, San Diego Social Diary
no reproduction of any part or parts is allowed without written permission by The Social Diary