~ The Social Diary ~
~~~~~~~~~~~~~~~~~~~~~~~~~~~~~~~~~~~~~~~~~~~~~~~~~~
The Globe Guilder's Very Glam Luncheon!
"featuring San Diego's 'Chic & Sleek'" - remarked Sally Thornton!

August 11th, 2007
by The Social Diary Reporter & Photographer Margo Schwab
On August 7th, 2007, the Globe Guilders held their very popular fashion luncheon at the Sheraton San Diego Hotel and Marina's Grande Ballroom. And it was quite the well dressed crowd in attendance supporting The Old Globe's Educational Outreach Programs.
Among the very fashionable in attendance were Lynelle Lynch in colorful Etro carrying a Cartier purse, Iris Strauss in a pretty suit, undoubtably an Oscar de la Renta, Joyce Glazer in a pretty white Dolce and Gabbana suit and Jimmy Choo shoes, Nancy Gold in Chanel, Joan Bowes in a chic suit, Leonard Simpson in a sleek suit by G Star, Doreen Schonbrun in a new Carolina Herrera navy and pale pink dress, Lyndy Carreiro in a gray trouser suit and jacket by Carolina Herrera with a Nancy Gonzales crocodile clutch, Joy Furby in vintage Carolina Herrera, and Honorary Chair Valerie Cooper in an au courant Carolina Herrera.
And it was a day for Herrera indeed. Carolina Herrera's Resort Collection 2008 was the featured fashion show. With Neiman Marcus selected models, the show was tops and for a great cause as noted by Lynelle Lynch. "The Old Globe has a rich history of bringing to San Diego couture fashions from International Designers, and this years fashion show was exceptional with the fashions of Carolina Herrera. Her Resort collection is elegant and perfect for the San Diego lifestyle. As the retired General Manager of Saks Fifth Avenue I value the significance that this means to our community. It is very difficult to secure a Couture collection for a trunk show let alone secure the funds required to produce a world class fashion show. Thank you Neiman Marcus and the Globe Guilders for making this a high class event that I look forward to every year!!!!!!!!!!"
Joyce Glazer had this perceptive fashion note."The Globe Guilders provided two fabulous fashion shows. One was the beautiful collection of Carolina Herrera clothes on the runway and the other was the well coiffed San Diego ladies (including writer Margo Schwab) who came to watch it. Who said San Diegans don't know how to dress?"
A fun quote came from Sally Thornton. "KUDOS to the Globe Guilders for their $ · magnificent · $ · achievement · $ · !!! The Fashion Show brought Great Excitement & an Overwhelming Crowd of San Diego's, 'chic & sleek'!"
Honorary Event Chair Valerie Cooper added this. "The Globe Guilders and Neiman Marcus really put on a beautiful luncheon and fashion show. The Carolina Herrera show was lovely with some very wearable clothes. Great to be looking at clothes that we would wear in our lovely San Diego weather. Fashion Show Chair Fern Wayne Murphy and Co-Chair Charlotte Jacobs are to be commended on all their hard work and in bringing such a large crowd of attendees. Big kudos to the men's group who helped make this such a successful day for The Old Globe."
Neiman Marcus's General Manager Lyndy Carreiro said this. "Carolina Herrera's collection is a reflection of her personal taste. She loves the idea of understated elegance in simple designs that capture the essence of classic femininity. We are very honored to be the first retailer to showcase the Resort 2008 Collection and thrilled by the opportunity to share this with the wonderful supporters of the Globe Guilders."
The Old Globe's Director of Development Todd R. Schultz remarked "The Old Globe is thrilled with all the amazing work that the Globe Guilders put into this amazing event. With 780 attendees, it's one of their most successful fashion shows, and we couldn't be more pleased with the hard work, dedication and care they put into each and every project they undertake."
"Globe Guilders' scored another smashing success. Carolina Herrera's designs were delightful, the luncheon was delicious; a wonderful tribute to the very lovely Valerie. I just wish Luba Johnston could have been with us to enjoy the day," said Susan Kazmarek.
Surely Luba was watching her favorite event from heaven.
Other notable quotables include:
"It was lots of fun. I have gone for years and it is always a hit." said Joan E. Bowes
Longtime Globe supporter Pat Whalen had this to say. "Where else but the Globe Guilders fashion show can you see the ladies who lunch looking as wonderful as the models ?????"
Sisters Darcy Smith and Daran Grimm have attended this event for years with their mother Derelys Delano. Daran, an artist herself remarked "I loved the champagne and the creative food this year and the wonderful auctions. I am thrilled I won the Masterpiece canvas family portrait." Darcy added "The Globe Guilder Fashion show and luncheon was a delight! This year the show was short but good. The food was awesome! Being there with my mom and sister is the best!!!!"
Fashion writer and hat designer Diana Cavagnaro has met Carolina Herrera. "Last year I had the opportunity to meet Carolina Herrera at a trunk show in New York. I found that her clothes are a reflection of her elegant and sophisticated personality. Kudos to the Globe Guilders for bringing this Fashion Show to San Diego!"
Among those there also enjoying the day were Globe Guilder President Carol Hanson, Old Globe Executive Director Lou Spisto, Dianne Bashor, Denise Hug, Karen Camp, Darlene Davies, Deni Jacobs, Susan Heller, Kathleen Buoymaster, Barbara Brown, Rose Marie Pipitone, Cynthia Kronemeyer, and Sheri Jamieson.
Big Old Globe supporters Karen Cohn and Sheryl White would have been there, but their long time planned European cruise trips with their families conflicted. But they won't miss the Old Globe Gala in September! And neither should you.
For gala details please visit the www.oldglobe.org
Please enjoy the photos.
(high resolution photos available by request
Event Honorary Chair Valerie Cooper with Robert Gleason ** Iris Strauss and Joan Jacobs
Guests ** Joy Furby with Guest
Guest ** Mal Smiedt
Veryl Mortenson with Guest ** Claire Anderson
Jeannette Amen Martin with Lynelle Lynch ** Esther Nahama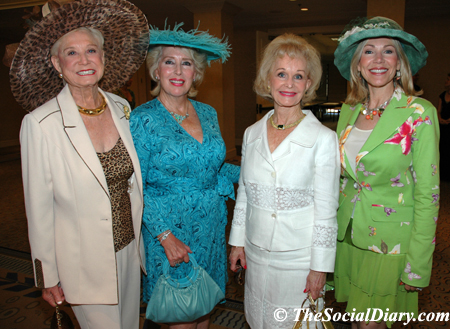 Wanda Kaufman with Linda Swortwood and Guests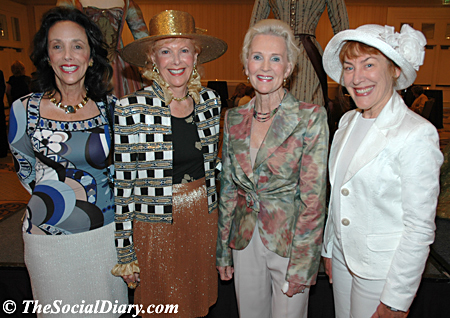 Tony Bloomberg with Joan Bowes, Lael Kovtun and Diana Cavagnaro
Globe Theater Period Costume ** Joy Furby with Denise Ekstrom and Marie Chemali
Guest with Lee Maturo ** Carol Karlovich with Irene Chandler
Denise Ekstrom with Jane Ekstrom and Guest ** Desiree Kellogg
Gilbert Meza with Guests ** Derelys Delano with daughters Daran Grimm and Darcy Smith
Sandra Shafer with Joyce Glazer ** Todd Schultz
Kristi Pieper Rossbacher ** Phyliss with her cousin Joan Jacobs
Valerie Cooper ** Robert Gleason with Iris Strauss
Maree Mossmer with Lynda Kerr ** Nancy Gold ** Denise Hug with Valerie Cooper in conversation
Diane Clarke ** Valerie Cooper with Emma Zuckerman
Colleen Lyons with Leanne Shapery ** Gretchen Burns Bergman ** Judith Jarcho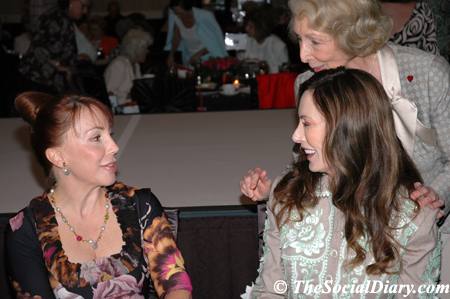 Sheri Jamieson with Valerie Cooper and Martha Gafford
Leonard Simpson ** Susan Kazmarek with Jan Reital and Daran Grimm
And now, highlights of the Carolina Herrera Fashion Show presented by Neiman Marcus
To learn more about the Old Globe its season schedule, upcoming gala and volunteer opportunities, please visit
* Margo Schwab has produced, written, interviewed and photographed for various media organizations since 1989. Schwab attended Holton Arms School, La Jolla Country Day School and La Jolla High School. Schwab has a B.A. from Scripps College and a Masters of Business degree, M.B.A., from the University of San Diego. Schwab volunteers for numerous charity organizations. She also continues to lobby for water safety and for family violence mitigation. Schwab is the editor of The Social Diary. Margo is currently writing a book based on La Jolla.
Warning ** photos, video and writing on this site are the
copyright of The Social Diary, San Diego Social Diary
no reproduction of any part or parts is allowed without written permission by The Social Diary