~ The Social Diary ~
~~~~~~~~~~~~~~~~~~~~~~~~~~~~~~~~~~~~~~~~~~~~~~~~~~
'Constellation of Canines' for San Diego Humane Society and SPCA
"Canines in Couture and People Too!"

September 10th, 2007
by The Social Diary Reporter & Photographer Margo Schwab
On August 18th, 2007 the San Diego Humane Society and SPCA hosted their 21st Annual Fur Ball themed "A Constellation of Canines." Although frankly it was rather an evening of couture. That's couture for dogs and their owners alike.
Among the attendees were Lynda Kerr in a svelte Gucci dress with her boxers Chopper and Charlie. Chopper wore a tux, as did likewise Lynda's husband Richard Kerr. And Charlie, a cute bundle of energy, wore a pretty scarf arrangement. Maree Mossmer wore classic Chanel with Chanel jewelry. And Madeleine Pickens wore a black Azzedine Alaia with detailed skirt.
Honorary Chairpersons T. Boone Pickens and Madeleine Pickens ** Lynda Kerr with Chopper
Madeleine and her husband T. Boone Pickens were the Honorary Chairs of the evening. And deservedly so. They are the wonderful couple that came to the rescue of so many stranded dogs by Hurricane Katrina.
And from as far away as Texas, the Pickens' home state, came words of praise. This one from 'friend of the animals,' Pamela Bertsch. "I'll never forget the day I watched as T. Boone Pickens stood strong, knowledgeable, and proud fighting for our nation's horses against slaughter one hot July day in D.C. in 2006 before a U.S. House Committee hearing. That was the moment I knew he was a man of conscience. The horses indeed won in the House that session thanks to his courageous efforts.
Since that day I have had the pleasure of thanking both he and his lovely wife Madeleine for their hard work speaking out for those who have no voice. Their warm hearts of love and compassion will forever be etched in my mind.'"
And compassion was the noted commonality of those in attendance. Among them were Lee Clark and Dr. Jerry Pikolysky, Liz and Chris McCullah, Ingrid Hibben and Victor Magna, Judith and Duke Johnson, Veterinarian and President of the San Diego Humane Society and SPCA Dr. Mark Goldstein, Courtney and Ray Liddy, and the three fabulous Co-Chairs of the event, Lori Walton, Patti Mix and Elizabeth Davies.
Guests enjoyed delicious appetizers by Jeffrey Strauss of Pamplemousse Grille, including his famous mini-Kobe beef burgers, followed by a dinner centered around braised boneless short ribs. The dogs were kept happily wagging with tray passed canine treats galore and volunteer doggy-sitters in a play room.
Rich Kerr remarked "it's tough handling two boxers at once and manage to look good at the same time!!!!Seriously, It's wonderful to be part of an organization that cares so much for the welfare of those who truly make this world a better place...thank you Boon and Madeleine for your inspiring work."
Over $450,000 was raised, easily too with auction prizes like dinner at Pamplmousse Grille going for very, very big dollars. And all for a great cause. To prevent cruelty to animals, promote the humane treatment of animals, and to promote education to enhance the human / animal bond.
A special thanks goes to major sponsors including Nancy Vaughn, Petco, Dowling & Yahnke, Schubach Aviation, Sid and Jenny Craig and Mona and Melvin Segal.
Kima the Canine Connoisseur aka Kima the RunAway Bride applauds this event with all paws. It was her first Fur Ball but not her last. Kima will be joining new friends Charlie and Chopper at the Kerr's table August 25th, 2008. And she can't wait!
To learn more about the San Diego Humane Society and SPCA, please visit www.sdhumane.org.

Please enjoy the photos!
(High resolution available by request)
Lynda and Richard Kerr with Charlie and Chopper ** Scott Johnston and Margo Schwab with Kima, all in custom outfits by Jemima Garcia of J. Jenniene Designs, photo courtesy of the San Diego Humane Society
Madeleine Pickens admiring some pretty canines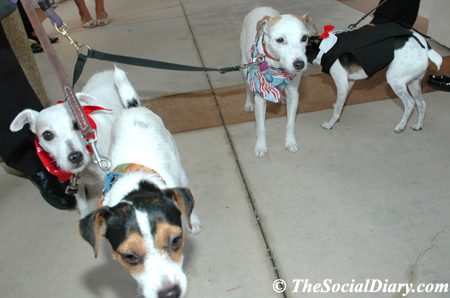 Very social canines
Lynda Kerr with Chopper & Scott Johnston with Kima ** Lynda & Richard Kerr with Chopper & Charlie, Scott Johnston with Kima
Guests
Melissa and Michael Bartell ** Guest with Barbara Kjos
Rachel Paulin ** Guests
Guest ** Lisa Harrison with one of her standard Poodles
George and Martha Gafford with their Cavalier King Charles spaniels, Lady Guinevere and Sir Oliver ** Chris and Liz McCullah
Guests ** Michael and Maree Mossmer
Dede Carlson with her husband and other best friend ** Guests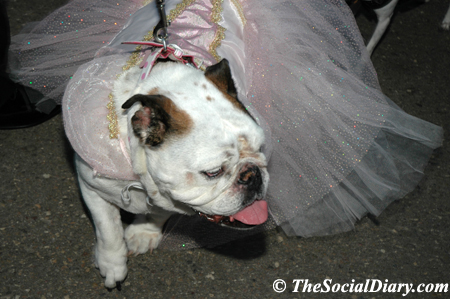 One cute Princess
Mercedes Vila with her Chinese Crested named Butters ** Rick Woods with Bud
Maree Mossmer with Lynda Kerr and Margo Schwab ** Duke and Judith Johnson
Kima not wanting to leave ** Kima in her nightie ready to have sweet dreams about all of her new doggy friends from the Fur Ball
* Margo Schwab has produced, written, interviewed and photographed for various media organizations since 1989. Schwab attended Holton Arms School, La Jolla Country Day School and La Jolla High School. Schwab has a B.A. from Scripps College and a Masters of Business degree, M.B.A., from the University of San Diego. Schwab volunteers for numerous charity organizations. She also continues to lobby for water safety and for family violence mitigation. Schwab is the editor of The Social Diary. Margo is currently writing a book based on La Jolla.
Warning ** photos, video and writing on this site are the
copyright of The Social Diary, San Diego Social Diary
no reproduction of any part or parts is allowed without written permission by The Social Diary