~ The Social Diary ~
~~~~~~~~~~~~~~~~~~~~~~~~~~~~~~~~~~~~~~~~~~~~~~~~~~
Fresh Start Surgical Gifts' Butterfly Ball
"Kudos to all those who make this organization truly change the life of a young person!" - Valerie Cooper
Since 1991 The Butterfly Ball for Fresh Start Surgical Gifts has helped deserving children brighten their lives as noted by patron Valerie Cooper. "Fresh Start Surgical Gifts was formed by local San Diegan doctor Dr. Dennis Nigro to transform the lives of disadvantaged children and young people with physical deformities caused by birth defects, accidents, abuse or disease. It is truly amazing how many lives this organization has changed. This fundraiser at The Hotel Del celebrated all the doctors, staff, and volunteers that have made this possible. Everyone donates their time to make the services provided free. Every year the Butterfly Ball is a fun evening of silent auction, touching speeches, and some way out rocking to The Wayne Foster Band. Kudos to all those who make this organization truly change the life of a young person!"
And there were quite a litany of others there supporting this very worthy cause. Among them were Fred Applegate and Laura Bradley, Lorraine and Issac Levy, Lynn Stuart, Melissa and George Daou, Julie and Dale Yahnke, Sheri and Steve Cohen, Diane Shulman, Sonja and Ray Wilson, Charles Cono, James Chao, Allergan representatives, Jeff Powers, Terri and Jim Watson, Lynda and Richard Kerr, Judy and Peter Corrente, Valerie and Dr. Robert Levine, and actors Alfonso Ribeiro and Grant Show.
Grant's television show Swingtown may be on hiatus due to the writer's strike, but that didn't stop him from waving his bidding hand skywards to help the event raise a phenomenal total of $180,000 that evening.
It was a collective generous effort by all with great results. Fresh Start's Executive Director, Shari Brasher said, "This year's Butterfly Ball was the most successful gala we've ever had. Our guests had a wonderful time throughout the evening, while also supporting the important work of our dedicated volunteers."
But it was immeasurably priceless when Callie Daugherty, a 15 year old Fresh Start patient spoke about her experience of having lived with a deformity. There's no stopping Callie now though. Not only does she have a 'fresh start,' but she has talent to match. Callie sang a beautiful song called 'Miracle Mile.' Beautiful voice and a very beautiful song written by Callie herself!
Dinner was Hotel Del Coronado Crown Room perfect. Watercress salad with endive, melt in your mouth braised short ribs, a pesto drizzled sea bass, and a wickedly good limencello tiramisu with port sauce.
And the night continued as a 12 person ensemble from the fabulous Wayne Foster Orchestra got the ballroom guests on their feet and onto the dance floor until late.
Ellen Smoak of Consciously Social was very proud to be supporting Fresh Start. "The success of this year's Butterfly Ball reinforces their mission of transforming the lives of children with deformities by giving them a Fresh Start."
The Social Diary salutes those who volunteer and give so that others may have a Fresh Start.
To learn more about Fresh Start Surgical Gifts, please visit www.freshstart.org.
Please enjoy the photos.
(high resolution photos available by request)
Lynda Kerr with Valerie Cooper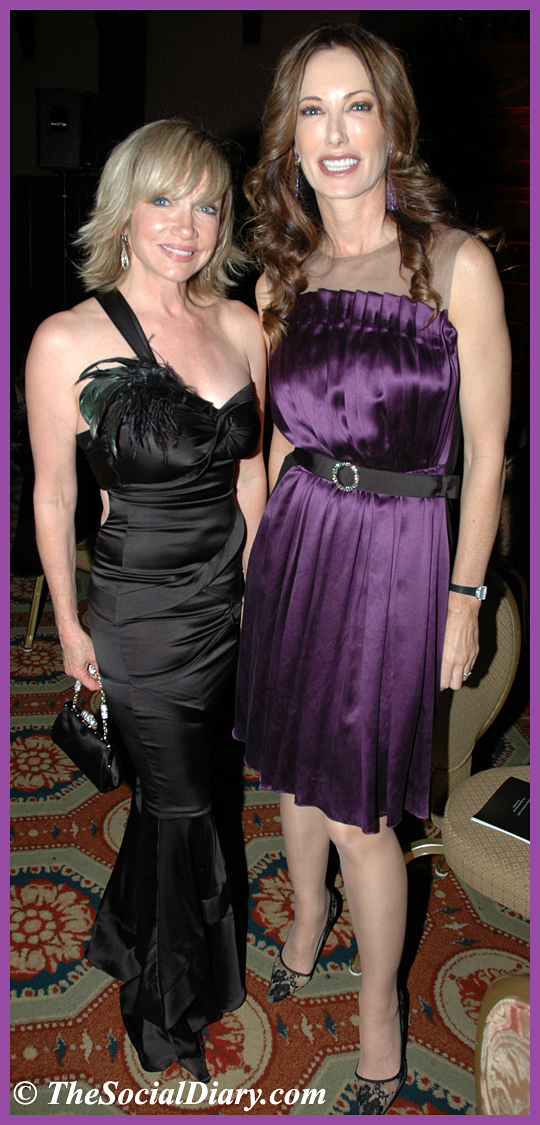 Lynda Kerr and Valerie Cooper Glamorous in Gucci and Lanvin
Sandy Cameron and tambourine with Guests** Lynda Kerr with Margo Schwab who is wearing an almost vintage Neiman Marcus sequined 'butterfly' top ** Judy and Peter Corrente
Jim and Terri Watson ** Actors Alfonso Ribeiro and Grant Show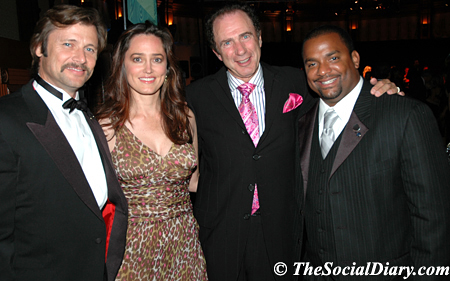 Grant Show with Melissa Daou, Guest and Alfonso Ribeiro
Alfonso Ribeiro with Lynda Kerr and Grant Show ** George and Melissa Daou
Jeff Powers with Dr. Dennis Nigro and Guest ** Sandy Cameron with her Father Scotty Cameron
Richard and Lynda Kerr ** CBS 8 News Anchor Dan Cohen with his fiancée Paige Elliott and Valerie and Dr. Robert Levine ** Lorraine and Issac Levy

Reported by The Social Diary's Margo Schwab
* Margo Schwab has produced, written, interviewed and photographed for various media organizations since 1989. Schwab attended Holton Arms School, La Jolla Country Day School and La Jolla High School. Schwab has a B.A. from Scripps College and a Masters of Business degree, M.B.A., from the University of San Diego. Schwab volunteers for numerous charity organizations. She also continues to lobby for water safety and for family violence mitigation. Schwab is the editor of The Social Diary. Margo is currently writing a book based on La Jolla.
Warning ** photos, video and writing on this site are the
copyright of The Social Diary, San Diego Social Diary
no reproduction of any part or parts is allowed without written permission by The Social Diary