~ The Social Diary ~
~~~~~~~~~~~~~~~~~~~~~~~~~~~~~~~~~~~~~~~~~~~~~~~~~~
Ed Meese Enthralls USD Guests for the
Joan E. Bowes-James Madison Distinguished Speaker Series
You could hear a pin drop as Edwin Meese III spoke November 27th, 2007 for the Joan E. Bowes-James Madison Series at the University of San Diego's Peace and Justice Theatre. Guests enjoyed pearls of wisdom and insight regarding as Mr. Meese regarding the evening's topic, 'The Constitution in Peace and War.' As the 75th Attorney General serving under Ronald Reagan, Mr. Meese was quite informative with a friendly twist. Ed remarked that when you are working within the politico top in D.C., you are part of the 'who's who.' Once you are out, you become part of the 'who cares.'
Well not in this case. Ed Meese had listeners riveted.
Iraq and other big issues were discussed as part of the continum of how history and politics follow patterns.
This prestigious evening was possible due to the generosity of Joan E. Bowes. Joan sponsors appropriately and patriotically the Joan E. Bowes-James Madison Distinguished Speakers Series at USD.
Among the guests for the evening were Patty and Cooprider, Larry Davis, Betty Dow, Cristull and Victor Hasson, Scott Johnston, Cindy Goodman, Monique Grey, Rick Wildman, and Kevin Cole, the Dean and Professor at Law for the University of San Diego.
Joan E. Bowes established the speaker series "to inspire law students and other members of the San Diego community and to promote the open exchange of ideas. Bearing the name of James Madison -- Fourth President of the United Sates and 'Father of the Constitution ' -- this annual series brings distinguished speakers from the fields of law, diplomacy, government and politics to the University of Sam Diego."
Joan E. Bowes had this to say about the evening. "It really was a very successful event. And I truly felt honored to be able to have Attorney General Edwin Meese to be the fourth speaker for the Joan E. Bowes - James Madison Distinguished Speaker Series."
Please enjoy the photos.
(high resolution photos available by request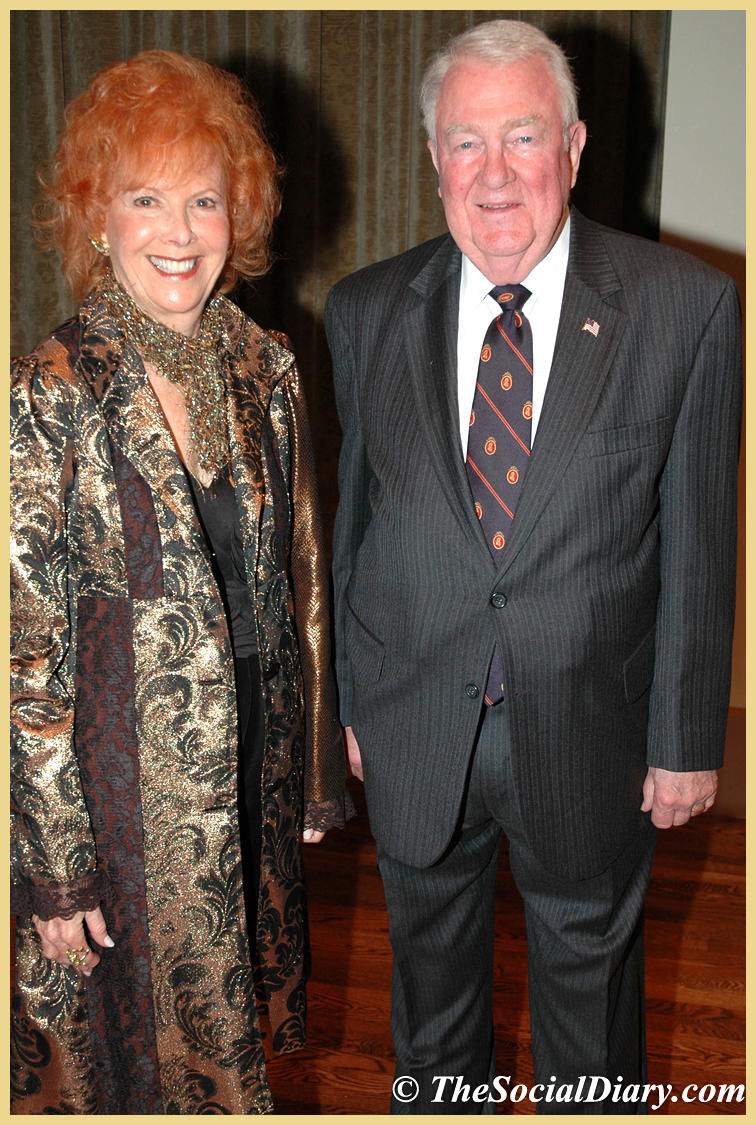 Joan E. Bowes and Edwin Meese III
Joan E. Bowers with her son, and Larry Davis ** Scott Johnston with Cristull Hasson ** Dean and Professor of Law at the University of San Diego, Kevin Cole with Joan E. Bowes and Edwin Meese III
Scott Johnston and Edwin Meese III ** Rick Wildman ** Victor and Cristull Hasson ** Joan E. Bowes with Margo Schwab
Cindy Goodman ** Monique Grey with Ed Meese III ** Patty and Coop Cooprider
reported by Margo Schwab,
who graduated with an M.B.A. from the University of San Diego,
and was thrilled to be personally invited by Joan E. Bowes to this event.
USD Magazine Featured Article: "Everybody who's anybody knows Margo Schwab, chronicler of San Diego's upper crust."
* Margo Schwab, formally known as Margaret E. Schwab, has produced, written, interviewed and photographed for various media organizations since 1989. Schwab attended Holton Arms School, La Jolla Country Day School and La Jolla High School. Schwab has a B.A. from Scripps College and a Masters of Business degree, M.B.A., from the University of San Diego. Schwab volunteers for numerous charity organizations. She also continues to lobby for water safety and for family violence mitigation. Schwab is the editor of The Social Diary. Margo is currently writing a book based on La Jolla.
Warning ** photos, video and writing on this site are the
copyright of The Social Diary, San Diego Social Diary
no reproduction of any part or parts is allowed without written permission by The Social Diary