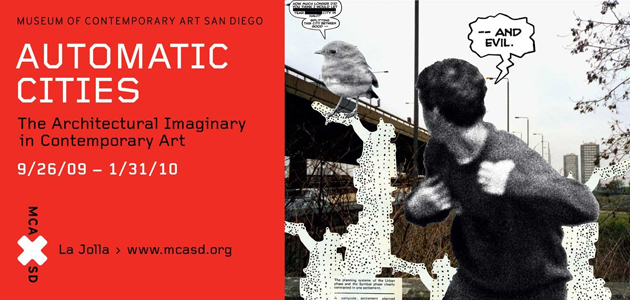 Dr. Jay, Sharon Stone, Antwone Fisher, & William H. Macy Provide Star Power for 'Homeless not Toothless'
Dr. Jay Grossman is famous not only for the best smiles on celebrities, but also for his generous spirit providing new smiles to homeless individuals. Add some star powered fundraising with the likes of actress and philanthropist Sharon Stone, and you have quite a positive impact on those in need of a good and healthy smile.
Themed 'A Smile for Every Child,' this September 10th, 2009 event at the Shangri-La in Santa Monica spotlit the importance a healthy and pretty smile can have on a person's opportunities in the job market. Opportunities that spill over to positive directions.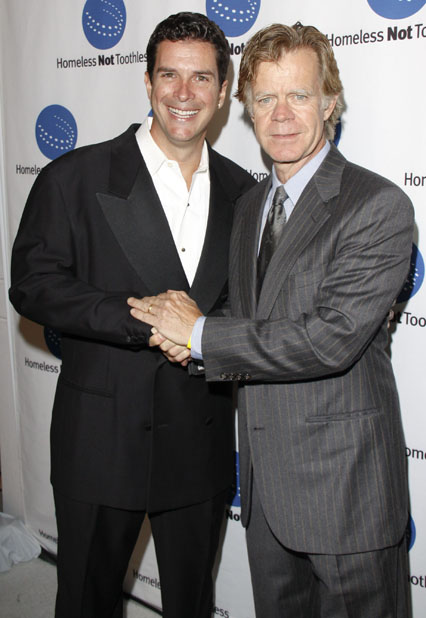 Dr. Jay Grossman with William H. Macy
"The mission of Homeless Not Toothless is to raise the pride and dignity of the homeless and underserved through quality dental services. We serve these individuals without regard to their race or gender. We are not looking to provide just the basics like fillings and cleanings. Rather, we seek to perform more sophisticated procedures that are difficult for the homeless to access – all with the hope of helping them find employment that will get them off the streets."
As such, a few hundred generous guests gathered to raise big monies for the cause. A cause that has served over 1,500 homeless individual via over 5,000 procedures worth well above $1.5 million dollars since 1992.
Homeless Not Toothless is affiliated with Sharon Stone and her sister Kelly Ston'es non-profit, Planet Hope.
"Planet Hope has helped tons of thousands of families from around the world. Planet Hope programs have been able to offer gratis medical and dental care, new clothes for kids, counseling and image makeovers for homeless women and women that have been victims of domestic violence at our annual summer camp. Planet Hope's mission of providing hope for a better life has made a tremendous difference to thousands of homeless and abused children and their families."
As such, Sharon Stone was honored.
So too was writer and producer Antwone Fisher.
"William H. Macy (Fargo) presented to Sharon Stone, producer Todd Black presented to Antwone Fisher.
Our basic program is simple: we recruit Dentists to donate their time and talents to help homeless people who want to help themselves. We began in 1992 as a network of volunteers that over the years has performed more than 5,000 procedures on more than 1,500 homeless individuals valued at over $1.5 Million dollars. In the past five years, we have opened an office in Brentwood that allows us to treat referrals from your primary area as well as became affiliated with Sharon Stone's non-profit, Planet Hope."


"It is our goal to serve the 28,000 foster children in need and double our homeless patients to 3000 in 2010. We think this is ambitious yet attainable – at this point, the main thing standing between us and this achievement is our ability to raise the money required to cover the lab fees and supplies that will permit more Dentists to do more work, and it is our hope that you will help us on that front."
"Raising the pride and dignity of the underserved through quality dental services."
Please enjoy the photos.
Kristine Guerrero (of E! News) on the carpet before emceeing the event ** Cameron Candace Bure (Full House)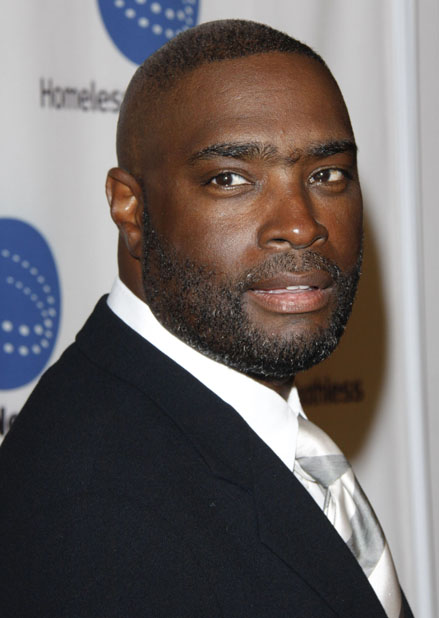 Antwone Fisher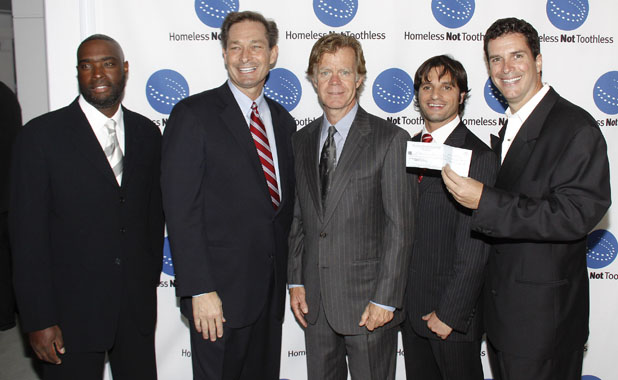 Antwone Fisher 2 sponsors from the LA Trial Lawyers Charity presenting Dr. Jay with a notation, Sharon Stone, William H. Macy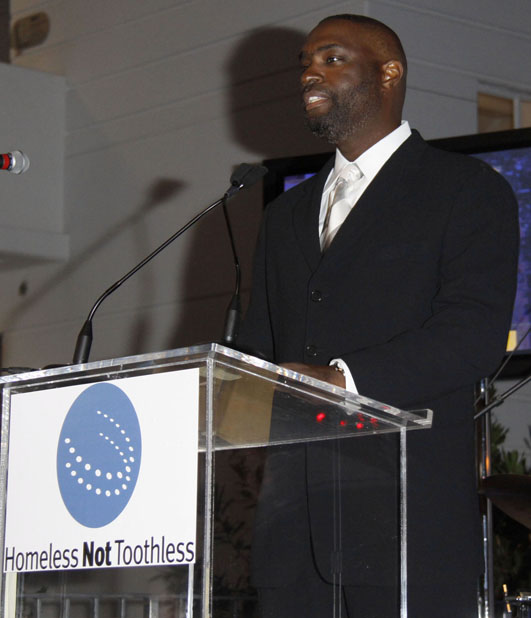 Antwone Fisher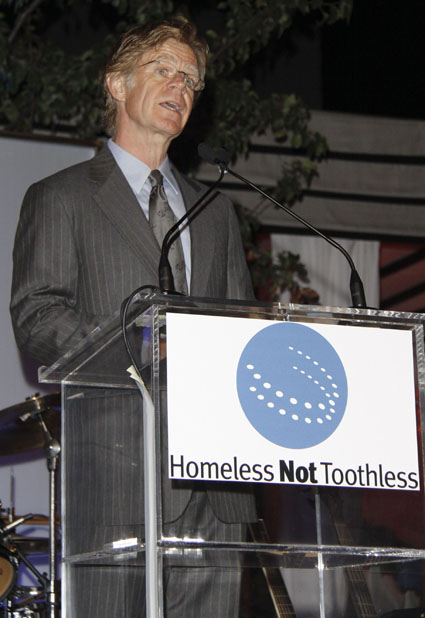 William H. Macy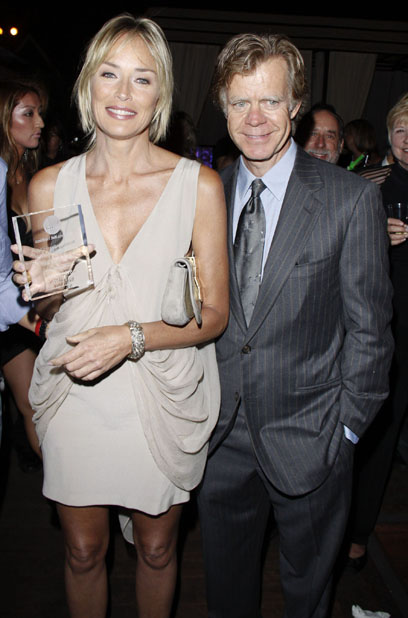 Sharon Stone with William H. Macy
Shawn King (yes, that's the talented wife of CNN's Larry King) Singing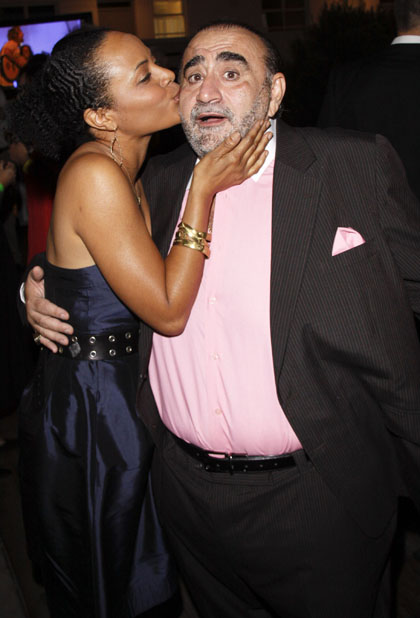 Gina Ravera (The Closer, ER) giving a kiss on the cheek to Ken Davitian (Borat, Chuck, Get Smart)

To learn more about Homeless Not Toothless organization, please visit
To learn more about Planet Hope, please visit
reported by Margo Schwab and Scott Johnston
The Buzz
Before there was TMZ... there was Army Archerd...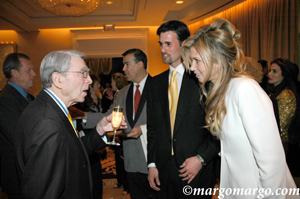 (Pictured here at the Beverly Hills Peninsula Hotel with Scott and Veronica Baker)
Legendary celebrity writer Army Archerd passed. He knew the who's who of entertainment, wrote clearly and factually about it. He was the best.
.............................
Just when you think the economy sucks, comes this news from Eden Roc in the South of France. Chic or sheik...someone just rented out the entire place for a wedding. So was it a jet set chic sort or sheik?
........
Stimulus shopping... going on big in Venice and Monte Carlo
.......
Speaking of shopping one very beautiful necklace just sold from H. Moradi on Prospect St. ...
........ Joan and Irwin Jacobs zipped off to beautiful Paris and Israel straight from Club Monte Carlo at the Museum of Contemporary Art San Diego. They returned one week later just in time to celebrate their anniversary. Happy Anniversary!
...
and Kima the Runaway Bride would like you to know those marriage rumors are not true!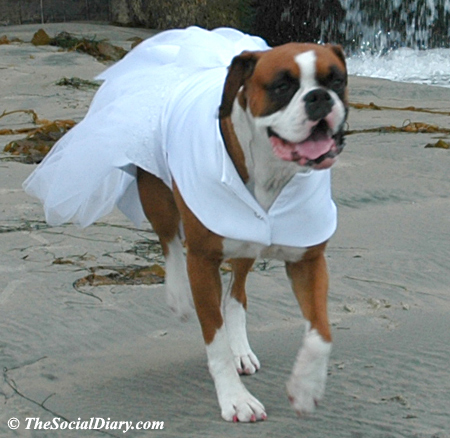 ...............................
Rainforest Alliance flashback...
starring Debby Jacobs, Laleh Roudi, Cecelia Aguerre and Kerri Smith...
don't miss this year.... October 16th!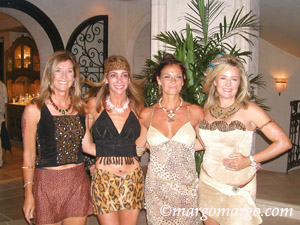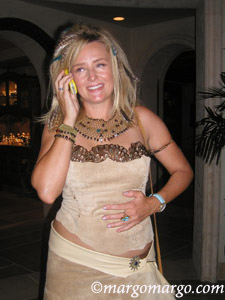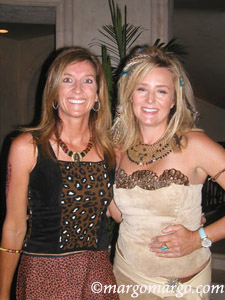 Upcoming Events
October 16th - The Rainforest Alliance will host its gala.
October 17th - Sundt Memorial Fundraiser.
October 17th - The Rancho Coastal Humane Society will host its Animal House fundraiser. For details please visit
http://rchumanesociety.org/event_details.asp?ID=62
October 22nd - The Walden Family Services will host their 6th Annual wine D'Vine event. Please visit www.waldenfamily.org for more details.
November 7th - The Golden Hangers / FCC benefit for Make-A-Wish and San Diego Variety Children's Network.
November 13th - Scripps Mercy Hospital will host its 2nd Annual 'Dressed to the Nth Degree' evening featuring San Diego's 10 best dressed women and 10 best dressed men as chosen by Leonard Simpson. Michael Neil will be the Honorary Chair. For details and tickets please visit:
http://www.scripps.org/events/an-evening-of-glitz-glamour-and-more

____________________________________________________________
Photoshopping and Photography Services
Photos on this website available if it is of you
available by The Social Diary
~ 619-384-7333
email TheSocialDiary.com
_______________________________________________________________
Email Commentary to be added
email editor@thesocialdiary.com
* Margo Schwab, more formally known as Margaret E. Schwab, has produced, written, interviewed and photographed for various media organizations since 1989. Schwab attended Holton Arms School, La Jolla Country Day School and La Jolla High School. Schwab has a B.A. from Scripps College, spent a business internship with S.A.I.C., Science Applications International Corporation, and earned a Masters of Business degree, M.B.A., from the University of San Diego. Schwab additionally took college courses from Harvard University, and Syracuse University. Schwab volunteers for numerous charity organizations. She also continues to support animal organizations and the prevention of people and animal abuse. Schwab is the editor of The Social Diary.
The Social Diary is pleased to announce new partnerships with the San Diego Humane Society and San Diego News Network.
The Social Diary would like to say a special thank you to our advertisers.
H. Moradi Jewelers on Prospect Street in La Jolla
San Diego Opera
The Museum of Contemporary Art San Diego
Judith C. Harris, Blair Harris, and Robert Singer, MD supporting the
Dian Fossey Gorrilla Fund International
Dr. Laurie Marker of The Cheetah Conservation Fund
Pat O'Connor of Fashion Careers College
Pamela Pogue of Juelerie
Kary Favish of the Worth Collection
Diana Cavagnaro of Designer Millinery
Jacqueline and Matt Rimel of Rimel's Rotisserie, Zenbu Sushi and Restaurant, & Home Grown Meats
Jordan of Jordan Art Couture
Lizz Russell of The Lizz Russell Collection
Gary Parker of WineSellar & Brasserie
Chef Pasquale of Cafe Milano
Alex Gonzalez of Mercedes Benz of San Diego
Diane Bousquin of Holistic Traditions
Kevin Smith of Extreme Pizza in La Jolla
Jeremiah Sullivan of Neptunic Sharksuits
Drs. Sue and John Morizi of The Animal Hospital of La Jolla
Jemima Garcia Dutra of Dutra Designs
Eugene Ladopoulos of Mistra Estates Olive Oil
Warning ** photos, video and writing on this site are the
2009 copyright of The Social Diary LLC and its subsidiaries.
no reproduction of any part or parts is allowed without written permission by The Social Diary