~ The Social Diary ~
~~~~~~~~~~~~~~~~~~~~~~~~~~~~~~~~~~~~~~~~~~~~~~~~~~
Holly Golightly aka Diana Cavagnaro !
.... 'A Fashionably Fun Birthday Party'

July 31st, 2007
The Social Diary Reporter & Photographer Margo Schwab
(high resolution photos available by request )
Guests were invited to a fun 60's themed birthday party, period costumes optional on June 24th. Birthday girl Diana Cavagnaro got into the Holly Golightly spirit with tiara and cigarette with holder (unlit) et al. Diana went through two dress changes. One a Badgley Mischka, the second dress was by Tadashi. Her husband George Bates chose a hat, sunglasses and skinny tie to accessorise.
Guests were encourage to enjoy an El Indio catered buffet, have specialized drinks, and get a little dancing in at the Cheek2Cheek dance location. A screen played through a slide show of fashion from the era. Covers of Vogue and other magazine shots played. And to the right crowd too. Quite a few fashionistas were there including Carol Karlovich, Dianne York-Goldman, Mary Walker, Peggy Matthews, and Darlene Davies.
And if you know Diana, fashion is her thing. She's very involved with Fashion Group International, as well as being a top Milliner in town. In fact Diana's owns Designer Millinery aka www.aheadproductions.com. Her skills are quite in demand by the ladies who dress. And they dress well!
Enjoy the photos!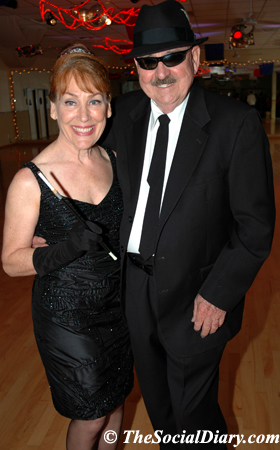 Diana Cavagnaro and George Bates
Dianne York-Goldman and Diana Cavagnaro ** Dr. Mitchel P. Goldman with Scott Johnston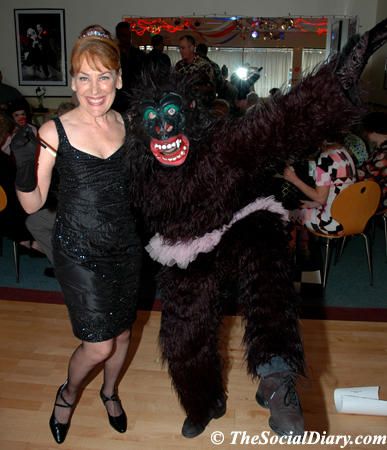 Diana Cavagnaro with her Singing and Dancing Gorilla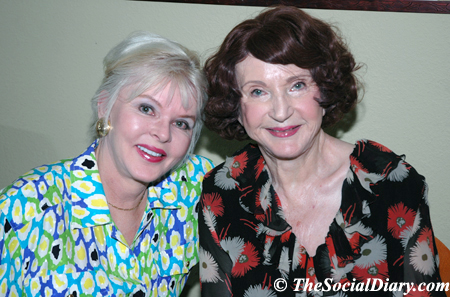 Carol Karlovich with Mary Walker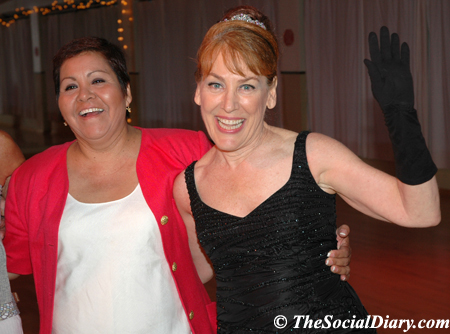 Diana Cavagnaro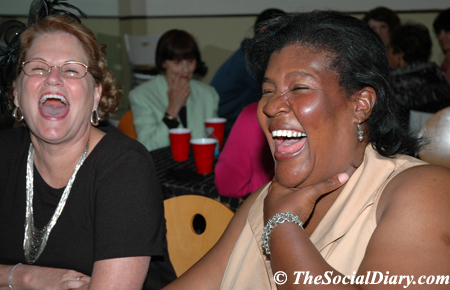 Guests enjoying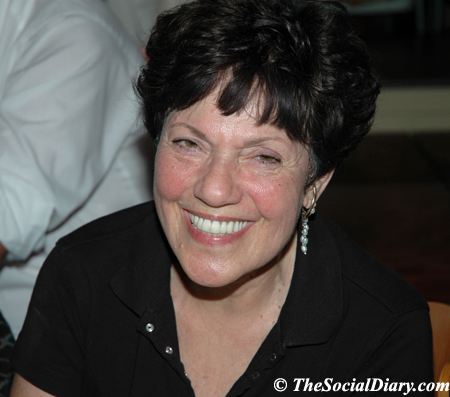 Caryl Iseman
Diana Cavagnaro ** Margo Schwab in Lily Pulitzer, with Diana Cavagnaro and Carol Karlovich
Dianne York-Goldman and Dr. Mitchel P. Goldman ** Diana Cavagnaro and George Bates
* Margo Schwab has produced, written, interviewed and photographed for various media organizations since 1989. Schwab attended Holton Arms School, La Jolla Country Day School and La Jolla High School. Schwab has a B.A. from Scripps College and a Masters of Business degree, M.B.A., from the University of San Diego. Schwab volunteers for numerous charity organizations. She also continues to lobby for water safety and for family violence mitigation. Schwab is the editor of The Social Diary. Margo is currently writing a book based on La Jolla.
Warning ** photos, video and writing on this site are the
copyright of The Social Diary, San Diego Social Diary, margomargo.com and Margo Schwab.
no reproduction of any part or parts is allowed without written permission by Margo Schwab