Scorpion Bay Hotel, Private, Picturesque ........VIP and Club Memberships Available >>> Scorpion Bay Hotel
an international destination for World Class Surfing and Fishing
founded by Fred Borrelli
~~~~~~~~~~~~~~~~~~~~~~~~~~~~~~~~~~~~~~~~~~~~~~~~~~~~~~~~~~~~~~~~~~~~~~~~~~~~~~~
~ The Social Diary ~
~~~~~~~~~~~~~~~~~~~~~~~~~~~~~~~~~~~~~~~~~~~~~~~~~~~~~~~~~~~~~~~~~~~~~~~~~~~~~~~~~~~~~~~~
Del Mar Opening Day 2008
"the hats.... the people.... the races...... the fun....
'COOL AS EVER !!'
July 16th, 2008 started the Del Mar Thoroughbred Opening Day with a glamorous note. Among the notables were Madeleine Pickens, Tanya Brandes in Jean Paul Gaultier avec un peu de toille ... a major find Tanya collected on her recent trip with husband Charles to France and Monaco, Emma Zuckerman in Valentino and :Philip Treacy hat, Leanne Shapery in Marciano of Beverly Hills, Daran Grimm in Christian Dior, Sook Hansen in a suit with South Sea Pearls, Cristull Hasson in an Escada suit, and Denise Hug was in a Milly dress, Marzi chapeau from Paris, and Jimmy Choo shoes, ... how fun is that! Valerie Cooper chose a Zac Posen suit with frilly and sexy skirt and Philip Treacy chapeau, and Cindy Warwick topped her pretty head with a Peter Bettley feathery and frilly concoction..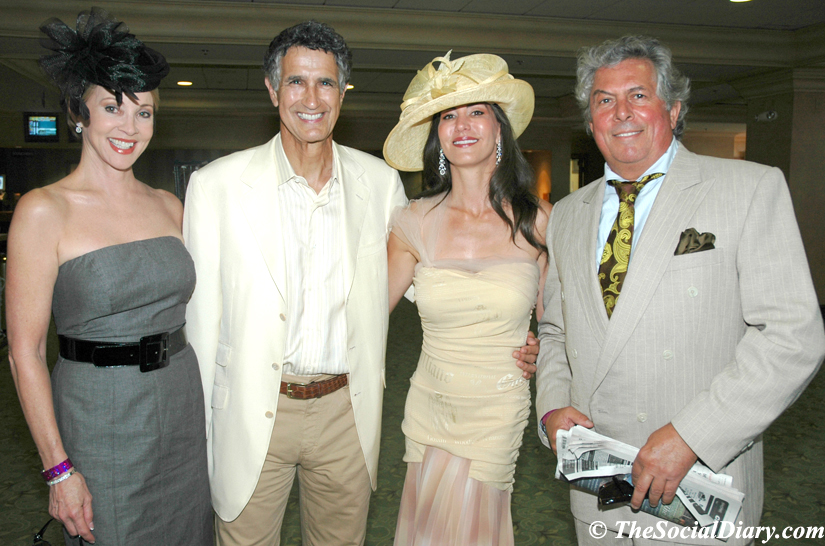 The men were not to be outdone. Leonard Simpson wore a linen suit from Mister B's of La Jolla, Harry Cooper wore a light cream colored Brioni suit, and Scott Johnston wore a black Ralph Lauren Polo with a custom Del Mar Turf Club themed pochette styled by Jemima Garcia. .Sandy Shapery chose a light colored Brioni suit. And light was the color choice of Bertrand Hug, and Charles Brandes. Fred Applegate chose a leopard ascot. It went with his amour Laura Bradley's leopard dress.
There was a lot of major jewelry. Lots that shouldn't and couldn't be written about for security reasons. One notable though was the rare and of significant size electric blue tourmaline on Jacqui Grande's necklace. The tourmaline is from the Paribas mine in Brazil.
All people wore smiles.And a lot of women wore San Diego milliner Diana Cavagnaro's custom creations.
A surprise among the mix was Caspar Weinberger Jr., the son of the former Defense Secretary to the United States. He was in the company of Doreen Schonbrun. Doreen hadn't organized Turf Club tickets as of yet in the morning of Opening Day. As Caspar confided he was to have lunch with John McCain and President George Bush the following week, so it's no doubt with that kind of clearance, that they got the green light for the Turf Club.
And a green light to winning fun was the order of the day.
The hubbub started early with luncheon tables orchestrated by Maitre D' Jimmy, waiters popping champagne corks for Turf Club guests, and the beginning roar of the first race at 2pm. 44,000 plus people enjoyed a tremendous day where all walked away with winning smiles.
And off they all went later to the very cool hotspots to celebrate. Mille Fleurs, Sbicca's, Pamplemousse Grille to name just a few of the coveted destinations!
.... and it's just the start of the season!!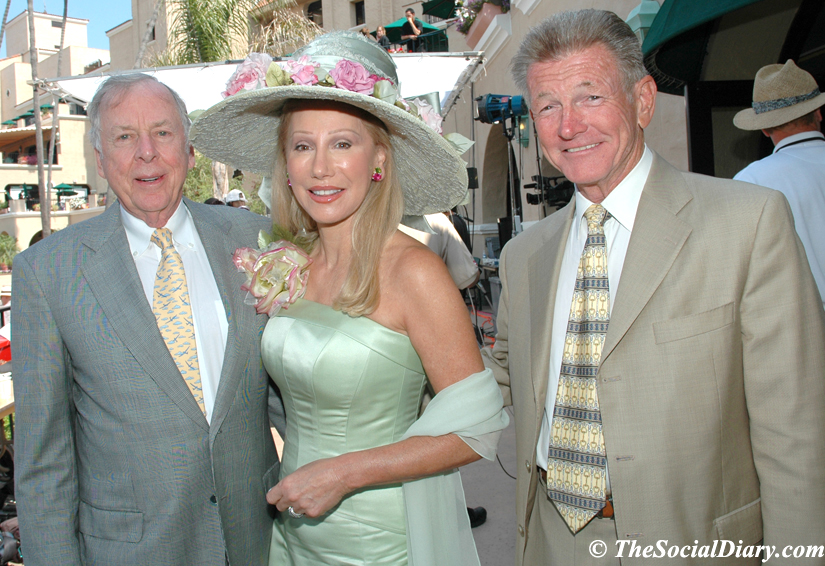 T. Boone Pickens and Madeleine Pickens with Del Mar Thoroughbred President Joe Harper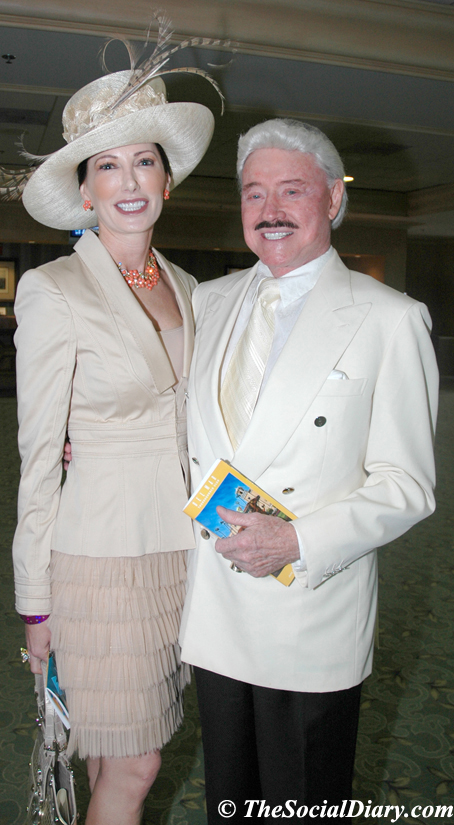 Valerie and Harry Cooper
Tom and Cindy Warwick with Linda Swortwood ** Sandy and Leanne Shapery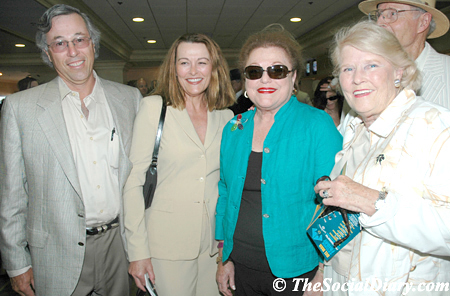 Bruce Biddick and Christy Fletcher with Georgann Fletcher and Karen Luce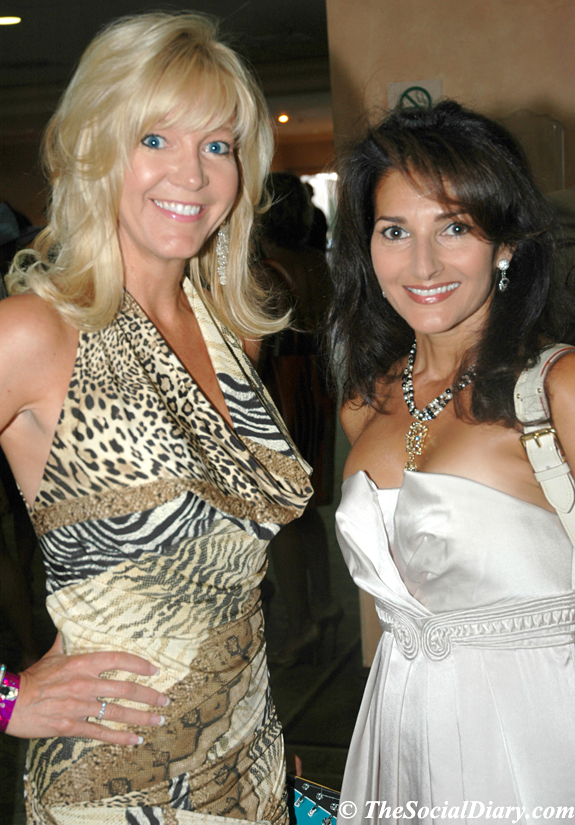 Leanne Shapery and Diane Nelson
Tom and Cindy Warwick with Linda Swortwood ** Joani Wafer ** Liz Edwards with Margo Schwab
Margo Schwab with Wanda Kaufman and Sally Thornton ** Susan Kazmarek-Biddick and Craig Biddick ** Guest with Molly McKellar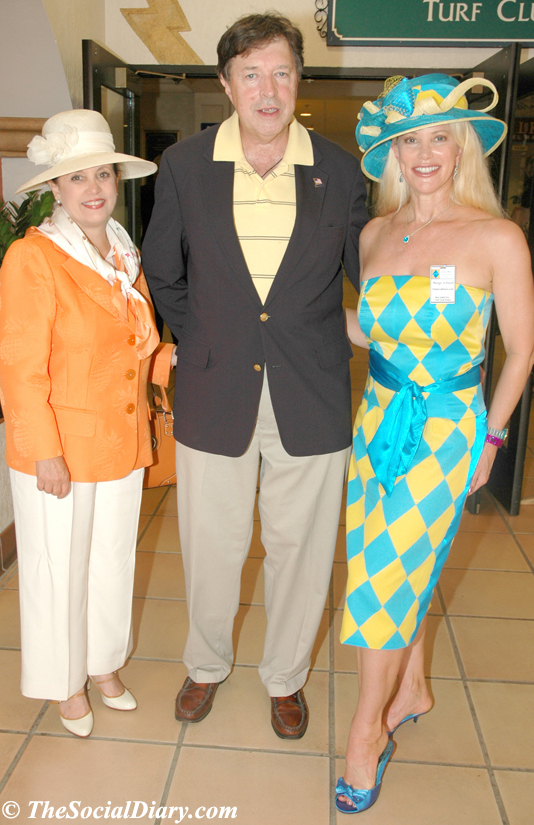 Doreen Schonbrun with Caspar Weinberger Jr. and Margo Schwab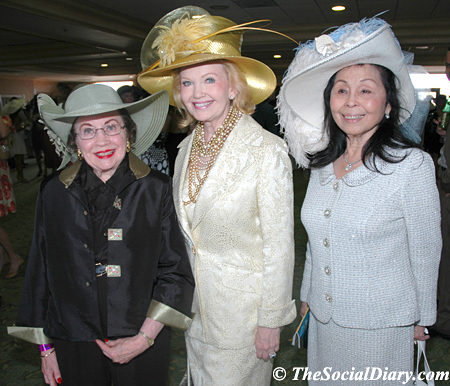 Merle Lotherington with Cristull Hull and Edith Ricketts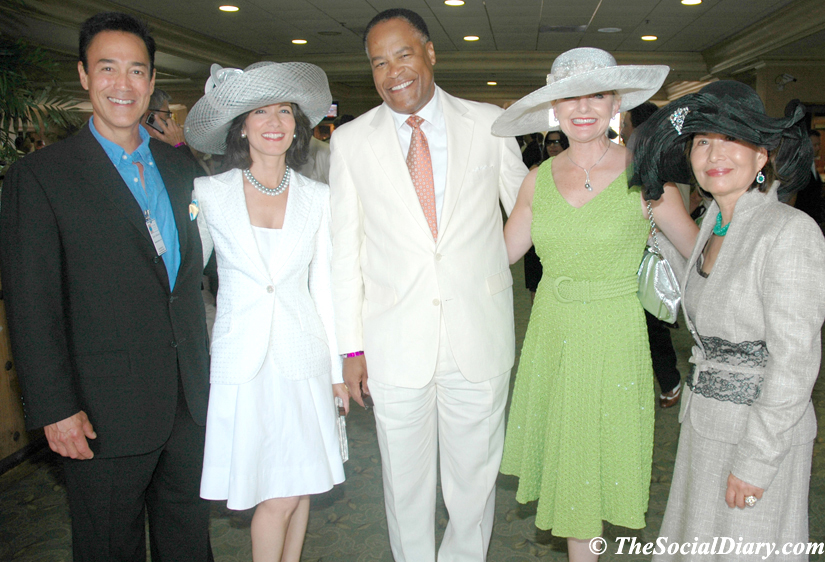 Scott Johnston with Emma Zuckerman, Jesse and Joye Knight and Sook Hansen
Margo Schwab with Beth Binger ** Sandy and Leanne Shapery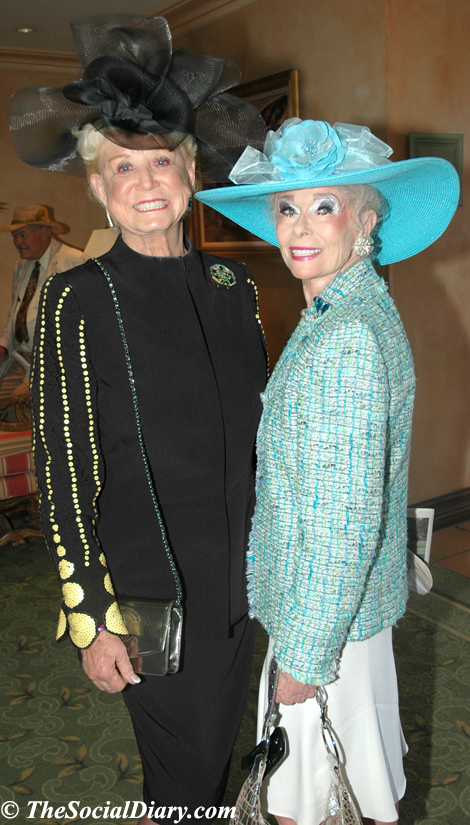 Wanda Kaufman with Sally B. Thornton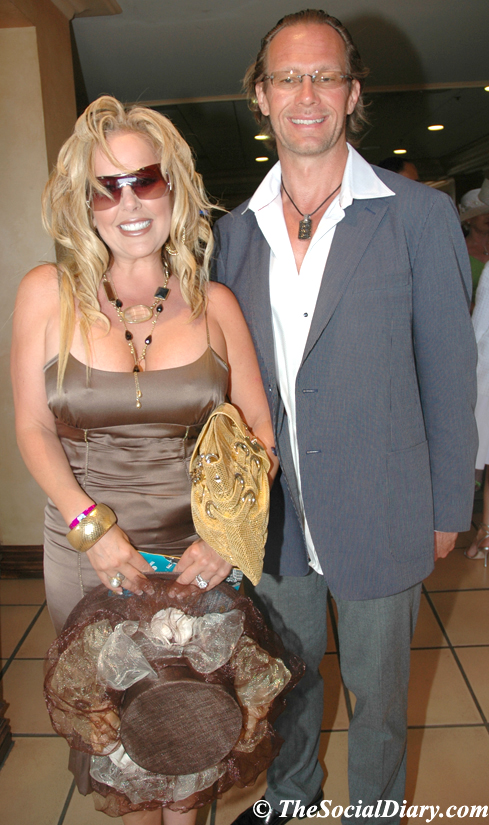 Lisa Bols and J.D. Bols
Dusti Rittgers ** Darah Grimm Roslyn ** Dieter of Heinz Geitz
Sandy and Leanne Shapery with Diane Nelson and friends
Gina with hat designer Diana Cavagnaro ** the pretty backside of Leanne Shapery ** Melanie Brown with James Quinones, Mr. Weather of Channel 10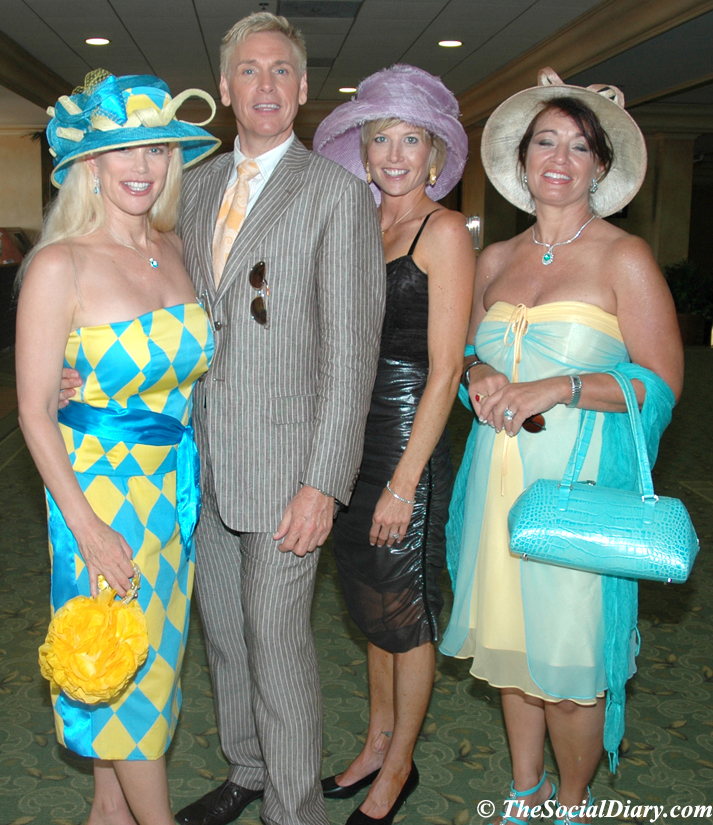 Margo Schwab with Leonard Simpson, Guest and Jacqui Grande
Scott Johnston, Cristull Hasson ** Tom Warwick and Harry Cooper ** Jacqui Grande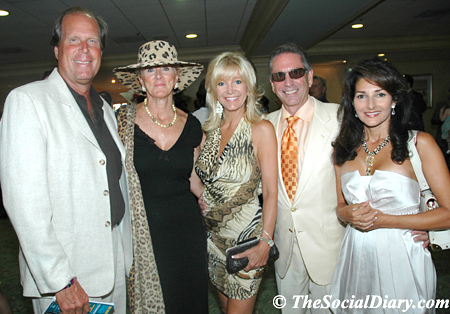 Lance Peto and Kathryn Murphy with Leanne and Sandy Shapery and Diane Nelson
Margo Schwab modeling by a matching Del Mar Race Track jockey statue **Aileen Brazeau with friend ** Margo Schwab with Dusty
A 'funster' with Margo Schwab ** Doreen Schonbrun with Caspar Weinberger Jr. ** Ann Tremblay with Scott Johnston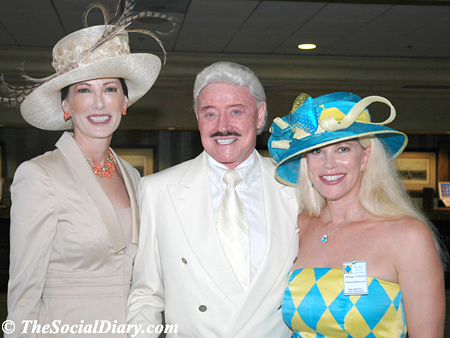 Valerie and Harry Cooper with Margo Schwab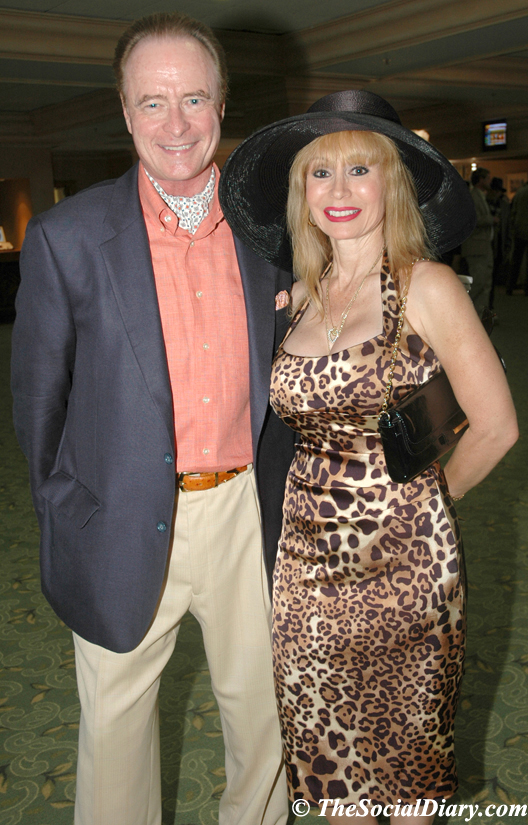 Fred Applegate and Laura Bradley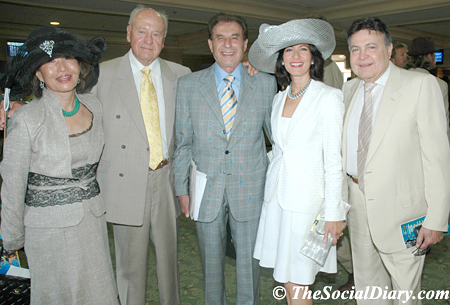 Sook and Ron Hansen with Leo and Emma Zuckerman with Guest
John Silva with Kristin ** Linda Swortwood with Sally Thornton **
Danica and Edoardo Ciulli ** Daran Grimm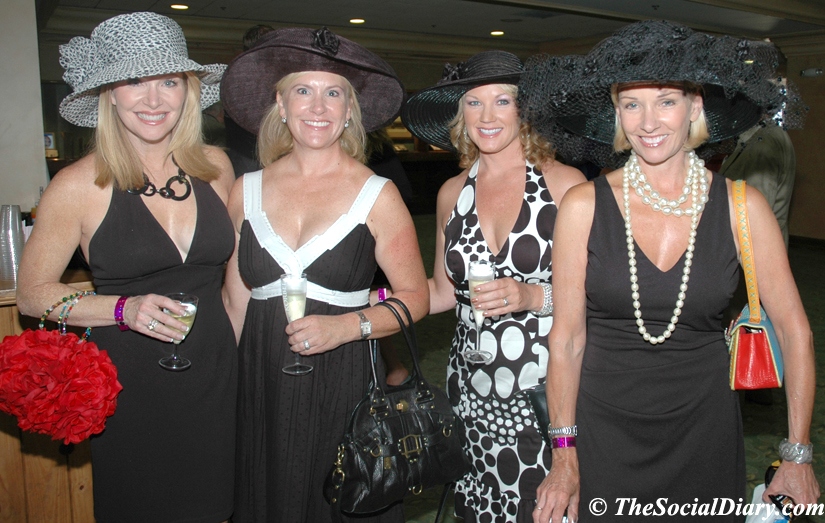 Sandra Maas with a Lizz Russell Purse, Guest, Bridget Naso and Andrea Naversen
For all the news that is the Del Mar Thoroughbred Club news,
please visit www.dmtc.com
*******************************************
reported by Margo Schwab who would like to say a very special thank you to Jemima Garcia of Jem Designs La Jolla for making the perfect Del Mar Opening Day racing silk outfits and hats for Kima, for me, and matching accessory for Scott!! And thank you to Lizz Russell for designing the perfect purse to go 'racing' with at Del Mar!! And special thanks to Erin Hartley for helping to make the Del Mar Opening Day outfits happen!!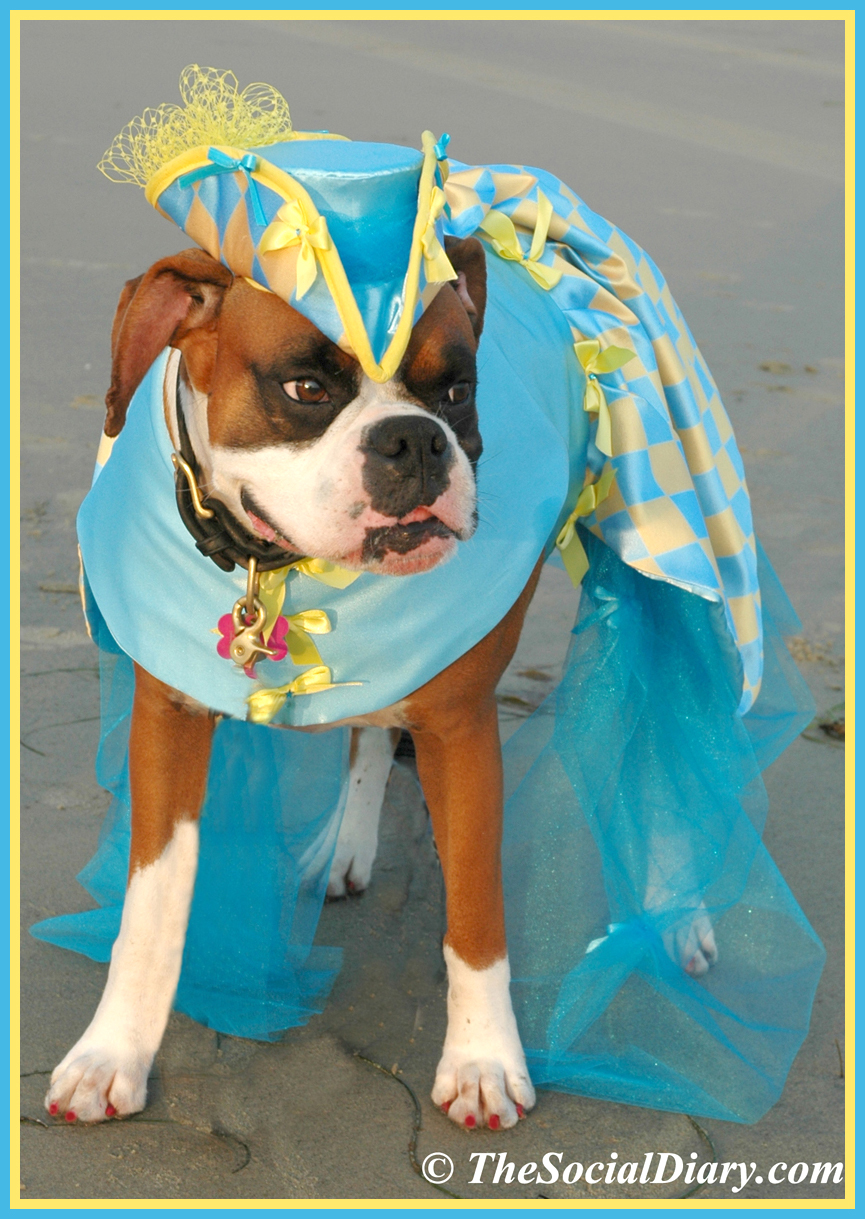 Kima, aka The RunAway Bride, in her custom couture outfit and hat by Jemima Garcia of Jem Designs of La Jolla......
(Kima wanted to go to the races but understood... this was one event for horses and 'pet people', not canines, but she is still in the spirit"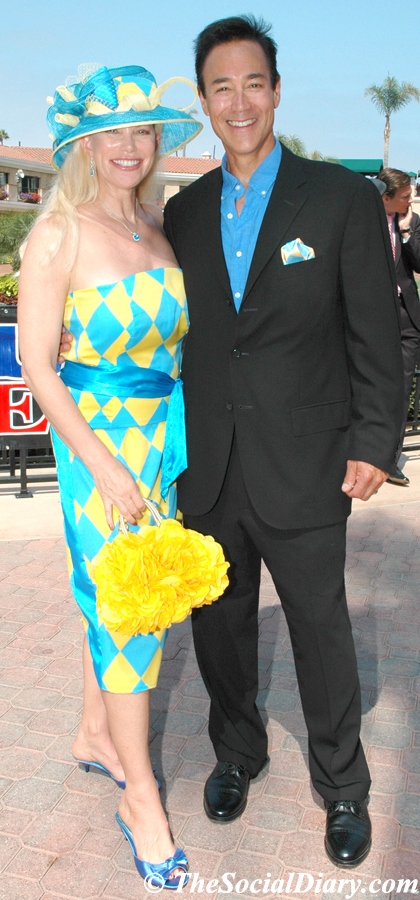 Margo Schwab in custom Jemima Garcia of Jem Designs of La Jolla, outfit and hat, with handmade Lizz Russell purse, Scott Johnston in Polo by Ralph Lauren suit, linen shirt from The Ascot Shop and handmade handkerchief by Jemima Garcia
Your Email Comments
"Wow~ beautiful ~ ! Thank you" - Kyoko Trim
"THANK YOU LOVE YOU LOOK FABULOUS IN THESE PICTURES." - Leonard Simpson
"You ROCK! Best dress and hat!" - Sharman Dye
"Great photos, amazing hats!" - Professor Kathy Schwab, Fairfield, Connecticut
"The three of you get the award for the best dressed at the Races. What a fun day was had by all!" - Kathryn Murphy
"Very cool, Margo! Thanks for sending..." - Erin Hartley
"The photos are so FABULOUS!!!! " - Lizz Russell
"Lots of splash and loads of cash. everyone look great. I am sorry i missed it." - Mary Ellen Bloomingdale
"THANK YOU! And Kima's matching outfit... only YOU!" - MM
"Don't you just love race season?!Great article once again! Your dress was by far the best thing out there! Classic - how did you get that done? Bravo.
" - Daniel Stinton
"Fabulous photos margo - you are gorgeous! Loved seeing Kima on the news !" - xo K
"You are so cool. That was a fun day!" - Danica Ciulli
"Great photos from Del Mar!-the picture of Kima is the piece de resistance. Hard act to follow!!! Fun day at the track!" - Valerie Cooper
"Oh my god ... even her toes are painted! How cute!!!" - Place Tegland about Kima
"That is the most darling photo of KIma!!! Fabulous!!! Tell Scott that the dog is famous!!!" - Joan Bowes
"What a fun day at the races!" - Denise Hug
* Margo Schwab, more formally known as Margaret E. Schwab, has produced, written, interviewed and photographed for various media organizations since 1989. Schwab attended Holton Arms School, La Jolla Country Day School and La Jolla High School. Schwab has a B.A. from Scripps College, spent a business internship with S.A.I.C., Science Applications International Corporation, and earned a Masters of Business degree, M.B.A., from the University of San Diego. Schwab volunteers for numerous charity organizations. She also continues to support animal organizations and the prevention of people and animal abuse. Schwab is the editor of The Social Diary.
Warning ** photos, video and writing on this site are the
copyright of The Social Diary, San Diego Social Diary
no reproduction of any part or parts is allowed without written permission by The Social Diary