~ The Social Diary ~
the on-line magazine covering High Society ..& more
____________________________________________________________
Delicias and Delectable Fashion!

June 16th, 2006
The Social Diary Columnist & Photographer Margo Schwab
Guests were invited to come and enjoy: Cocktails and Cabana Fashion, hosted by L.A. Fairchild Boutique & Denim Bar (in Cardiff by the Sea), and Delicias Restaurant June 7th... and they did. A well dressed contingency of mainly females came to sip, lunch lightly, and view chic fashions by Ella Moss, La Rok, Mint, True Religion, swim wear by Shoshanna and precious and semi-precious mixed jewelry designed by Morgan Soule of Morgan Jean Jewelry. DYG Mineral Makeup was featured beautifully in display and on the models.
There were men's fashions too! Ted Baker, Original Penguin, as well as cutting edge trunks for the suave surfer.
Delicias's Dungeness Crab Sourdough Panini and signature Smoked Salmon Pizza were a hit. So were the 'Bikinitini's'...... wicked as they were.
Among the mix were KUSI's Sandra Maas, Leonard Simpson, Kalina Rahal, Susan Lennon and Cindy Whtimarsh. Leonard, the KUSI 'Style Guy' was obviously in his fashion element. More there were Fox News Ruben Galvan, as well as Scott Johnston, Andrea Naversen, Dianne York-Goldman, Jamie Lynn Sigler, Peyton Robertson, Delicias's owner Stephen Poskus, and Wendy Williams.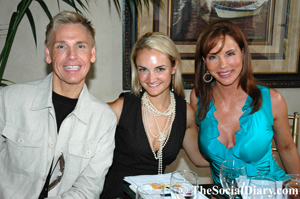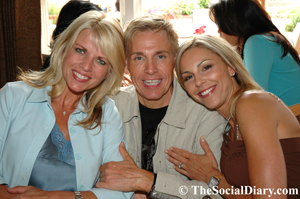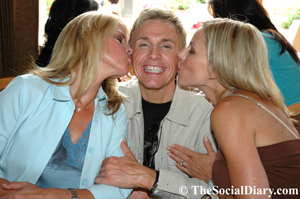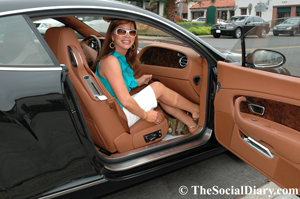 * Margo Schwab has produced, written, interviewed and photographed for various media organizations since 1989. Schwab has an college degree from Scripps College and a Masters of Business degree from the University of San Diego. Schwab volunteers for numerous charity organizations. She also continues to lobby for water safety and for family violence mitigation. Schwab is the owner and publisher of the Social Diary.

back to New this Week.....Margo Schwab Archives...... Home
Warning ** photos, video and writing on this site are the
copyright of the author, The Social Diary, San Diego Social Diary, margomargo.com and Margo Schwab.
no reproduction of any part or parts is allowed without written permission by Margo Schwab