~ The Social Diary ~
& San Diego Social Diary
the on-line magazine covering High Society ..& more
____________________________________________________________
Davis Cup - Part II.

February 21st, 2006
by The Social Diary Columnist & Photographer Margo Schwab
Day 1 of the Davis Cup ended with a tie of the "Tie" so to speak. Andy Roddick of the USA was defeated by Andrei Pavel of Romania, but not without giving Roddick giving it his all. Victor Hanescu of Romania played well against James Blake of the USA, but ultimately Blake prevailed. Just in time too, the sun was setting.
(pictured here - Lisa Araiza with John Campbell, General Manager of the La Jolla Beach & Tennis Club, Dr. Robert Singer with friends from Rancho Valencia Resort)
But there was more to this week already than just Day 1 of competition. Earlier in the week, players enjoyed an incredible USTA hosted dinner at the The Marine Room. Executive Chef Bernard Guillas presided over a menu that included passed appetizers of Maine lobster cappuccino with Yuzu foam, duck comfit quesadilla, a starter of Maine Lobster salad with fingerling potatoes, haricots verts, tomato-confit and truffled vinaigrette, Black Angus filet mignon with Chef Bernard vegetable creations. For dessert there was a lemon gratin, winter berries, pistachio madeleine and Armagnac griottes. Wines offered included Hook & Ladder 2003 and Jacob's Creek "Reserve" Shiraz 2002. All enjoyed yet another great La Jolla seaside sunset.
The two teams exchanged gifts, handshakes and well wishing's.
(pictured here - Scott Stay, the La Jolla Beach & Tennis Club Golf Pro and his wife Tara Stay of the University Club, Dr. Stuart Marshall, Jane and Nick Wyer)
Earlier the same day as the USTA Dinner at The Marine Room, the Bryan Brothers, Mike Bryan and Bob Bryan paid a visit to the Barnes Center. The twin Bryans helped host a clinic for young tennis players. La Jolla Beach & Tennis Club President William J. aka "Bill" Kellogg describes the day well. "The event at the Barnes Tennis Center made it evident that Mr. Barnes' dream has been realized. With over 700 hundred kids from all corners of San Diego County in attendance, this was truly an event to remember."
Clinics like this are part of the USTA's mission "to promote and develop the growth of tennis," and "to get more people playing tennis on more courts in more places."
And the Davis Cup has done just that since 1900 when Harvard's Dwight Filley Davis first initiated the Davis Cup competition. From an initial competition of 2 countries, the Davis Cup has evolved to a record 142 countries for the year 2001
(pictured here - International tennis commentator Dick Enberg, Romanian's Andrei Pavel signing autographs, Andrei Pavel)
Interesting bits and pieces of Davis Cup history include Andy Roddick's record serve speeding in at a blazing 155 mph in 2004, and the longest continuous Davis Club match between John McEnroe and Mats Wilander in 1982. A record 6 hours and 22 minutes. Whew.
The strangest trivia could be cow dung listed as the official court surface for the 1963 Davis Cup final between the USA and India. The location was the Cricket Club of India in Bombay. No players have requested cow dung as their surface of choice since.
(pictured here - Scott Johnston with Pierrette Featherby, Place Tegland, San Diego Police Officer Vanessa Holland and fellow officer)
(pictured here - Opening Ceremonies - Bryan Brothers, Andy Roddick)
On Day 2 of the Davis Cup, a beautiful ceremony started the day as did Day 1. Except this had quite the addition. Right at the end of the USA National Anthem, fighter jets from Miramar roared past just overhead. And the crowd joined in with thunderous applause as the doubles match of Bob Bryan and Mike Bryan for the USA versus Victor Hanescu and Horia Tecau of Romania got under way.
The doubles match began with amazing team work by both countries. And then "it" happened. Victor Hanescu, noticeably in pain, asked for a medical time out. An impartial doctor, Dr. Stuart Marshall, a La Jolla Beach & Tennis Club member as well, was called courtside. The crowd was hushed. Victor was being checked on his back as he lay down on the court. More quiet. Then cheers as Victor returned to the court with Horia.
Play started, but it didn't last long. Victor was clearly injured. The match was called.
(pictured here - San Diego's Finest, the San Diego Police Department Special Events' Team, Chris and Debbie Neils with Chris and Lorna McKellar)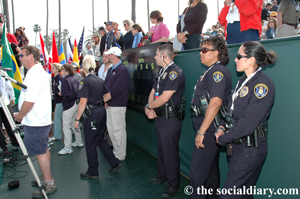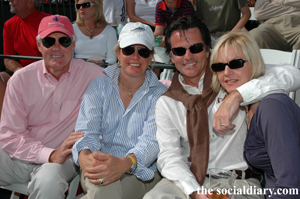 (pictured here - Chris and Lorna McKellar, doubles play starts, Romania's Victor Hanescu is injured, Victor Hanescu getting checked by Dr. Stuart Marshall)
(pictured here - Roger and Laurie Joseph, Donna and Charlie Berwanger with friend)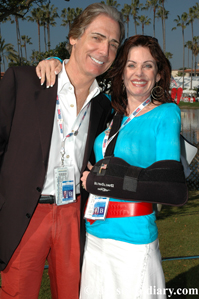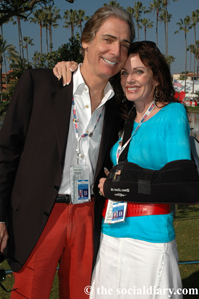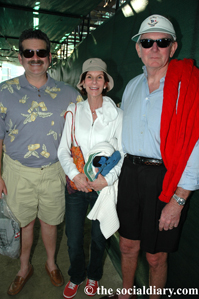 (pictured here - Libby and Allie Hooker, Harry Rudoph with friend)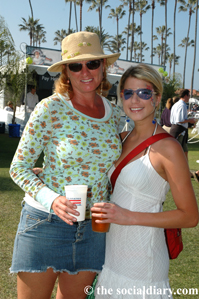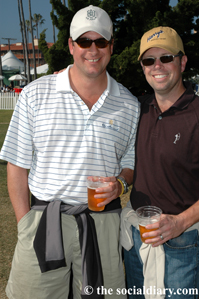 What looked like one of the shortest Davis Cup match days, soon changed. The crowd hailed John McEnroe down from The Tennis Channel's announcer's booth for a double's challenge. It was agreed between the McEnroe Brothers and the Bryan Brothers to play an exhibition doubles match. It was to take place right away between Patrick McEnroe and the Bryan Brothers, Mike and Bob.
John McEnroe clearly relished being his controversial self. His view of shots in and out differed from the linesmen's calls. Quite a few John McEnroe "you cannot be serious" comments were heard. But it was all in fun. The Bryan Brothers nicely toyed with the McEnroes. After all the Bryan's are the number one doubles team in the world!
Then humor set in as the Bryan Brothers grabbed 2 umbrella girls by the hands and played the McEnroes. The Bryan's still won.
(pictured here - the McEnroes versus the Bryan Brothers, John McEnroe disputing a line call)
(pictured here - John McEnroe looking for the ball in planter, the Bryan Brothers with umbrella girls in tow "handily" beating the McEnroe's)
(pictured here - more McEnroe fun antics, John McEnroe giving a unique finger signal)
(pictured here - McEnroe's scoring a point, match over, McEnroe's congratulating the Bryan's)
(pictured here - John McEnroe leaving the stadium)
(pictured here - Ann Field with friend)
(pictured here - event host, USTA Committee Host Chairman, President of the La Jolla Beach & Tennis Club - Bill Kellogg, USA Team Captain Patrick McEnroe with the Bryan Brothers, Mike Bryan, and Bob Bryan after the Davis Cup doubles match and the doubles exhibition match)
(pictured here - the Bryan brothers with Romanian Daily Sports Reporter Liviu Sipiceanu of Bucharest's Gazeta Sporturilor (>www.gsp.ro) and Liviu's God-Son)
(Officer Vanessa with the Bryan Brothers, Patrick McEnroe et al.)
(pictured here - Bryan Brothers and Patrick McEnroe leaving the Media press conference, Anita and Bud Collins of www.budcollinstennis.com)
(pictured here - Bud Collins with Tennis Magazine's Joel Drucker, Andrei Pavel of Romania, Andrei Pavel with friend)
(pictured here - Sue with Bob Kellogg, Romania's Razvan Sabau, Hannah Holladay with Cynthia Roseman)
All in all a day of contrasts, not unlike Day number 1.Again, a great exhibition, a great day. And alot of well wishing's for Victor Hanescu.
As some guests went home to rev up for Day 3 of the Davis Cup, others relaxed at the La Jolla Beach & Tennis Club dining room. Some of those tennis folk included MGM Grand Las Vegas' Lornie Kuhle who caught up with his tennis friends, John McEnroe and Brad Douglass from The Tennis Channel. As Brad later related, 'Johnny Mac was in great storytelling mode Saturday night." John McEnroe was also in great Davis Cup spirit as he showed earlier that day by volunteering to play the doubles tennis exhibition.
(pictured here - John McEnroe with colleagues, The Tennis Channel guys including Brad Douglass)
Team spirit, competition, going the extra distance - just a few of the qualities the Davis Cup, ITF, the USTA, and tennis programs like those offered at the Barnes Tennis Center inspire!

* Margo Schwab has produced, written, interviewed and photographed for various media organizations since 1989. Schwab has a B.A. degree from Scripps College and a Masters of Business degree from the University of San Diego. Schwab volunteers for numerous charity organizations. She also continues to lobby for water safety and for family violence mitigation. Schwab is the owner and publisher of The Social Diary.

back to New this Week......Davis Cup Part I.....Davis Cup Part III......Davis Cup Column Archives......... Home
Warning ** photos, video and writing on this site are the
copyright of the author, The Social Diary, San Diego Social Diary, margomargo.com and Margo Schwab.
no reproduction of any part or parts is allowed without written permission by Margo Schwab