~ The Social Diary ~
the on-line magazine covering High Society ..& more
____________________________________________________________
Davis Cup Day 1 Part I. - USA & Romania

February 11th, 2006
by The Social Diary Columnist & Photographer Margo Schwab
Day 1 started with Jimmy Connors being spotted at breakfast. Conners played on court #1 the night before. Not the first time Conners has stayed at the La Jolla Beach & Tennis Club either. And not the first time Pancho Segura, Lornie Kuhle, Rod Laver, John McEnroe, the Bryan Brothers, Mike Bryan and Bob Bryan, Patrick McEnroe and Dick Enberg have been there. But it was a first for all of them to be there at the same time, as the Davis Cup USA vs. Romania got under way.
(pictured here - Skeetz and Sharon Dunn, Mona Steen with Jim McKellar, tennis legend Ted Schroeder)
(pictured here - David Delano, Darcy Smith, Derelys Delano, and Scott Smith)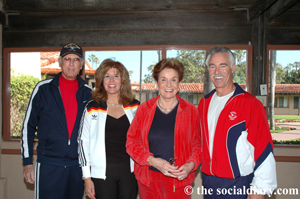 (pictured here - Shirley and Paul Schwab Jr., Duke and Judith Johnson, tennis legend Pancho Segura)
(pictured here - Dennis, Brian and security team person, Scott Johnston)
(pictured here - Pancho Segura and Scott Johnston comparing credentials)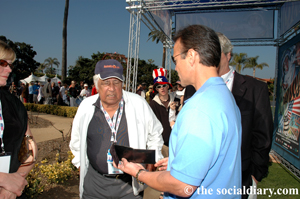 (pictured here - pond view towards the East / Davis Cup stadium, Lisa Hill, friend, Marilee Warfield and Rick Evans)
(pictured here - Don and Maricaye Daniels, Don and Karen Cohn of Ballena Vista Farm)
(pictured here - opening ceremony photos)
(pictured here - First match, singles, Andrei Pavel of Romania versus Andy Roddick of the USA)
(pictured here - Gus Colachis with friends, Scott Johnston)
(Tahnee McKellar and Joerg Kruse, Scott Johnston with Dr. Robert Singer, Lisa Araiza and Leslie Araiza, Leslie is expecting a baby/ future tennis player with husband Conan)
(pictured here - the La Jolla Beach & Tennis Club kiosk)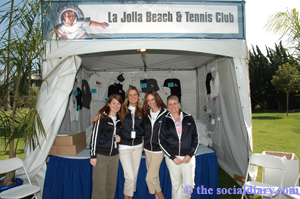 (pictured here - Scott Johnston with Officer Debby Freymueller, John and Kerry Payne, guest and JoAnn Snodgrass)
(pictured here - Kiki Henry with Jack Armstrong, Bob Kellogg, Scott Johnston with Bob Kellogg)
(pictured here - Andrew with Tony, Nancy and Henry Hester, Ron Harkins)
(pictured here - Andrei Pavel of Romania, winner of the first singles match against Andy Roddick)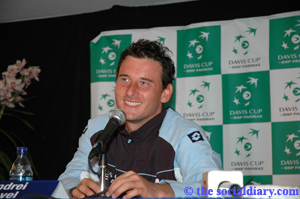 (pictured here - Andy Roddick of USA, at the press conference)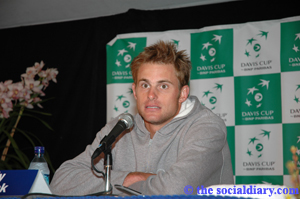 After a grand ceremony including the U.S. Marines (they changed into uniforms in the Club Men's bathroom), and the La Jolla Country Day School Madrigals, the first match was up, and Andy Roddick versus Andrei Pavel got under way.
Roddick and Pavel were point to point, neck and neck into the 3rd set. And then things went noticeably wrong for Roddick. Whether it was food poisoning or unknown, Roddick later confirmed "I felt dead"... "I puked out all of my fluids." And that he did but he gave it his all literally, and then gracefully accepted defeat.
Winner Andrei Pavel of Romania noted "It's about making the first point against the United States." "The key to this match was his (Roddick's) body," in reference to Roddick's persistent cramping during the 4th and 5th sets in particular.
But Pavel tactically won by incredible drop shots mixed with down the line blazers.And his "lucky angels."
Roddick spent 2 and 1/2 hours after the match with an IV to rebalance his depleted fluids.
Roddick commented later when asked if it was about nerves."If it was about nerves, I'd be puking in Wimbledon.".... "There'd be a lot of dirty courts."
On a high note, both players displayed respect towards the other, and demonstrable allegiance to their team.
* Margo Schwab has produced, written, interviewed and photographed for various media organizations since 1989. Schwab has a B.A. degree from Scripps College and a Masters of Business degree from the University of San Diego. Schwab volunteers for numerous charity organizations. She also continues to lobby for water safety and for family violence mitigation. Schwab is the owner and publisher of The Social Diary.

back to New this Week.........Davis Cup Columns............ Home
Warning ** photos, video and writing on this site are the
copyright of the author, The Social Diary, San Diego Social Diary, margomargo.com and Margo Schwab.
no reproduction of any part or parts is allowed without written permission by Margo Schwab