~ The Social Diary ~
the on-line magazine covering High Society ..& more
____________________________________________________________
Cristom Release Tasting at the WineSellar and Brasserie

June 12th, 2006
The Social Diary Columnist & Photographer Margo Schwab

The WineSellar and Brasserie recently hosted a wine tasting with wines from Cristom of Willamette Valley. Limited production isn't the only thing remarkable thing about Cristom Vineyards, so were the highly favorable remarks from guests. No surprise, wine expert Gary Parker personally selected this winery for his popular Gary Parker Collection monthly wine finds.
The Social Diary especially cheered the 2003 Jesse Vineyard, Pinot Noir, and the 2004 Viognier.
Among the wine connoisseurs there, were the very interesting Tamara and Kevin Kinsella. They aren't just a good looking couple, the are very smart too! Their Avalon Ventures has been integral to over 50 companies in the biomedical fields. They also are producers of the Tony Award Winning best musical Jersey Boys!
See you at the next event!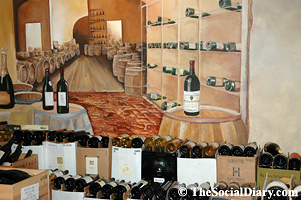 More Parties......Margo Schwab Archives........New This Week.......Home
* Margo Schwab has produced, written, interviewed and photographed for various media organizations since 1989. Schwab has a B.A. degree from Scripps College and a Masters of Business degree from the University of San Diego. Schwab volunteers for numerous charity organizations. She also continues to lobby for water safety and for family violence mitigation. Schwab is the owner and publisher of The Social Diary.

Warning ** photos, video and writing on this site are the
copyright of the author, The Social Diary, San Diego Social Diary, margomargo.com and Margo Schwab.
no reproduction of any part or parts is allowed without written permission by Margo Schwab