~ The Social Diary ~
~~~~~~~~~~~~~~~~~~~~~~~~~~~~~~~~~~~~~~~~~~~~~~~~~~
'Country Friends Hosts Couture by South Coast Plaza'
"Couture Fashion for a Cause - The Boys and Girls Clubs of San Dieguito "
September 28th, 2007
by The Social Diary Reporter & Photographer Margo Schwab
(Editor's Note - 99 photos!)
September 20th, 2007 Country Friends hosted 'The Art of Fashion' at the Inn at Rancho Santa Fe. The day featured boutique shopping, lunch on the lawn, a superb fashion show by South Coast Plaza, and more boutique shopping mixed with Falkner Wine sipping.
A day of fashionable fun, all to benefit Country Friends designate beneficiary, The Boys & Girls Clubs of San Dieguito.
(column continued after fashion show photos)
THE FASHION SHOW BY SOUTH COAST PLAZA
And for some the day was even more fashionably fun. The very lucky got luncheon reservations at Mille Fleurs. Among those there were Sally B. Thornton with 30 of her invited luncheon guests. Kind of a party within a party. Among Sally's guests were svelte Denise Hug in Nanette Lepore, her family owns Mille Fleurs, Karen Luce, Marilyn Fletcher, Dianne York-Goldman in leopard Dolce & Gabbana, Betty Dow, Jin Kim, Joan Bowes, Leonard Simpson in Calvin Klein, Doreen Schonbrun, Lilo Miller, Judy White, Kitty Kaufman, Dottie Stanley, Lee Goldberg accessorized in Tahitian Pearls, Carol Karlovich, Mary Walker, Ofelia Alksne, and Yolanda Walther Meade.
Yolanda had just returned from a summer with friends in Italy. That's a summer of speaking and shopping Italian.
But today for Sally's friends, lunch was French and perfect. Chrysanthemum centerpieces matched the Autumnal colors of the pumpkin soup with toasted almonds. Followed by Chef de Cuisine Martin Woesle's choice of salads of Maine Lobster, chicken or garden greens with lentils. Finished with oeufs à la neige with berries, and big anticipation of the fashion show. All with Thornton Winery Champagne of course!
But, on with the show!
'CELINE, CHLOÉ, DIOR, DONNA KARAN, FENDI, GUCCI, PUCCI, ROBERTO CAVALLI, SAKS FIFTH AVENUE, VALENTINO and YVES SAINT LAURENT.' Nothing but great fashion. Opaque stockings, leather gloves, Autumnal hues and high, high platform shoes, and stillettos. And of course the very 'in' short boot. It was termed the 2007 Fall/Winter ready to wear collection, but for those attending, it was more 'the want to wear now' collection.
This event has special meaning for South Coast Plaza's Executive Marketing Director Debra Gunn Downing. "South Coast Plaza is delighted to showcase our luxury retailers for the third consecutive year. It's a pleasure to bring the best of our retail collection to this show, especially given that many of our guests reside in North San Diego County. In addition to enjoying a unparalleled fashion presentation, attendees can shop the Boutiques of South Coast Plaza in the Gallery Room at The Inn preceding and following The Art of Fashion runway show."
More there fashionably were Country Friends President Jean S. Newman, Event Chair Marci Cavanaugh, Co-Chair Kimberly Kellogg, Jake Figi, Tanya Brandes in killer leopard print Charles Louboutin stiletto boots, Muffy Walker Reed in pretty Pucci, and Tiffany Mahoney dressed to' kilt' in Burberry and more. Tiffany slipped out for part of her afternoon to celebrate her husband Jim's birthday at nearby Delicias.
Denise Hug thought it was a "fun fashion show." Muffy Walker loved the retro feel to the Pucci designs. "My mother wore Pucci in the 60's and I've always loved the colors & prints. I'm glad his fashions are back. I'm following in my mom's footsteps."
And Sally B. Thornton had pure praise for the day.
"OH, WHAT A BEAUTY FILLED DAY!
THANK YOU, GOD!
SOUTH COAST PLAZA
FUN – FASHION – FEAST!
FABULOUS ACCLAIMED DESIGNERS
DEINATELY DIVINE, 'DAHLING!'
AND…THAT'S THE TRUTH!"
To learn more about Country Friends and their fundraising events, ways to volunteer, and how to donate, please click on:
Please enjoy the social photos!
(high resolution photos available by request)
Dianne York-Goldman with Sally B. Thornton and Denise Hug ** Marilyn Fletcher and Karen Luce ** Denise Hug
Joan Bowes with Jim Kim and Judy White ** Sally B. Thornton with Mary Walker and Carol Karlovich
Denise Hug with her son Julien Hug** Denise Hug with Margo Schwab who is wearing Aziz from Ooh La La Boutique
Ofelia Alksne and Yolanda Walther Meade with Guests ** Leonard Simpson with a Friend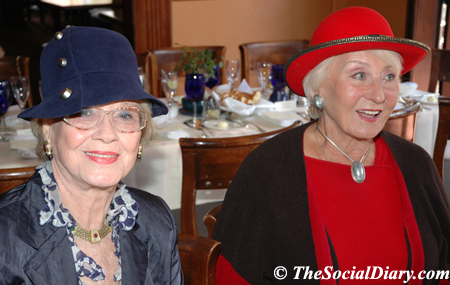 Kitty Kaufman with Lilo Miller
Lee Goldberg with Mary Walker ** Dianne York-Goldman with Sally B. Thornton and Denise Hug ** Chef de Cuisine Martin Woesle
Doreen Schonbrun ** Sheryl White with Tanya Brandes and Denise Hug ** Tiffany Mahoney
Muffy Walker Reed with her Mother and Mother-In-Law ** Chef de Cuisine Martin Woesle with Melinda
Leonard Simpson greeting a Guest ** Country Friends Committee member Andrea Muir, also of the Arthritis Foundation San Diego Chapter
Event Co-Chair Kimberly Kellogg ** Guest with Jake Figi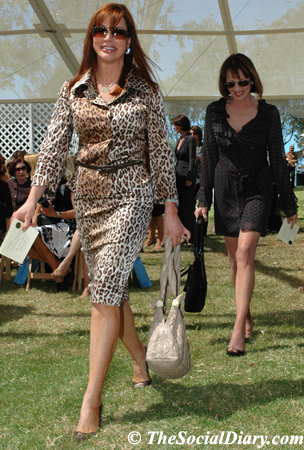 Dianne York-Goldman and Denise Hug entering the tent
* Margo Schwab has produced, written, interviewed and photographed for various media organizations since 1989. Schwab attended Holton Arms School, La Jolla Country Day School and La Jolla High School. Schwab has a B.A. from Scripps College and a Masters of Business degree, M.B.A., from the University of San Diego. Schwab volunteers for numerous charity organizations. She also continues to lobby for water safety and for family violence mitigation. Schwab is the editor of The Social Diary. Margo is currently writing a book based on La Jolla.
Warning ** photos, video and writing on this site are the
copyright of The Social Diary, San Diego Social Diary
no reproduction of any part or parts is allowed without written permission by The Social Diary