~ The Social Diary ~
~~~~~~~~~~~~~~~~~~~~~~~~~~~~~~~~~~~~~~~~~~~~~~~~~~
Celebrity Artist Colleen Ross's Exceptional Reception!

January 7th, 2007
The Social Diary Columnist & Photographer Margo Schwab
Acclaimed celebrity artist Colleen Ross stopped through town in November 2006 for an artist reception at La Jolla Spa MD, a quick dinner with moi at the La Jolla Beach & Tennis Club, and private client appointments. Colleen was joined by her daughter Kryssie.
Colleen counts among her clientele actresses Teri Hatcher, Brook Shields, Farrah Fawcett and oh so many more. Dianne York-Goldman of Spa MD has been painted by Colleen Ross and has also collected quite a few of her works.
Colleen is a reclusive artist who avoids the spotlight. The following are rare photos of her. In contrast Colleen's paintings garner the spotlight internationally.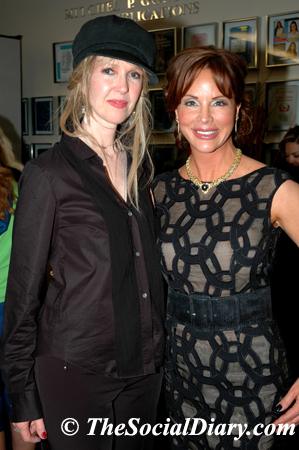 Artist Colleen Ross with Dianne York-Goldman
Kryssie, Margo Schwab and Artist Colleen Ross * A sultry painting by Colleen Ross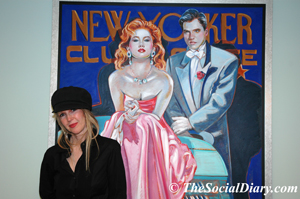 Artist Colleen Ross with one of her extraordinary paintings.
To learn more, please click Colleen Ross.
advertisement
__________Zagat Accoladed....&.... "Culinary Genius!" says The Social Diary's Scott Johnston_______
* Margo Schwab has produced, written, interviewed and photographed for various media organizations since 1989. Schwab has a college degree from Scripps College and a Masters of Business degree from the University of San Diego. Schwab volunteers for numerous charity organizations. She also continues to lobby for water safety and for family violence mitigation. Schwab is the owner and publisher of The Social Diary. Margo is currently writing a book based on La Jolla.
back to New this Week.....Margo Schwab Archives...... Home
Warning ** photos, video and writing on this site are the
copyright of The Social Diary, San Diego Social Diary, margomargo.com and Margo Schwab.
no reproduction of any part or parts is allowed without written permission by Margo Schwab