advertisement
Scorpion Bay Surfing and Fishing Club Scorpion Bay Hotel available! ... founded by Fred Borrelli

_______________________________________________________________________________________________________________________

all photos and content are the strict copyright of TheSocialDiary.com
no downloading!!
photos are available for purchase if it is of you!
UCSD Cardio Gala is Right in 'Step' & 'All Heart'
"What a Marvelous Tribute to Gene & Hannah Step & the UCSD Cardiovascular Center. Internationally Acclaimed, Fashion Designer, Zandra Rhodes & Husband, Salah Hassanein, Chairmen, Created "Memorable Moments" of "Synergistic Excitement!" Bravo! Bravo!
WHAT BRAVURA !"
- Sally B. Thornton
March 21st, 2009 truly was a gala of the galas where the heart is concerned. The 12th Annual Heart of San Diego Gala for the Sulpizio Family Cardiovascular Center at the Four Season Resort Aviara was all that and more!
It was a glamorous venue. With a lot of generous people attending, including quite a few 'heart smart' geniuses. They included Dr. Anthony DeMaria, Director of the Sulpizio Family Cardiovascular Center, Dr. Stuart Jamieson, Director-Elect of the Sulpizio Family Cardiovascular Center, Dr. William Auger, Dr. William Bradley, Dr. Michael Criqui, Dr. David Guss, Dr. Kirk Knowlton, Dr. Patrick Lyden, and ResMeds's Peter Farrell.
Among the many guests attending and or generously helping to raise funds for UCSD Health Sciences and the Cardiovascular Center building project were Hermeen Scharaga, Dottie and Chuck Hansen of Viejas Enterprises, Sally and John Thornton and the Thornton Winery, Dixie and Ken Unruh, Diane Martin, Julia Brown, Pam Slater-Price and Hershell Price, Reena and Sam Horowitz, Sook and Ron Hansen, UCSD Chancellor Marye Anne Fox, Sheryl and Harvey White, Linda and Don Swortwood, and Hannah and Gene Step.
Hannah and Gene Step were the evening's honorees. And for good reason.The Steps have been stupendous supporters of the CVC, that's the Cardiovascular Center. The Steps' heart history is big. Their involvement includes Gene as a top Executive at Eli Lily to being a patient, to both of them very generously supporting the CVC.
The fashionable were there in support too. Sally B. Thornton wore a red Mary McFadden, Scott Johnston wore a fun custom tuxedo jacket with accent buttons and lapels by Dutra Designs, and Tanya Brandes wore a very complimentary animal print gown by Roberto Cavalli. Tanya accented her look with a pretty 60's styled hair coif.
Muffy Walker wore a custom mermaid-esque blue sequin number, Linda Swortwood wore an elegant silky chiffon Yves St. Laurent in red, Sook Hansen wore a hand made gown from Korea, cook book author Jeanne Jones wore an elegant gold and dazzling Zandra Rhodes, Actress Marion Ross wore a chiffony Zandra Rhodes, and Zandra Rhodes wore....Zandra Rhodes!
Zandra was more than fashionable and fun that evening. She and Salah Hassanein were once again Chairs of the Event. They were joined by Co-Chairs John Lechleiter, Michael Step and Sidney Taurel.
Jeanne Jones had this to say about the evening. "I thought it was a fabulously fun party with lots of energy -- and a truly spectacular dinner. I also loved hearing from Dr. Stuart Jamieson about the enormous involvement that the CVC has with Rady Children's Hospital."
Sheri Jamieson added this. "Salah and Zandra once again organized a beautiful party that was substantive, successful and lots of fun. They are truly the "heart" of this event and we salute them for their continuing vision, determination, and dedication to this very good cause."
And very good cause it is. Monies raised will go to the CVC, a leader in heart care.
Dr. Stuart Jamieson, the Director Elect, is just one of the examples of brilliant surgeons on staff. Stuart is world renown for performing a groundbreaking surgery called pulmonary thromboendarterectomy or PTE. In layman's terms, PTE is the detection of life threatening embolisms that travel to the lung and grow. Dr. Jamieson is literally on the cutting edge for correcting this problem by a procedure that requires draining the patient's blood, lowering the patient's body temperature to 60 degrees, and stopping the heart for 20 minutes at a go to get at removing the growth from the lung. Dr. Jamieson is a pioneer for this specialized surgery. He does bring a lot of smarts to the surgery table. Dr. Jamieson is the Head, Division of Cardiothoracic Surgery and Endowed Chair and Distinguished Professor of Surgery at the University of California San Diego.
Dr. Jamieson is exemplar of the kind of surgeons the Sulpizio Family Cardiovascular Center at the University of California, San Diego has.
By the way Dr. Stuart Jamieson is more than a phenomenal surgeon. He is a nice and giving guy too. Stuart bid up and won a diamond and onyx ring live auction prize. It was for his wife Sheri!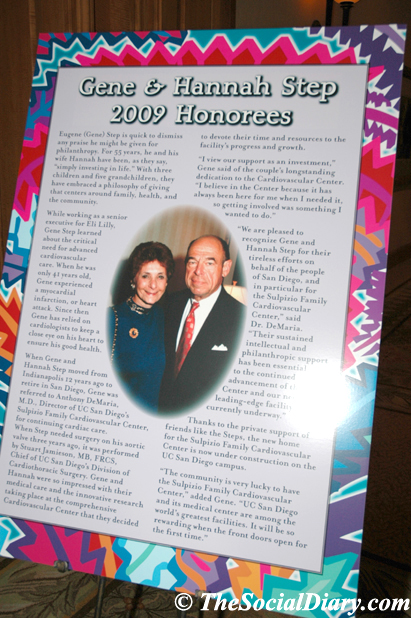 The Poster announcing Gene and Hannah Step as the Honorees
Floral Display by Kathy Wright by Silent Auction Items ** Sheri Jamieson and Tanya Brandes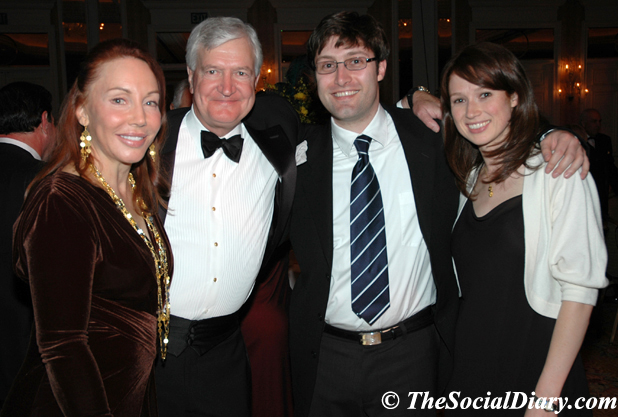 Sheri and Stuart Jamieson with Michael Koman and actress Ellie Kemper
Esther Jane Paul with Guest ** Floral Arrangement by Kathy Wright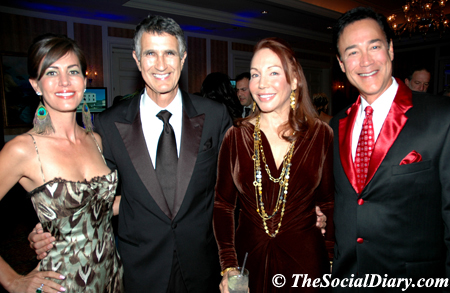 Tanya and Charles Brandes with Sheri Jamieson, and Scott Johnston
Alison Beck with her husband ** Red and Pretty ** Muffy Walker in her blue, blue dress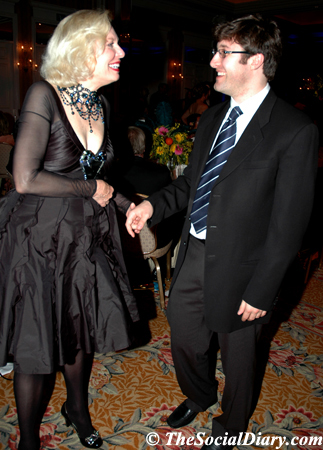 Pam Slater Price catching up with Michael Koman, Pam used to be his teacher years back
Pam Slater- Price with Michael Koman ** Zandra Rhodes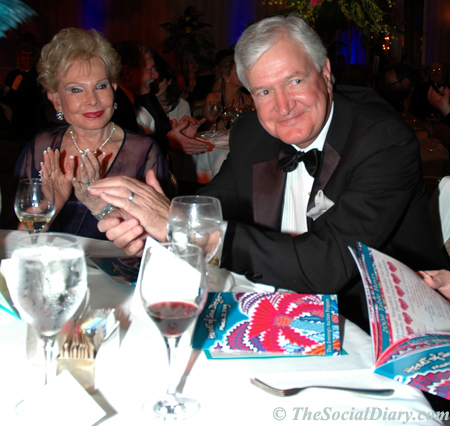 Lee Goldberg and Stuart Jamieson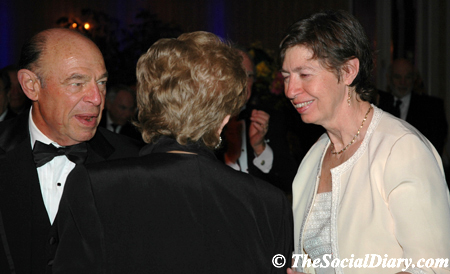 Gene and Hannah Step with Marye Anne Fox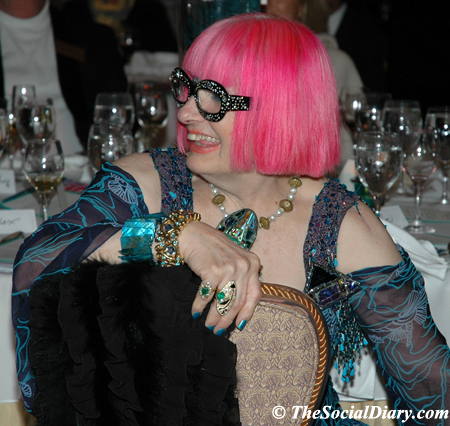 Zandra Rhodes
Jeanne Jones and Sheri Jamieson ** David George and Mindy Aisen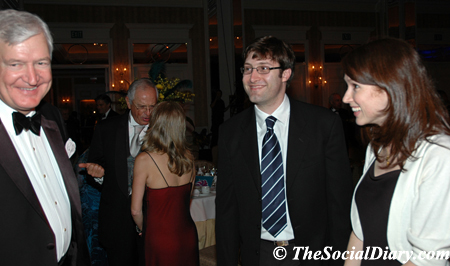 Above and below, Dr. Stuart Jamieson with Michael Koman and Ellie Kemper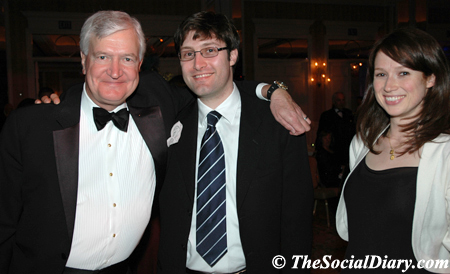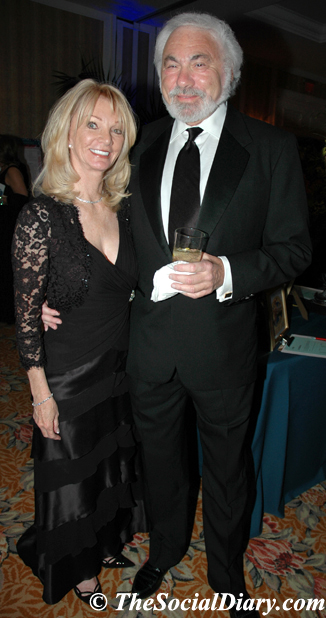 Kaye and Don Gregory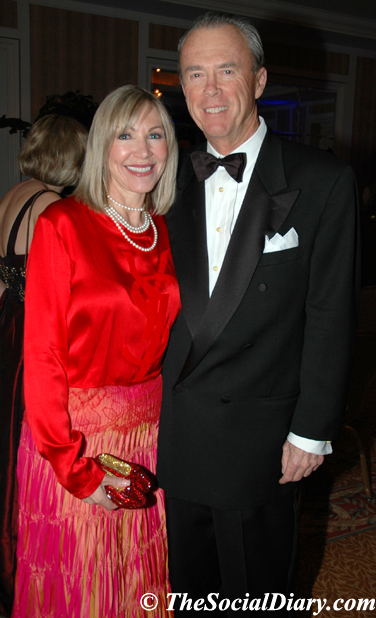 Linda and Don Swortwood
Don Breitenberg and Jeanne Jones ** Linda Swortwood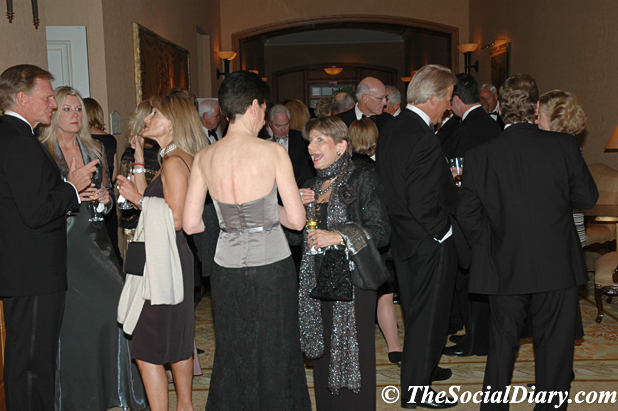 The Reception
Sally B. Thornton with Don Swortwood ** Sook Hansen
Mary Drake ** Muffy Walker ** Charles and Tanya Brandes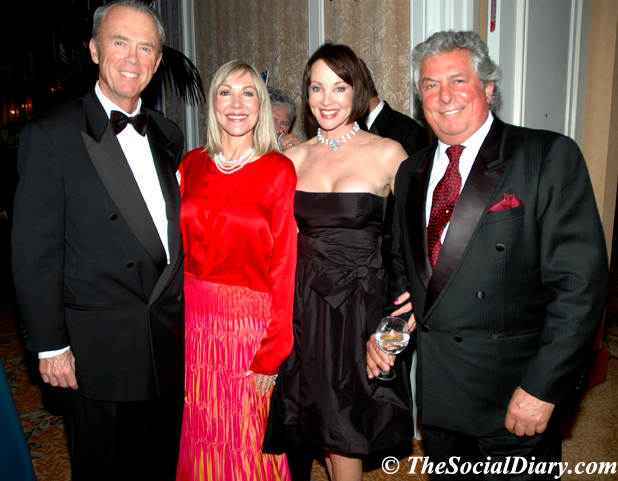 Don and Linda Swortwood with Denise and Bertrand Hug
Hudson and Mary Drake ** Tony and Lori DeMaria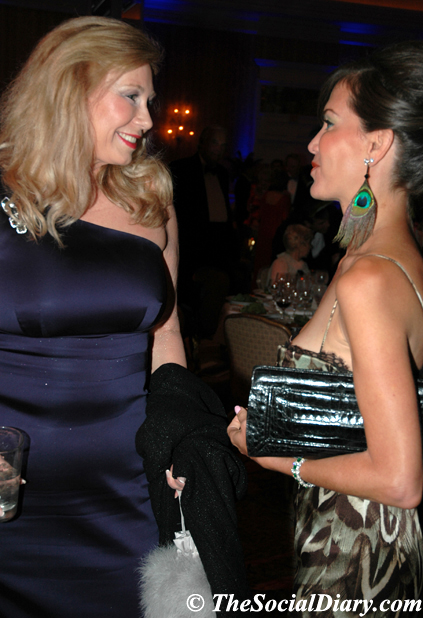 Colette Carson Royston with Tanya Brandes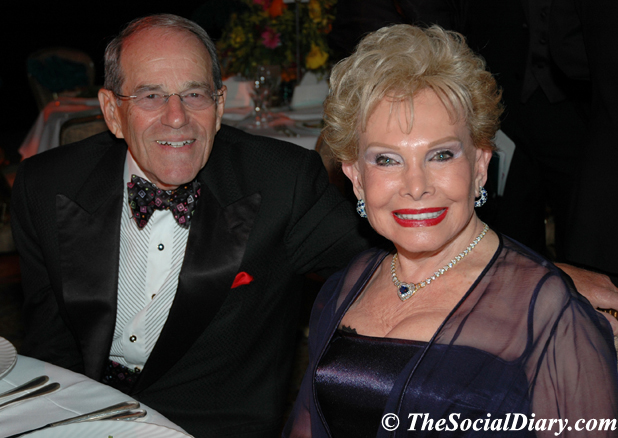 Frank and Lee Goldberg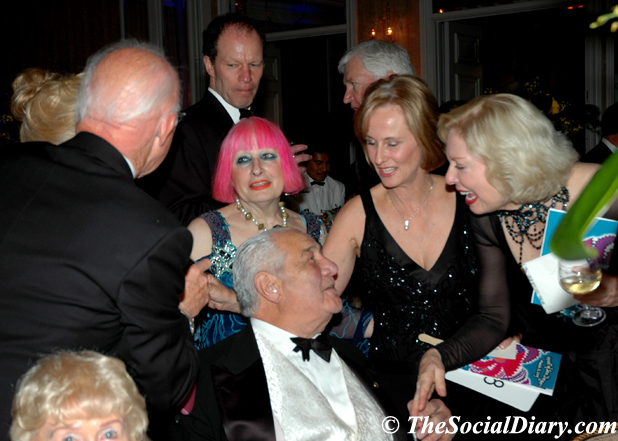 Salah and Zandra Rhodes surrounded by friends including Hershell Price and Pam Slater-Price
Scott Johnston with Charles Brandes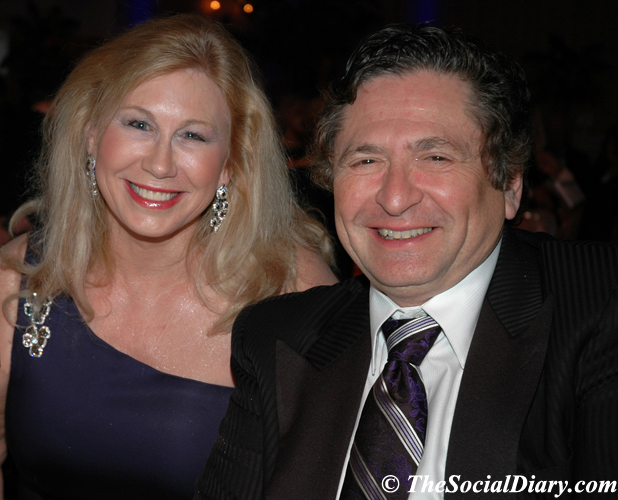 Colette and Ivor Royston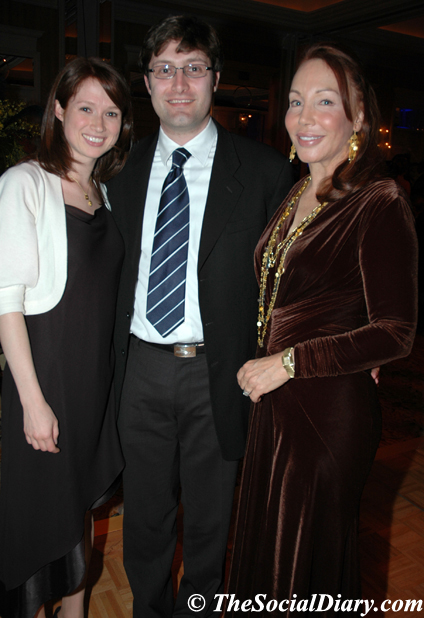 Ellie Kemper and comedian writer Michael Koman, with Sheri Jamieson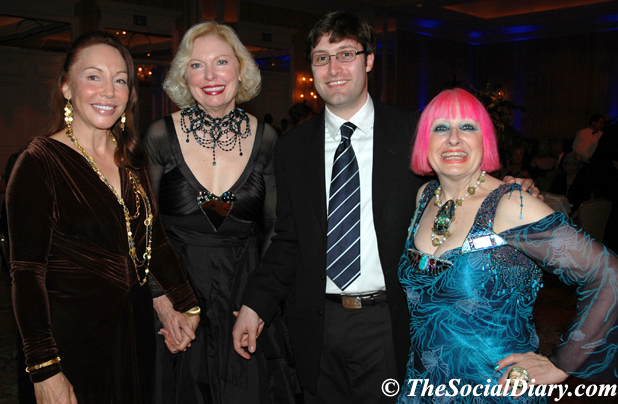 Sheri Jamieson with Pam Slater- Price, Michael Koman, and Zandra Rhodes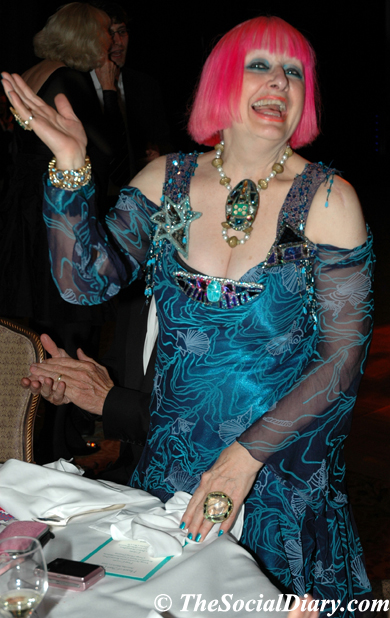 Zandra Rhodes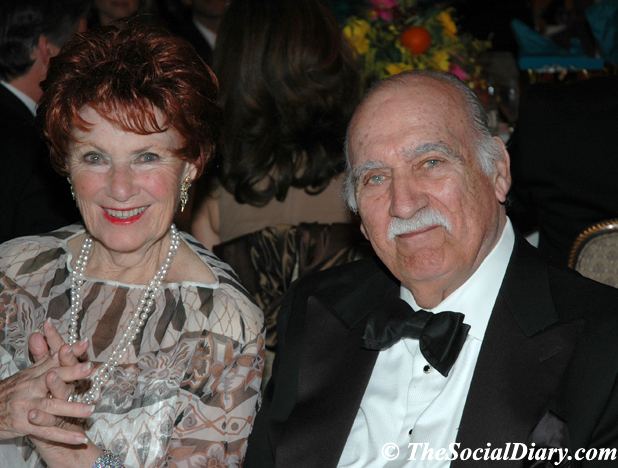 Actors Marion Ross and Paul Michael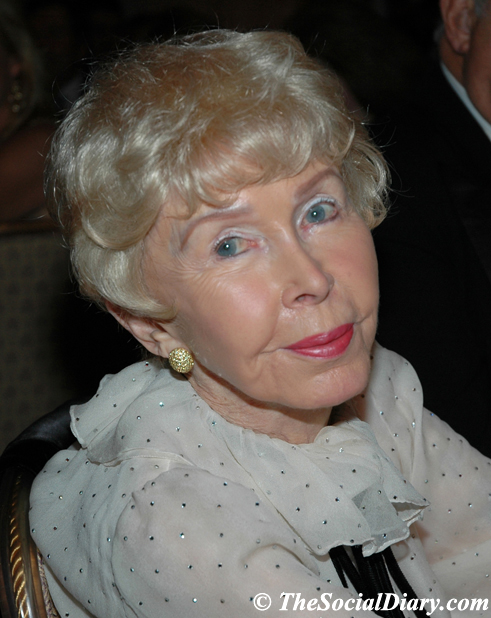 Audrey Geisel of the Dr. Seuss Foundation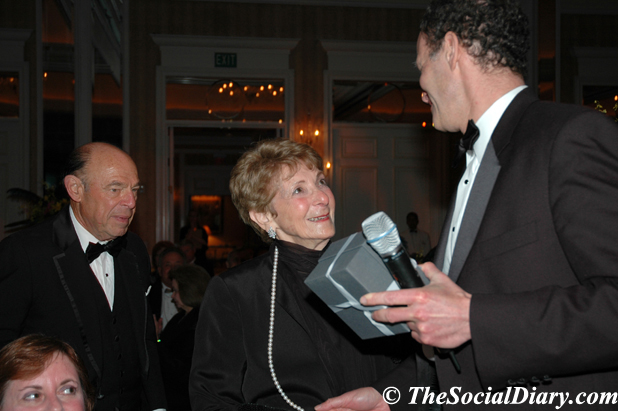 Above and below, Gene and Hannah Step receiving congratulations by Dr. David Brenner, Vice Chancellor Health Sciences, Dean School of Medicine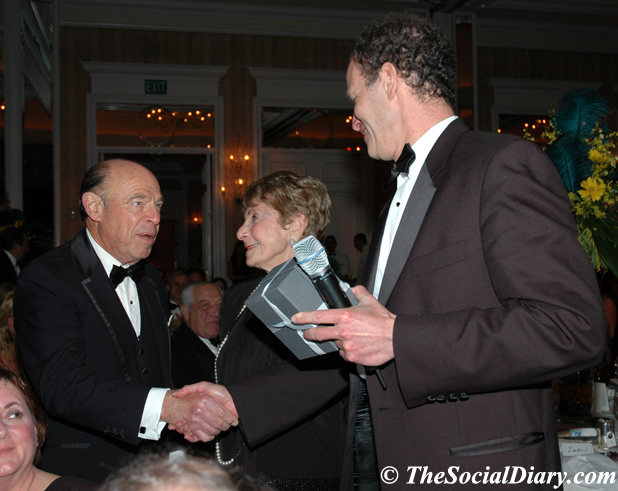 Gene and Hannah Step with Dr. David Brenner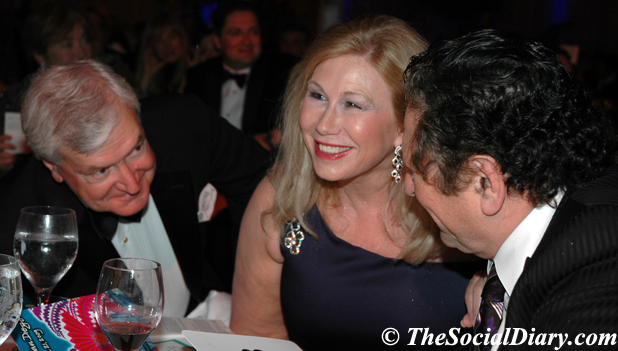 Dr. Stuart Jamieson and Colette Royston listening to Ivor Royston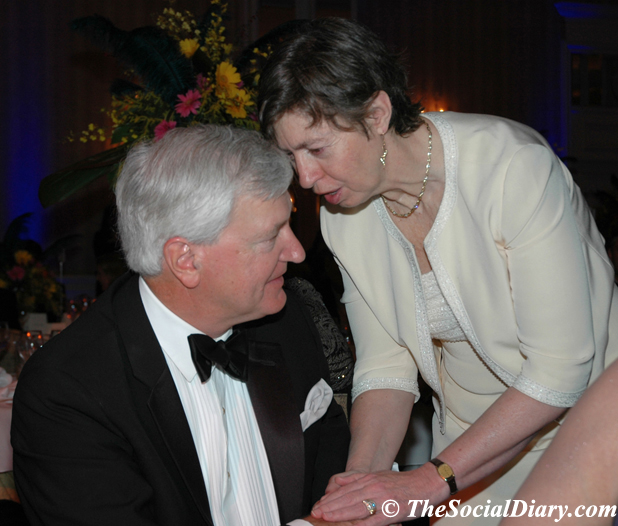 Dr. Stuart Jamieson with UCSD Chancellor Marye Anne Fox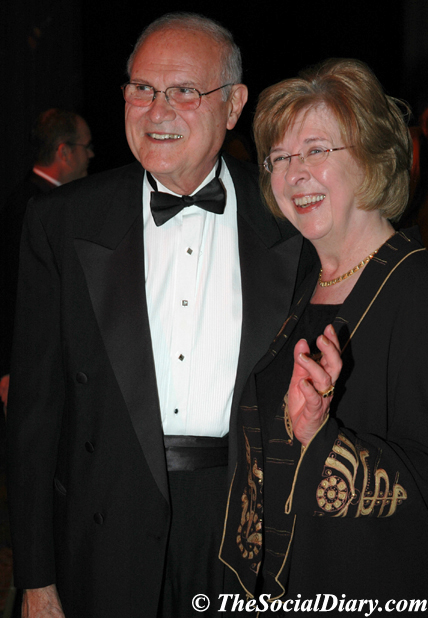 Diane and Dr. Alex Geha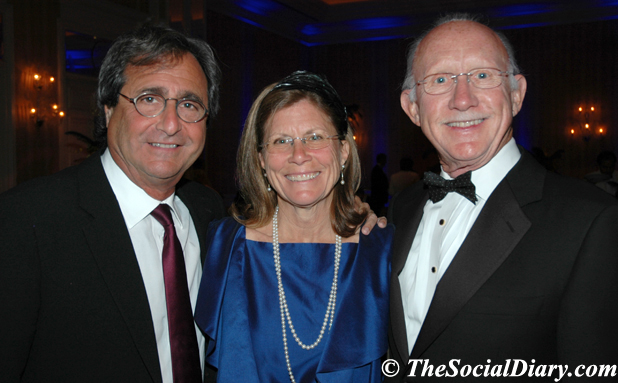 Michael Kay and Janet Batter Kay with Hershell Price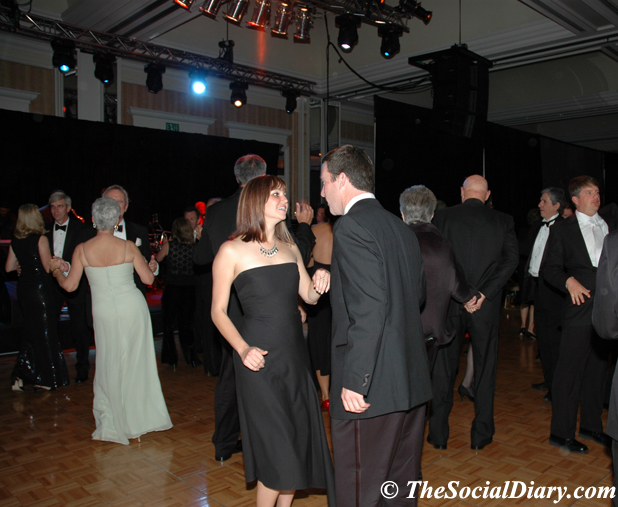 The Dancing....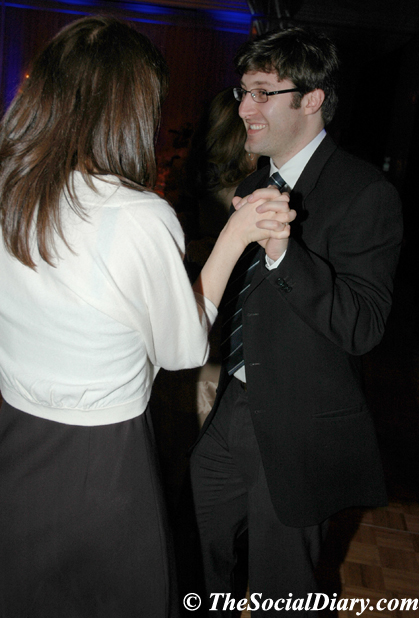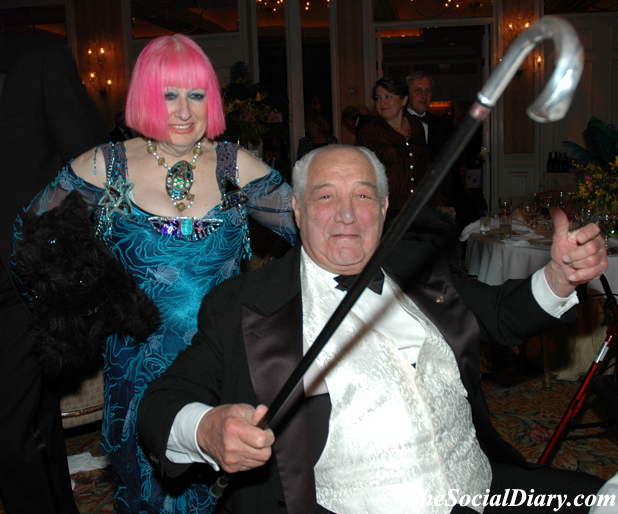 Zandra Rhodes and Salah Hassanein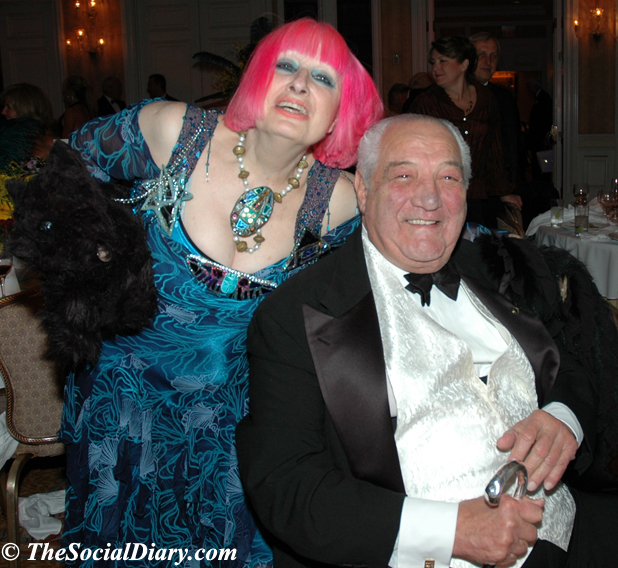 For more information about the CVC please visit Heart Smarts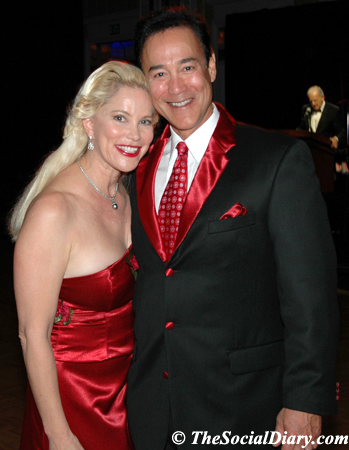 Reported by Margo Schwab and Scott Johnston.
The Social Diary would like to stay a special thank you to Sheri and Stuart Jamieson for having us as their guests at the gala!
The Buzz
Sally and John Thornton of Thornton Winery and Cafe Champagne, with son Steve Thornton added three more accolades to their bounty. It all happened at the March 8th, 2009 Southern California Restaurant Writers Awards Banquet held at the Richard Nixon Library in Yorba Linda, California.
The Thorntons' Cafe Champagne was awarded a Golden Bacchus Wine Award and a Golden Sceptre (Five Star) Award.
The Thorntons' have also been honored for their generosity by donating scholarships.... as such they received the Humanitarians of the Year award....Congratulations!
........ and these frogs are for saluting, not eating....
Here are two photos from the Naval Special Warfare Foundation - Super Frog Triathlon There were over a 1000 participants in the triathlon from all over the world. Among them was "'OO7' Matthew Shillingburg!"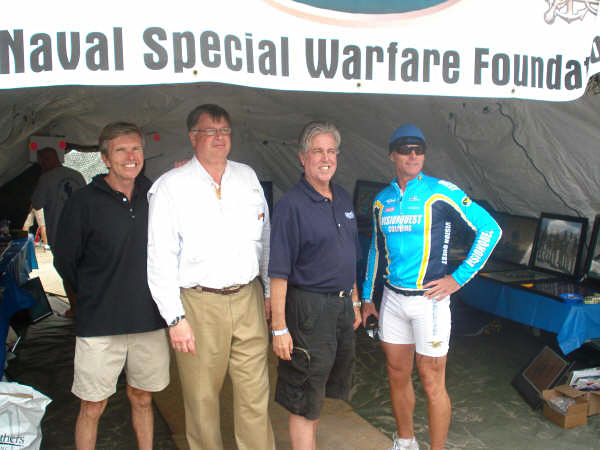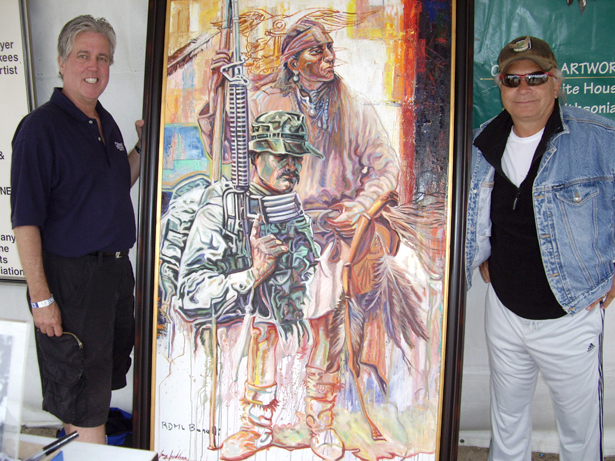 Upcoming Events
April 25th - Red Shoe Ball celebrating the opening of the new Ronald McDonald House. Please visit www.RMHSD.org for more details and tickets.
May 1st - A fundraiser for Childhelp with a red white and blue theme. For more information please visit www.reddressball.com
May 9th - The feast of the feast many of the top San Diego restaurants! Mama's Kitchen will host their popular event at the Hyatt Aventine in La Jolla. Please visit Tickets are on sale now at www.mamaskitchen.org for tickets.
May 14th - TV Fashion Personality Leonard Simpson presents"Fashion Hits a High Note" the Lyric Opera San Diego's 30th Anniversary and the Birch North Park Theatre's 80th Birthday. Sally B. Thornton is Honorary Chair. To be held at the Birch North Park Theatre. VIP Gold Circle Tickets: $50, Reserved Seating: $35 (619) 239-8836 www.birchnorthparktheatre.net
May 16th - A Cheetah fundraiser in Pasadena with world renown Dr. Laurie Marker. Please visit www.cheetah.org for details.
May 21st - CCSSD will host its annual tea with Keynote Speaker Marian Wright Edelman. Please click www.ccssd.org for tickets.
June 6th - The Arthritis Foundation walk. The Arthritis Walk® is the Arthritis Foundation's annual nationwide event that raises awareness and funds to fight arthritis, the nation's most common cause of disability. It is a tremendous opportunity to help improve the lives of the 46 million men, women and children doctor-diagnosed with arthritis.
And Kima is the Dog Honoree for the walk! So 'Let's Move Together!'
To learn more about arthritis and this walk, please visit
www.arthritis-sandiego.org/walk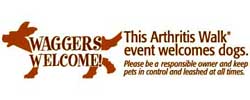 Dogs get Arthritis too!
Save the Date
July 18th - Patrons of the Prado Gala featuring Steve Tyrell
August 1st - Old Globe Gala
August 8th - Jewel Ball
August 13th - The Fur Ball at the San Diego Humane Society
Reported by Margo Schwab
________________________________________________________________
Photoshopping and Photography Services
Photos on this website available if it is of you
available by The Social Diary
~ 619-384-7333
email TheSocialDiary.com
_____________________________________________________________________
Email Commentary to be added
email editor@thesocialdiary.com

The photos of the Cardio gala came out wonderful! You did a fantastic job. So glad you were able to come with the Jamiesons. Thanks again for covering the event - Jade Griffin
Development Communications Manager
University of California, San Diego
Thanks so much for your excellent coverage on the CVC Gala. Wow, what good pics!
Nobody covers an event like you do--ever! We really appreciate it
* Margo Schwab, more formally known as Margaret E. Schwab, has produced, written, interviewed and photographed for various media organizations since 1989. Schwab attended Holton Arms School, La Jolla Country Day School and La Jolla High School. Schwab has a B.A. from Scripps College, spent a business internship with S.A.I.C., Science Applications International Corporation, and earned a Masters of Business degree, M.B.A., from the University of San Diego. Schwab additionally took college courses from Harvard University, and Syracuse University. Schwab volunteers for numerous charity organizations. She also continues to support animal organizations and the prevention of people and animal abuse. Schwab is the editor of The Social Diary.
Warning ** photos, video and writing on this site are the
copyright of The Social Diary, San Diego Social Diary
no reproduction of any part or parts is allowed without written permission by The Social Diary