~ The Social Diary ~
____________________________________________________________
Candlelight Ball 2006

December 21st, 2006
The Social Diary Columnist & Photographer Margo Schwab
Elegance, attention to detail ....perfection. Candlelight Ball General Chairwoman Betty Knight Scripps had her thoughtful touches throughout the gala setting. Mrs. Scripps' vision transformed the Del Mar Country Club. It was resplendent in flowers, mostly shades of soft pink. The service was flawless.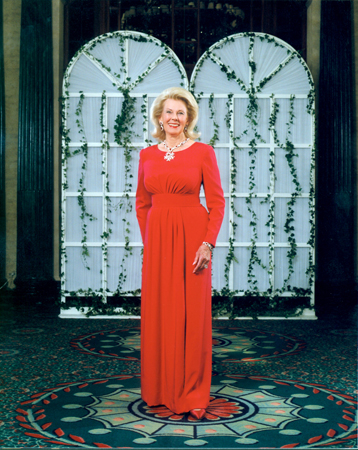 Candlelight Ball Gala Chairwoman Betty Knight Scripps resplendent in a red Scassi gown and a Scripps' parure from her late husband, Edward W. Scripps.
This is the 4th year that Betty Knight Scripps has served as General Chairman for the Candlelight Ball benefiting the Scripps Memorial Hospital La Jolla. Under Mrs. Scripps leadership, the Candlelight Ball has raised more that $6 million. This year, Mrs. Scripps personally designated a $1.25 million challenge grant thus raising the 77th Annual Candlelight Ball to a healthy $3 million raised.
And for an important cause.
Mrs. Scripps states it succinctly. "I take great pride in continuing the commitment of the Scripps family in support of Scripps Memorial Hospital La Jolla. The hospital allows San Diegans to receive the best possible medical care and I am delighted to be part of that legacy of caring for the community."
It may be part of Mrs. Scripps' heritage as a Scripps family member, but the philanthropic leadership she has exhibited, is beyond extraordinary. Mrs. Scripps is known nationally as a dedicated supporter of health care and the arts, including the Mayo Clinic, the University of Virginia, the American Red Cross, the Washington National Opera – where she chairs its annual Opera Ball, the English National Ballet, and Friends of Art and Preservation in Embassies (FAPE).
Among the elegant black tie crowd enjoying Mrs. Scripps' finesse for a worthy cause were Judith Harris in a gold beaded Oscar de la Renta, Judith's husband Dr. Robert Singer, Susan Kazamarek-Biddick in red Carmen Marc Valvo with her husband Craig Biddick, Jeanne Jones in Chanel tinted glasses, (she had just had vision surgery) and a black Giorgio Armani, with her husband Don Breitenberg. Don had a whimsical pocket handkerchief with a skull and crossbones motif.
Also there were June and Neil Ash, Ellen and Tim Zinn, Betsy Manchester and Papa Doug Manchester, they own the Del Mar Country Club, Lyn and Dr. Stephen Krant, Veronica and John Warner, Nancy and James Williams, Charlie Robins, Jean Hahn Hardy and John Hardy, Joyce and Jere Oren, Susie and Bob Lankford, and Cliff Robertson.
Floral entrance to the Gala ** Betsy and Doug Manchester ** Cliff Robertson
That's the legendary Cliff Robertson who was the evening's Honorary Guest and Speaker. Cliff spoke eloquently and humbly, recalling anecdotes and thanking Mrs. Scripps for inviting him to be a part of this extraordinary evening.
And Cliff Robertson is more than an Oscar winning actor. He is a World War II pilot and hero, a writer, and a real humanitarian. Cliff generously and willingly gives his time to special events like the Candlelight Ball.
Guests swayed to the legendary Bob Hardwick Orchestra from the East Coast well into the evening.
The Candlelight Ball is one of the oldest and most prominent balls held in San Diego.
To learn more about Scripps Memorial Hospital La Jolla and the Candlelight Ball, please click Scripps Memorial Hospital La Jolla.
Maddy Morris with her father, Bob Morris ** Veronica Warner and Nancy Williams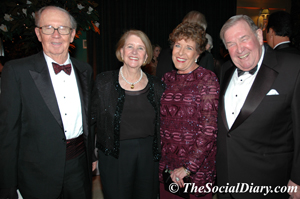 John and Veronica Warner with Nancy and Jim Williams
Don Breitenberg and Jeanne Jones ** Mike and Ann Fraeger ** Guests
Susan Kazamarek-Biddick and Craig Biddick ** Judith Harris and Dr. Robert Singer ** Jeanne Jones with Ellen Zinn
Lisa and J.D. ** June and Neil Ash ** Guests
Tamara O'Horgan ** Margo Schwab and Scott Johnston
Gloria Shurman ** A Coat check Room full of Furs
Guests
Guests ** Scott Johnston
Margo Schwab in J. Jenniene Couture ** Margo Schwab with Ellen Zinn
Floral Centerpieces for the Dinner ** Cliff Robertson speaking at the podium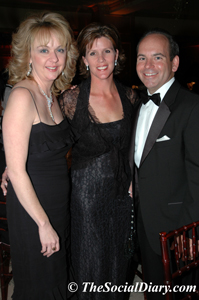 Laura Dennison with Dorothy and Bill Menish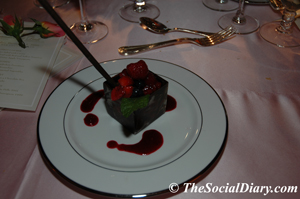 Dessert decadence
advertisement
__________Zagat Accoladed....&.... "Culinary Genius!" says The Social Diary's Scott Johnston_______
* Margo Schwab has produced, written, interviewed and photographed for various media organizations since 1989. Schwab has a college degree from Scripps College and a Masters of Business degree from the University of San Diego. Schwab volunteers for numerous charity organizations. She also continues to lobby for water safety and for family violence mitigation. Schwab is the owner and publisher of The Social Diary.
back to New this Week.....Margo Schwab Archives...... Home
Warning ** photos, video and writing on this site are the
copyright of The Social Diary, San Diego Social Diary, margomargo.com and Margo Schwab.
no reproduction of any part or parts is allowed without written permission by Margo Schwab