Scorpion Bay Hotel, Private, Picturesque ........VIP and Club Memberships Available >>> Scorpion Bay Hotel
founded by Fred Borrelli
~~~~~~~~~~~~~~~~~~~~~~~~~~~~~~~~~~~~~~~~~~~~~~~~~~~~~~~~~~~~~~~~~~~~~~~~~~~~~~~
~ The Social Diary ~
~~~~~~~~~~~~~~~~~~~~~~~~~~~~~~~~~~~~~~~~~~~~~~~~~~~~~~~~~~~~~~~~~~~~~~~~~~~~~~~~~~~~~~~~
'ARTSea Cafe Goes 'Pop' for 2008!!
"The Evening was Wonderful. It was our first time at an ARTS event. We attend a lot of different 'Fundraiser's' and Eric and I were very comfortable in the beautiful and un threatening environment. Matt has worked very hard to create this feeling . When I met him almost five years ago, he was just starting with one associate. He is amazing. The event was fun, delicious, and very conducive for socializing and enjoying the beautiful weather. The Auction was very well done and the Venue was perfect." - Marsi Gardiner
For May 17th, 2008 the invite said come 'Summer elegant / cocktail attire' to celebrate the arts. And guests did.
Valerie Cooper arrived in a colorful chiffon-y Alexander McQueen dress. Her husband Harry Cooper stuck to one of his faves. Versace of course. Erika Torri arrived wearing black with a magnificent art worthy necklace and earrings.
And though many of the guests dressed art, the evening was a full 360 degrees of art. For food at the lead was Culinary Chef Andrew Spurgin. Andrew, a favorite to many who's who was joined by a talented team of chefs including: Chef Tim Au of Molly's at the San Diego Marriott, Giuseppe Ciauffa of Giuseppe Restaurants and Fine Catering, Jack Fisher of Jack Fisher Confections, Gina Freize of Venissimo, Jason Knibb of Nine-Ten, Brian Sinnoott of 1500 at the Hotel Del Coronado, Jeff Jackson of A.R. Valentien at The Lodge at Torrey Pines, Christian Graves of Jsix of Hotel Solamar, Katie Grebow of Cafe Chloe, Jesus Gonzalez of La Cocina Que Canta at Rancho La Puerta across the border, and Antonio Friscia of Stingaree and Dish.
And of course Chef Andrew Spurgin of Waters Fine Catering. All chefs were assisted by upcoming students and Chef Tina Luu from The International Culinary School at The Art Institute of California - San Diego.
ARTSea patrons Pam Slater-Price and Hershell Price, and Diane Szekely, were among those there. So was Fred Borrelli of Scorpion Bay Hotel. Fred was accompanied by his daughter Torie Borrelli and Torie's beau.
More there was Honorary Chairperson Karen Kohlberg, Co-Chairs Jill Hammons, Jim Lennox and Joanne Mera, and ARTS Executive Director Matt D'Arrigo and his wife Huyla.
Jill Hammons, a Co-Founder of ARTS, was thrilled with the evening. "Once again, the terrific ARTSea Cafe event "POP!" was a great success! Some had predicted with the downturn of the economy, people would stay home. But, we not only attracted many new guests who had a great time helping us raise over $90,000 for the programs A Reason to Survive (ARTS) provides FREE to children in San Diego facing life's challenges, we proved that people in San Diego absolutely do care, even in a bleak economy. Why? Because San Diego loves ARTS and ARTS loves San Diego! We also had an exciting surprise musical performance by the fantastic street performer pranksters, Scene Diego."
Matt and Huyla D'Arrigo ** Jim Lennox and Brad Woodford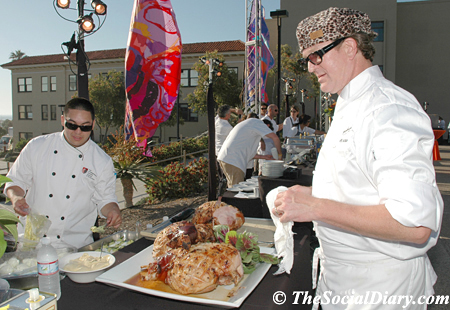 A.R. Valentien
Chef Andrew Spurgin et al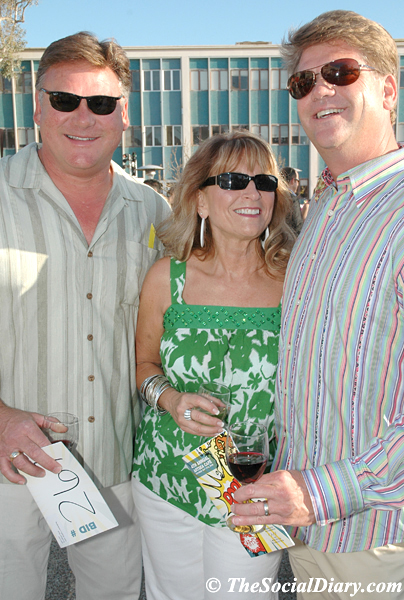 Brad Woodford with Jill Hammons, and Jim Lennox
Mini 'Art-Tini's ** Marsi Gardiner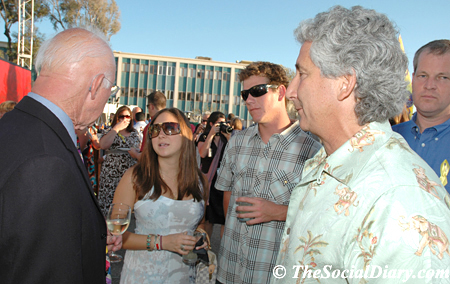 Hershell Price with Torie Borrelli, Guest and Fred Borrelli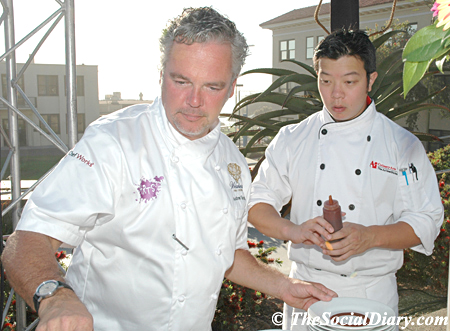 Chef Andrew Spurgin of Waters Fine Catering
Diane Szekely with Chef Jesus Gonzalez of Rancho La Puerta ** Guests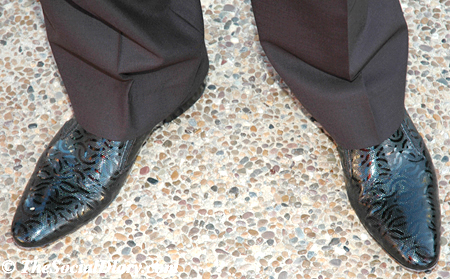 Harry Cooper's Versace shoes
Valerie and Harry Cooper with Margo Schwab ** Valerie and Harry Cooper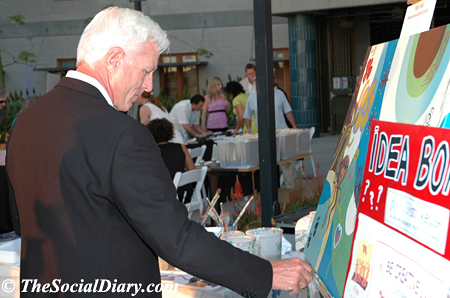 A Guest participating in a work of art in progress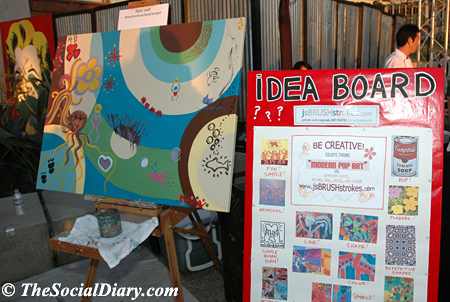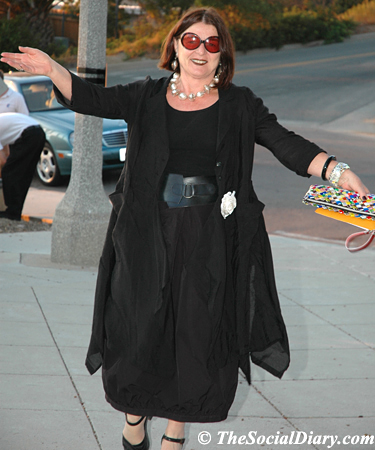 Erika Tori
Pam Slater Price with Harry and Valerie Cooper
For more information on ARTS please visit: www.artsurvive.org.
reported by Margo Schwab
* Margo Schwab, more formally known as Margaret E. Schwab, has produced, written, interviewed and photographed for various media organizations since 1989. Schwab attended Holton Arms School, La Jolla Country Day School and La Jolla High School. Schwab has a B.A. from Scripps College, spent a business internship with S.A.I.C., Science Applications International Corporation, and earned a Masters of Business degree, M.B.A., from the University of San Diego. Schwab volunteers for numerous charity organizations. She also continues to support animal organizations and the prevention of people and animal abuse. Schwab is the editor of The Social Diary.
Warning ** photos, video and writing on this site are the
copyright of The Social Diary, San Diego Social Diary
no reproduction of any part or parts is allowed without written permission by The Social Diary