~ The Social Diary ~
~~~~~~~~~~~~~~~~~~~~~~~~~~~~~~~~~~~~~~~~~~~~~~~~~~
La Jolla BBQ with Special Maasai Visitors
.... 'Jambo Jambo - Habarigani!'

July 19th, 2007
The Social Diary Columnist & Photographer Margo Schwab
(high resolution photos available by request )
When Kathryn Murphy and Lance Peto email and say "please, can you come to a BBQ at the La Jolla Beach & Tennis Club, it'll be fun." You know it will be. And on this occasion it was more than fun. The guest list included locals Jan and Dr. Dave Irwin, Paul Leonhardt (he's in charge of marketing a cool new product called Bobble Pops to the Zoo), Katie and John Murphy, Gail Forbes, John Campbell, Mary Hazard, Scott Johnston, moi, and Kima!
Yes Kima dressed up big for this one. In her new leopard and black satin gown by Jemima Garcia in fact. And the exciting reason was to meet some very VIP guests from the San Diego Wild Animal Park and the San Diego Zoo, and their special guests, Maasai Warriors, and a Memsaab Maridadi. That's a pretty woman to you non-Swahili speakers.
Among the Zoo and Maasai guests there were Michael Ahlering, Director of Zoo Operations, Paula Brock, the Zoo's Chief Financial Officer, and Yvonne Miles, Director of Merchandise.
And of course the Maasai were there. One aforementioned Maridadi Sana Memsaab, who happens to be the daughter of the Chief, 3 Maasai Warriors and Bwana Noa. They kindly performed dances, mingled and enjoyed guacamole and chips, as well as shrimp, and then they helped BBQ the goat meat, a special request by them, and the filet mignon. It was all perfect with corn bread, or maize bread to them, a nice 'saladi' with gorgonzola cheese, pine nuts and blackberries, and for dessert, a very popular chocolate cake.
The Maasai's sponsor, Bruce Ludwig from Los Angeles, was unable to make the dinner at the last second. He is very at home literally with the Maasai. He has a 300,000 acre ranch in Southern Kenya.
Meanwhile, back at the BBQ.
Bwana Noa spoke of the Maasailand Preservation Trust, and furthering stabilization of the Amboseli-Tsavo Ecosystem in Kenya. The Zoo officials were very excited that these important Maasai visitors will be at The San Diego Wild Animal Park all summer.
The Maasai were thrilled to start their San Diego visit with a perfect sunset, replete with Green Flash, and some superb hospitality by Kathryn Murphy and Lance Peto. Lance knows a thing or two about hospitality. He just opened up another restaurant called the Shore Beach Cafe in La Jolla Shores. It's already got great buzz. Who knows, the Maasai might just have stop by.
Maasai Warrior helping Lance Peto and Kathryn Murphy out at the BBQ ** Maasai with Kima
Kima praying for meat ** Kima saying hello to John Campbell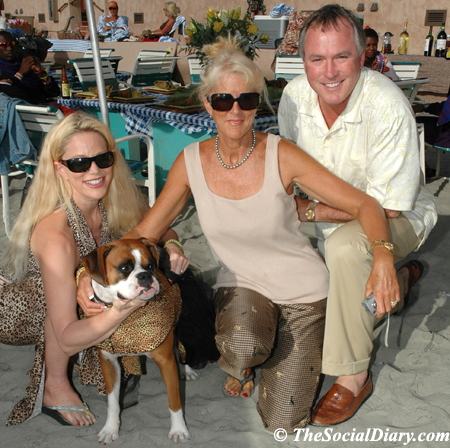 Kima with Mommie, Kathryn Murph,y and John Campbell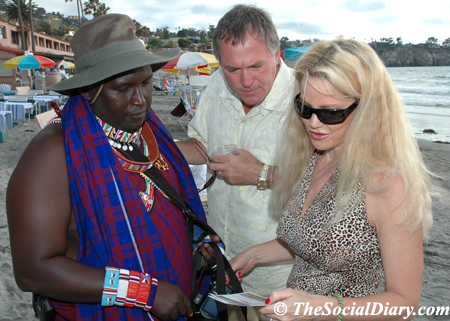 Noa showing John Campbell and Margo Schwab information on the Maasailand Preservation Trust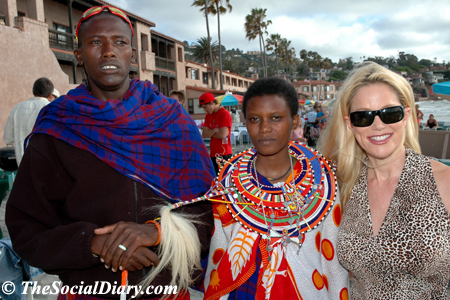 Maasai with Memsaab Margo Schwab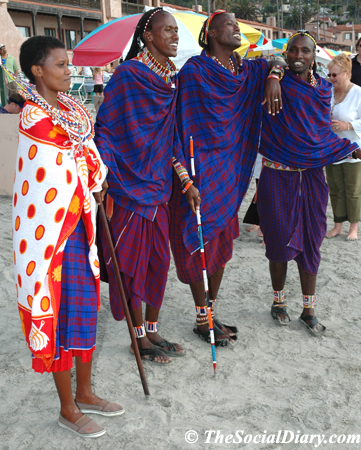 The Maasai starting their dance for us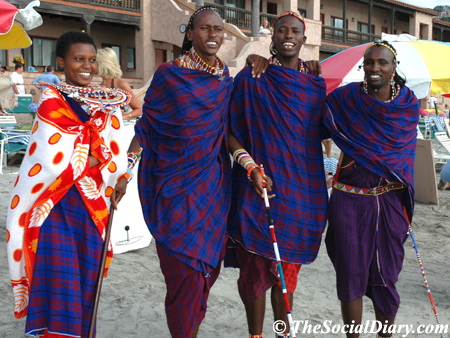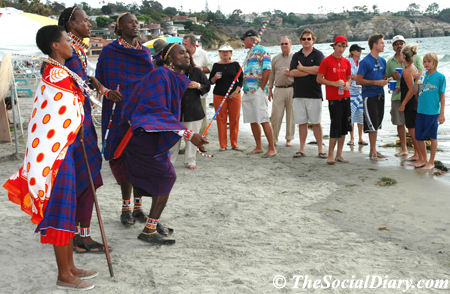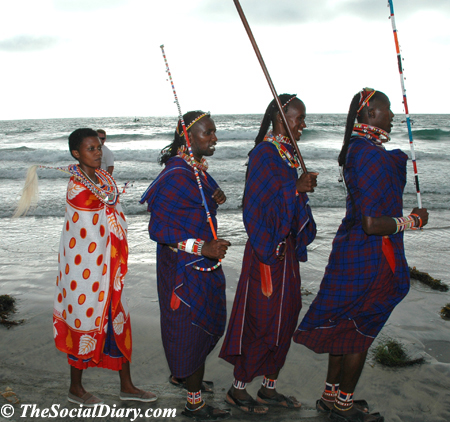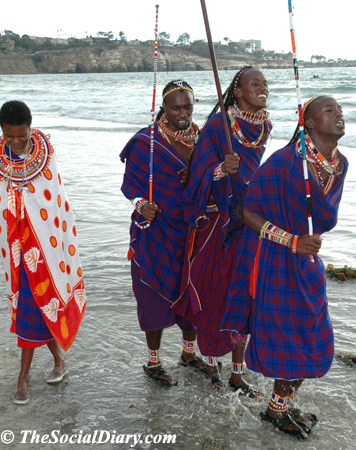 And later it was time for dinner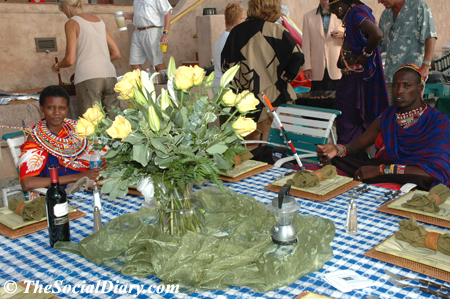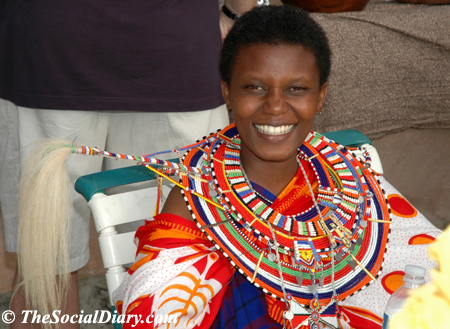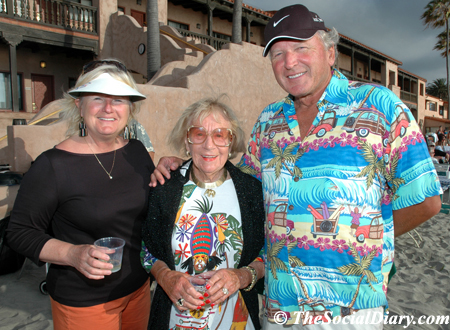 Jan and Dave Irwin on either side of Mary Hazard
Scott Johnston with Kima ... who is still on the Man Hunt!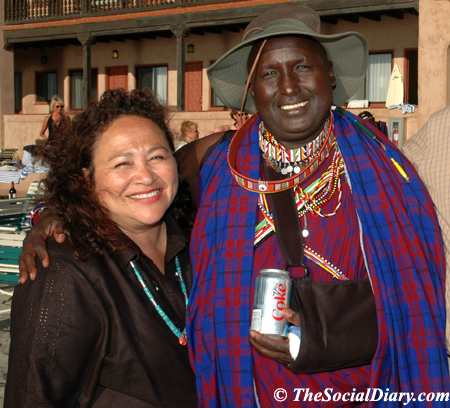 Yvonne Miles with Noa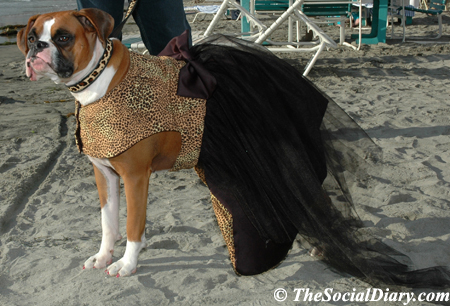 Kima Modeling her new leopard gown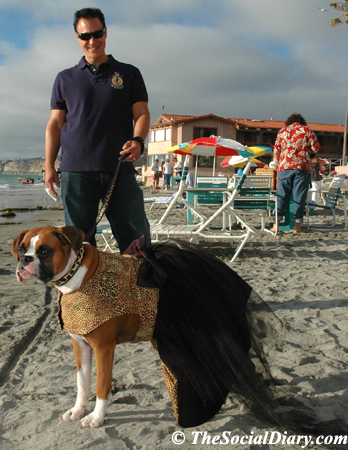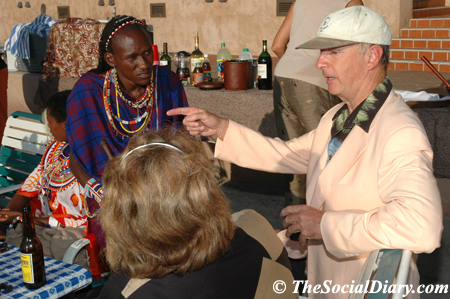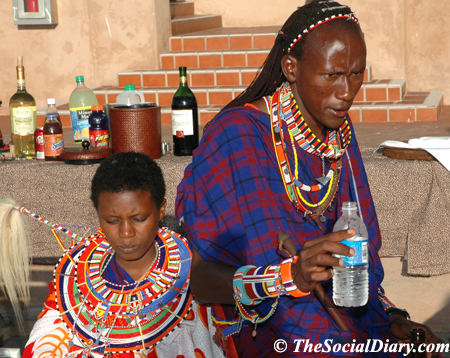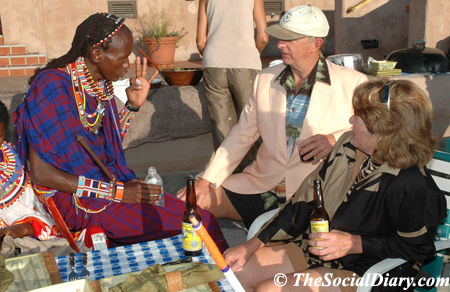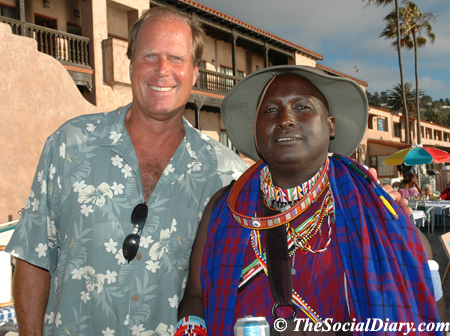 Lance Peto with Noa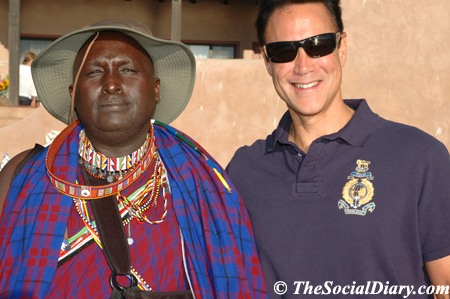 Noa with Scott Johnston
Happy Guests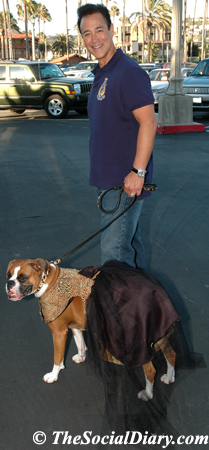 Kima and Scott Johnston going home
* Margo Schwab has produced, written, interviewed and photographed for various media organizations since 1989. Schwab attended Holton Arms School, La Jolla Country Day School and La Jolla High School. Schwab has a B.A. from Scripps College and a Masters of Business degree, M.B.A., from the University of San Diego. Schwab volunteers for numerous charity organizations. She also continues to lobby for water safety and for family violence mitigation. Schwab is the editor of The Social Diary. Margo is currently writing a book based on La Jolla.
Warning ** photos, video and writing on this site are the
copyright of The Social Diary, San Diego Social Diary, margomargo.com and Margo Schwab.
no reproduction of any part or parts is allowed without written permission by Margo Schwab