~ The Social Diary ~
~~~~~~~~~~~~~~~~~~~~~~~~~~~~~~~~~~~~~~~~~~~~~~~~~~
ARTSea Café 2007 Goes Groovy!

July 5th, 2007
The Social Diary Reporter & Photographer Margo Schwab
(high resolution photos available by request )
The invite said come Summer elegant / cocktail attire to celebrate the arts. And guests did. The ARTSea Café fundraiser went down memory lane with a theme of 'Magical Mystery Tour' a la Beatles. Event Chair, and one of the ARTS founders Jill Hammons, explains the choice. "I have been on the Board of Directors for 6 years and have Chaired or Co-Chaired the ARTSea Café event for the past 3 years. We needed a new, fresh, and fun theme. When I went to see "Love," the fabulous Cirque de Soleil show in Las Vegas, I was astounded how that incredibly infectious Beatles music made thousands of people feel, and how magical that time was."
And magical the night was on May 19th, 2007. The setting was Pawka Green at Scripps Institution of Oceanography. The guest list was "A" list. That's 'A list for the Arts.' That's what ARTS, A Reason to Survive is about. "As a non-profit, ARTS provides artistic opportunities to kids in facing adversities. ARTS helps children heal through the therapeutic and transformative powers of the arts---giving them a reason to survive."
And just to make the evening that much more fun, star local chefs cooked up superb cuisine 'Iron Chef' style. Lead Chef for the evening Andrew Spurgin, of Waters Fine Catering was there, and so was handsome Food Production Chair Giuseppe Ciuffa of Giuseppe Restaurants and Fine Catering, Antonio Friscia of Stingaree, Christian Graves of JSix at Hotel Solamar, Katie Grebow of Cafe Chloe, Jeff Jackson of A.R. Valentien at The Lodge at Torrey Pines, Jason Knibb of NINE-TEN Restaurant, Tina Luu of The Chocolate Studio, and Brian Sinnott of Molly's at San Diego Marriott. Assisting the chefs were top San Diego culinary students from the Art Institute of California.
And food wasn't the only groovy delight. Artists were on hand creating and donating works of art, a top Beatles cover band played, and caged Austin Powers worthy dancers shimmied their stuff.
Among those supporting ARTS that evening were Nancy and Fred Borrelli, Molly McKellar, Erica and Felipe Beccera, Laura Galinson, John Hawkins, Ann and Richard Jaffe, Julie and Lowell Potiker, Vicky and Tom Reed, Lou Spisto of the Old Globe and Hershell Price with his wife Pam Slater-Price.
Pam Slater-Price is not only a champion of the arts as the San Diego County Supervisor. But for this evening, Pam was spot lit as the ARTSea's beloved Honorary Chair.
More there included June and Lee Stein, Dana Nitti, Esther and Richard Paul, Rob Appel, Claire Anderson, Renee and Duane Roth of CONNECT San Diego, Liz Edwards, and Lollie and Bill Nelson. The Nelson's trekked up the hill by foot that evening, and as they noted, the cause, the fun, and the ravioli with heaps of creamy lobster were well worth it.
And there were accolades handed out that evening too. Jim Lennox of Pacific Events was awarded the "Individual Angel" award. Lennox was chosen for his time and commitment to ARTS since its beginnings. Ronald McDonald House Charities was named "Foundation Angel" of the year. Gabi Rivers and Bill Lennartz of RMHC accepted the award on their behalf. Erin Hall of San Diego National Bank accepted the "Corporate Angel" award. Patty Villegas deservingly got the "Volunteer Angel" award. Patty has spent a good deal of her time the last six years working with children at Cortez Hill.
Over $85,000 of the monies raised will benefit the children of San Diego. "ARTS serves San Diego's Title One schools, Ronald McDonald House, San Diego Children's Hospital, San Diego Hospice, San Diego Center for Children, Casa de Amparo, Cortez Hill Family Center, Monarch School, Becky's House, Polinsky Children's Center, and Camp Pendleton, MCAS Miramar. Through these partnerships and community projects, ARTS has brought over 12,000 children positive artistic experiences since 2001."
Matt D'Arrigo, the ARTS' Executive Director was very pleased with the evening. "We are thrilled having had yet another very successful ARTSea Café. The new format, the fun theme, the great chefs, and the crowd all made for an exciting party. And most importantly, we netted almost $90,000 for our programs!"
That's almost $90,000 with the help of volunteers, supporters, and big community support. Some of the ARTSea Café sponsors include: the Atomic Investments, The Borrelli Family, Bradley Landscape Development, Cox Communications, Coastal California Funding Group, Inc, Giuseppe Restaurants & Fine Catering, Joan Warren Grady, Eloisa and Chris Haudenschild, Luce Forward, Hamilton & Scripps LLP, San Diego National Bank, Savacool Secviar Brand Communications, Serenity Fund, Viejas, Visual Communications Company, Inc. and Waste Management of San Diego.
Auction items were stellar including spa treatments, vacation trips, a Los Angeles Police Department adventure day, opportunities to name a filly and spend the day at the Del Mar Races, and gourmet dinners at private residences and fine restaurants.
"We have come so far and accomplished so much in just six years," said Matt D'Arrigo. "But we couldn't do any of it without people like you to support us, inspire us and, finally, celebrate with us."
Jill Hammons summed up the night later. "We got so many rave reviews! We hope that people who did not attend this year, will mark their calendars for next May 17, 2008!"
Oh, we will Jill! For more information on ARTS please visit: www.artsurvive.org.

Matt D'Arrigo with Jill Hammons ** Jim Lennox with Guest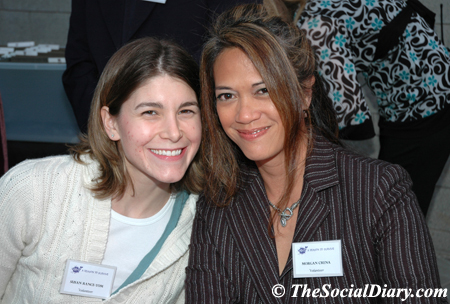 Volunteers
A Groovy Dancer ** Jill Hammons
Molly McKellar in the middle with friends ** Renee and Duane Roth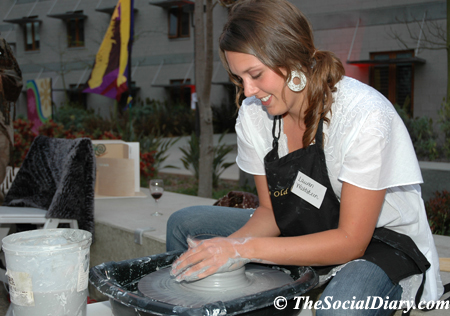 An Artist at work
An Artist making a mosaic table ** Guests
Guest with Liz Edwards of Let's Play Downtown ** Bill and Lollie Nelson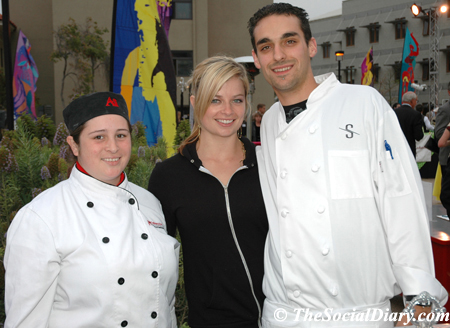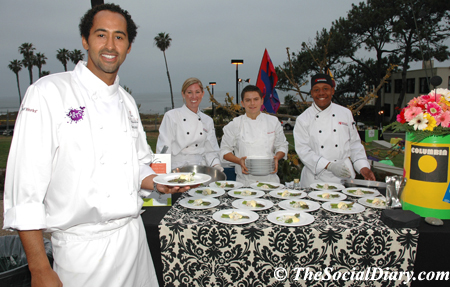 Jason Knibb of Nine Ten Restaurant with his team
Glenn ** Guests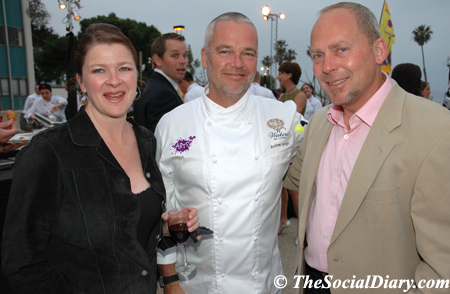 Lead Event Chef Andrew Spurgin with Guests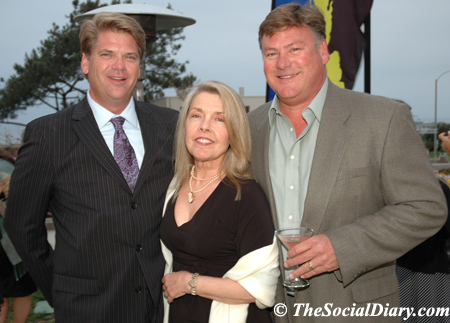 Jim Lennox with Guests
Matt D'Arrigo ** Glen with Jill Hammons
Guests
* Margo Schwab has produced, written, interviewed and photographed for various media organizations since 1989. Schwab attended Holton Arms School, La Jolla Country Day School and La Jolla High School. Schwab has a B.A. from Scripps College and a Masters of Business degree, M.B.A., from the University of San Diego. Schwab volunteers for numerous charity organizations. She also continues to lobby for water safety and for family violence mitigation. Schwab is the editor of The Social Diary. Margo is currently writing a book based on La Jolla.
Warning ** photos, video and writing on this site are the
copyright of The Social Diary, San Diego Social Diary, margomargo.com and Margo Schwab.
no reproduction of any part or parts is allowed without written permission by The Social Diary