San Diego Social Diary LLC All rights reserved 2011 - (This material may not be published, broadcast, rewritten or redistributed)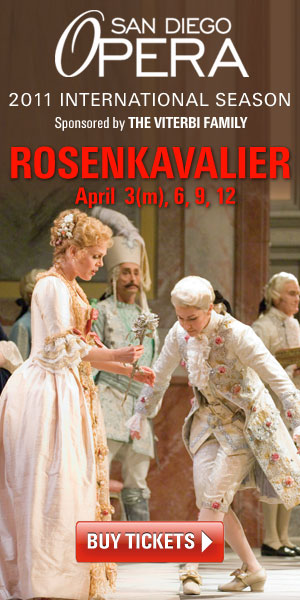 619-708-1933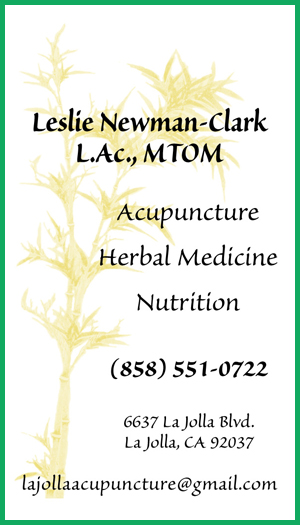 SPECIALS EVERY DAY - Open 7am-3pm!
Homemade, Delicious Food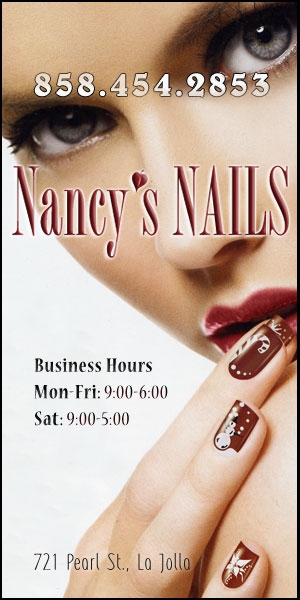 REFLEXOLOGY SPECIALISTS TOO
Click Ad above for Special Promotions!!
WineSellar & Brasserie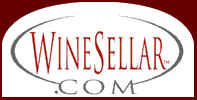 858-450-9557
Restaurant, Gary Parker's Wine Club,
Wine Store and
~ Wednesday & Saturday wine tasting's ~
XXXXCheck out Gary Parker's Pick... X...XXXXXXXa 2007 Clos de la Roche, Grand XXXXXXXXCru for $54 WineSellar Club XXXXPrice,this Pinot Noir is STELLAR!
_________________________
For Advertising, please
your inquiry.
Ask about you can support your favorite organization!
_________________________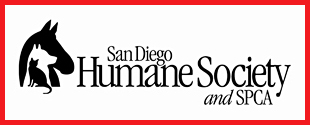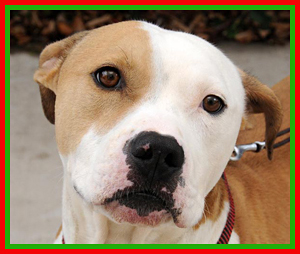 Kayden

Breed: Pit Bull (mix)
Age: 4 years
Sex: Male
Adoption Fee: $105

This special guy came in as a stray and has won over the hearts of countless staff members and volunteers. He is truly a precious and loving soul. He will do well in a variety of homes, but due to his size, a home with children over 12 years and older is recommended.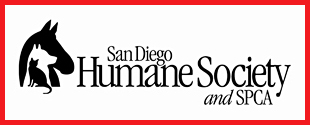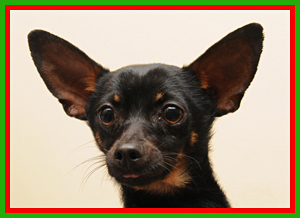 SpaSAN DIEGO HUMANE SOCIETY & SPCA
GAINES STREET CAMPUS
5500 GAINES STREET
SAN DIEGO, CA 92110
(619) 299-7012
www.sdhumane.org rky
with other dogs or cats.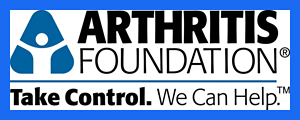 Kima would like to thank her supporters, who helped raise over $130,000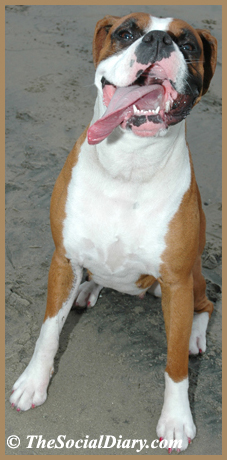 'The Social Diary is a delight to partner with!
As a result of their contributions to our organization, our 2009 Arthritis Walk event revenue increased by 50%!! I am very much looking forward to our continued partnership.'
- Andrea Muir, 2009 Development Director, Arthritis Foundation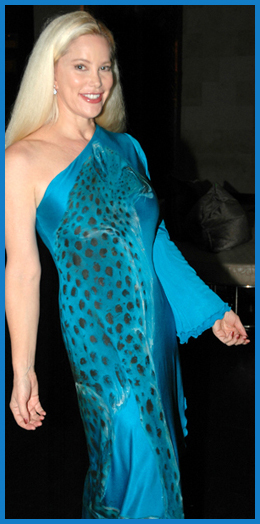 909-534-1495
Where the locals dine
for Homemade Pastas, Raviolis, and Sauces
Cafe Milano
711 Pearl St, La Jolla
858- 454-3806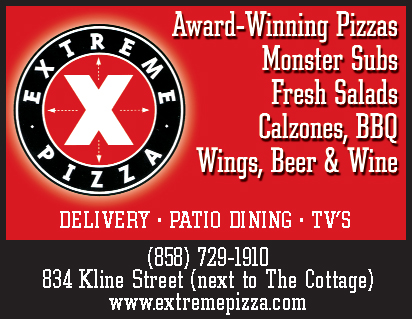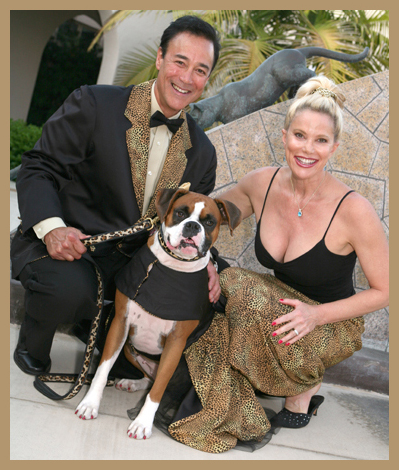 Scott Johnston, Margo Schwab and Kima!
Photoshopping &
Photography Services
available by The Social Diary
~ 619-384-7333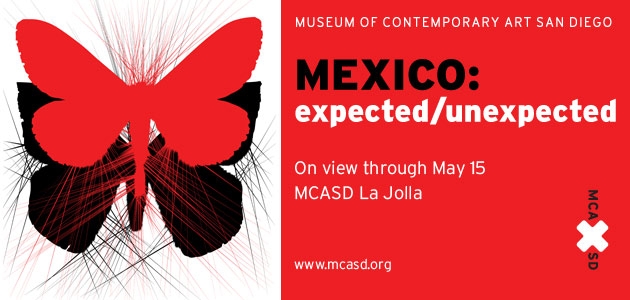 La Revista Diario Sociales de San Diego - 'Su Conexión Con La Sociedad '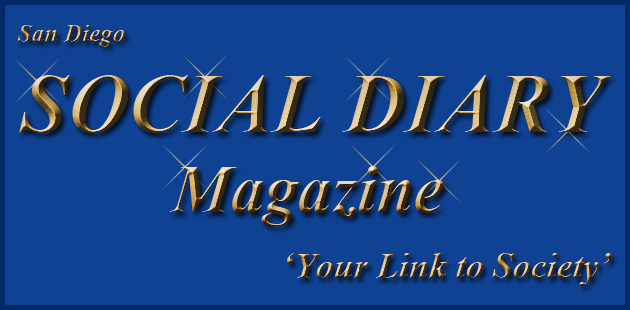 Zandra Rhodes 'Princesa del Punk'
El Desfile de Modas - 2011
por Jemima Garcia Dutra - La Revista Diario Sociales de San Diego
y Rocio Bernal Flynn
photographed by Margo Schwab
(en Español.....and English)
Todas las personas que aprecian La Moda, La Alta Costura, y magnificas prendas de vestir -que inclusive podrian ser consideradas como obras de arte; no se deben perder la exhibicion de Zandra Rhodes que actualmente se expone en el Museo Internacional Mingei.
La basta coleccion incluye textiles, hermosos atuendos hechos a mano e inclusive los bosquejos, que con vibrantes colores, muestran el talento y la inspiracion de Zandra. Inspiracion que viene de la naturaleza y sus colores y de los muchos lugares exoticos que ella ha visitado.
Una de las partes favoritas de la exhibicion es la llamada "73/44" vestidos de Zandra. Realmente me impresiono las variaciones en la tecnica; en unas prendas ha utilizado plieges, en otras ataduras en satin, fruncidos a mano, rebordados y ornamentados a mano y hermosos acabados tambien a mano que hacen que cada uno de estos vestidos sean unicos en su genero. Los vestidos tienen el mismo corte, mas al aplicar las tecnicas mencionadas, estos se convierten en piezas unicas de arte. Otra parte de la exhibicion que resalta, es la coleccion de vestidos del año 1977, que esta inspirada en un sofisticado estilo "Rock and Roll", donde ella utilizo el jersey de seda, los seguros de metal, cadenas y las costuras expuestas. Todas estas prendas fueron ispiradas en la tendencia 'Punk' de esta epoca, por lo que le atribuyeron a Zandra el sobrenombre de "La Princesa del Punk".
Durante el desfile de modas, los disenos de Zandra circularon graciosamente en el escenario. Con disenos un poco caprichosos y en colores brillantes, el show comenzo mostrando piezas clasicas, eternamente jovenes que fueron gradualmente progresando hasta mostrar su coleccion mas moderna.
Los atuendos incluyeron blusones fluidos, vestidos con dobladillos de panuelo, valenzuelas rebordadas en pedreria, vestidos de cinturas caidas con espaldas descubiertas. Los fabulosos vestidos de noche estaban rebordados en lentejuelas y pedreria, y otros modernamente confeccionados con plumas, tul y brillantes bordados.
En el gran final Zandra presento un sofisticado y elegante vestido de novia de estilo sirena con fruncido, la falda en tiras con plumas y un exquisito bordado en pedreria. La atencion a los detalles y las hermosas telas hacen que los disenos de Zandra sean eternos.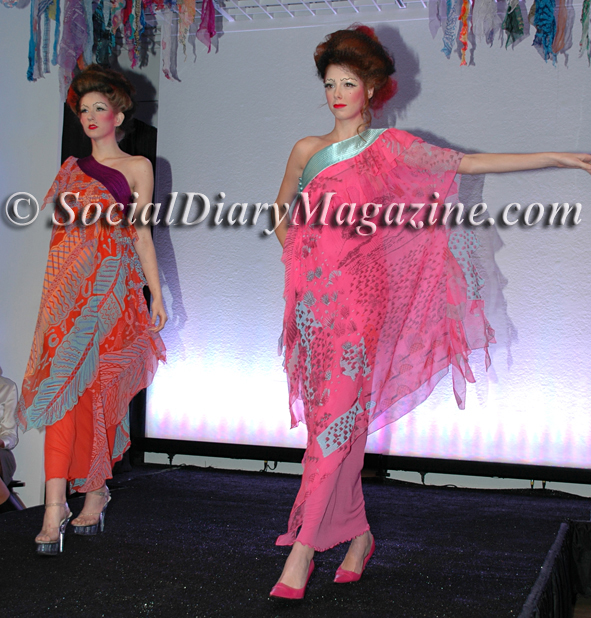 English version:
For anyone with an appreciation of couture sewing, high-fashion, or wearable art, the exhibit at the Mingei International Museum featuring Zandra Rhodes is not to be missed. Included in the collection are textiles and beautifully hand crafted garments. Displays of sketches in vibrant colors showed Zandra's design inspirations from nature, color, and her many travels to exotic places.
One of my favorite displays at the exhibit was Zandra's "73/44" dresses. I loved how the variations in technique incorporating pleating, satin binding, hand smocking, hand beading, and beautiful hand rolled edges made each of these dresses look like a completely different dress. Each dress utilized the same style but were each a unique piece of art. Other noteworthy pieces were dresses from her 1977 collection a sophisticated rock and roll look, using silk jersey, safety pins, chains, and exposed seams inspired by the "punk" scene of the time thus giving her the nick name "Princess of Punk."
During the runway show Zandra's designs flowed gracefully across the stage. Filled whit whimsy and bright color combinations she began the show with classic vintage pieces then transitioned into her modern collection. Garments included flowy tunic tops, dresses with handkerchief hems, glitzy bell bottoms, dropped waist dresses with cowl backs, fabulous beaded and sequined gowns and some avant guarde dresses made of feathers, tulle, and sparkle. Her finale showcased a sophisticated and elegant mermaid style wedding gown featuring ruching, a tiered skirt with feathers and beautiful bead work. Zandra's attention to detail and stunning textiles make her fashions timeless.

Be advised strictly no downloading, publishing, broadcasting, printing, or copying of photos or content. Please email purchase requests of photos you are in.
se expone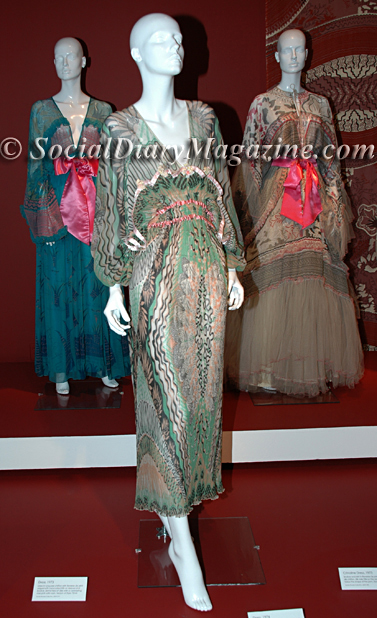 advertisement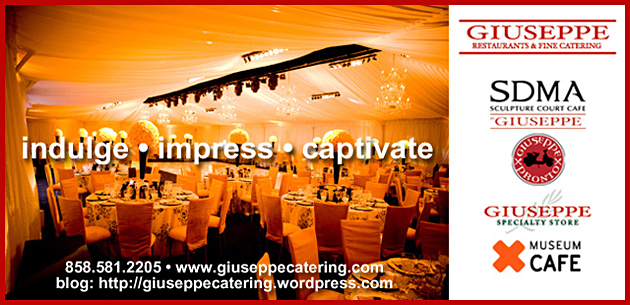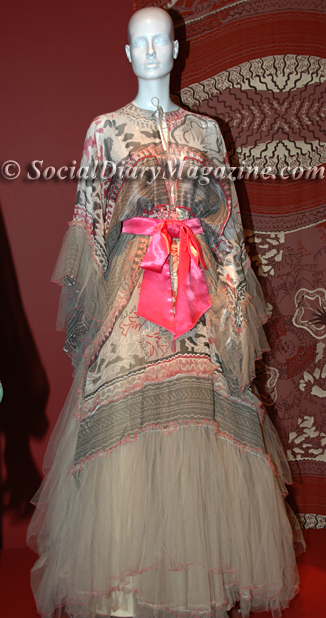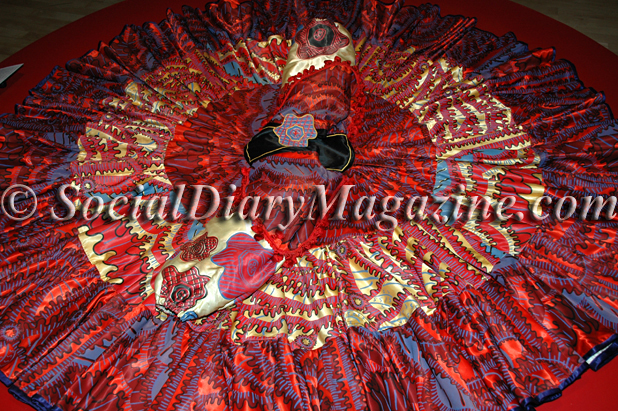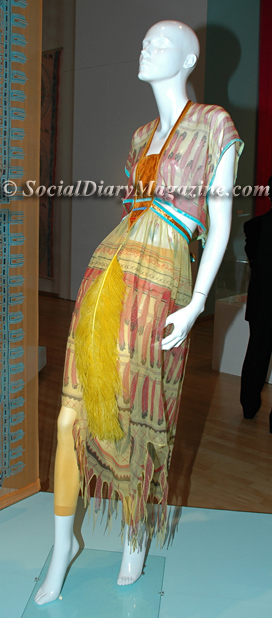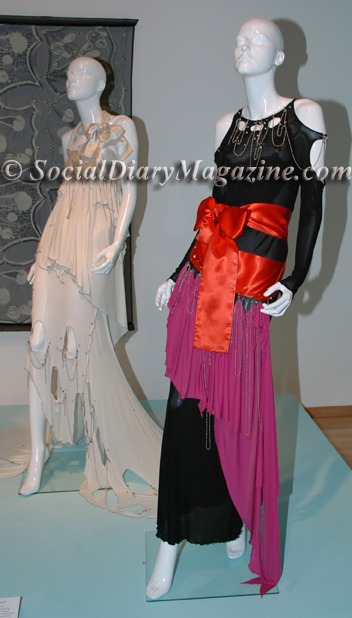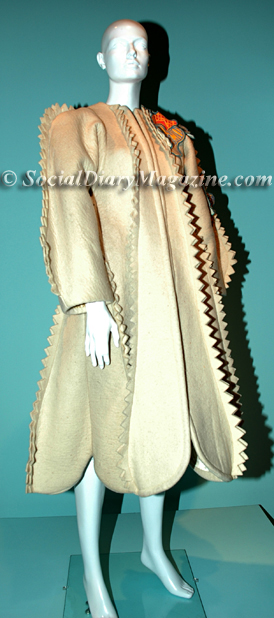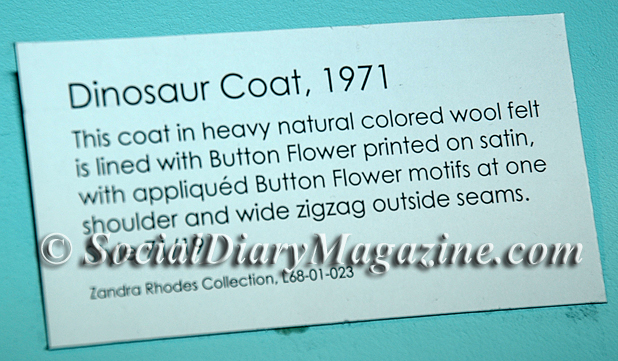 el desfile de moda!!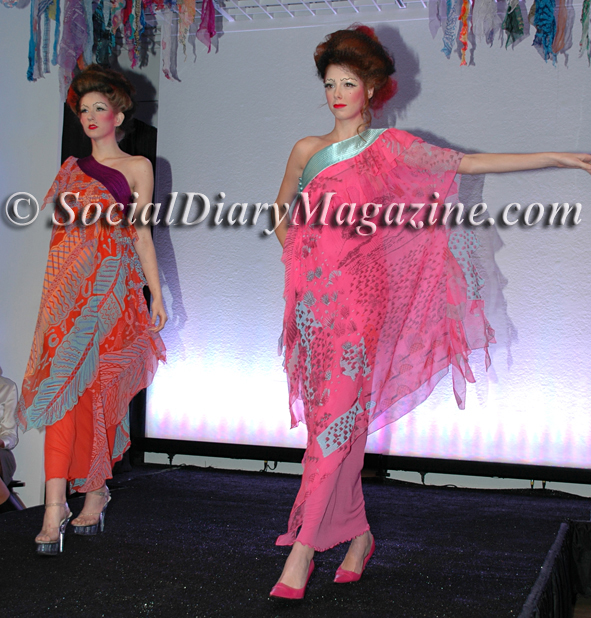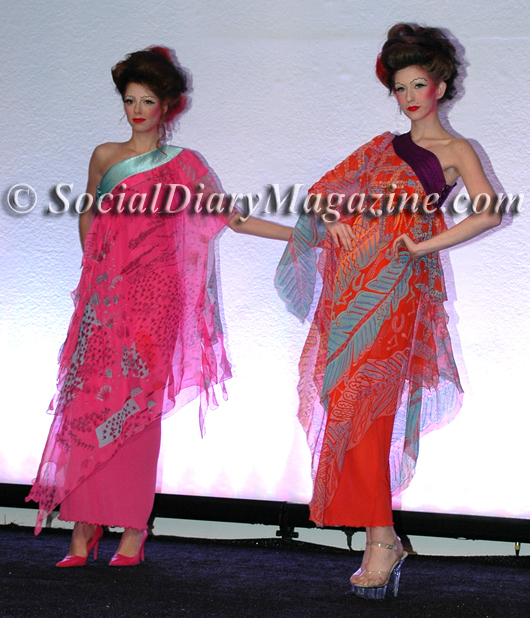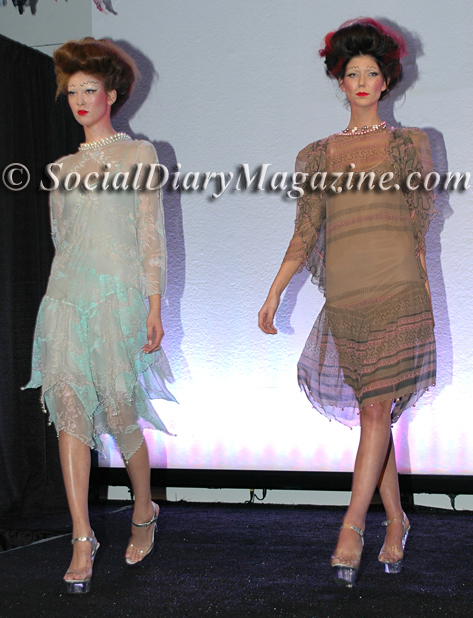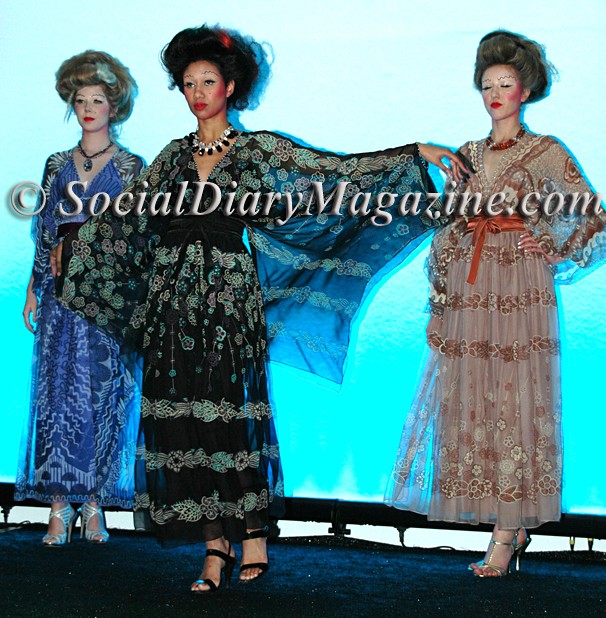 advertisement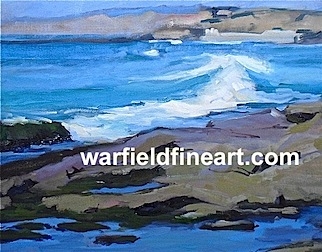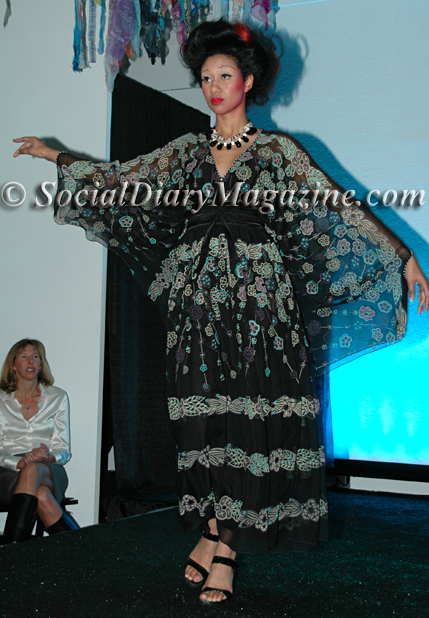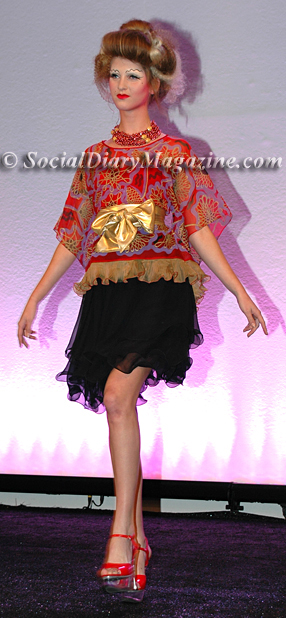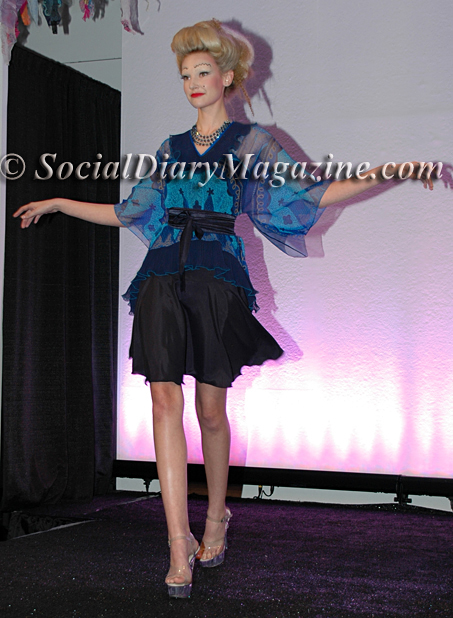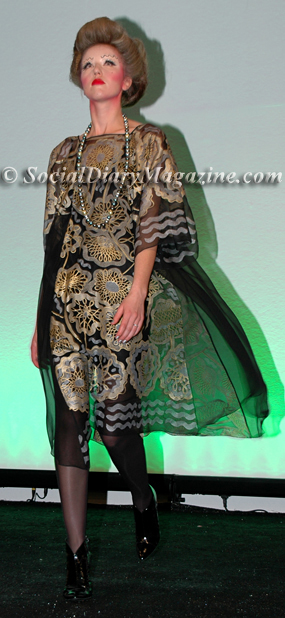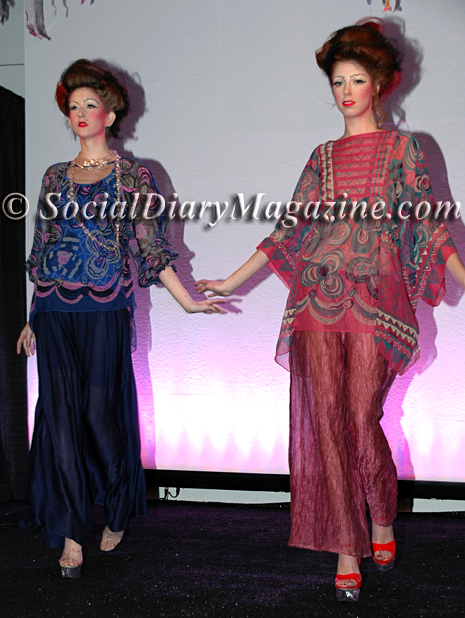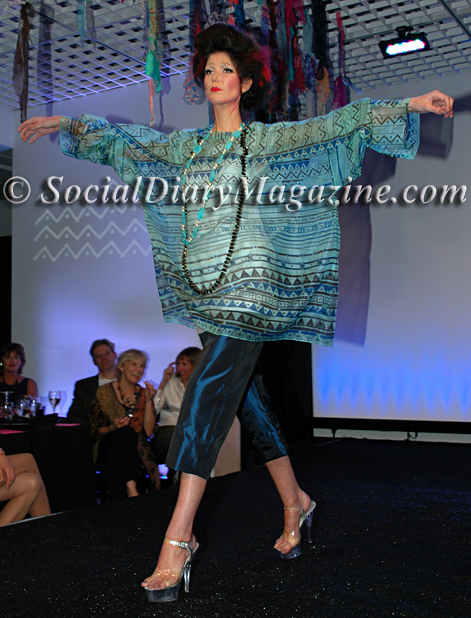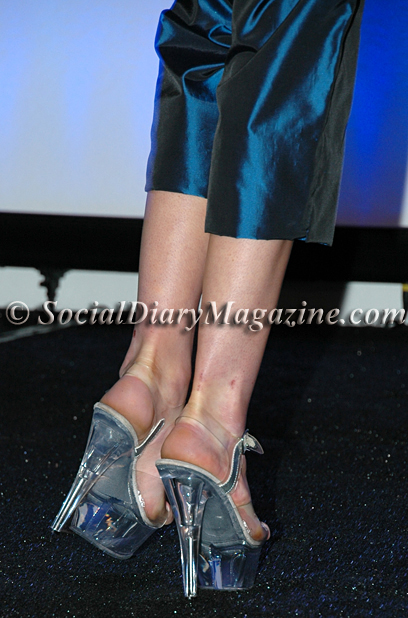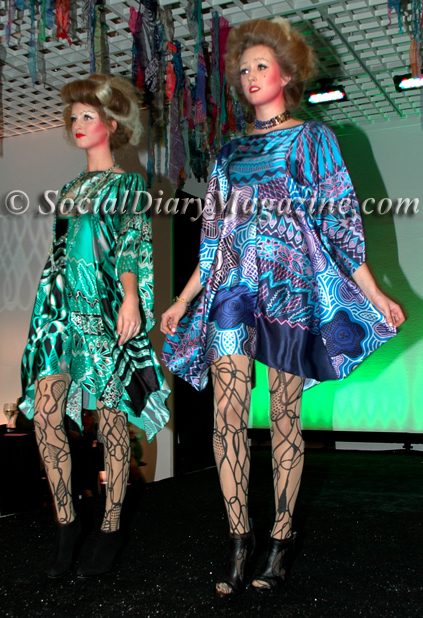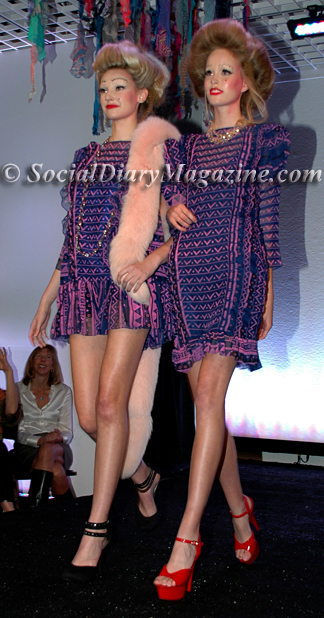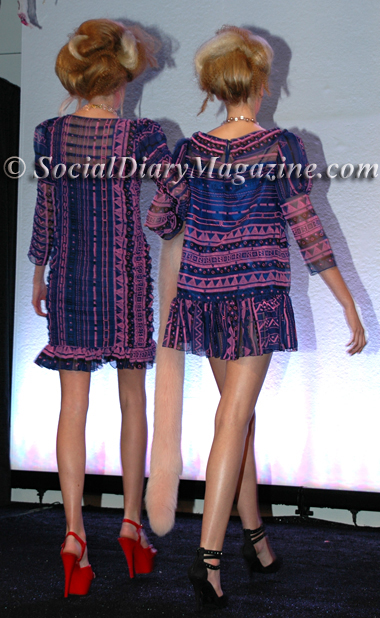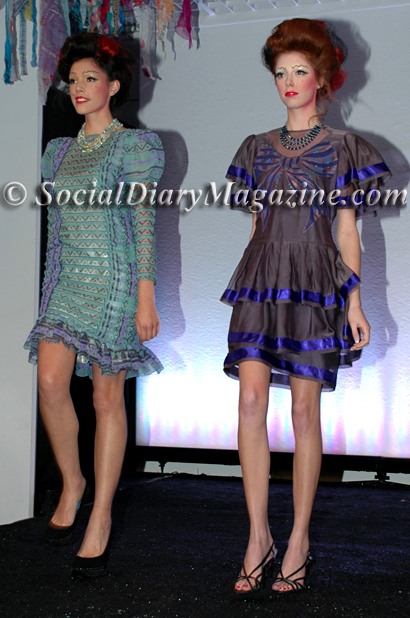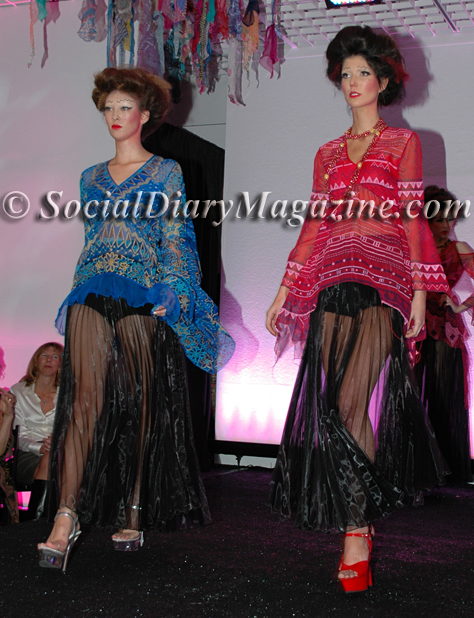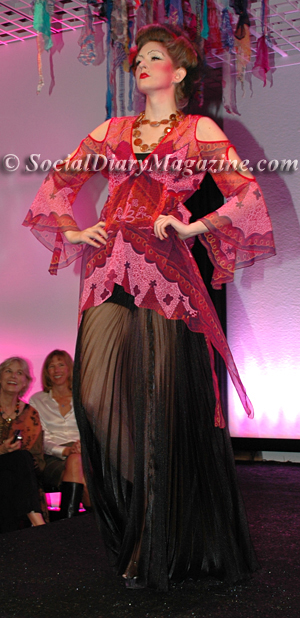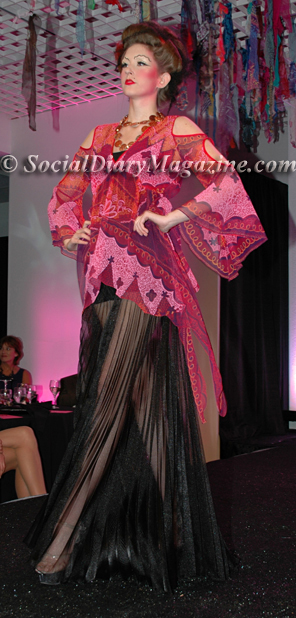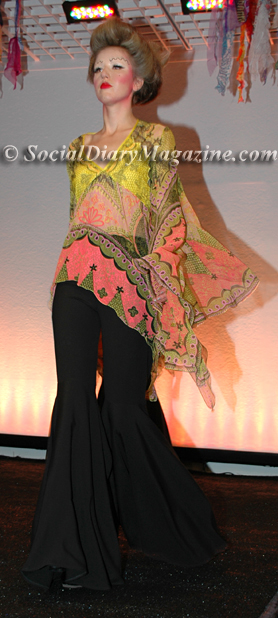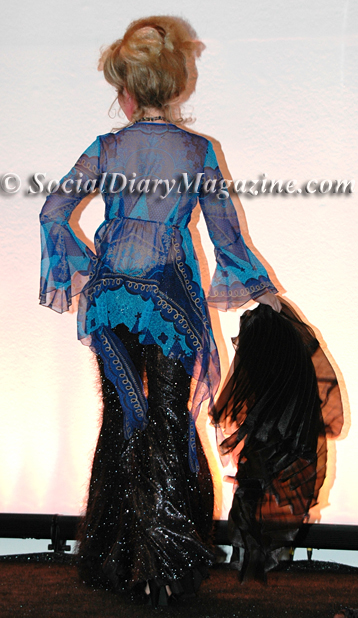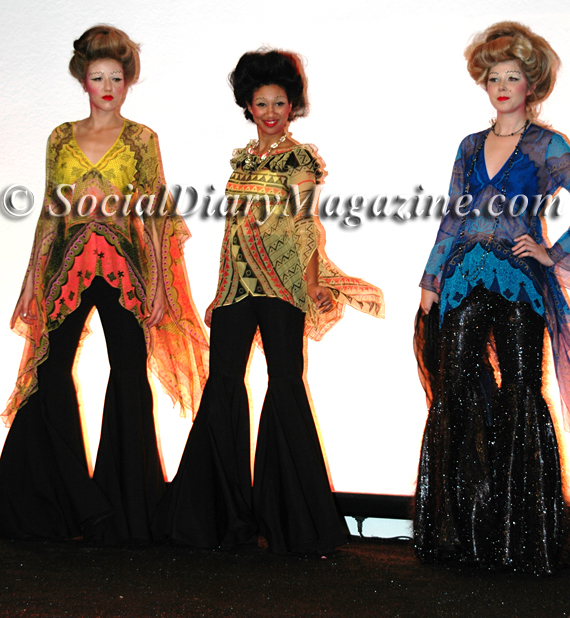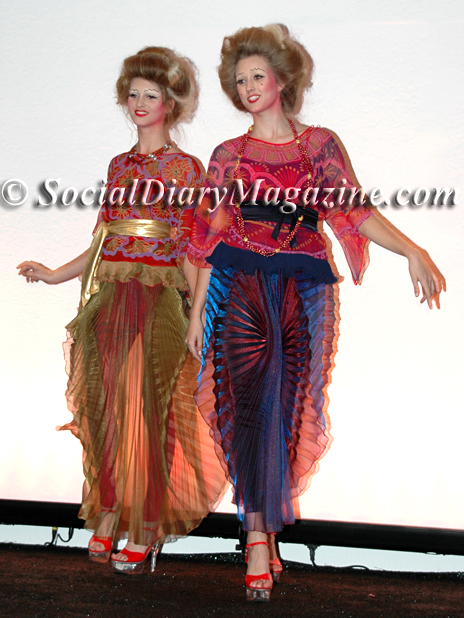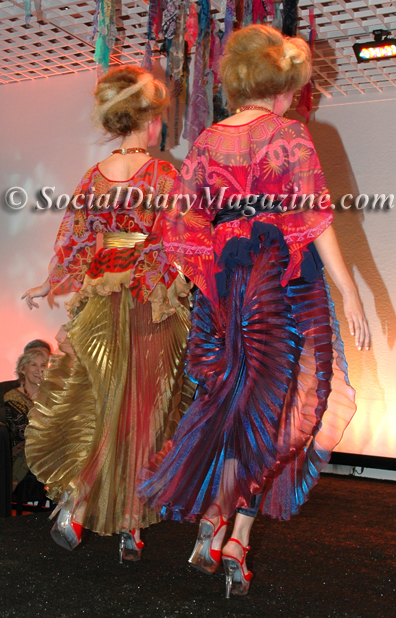 advertisement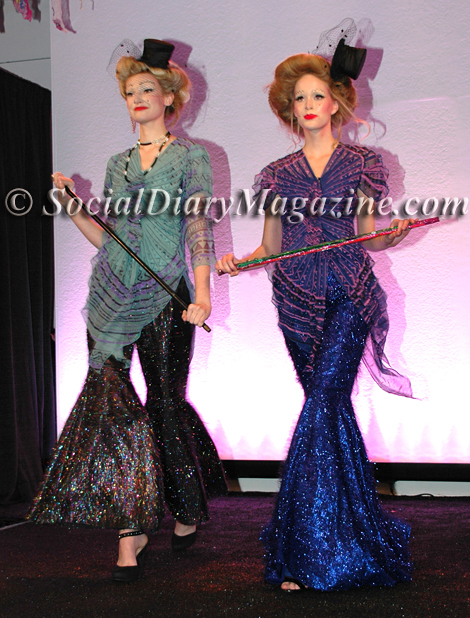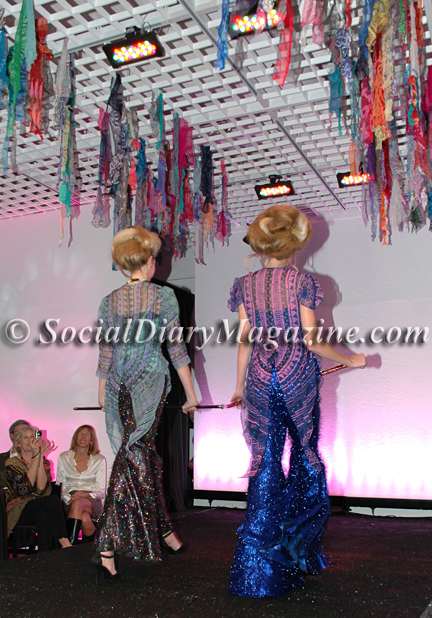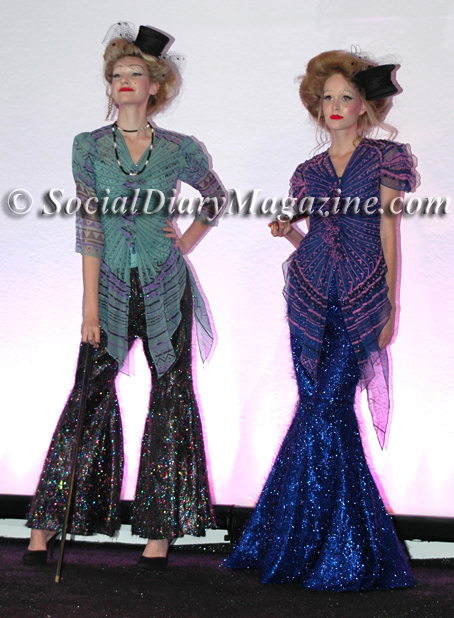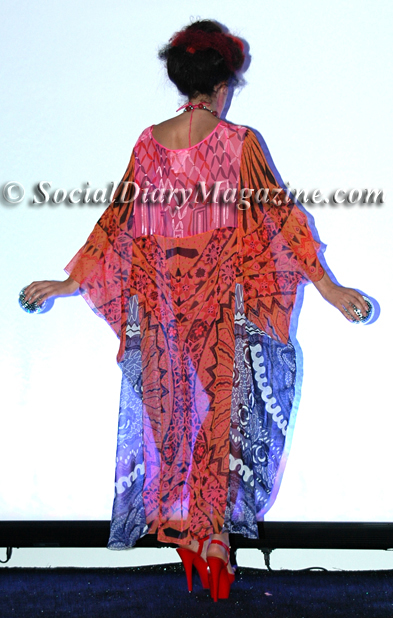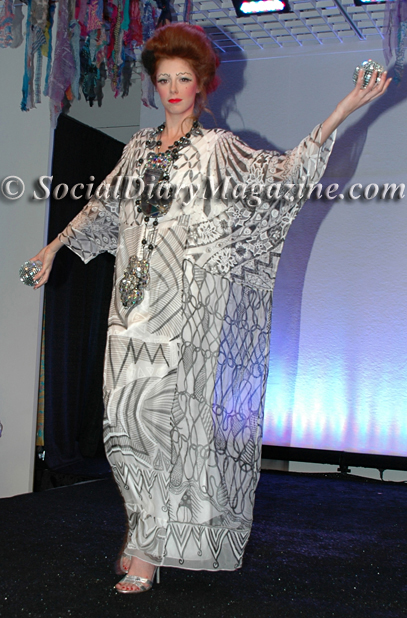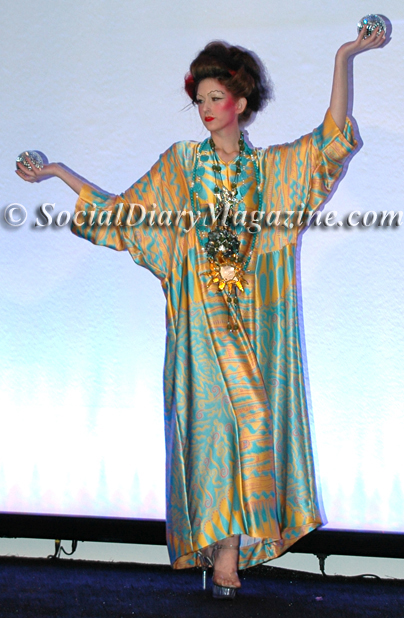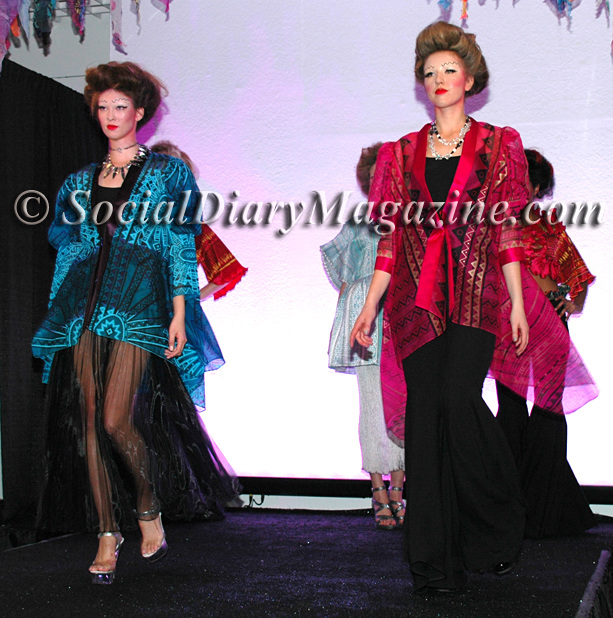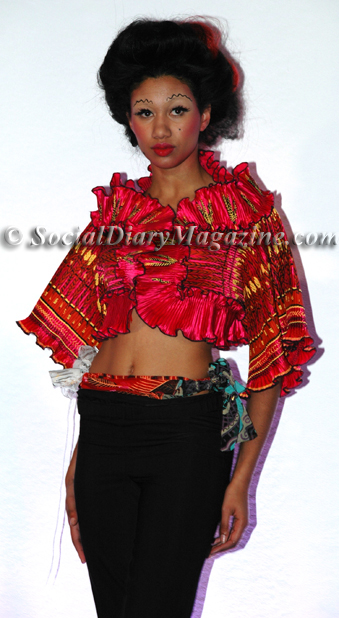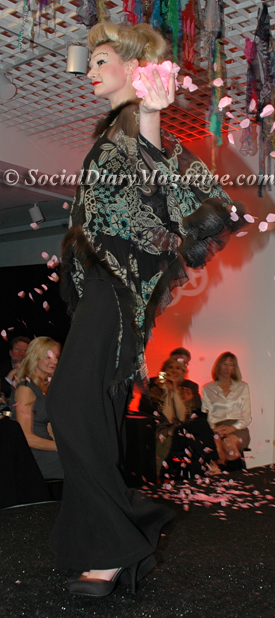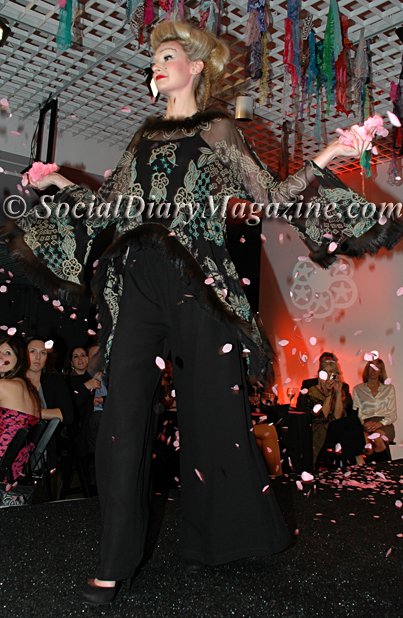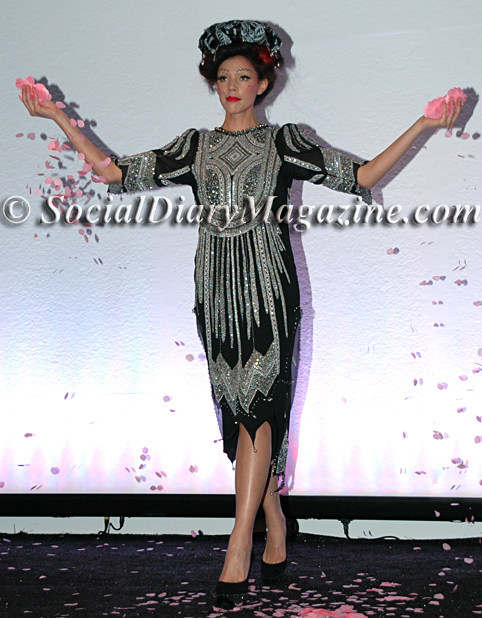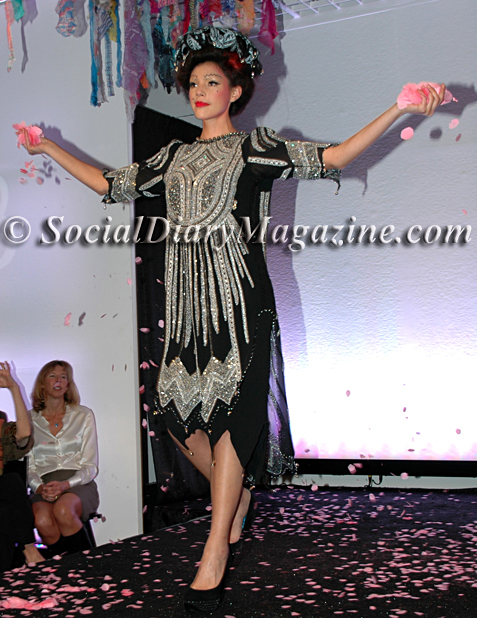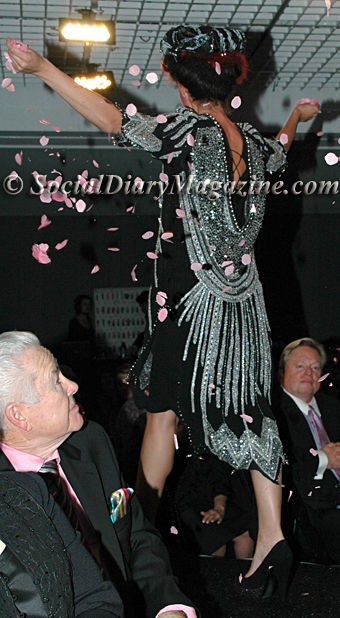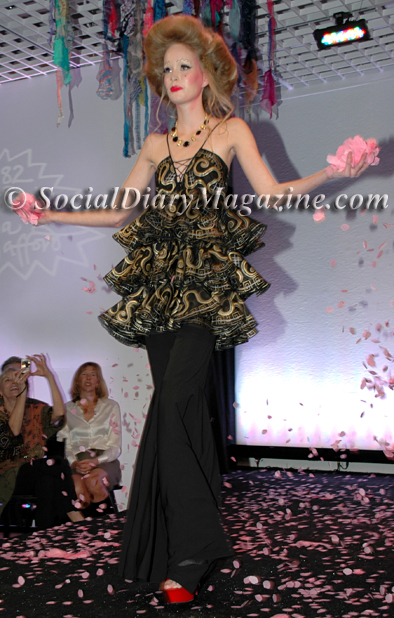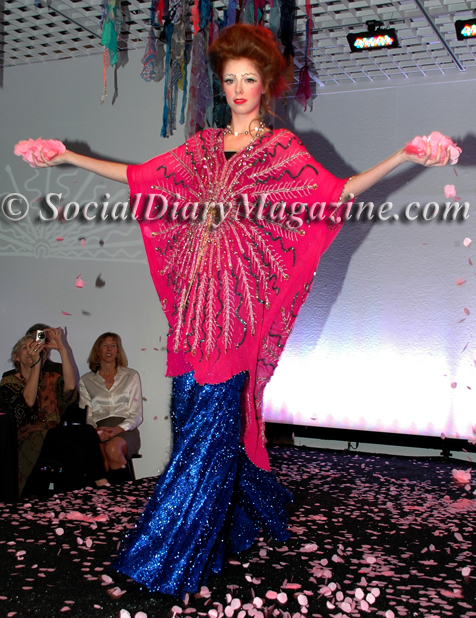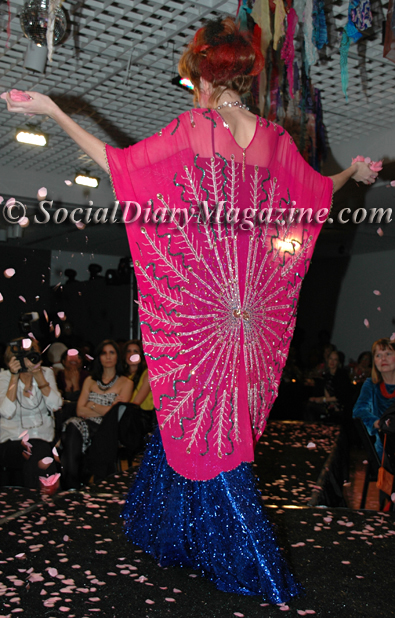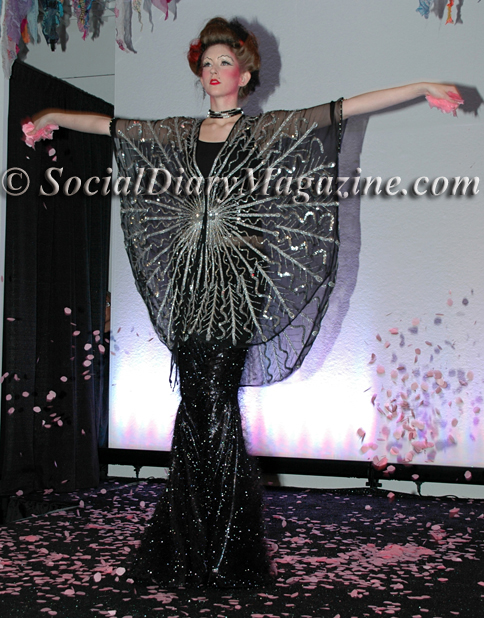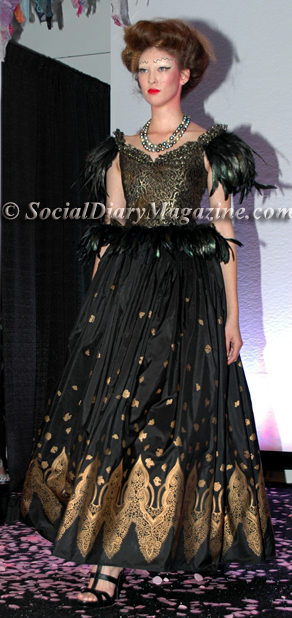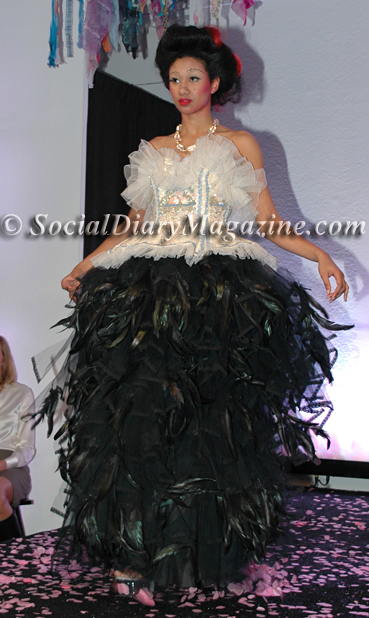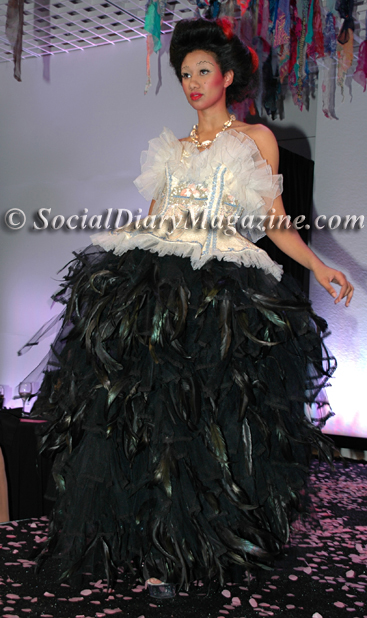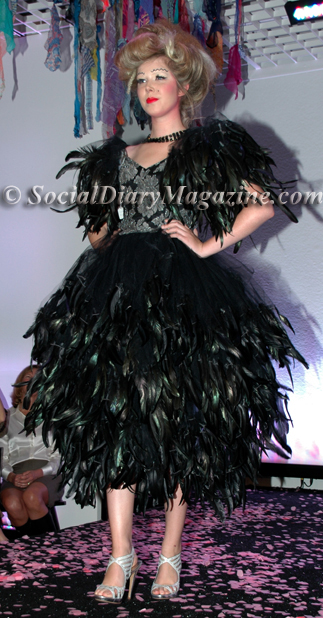 reported by Jemima Garcia Dutra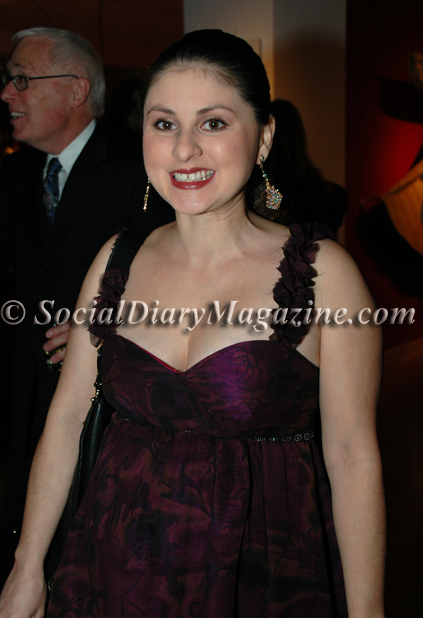 About Jemima Garcia Dutra - Jemima's passion for design started as a little girl when she starting designing and sewing outfits for her dolls. Years later, Jemima graduated from Allan Hancock College earning her Associates Degree in Fashion Studies with Honors and a Certificate of Fashion Design with Honors from Fashion Careers College. Jemima has showcased her designs at local San Diego fashion venues, has been featured in 944 Magazine, and Social Diary Magazine . She has recently worked as an Assistant Costume Designer to Jeanne Reith for Lamb's Players Theatre's An American Christmas, Room Service, The Glass Menagerie, and The Fantasticks. Costume design credits include: Mix It Up, and Hip Pocket for LPT's educational outreach touring group, All This and Moonlight at Scripps Ranch Theater, Old Wicked Songs and Talley's Folly at North Coast Rep, Side Man for Bang! Productions and Mixtape for Lamb's Player's Theater.
In her spare time, Jemima designs for private clients, and enjoys time with family and friends on from both sides of the border. She and husband Jeff Dutra are expecting their first child this year.
Social Diary Magazine Home Page
Please join us for fun informative updates on Twitter and Facebook

Email Commentary to be added
email SocialDiaryMagazine@gmail.com
* Margo Schwab, MBA, more formally known as Margaret E. Schwab, has produced, written, interviewed and photographed for various media organizations since 1989. Schwab attended Holton Arms School, La Jolla Country Day School and La Jolla High School. Schwab has a B.A. from Scripps College, spent a business internship with S.A.I.C., Science Applications International Corporation, and earned a Masters of Business degree, M.B.A., from the University of San Diego by way of Claremont Graduate School . Schwab additionally took college courses from Harvard University, and Syracuse University. Schwab volunteers for numerous charity organizations. She also continues to support animal organizations and the prevention of people and animal abuse. Schwab is the editor and co-owner of The Social Diary.
Margo Schwab and Scott Johnston of SD Social Diary Magazine are pleased to announce a partnerships with the Arthritis Foundation of San Diego County, their dog Kima is the Arthritis Dog honoree for the 3rd year, the San Diego Humane Society and SD METRO Magazine. They have also partnered with Country Friends and the San Diego American Heart Association.
Margo Schwab and Scott Johnston are both members of the La Jolla Beach & Tennis Club (Margo Schwab since 1974) and both are now members of the University Club and its worldwide ClubCorp Compass Society. Margo Schwab and Scott Johnston are Police Press credentialed by the Chief of Police, William Lansdowne.
San Diego's The Social Diary would like to say a special thank you to our advertisers.
The San Diego Opera
The Museum of Contemporary Art San Diego
Giuseppe Restaurants and Fine Catering
Leslie Newman Clark - La Jolla Acupuncture
The University Club and ClubCorp
Papalulu's Catering & Restaurant in La Jolla Shores
Maggie B Clothing at Rancho Santa Fe Plaza
Nancy's Nails on Pearl Street in La Jolla - for nails and reflexology!
H. Moradi Fine Jewelers on Prospect Street in La Jolla, now 2 locations!
Jordan Art Couture and Animal Fashions by Jordan
WineSellar & Brasserie
Cafe Milano on Pearl Street in La Jolla
Extreme Pizza in La Jolla
Neptunic Sharksuits
The Animal Hospital of La Jolla
Eugene Ladopoulos of Mistra Estates Olive Oil
Warning ** photos, video and writing on this site are the
2011 copyright, all rights reserved, of The Social Diary LLC and its subsidiaries including San Diego Diario Sociales - Su Conexión Con la Sociedad, no reproduction of any part or parts is allowed without written permission by Social Diary Magazine