Scorpion Bay Hotel, Private, Picturesque ........VIP and Club Memberships Available >>> Scorpion Bay Hotel
an international destination for World Class Surfing and Fishing
founded by Fred Borrelli
~~~~~~~~~~~~~~~~~~~~~~~~~~~~~~~~~~~~~~~~~~~~~~~~~~~~~~~~~~~~~~~~~~~~~~~~~~~~~~~
~ The Social Diary ~
all photos and content are the copyright of The Social Diary
~~~~~~~~~~~~~~~~~~~~~~~~~~~~~~~~~~~~~~~~~~~~~~~~~~~~~~~~~~~~~~~~~~~~~~~~~~~~~~~~~~~~~~~~
Thornton Day July 25th
Whereas.... July 25th, 2008 Proclaimed Sally B. and John M. Thornton Day
.... whereas = because of all the things they do!!
Yes, it's true, it's deserved and it's decreed. John M. and Sally B.Thornton have now been recognized by Mayor Jerry Sanders with their own day, commencing with July 25th, 2008.
And well deserved too. This mighty duo have been very generous in giving back in so many ways to the City of San Diego. Crime Stoppers, the Epilepsy Foundation of San Diego, the San Diego Rescue Mission, P.A.W.S., the San Diego Opera, Mama's Kitchen, U.C.S.D., U.S.D., the Starlight Foundation.... the list does go on and on and so does their energy and support of so many worthwhile organizations.
And so it was that Thom Tullis organized the evening and surprise announcement for the Thorntons among close friends. The location was the University Club's library room. Sally and John walked into the surprise and the applause of fellow guests including their son Steve Thornton, Denise Lara, Sue and Paul Greenwood, Laine and Greg Lansing, Karina Lion, and The Social Diary's Margo Schwab and Scott Johnston.
Superb Thornton Wines were poured, an incredible seafood buffet of Canadian lobster tails, shrimp, sushi, and anything else you could imagine that's the best was enjoyed and indulged in.
And the toasting went until quite late. After all, there are quite a lot of accomplishments by Sally and John.
Cheers and congratulations to John M. and Sally B. Thornton!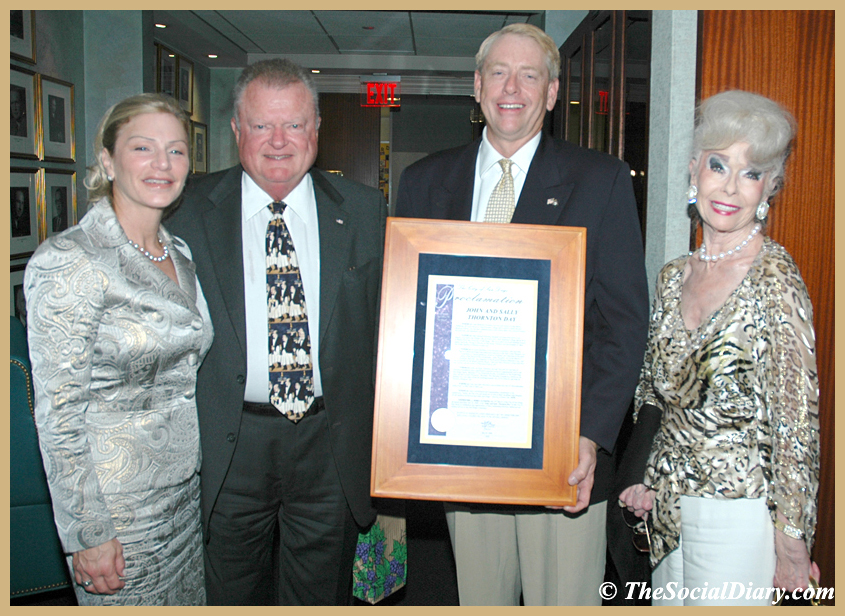 Karina Lion with John M. Thornton, Thom Tullis holding the Proclamation, and Sally B. Thornton
Enjoy the photos....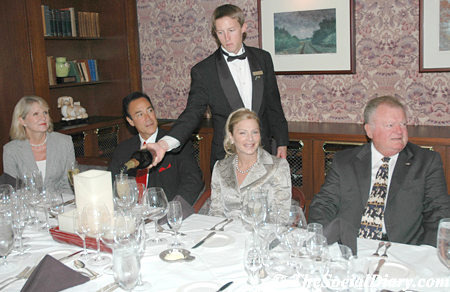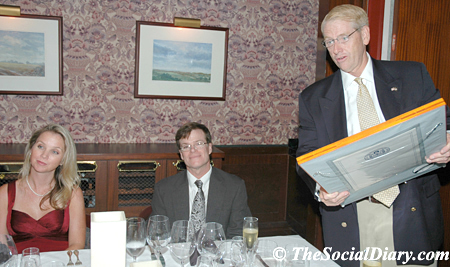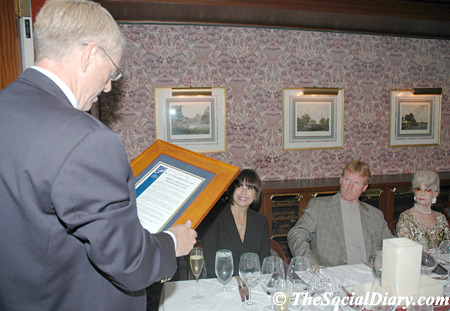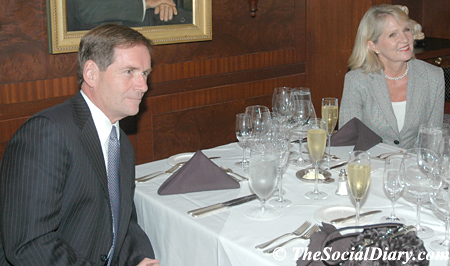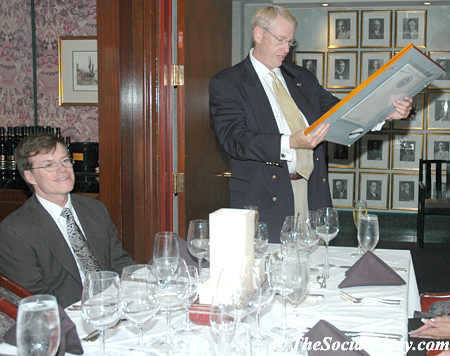 reported by Margo Schwab
* Margo Schwab, more formally known as Margaret E. Schwab, has produced, written, interviewed and photographed for various media organizations since 1989. Schwab attended Holton Arms School, La Jolla Country Day School and La Jolla High School. Schwab has a B.A. from Scripps College, attended Harvard University summer school, spent a business internship with S.A.I.C., Science Applications International Corporation, and earned a Masters of Business degree, M.B.A., from the University of San Diego after starting her M.B.A. at Claremont Graduate School with Peter Drucker. . Schwab volunteers for numerous charity organizations. She also continues to support animal organizations and the prevention of people and animal abuse. Schwab is the editor of The Social Diary.
Warning ** photos, video and writing on this site are the
copyright of The Social Diary, San Diego Social Diary
no reproduction of any part or parts is allowed without written permission by The Social Diary