San Diego Symphony Gala – Over the Top, Opulent, Opus!

The San Diego Symphony Gala Opus 2009 hit all the right notes October 3 as black tie dressed guests gathered for a unique evening at the Irwin M. Jacobs Qualcomm Hall in Sorrento Valley.
That would be Joan and Irwin Jacobs who have been 'musically instrumental' in saving and rejuvenating the San Diego Symphony to its world class prominence today.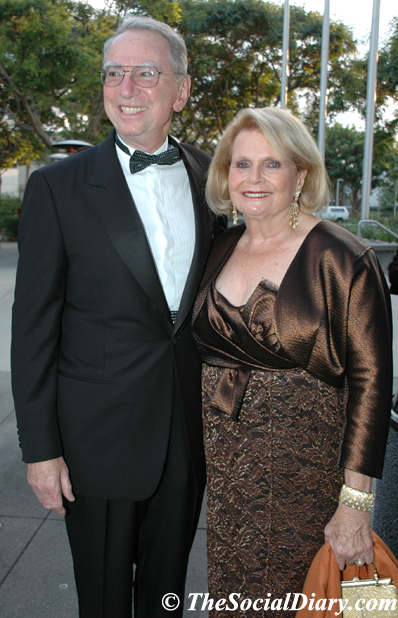 Irwin and Joan Jacobs
Fashionable guests mingled on the terrace for cocktails and hors d'oeuvres.
Among the mix were Gala Chairs Joyce and Ted Strauss, and Honorary Chairs Sheila Potiker and Pauline Foster.
Chair for the San Diego Commission for Arts and Culture Colette Carson Royston had this to say. "A beautiful evening… Joyce and Ted Strauss did not miss a detail and their graciousness radiated throughout the evening. Qualcomm Hall showcased the San Diego Symphony and an especially enjoyable performance by the Takács Quartet, and a most spectacular looking crowd! We are so fortunate in San Diego to have a symphony of this caliber!"
Many agreed. "The Symphony and Joyce & Ted Strauss put on a delightful evening of a delicious dinner by the Hyatt, and the San Diego Symphony performed top notch in the beautiful and acoustically magical Qualcomm Hall" said Valerie Cooper. "Besides the wonderful orchestrating from Jahja Ling what made the night extra special was the participation of so many attendees to fund the school bus program for students to attend the Symphony. At the last count $105,000 was raised with a matching gift from Bridgepoint Education ($210,000). San Diegans came through in making this a reality for school children!!"
Judith Harris, Chair of the San Diego Public Library Foundation, had these insightful comments. "The San Diego Symphony knows how to throw a beautiful party, yet like the New Children's Museum, they have mastered the secret of reminding the guests how fortunate they are to be able to experience the beauty of culture while contributing the means for hundreds of others to enjoy the same experience. The moving video on their education program was "instrumental" to their message of access for all."
Guests enjoyed a stellar symphony concert by Jahja Ling conducting and on piano, with a special performance by the Takács Quartet.
The performance sparkled as did a number of guests. Iris Strauss wore a sequin dress by Reem Acra, Valerie Cooper wore Donna Karan with a sparkling and early birthday present from Harry, Sheryl White shimmered in a silk number by Haider Ackerman, Jeanne Jones wore a flowing Zandra Rhodes, Sarah Marsh-Rebelo wore a majestic full length Reem Acra with train, Lael Kovtun wore Badgley Mischka, and Karen Cohn wore black sequin strapless by Oscar de la Renta.
FYI, Harvey White wore Armani and Jay Kovtun did some expert solo modeling. Proud of it too!
Auction items included bus donations to bring school children to the Young People's Concerts at Copley Symphony Hall, a Van Cleef & Arpels workshop tour in New York City plus a brilliant diamond brooch, and a trip to New York plus lunch or dinner with Marvin Hamlisch.
That's the Marvelous Marvin Hamlisch.
Iris Strauss later had this remark. "The symphony gala was really wonderful. The festive and fashionable crowd, the delicious dinner by the Hyatt with lobster, and the beautiful program. Especially the final selection by the orchestra, Dances of the Galant, was just absolutely beautiful. We all enjoyed the evening and wish the symphony a very successful season."
Successful and fun fundraiser it was. "Opulent is the first word that comes to mind in describing the truly elegant evening' said Jeanne Jones. "Everything was over the top-- stylish decor, Veuve Clicquot Champagne, lobster entree, and a superb concert followed by dancing under the stars. If that wasn't enough there was a create your own ice cream sundae station!!"
"I have to say it was one of the most fun parties of the year! I really think everyone had a great time. Kudos to Joyce and Ted!!! Also very cool the way the belly bars matched the invitation! Nice attention to detail!" remarked Sheryl White.
Karen Cohn agreed and added this. "The gala party had a great energy that could be contributed to Joyce and Ted's hard work and attention to detail. Everyone had a wonderful time."
Indeed they did. More patrons there included Barbara Bloom, Julia Brown, David C. Copley who had just come back from Milan and the prestigious amFar fundraiser, Audrey Geisel, Joyce and Craig Grosvenor, Rachel Grosvenor, Gale and Jim Krause, Adele and Mike Lapadula and Dr. William and Evelyn Olson Lamden.
More generous guests attending included Hermeen Scharaga, Pearl Cutler and Raymond Mason, Barbara and Roger Maurais, Monica and Robert Oder, Carol Putnam, Patty and Murray Rome, Isabelle and Mel Wasserman, June and James Swartz, Phyliss and Dave Snyder, and Linda and Robby Savitch.
To learn more about the San Diego Symphony its concerts schedule, its special events, and its programs, please visit www.sandiegosymphony.com
Please enjoy the photos.
If you wish to purchase photos, please email your inquiry. No downloading of photos without express written permission by The Social Diary thank you.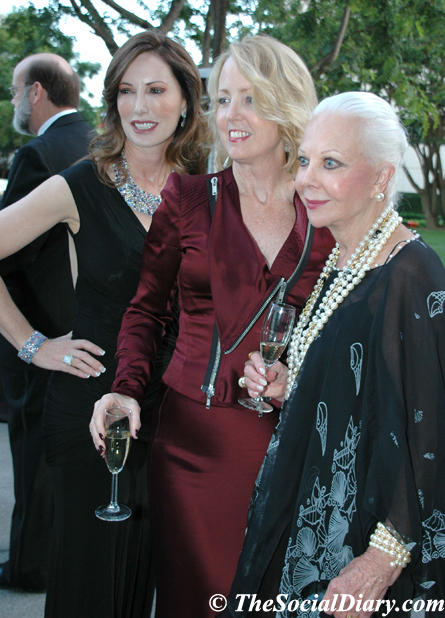 Valerie Cooper with Sheryl White and Jeanne Jones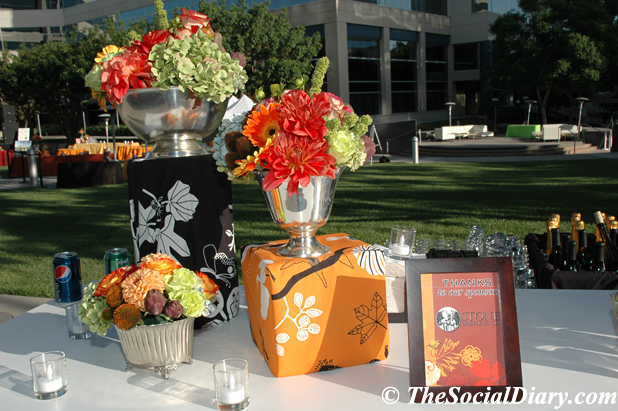 Table Decorations for the Cocktail Reception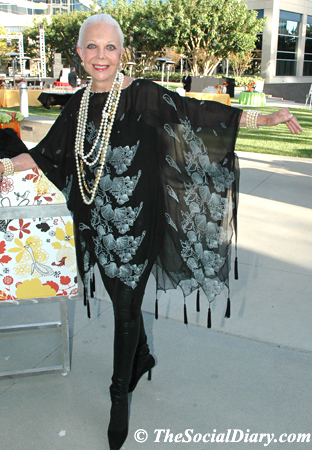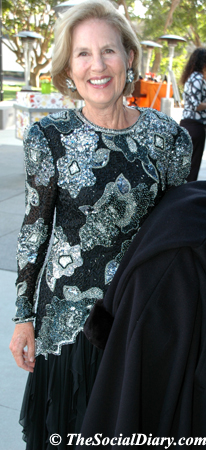 Jeanne Jones ** Jane Rice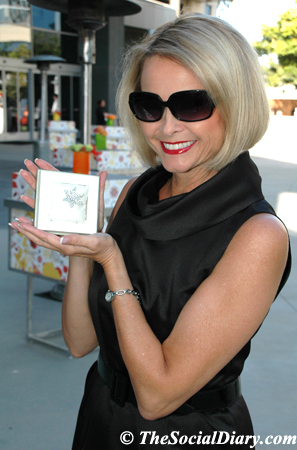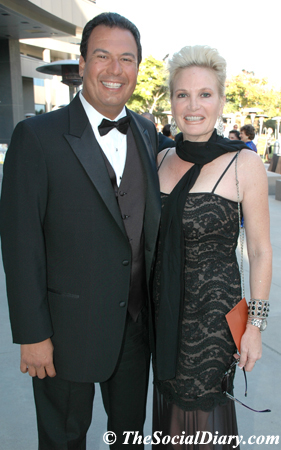 Pat Brown displaying the Van Cleef and Arpels Brooch ** Vic Salazar and Megan Pogue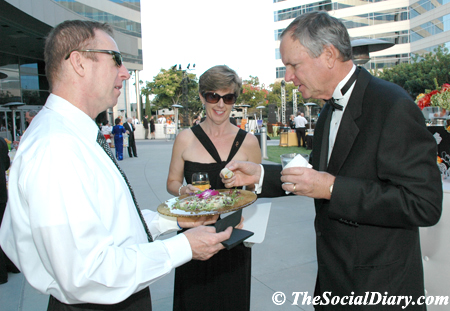 Hyatt La Jolla Catering offering delicious appetizers to Gale and Jim Krause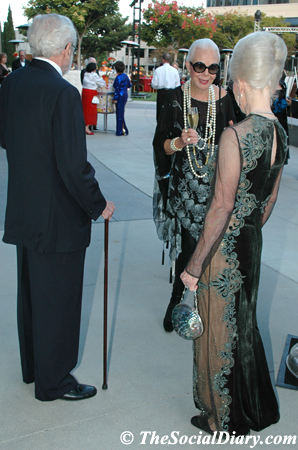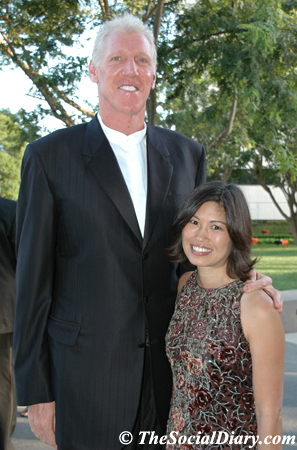 Burl Stiff with Jeanne Jones and Lael Kovtun ** Bill and Lori Walton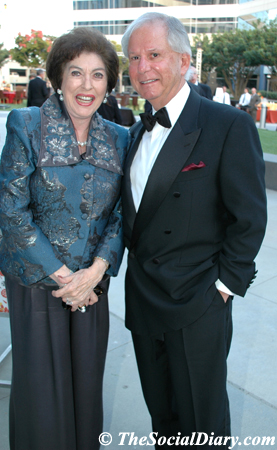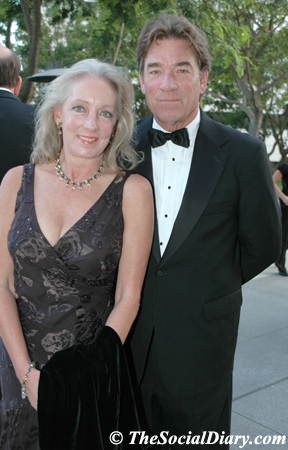 Barbara Bloom with Michael Grossman ** Victoria Hamilton and Paul Hobson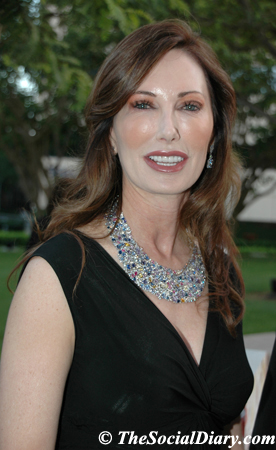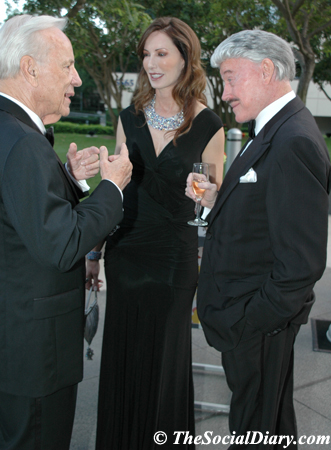 Valerie Cooper ** Conrad Prebys with Valerie and Harry Cooper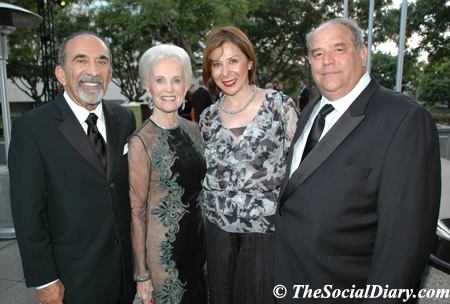 Jay and Lael Kovtun with Nasrin and Darush Mani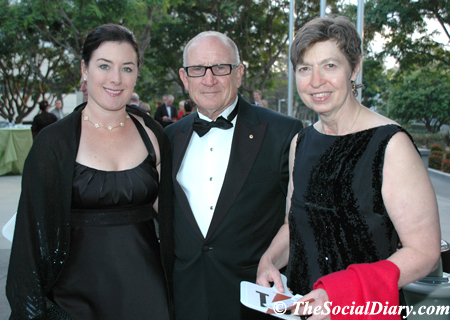 Olivia and Peter Farrell of ResMed with UCSD Chancellor Marye Anne Fox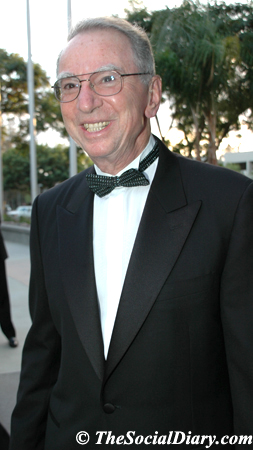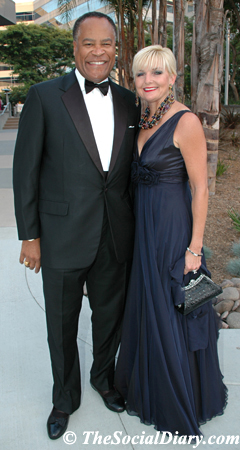 Irwin Jacobs ** Jesse Knight Jr. and Joye Blount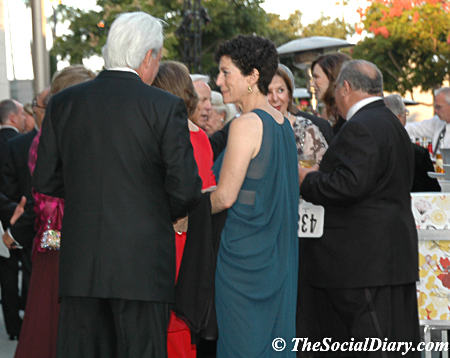 The Party Scene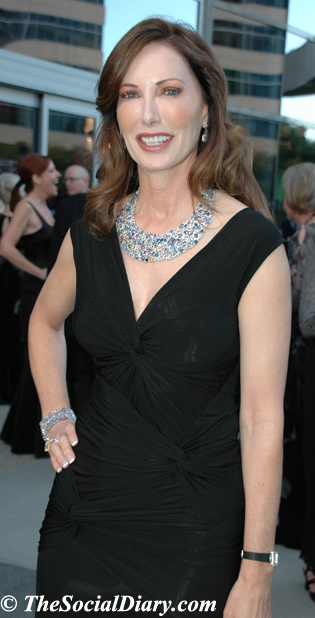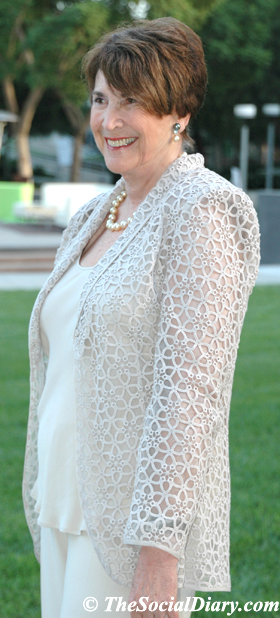 Valerie Cooper ** Sheila Potiker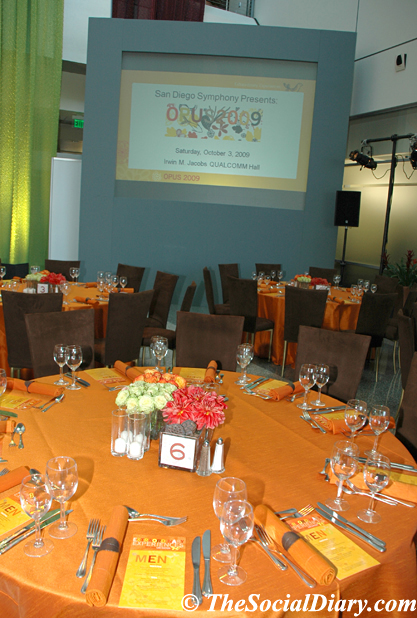 A Dinner Table Setting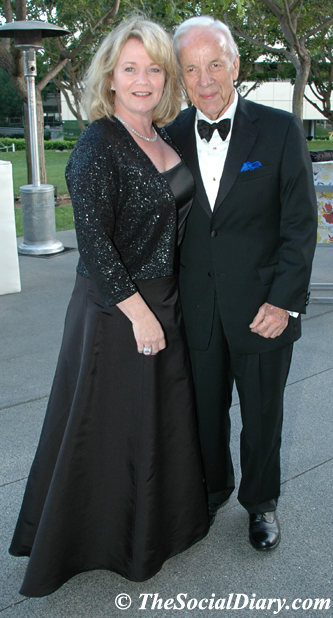 Debra Turner and Conrad Prebys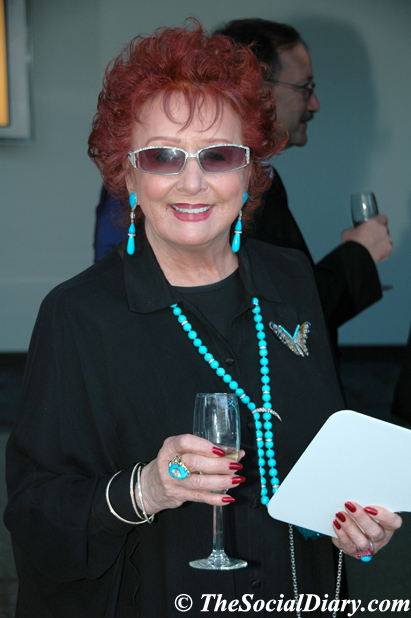 Hermeen Scharaga ** Sarah Marsh-Rebelo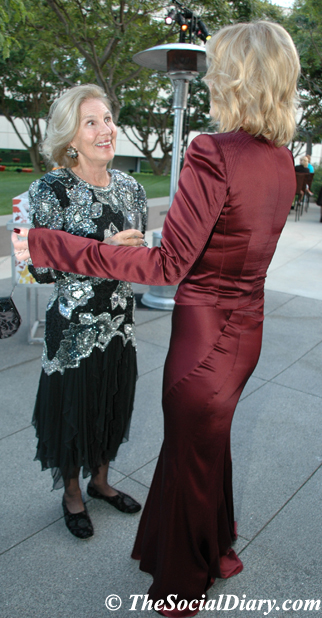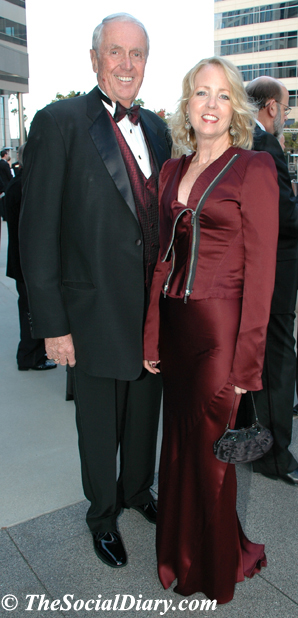 Jane Rice with Sheryl White ** Harvey and Sheryl White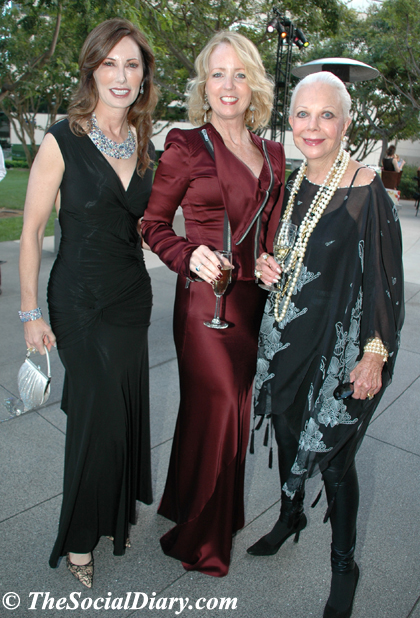 Valerie Cooper with Sheryl White and Jeanne Jones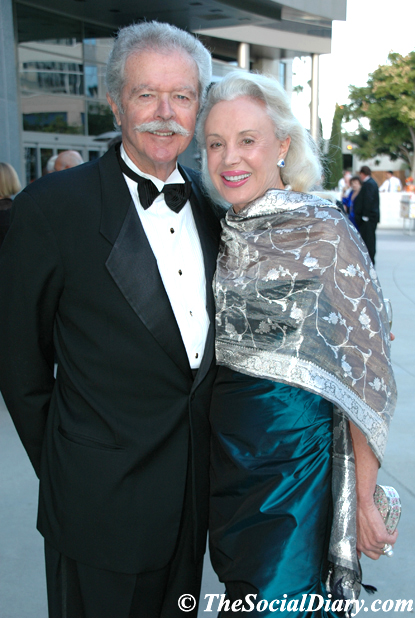 John Rebelo and Sarah Marsh-Rebelo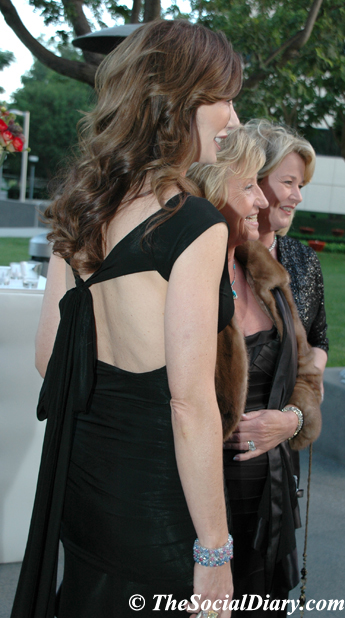 Valerie Cooper with Ruth Leonardi and Debra Turner ** Jay Kovtun 'striking a pose'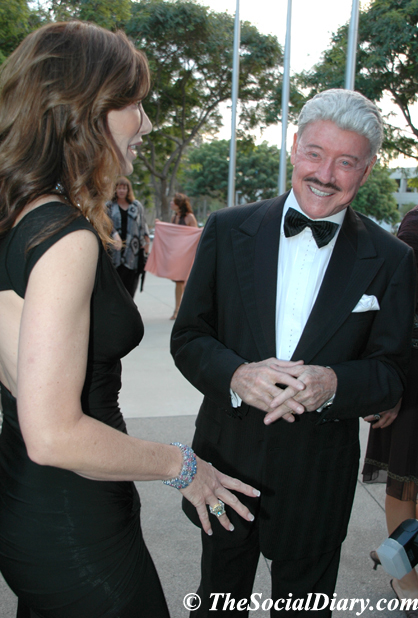 Valerie and Harry Cooper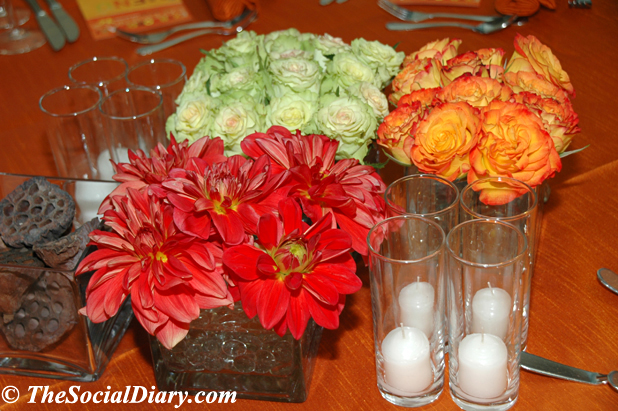 Table Decor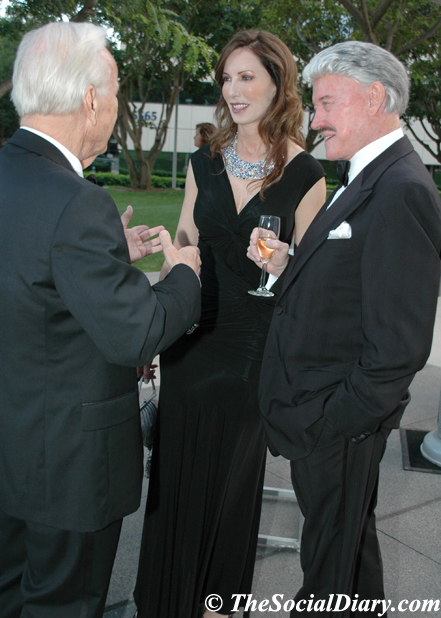 Conrad Prebys with Valerie and Harry Cooper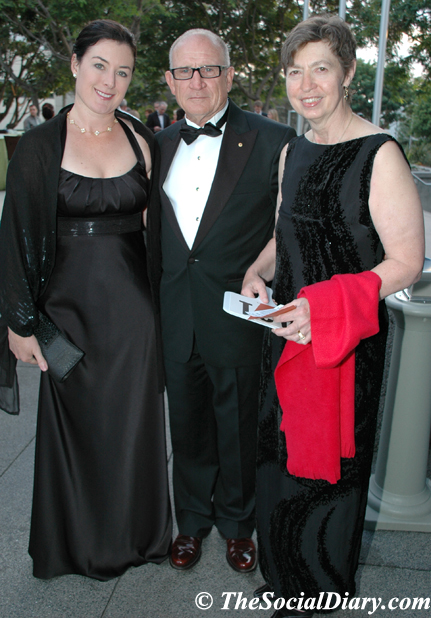 Olivia and Peter Farrell with Marye Anne Fox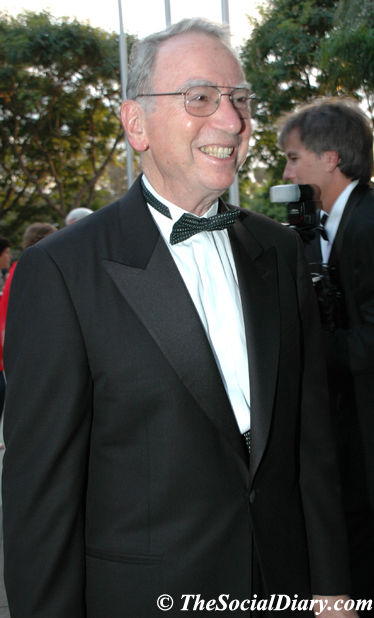 Irwin Jacobs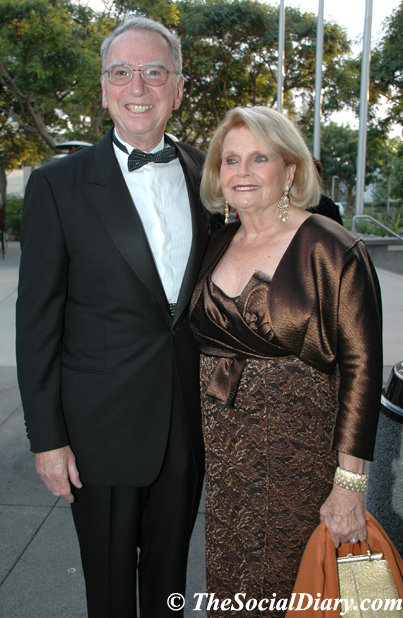 Irwin and Joan Jacobs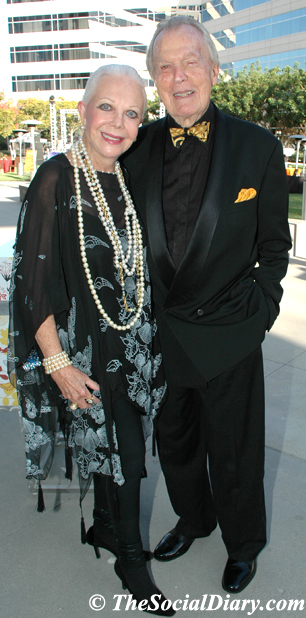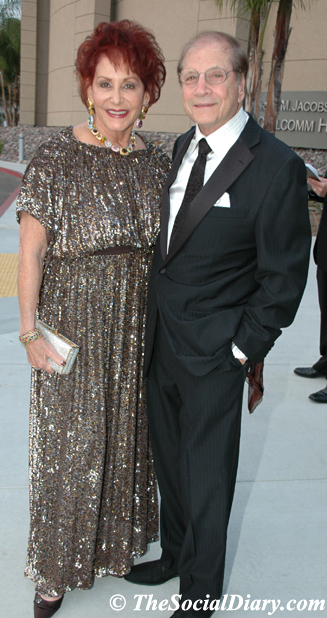 Jeanne Jones and Don Breitenberg ** Iris and Matthew Strauss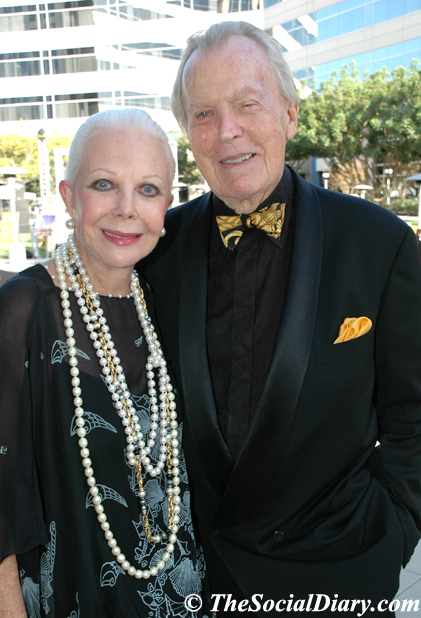 Jeanne Jones and Don Breitenberg
Charles Walther-Meade with his mother Yolanda Walther-Meade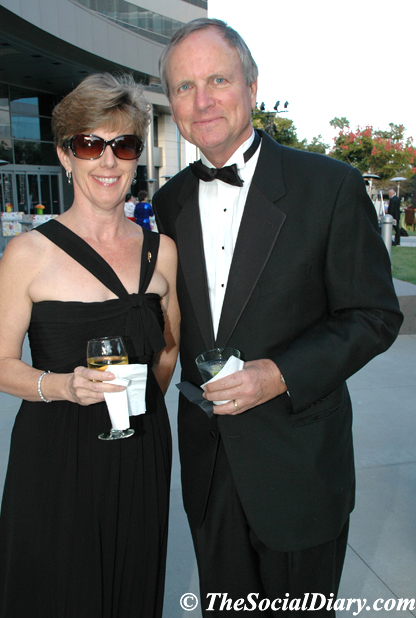 Gale and Jim Krause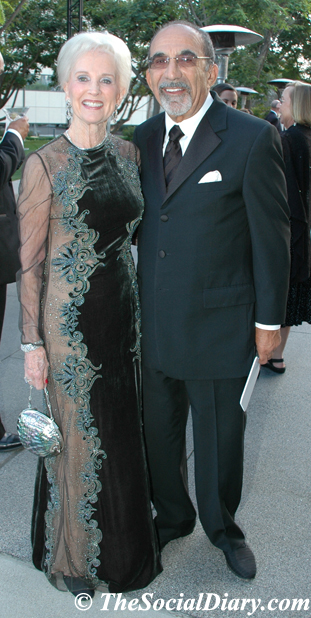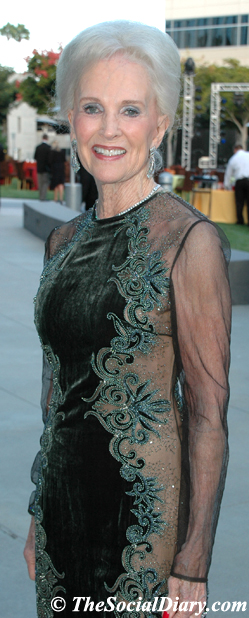 Lael and Jay Kovtun ** Lael Kovtun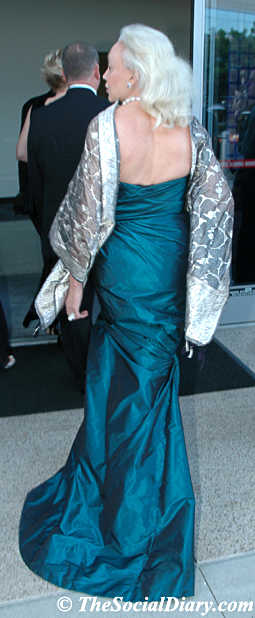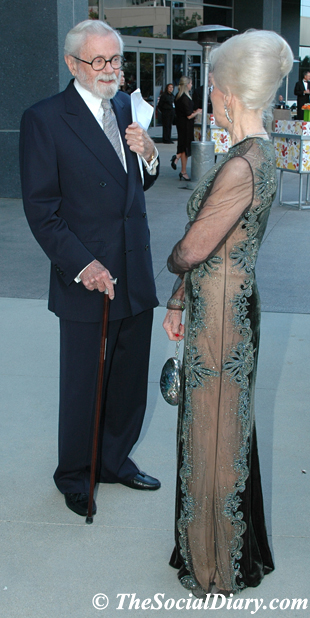 Sarah Marsh-Rebelo ** Burl Stiff with Lael Kovtun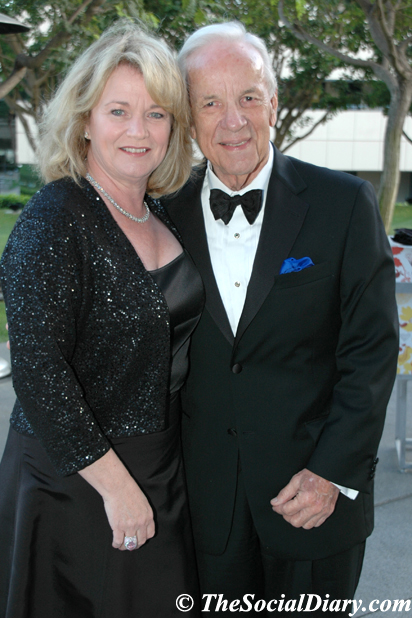 Debra Turner and Conrad Prebys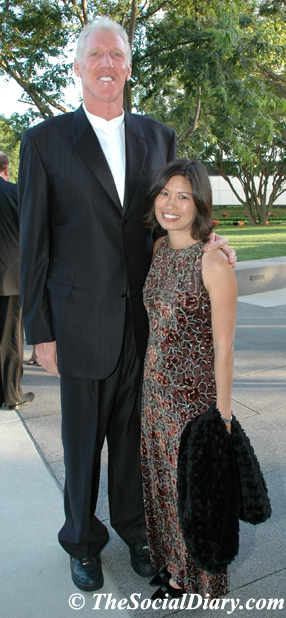 Bill and Lori Walton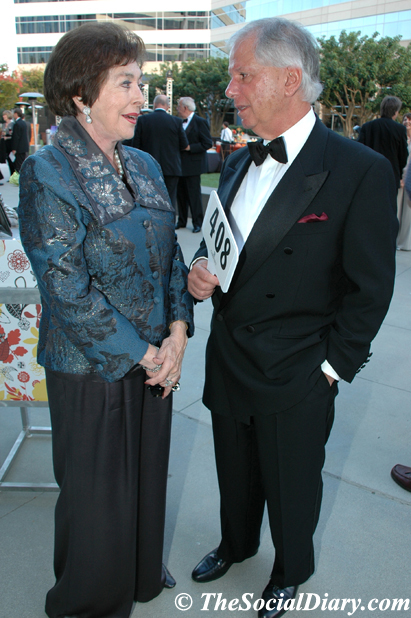 Barbara Bloom and Michael Grossman
reported by Margo Schwab
The Buzz
Yummy Romance at Tapenade with the San Diego Opera
.......................
The San Diego Opera is pleased to announce the return of "Taste of Opera,"at some of San Diego's hottest restaurants.
Coming up....
Tapenade, La Jolla
Wednesday, October 28, 2009 at 6:30 PM, 7612 Fay Avenue, La Jolla.
Join Dr. Nicolas Reveles as he talks about romantic French operas and Romeo and Juliet.
$40 per person for 1 glass wine, prix fixe menu, tip & tax.
visit Taste of Opera for details.
Upcoming Events
October 16th - The Rainforest Alliance will host its gala. It promises to be 'wild' fun!
October 17th - Sundt Memorial Fundraiser.
October 17th - The Rancho Coastal Humane Society will host its Animal House fundraiser. For details please visit
http://rchumanesociety.org/event_details.asp?ID=62
October 22nd - The Walden Family Services will host their 6th Annual wine D'Vine event. Please visit www.waldenfamily.org for more details.
October 24th - A Reason To Survive or ARTS will be hosting a fun fundraiser. Please visit www.AReasonToSurvive.org for details.
October 28th - Tapenade, La Jolla at 6:30 PM
7612 Fay Avenue, La Jolla. Join Dr. Nicolas Reveles as he talks about romantic French operas and Romeo and Juliet.
$40 per person for 1 glass wine, prix fixe menu, tip & tax.
visit Taste of Opera for details.
November 7th - The Golden Hangers / FCC benefit for Make-A-Wish and San Diego Variety Children's Network.
November 13th - Scripps Mercy Hospital will host its 2nd Annual 'Dressed to the Nth Degree' evening featuring San Diego's 10 best dressed women and 10 best dressed men as chosen by Leonard Simpson. Michael Neil will be the Honorary Chair. For details and tickets please visit:
http://www.scripps.org/events/an-evening-of-glitz-glamour-and-more

____________________________________________________________
Photoshopping and Photography Services
Photos on this website available if it is of you
available by The Social Diary
~ 619-384-7333
email TheSocialDiary.com
_______________________________________________________________
Email Commentary to be added
email editor@thesocialdiary.com

"BEST GOWNS..Sarah Marsh-Rebelo & Lael Kovtun...BEAUTIFULLY ELEGANT!!!!!!!!!!!!!" - Ralph Castro
Great photos. Bill Walton is SOOO Tall! - Katherine Schwab

Thank you for all the lovely photos!! - Valerie Cooper
Everyone looked gorgeous as usual. - Muffy Walker
Thanks very much. We appreciate all your coverage--so many beautiful photos! - Stephen Kougias
You both do a fabulous job! I am always so impressed! - Pierrette Featherby

* Margo Schwab, more formally known as Margaret E. Schwab, has produced, written, interviewed and photographed for various media organizations since 1989. Schwab attended Holton Arms School, La Jolla Country Day School and La Jolla High School. Schwab has a B.A. from Scripps College, spent a business internship with S.A.I.C., Science Applications International Corporation, and earned a Masters of Business degree, M.B.A., from the University of San Diego. Schwab additionally took college courses from Harvard University, and Syracuse University. Schwab volunteers for numerous charity organizations. She also continues to support animal organizations and the prevention of people and animal abuse. Schwab is the editor of The Social Diary.
Margo Schwab and Scott Johnston of the Social Diary are pleased to announce partnerships with the San Diego Humane Society, San Diego News Network and now, San Diego Home & Garden Magazine.
The Social Diary would like to say a special thank you to our advertisers.
H. Moradi Jewelers on Prospect Street in La Jolla
Valerie and Harry Cooper, Patrons of the San Diego Opera
Valerie and Harry Cooper, Patrons of The Museum of Contemporary Art San Diego
Judith C. Harris, Blair Harris, and Robert Singer, MD supporting the
Dian Fossey Gorrilla Fund International
Dr. Laurie Marker of The Cheetah Conservation Fund
Pat O'Connor of Fashion Careers College
Pamela Pogue of Juelerie
Kary Favish of the Worth Collection
Diana Cavagnaro of Designer Millinery
Jacqueline and Matt Rimel of Rimel's Rotisserie, Zenbu Sushi and Restaurant, & Home Grown Meats
Jordan of Jordan Art Couture
Lizz Russell of The Lizz Russell Collection
Gary Parker of WineSellar & Brasserie
Chef Pasquale of Cafe Milano
Alex Gonzalez of Mercedes Benz of San Diego
Diane Bousquin of Holistic Traditions
Kevin Smith of Extreme Pizza in La Jolla
Jeremiah Sullivan of Neptunic Sharksuits
Drs. Sue and John Morizi of The Animal Hospital of La Jolla
Jemima Garcia Dutra of Dutra Designs
Eugene Ladopoulos of Mistra Estates Olive Oil
Warning ** photos, video and writing on this site are the
2009 copyright of The Social Diary LLC and its subsidiaries.
no reproduction of any part or parts is allowed without written permission by The Social Diary