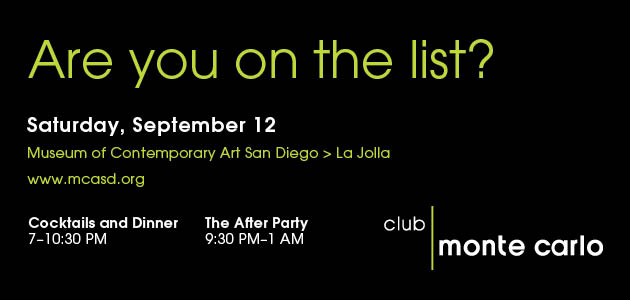 Music by the Sea for
SummerFest Gala 2009
The La Jolla Music Society's ever popular SummerFest Gala was held August 14th, 2009 at the Robert Paine Forum at the Scripps Institution of Oceanography.
One hundred plus guests enjoyed an evening that started with champagne and appetizers followed by an evening concert before dinner.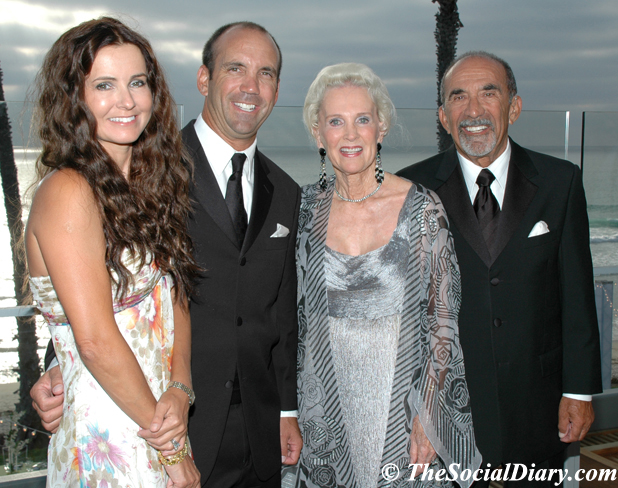 Gala Chair Annika Kovtun with husband Gordon Kovtun,
and
Gala Honorary Chairs Lael and Jay Kovtun
Guests enjoyed music performed by: Cho-Liang Lin on violin and Joyce Yang on piano performing Violin sonata No. 3 in C Minor, Opus 45 by Grieg, Solin Kim on violin and James Dunham on viola playing Passacaglia by Handel Halvorsen, Cho-Liang Lin and Solin Kim on violins playing Meditation from Thais for Two Violins by Massenet performed, and Slavonic Danced for Piano Four-Hands, B.78 by Dvorak performed by Joyce Yang and Liza Stepanova.
Among the guests enjoying and supporting the evening were Peter and Peggy Preuss, Valerie and Harry Cooper, Brenda Baker and Steve Baum, Mary Drake in Yigal Azrouel with her husband Hudson Drake, Olivia and Peter Farrell, Jeanne Jones and Don Breitenberg (Jeanne wore a coral dress of Venetian silk and matching head scarf by Lezlie George of London), Pauline Foster, Joy and Ed Frieman, Katherine Kennedy and Robert Horsman, Joan and Irwin Jacobs, Lee Maturo, newlyweds Carolyn and Bard Wellcome, Barbara and Dick Enberg, Debbie Turner and Conrad Prebys, and a few Kovtuns.
Annika Kovtun was the Gala Chair. Her in-laws Lael and Jay Kovtun were the Gala Honorary Chairs.
They were joined by SummerFest Music Director Cho-Liang Lin, SummerFest Chair Martha Dennis, SummerFest Vice-Chair Eleanor Ellsworth, and uber leader, La Jolla Music Society President & Artistic Director Christopher Beach.
Dinner after the concert was set on the patio. The theme was green and the cuisine was Jeffrey Strauss perfect!
Guests danced into the night with the Mario Olivares Band providing a mix of Latin Jazz, Spanish Guitar, and a healthy dash of Flamenco!
Susan Ulevitch later had this remark. "The gala was nice ... beautiful music and delicious dinner. The food was excellent. Setting magnificent. LJMS does a fabulous job with everything they do ... and Christopher Beach is the master impresario."
Please Enjoy the Photos!
If you wish to purchase photos, please email your inquiry. No downloading or reprinting of photos without express written permission by The Social Diary thank you.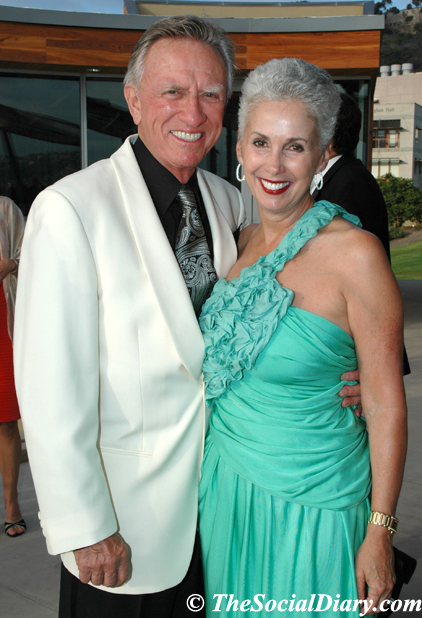 Hudson and Mary Drake
Jeanne Jones and Claire Reiss
Guest ** Annika Kovtun ** Wesley Fata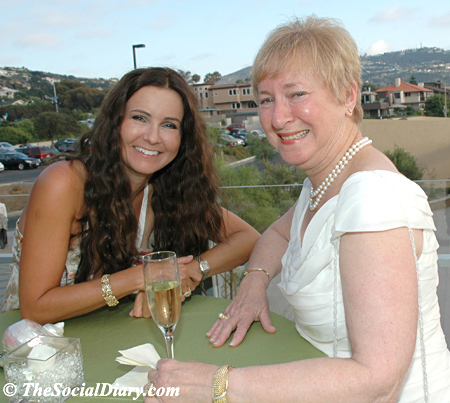 Gala Chair Annika Kovtun with SummerFest Chair Martha Dennis
David Saltman and Camille Sobrian ** Jeanne Jones and Lael Kovtun wearing Zandra Rhodes
Susan and Richard Ulevitch ** Joye Blount
Margaret Grossman with Brenda Baker ** Jay Kovtun with Victor Woo
Bea Epsten ** Gordon Kovtun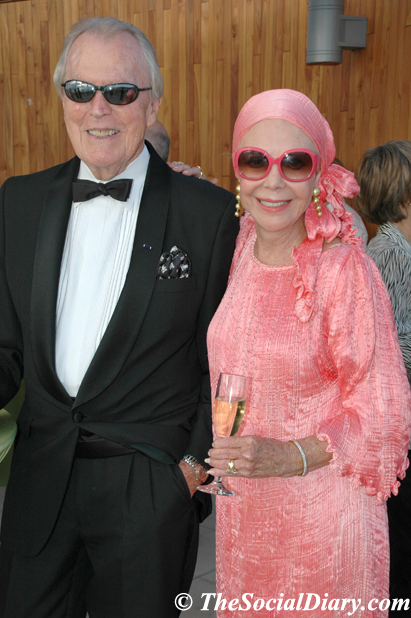 Don Breitenberg and Jeanne Jones
Annika's colorful shoes!
Annika Kovtun ** Carolyn and Bard Wellcome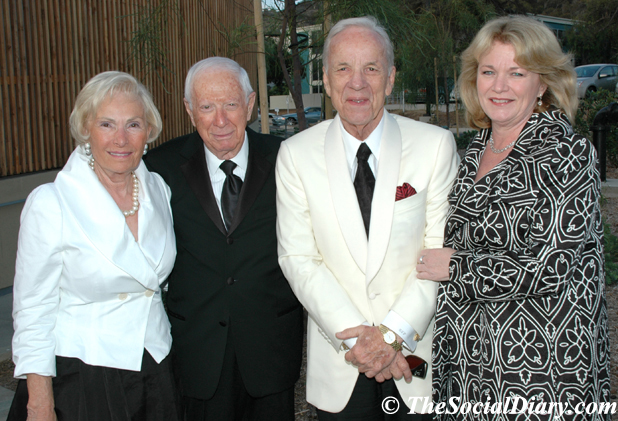 Bea and Bob Epsten with Conrad Prebys and Debbie Turner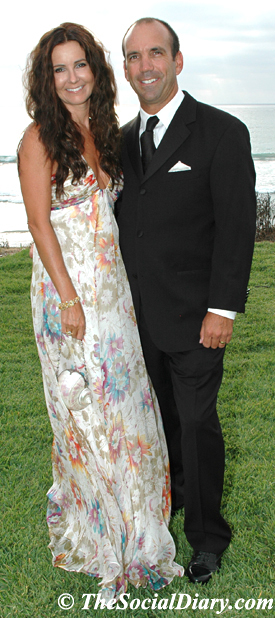 Annika and Gordon Kovtun
Jay Kovtun with Martha and Ed Dennis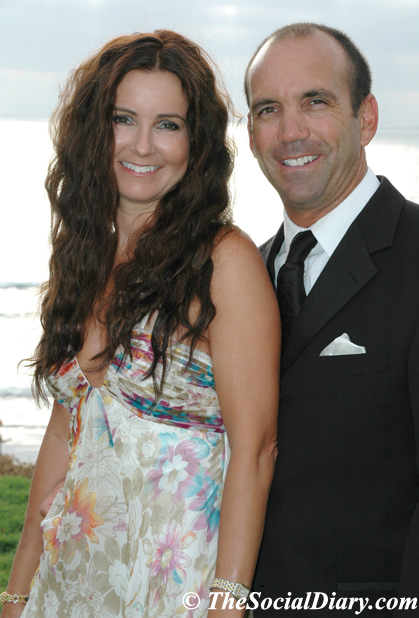 Annika and Gordon Kovtun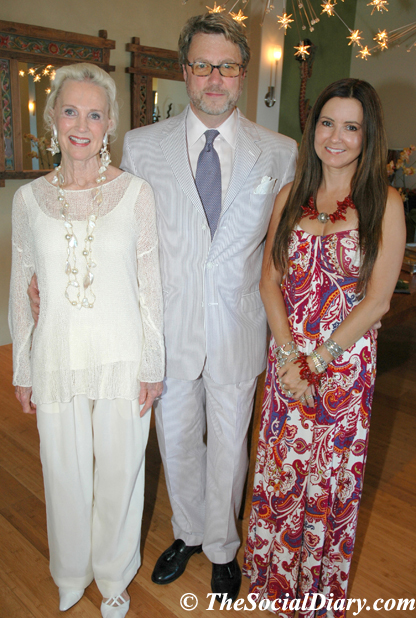 A flash back to the SummerFest Patron Party held at Annika and Gordon Kovtun's home - pictured here Lael Kovtun with Christopher Beach, and Annika Kovtun
To learn more about La Jolla Music Society please visit
reported by Margo Schwab and Scott Johnston
The Buzz
Open bar, $100, night clubbing with the cool socials of San Diego.... click below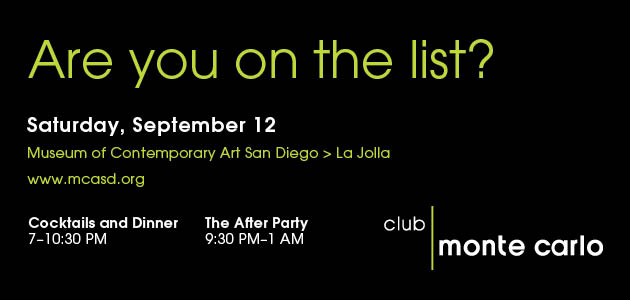 Upcoming Events
September 11th - SIMA will host the 6th annual Liquid Nation Ball at the private oceanfront residence of Fernando Aguerre. This year the Humanitarian of the Year award will go to surf star Flea. Please contact Shannon Park at shannon@sima.com for more details or visit www.liquid -nation.com
September 12th - Club Monte Carlo is coming to the Museum of Contemporary Art San Diego. Tickets are $100 and up for non-members ......don't miss this event.... For details on this gala event, please visit www.mcasd.org
September 17th - The Costume Council of the San Diego Historical Society will be hosting a one-of-a-kind event in Balboa Park to showcase select San Diegan's couture finds. The Social Diary is pleased to be a part of this showcase. For more information about this event, please visit www.sandiegohistory.org
September 17th - The San Diego Police Historical Association will host a Legends Behind the Badge gala & awards evening at the U.S. Grant. San Diego Police Department's Chief of Police William Lansdowne will serve as Honorary Chair with Ramin Portemeyer serving as Co-Chair. Please ring McFarlane Productions at 619-233-5008 for ticket information.
September 24th - The Country Friends will present the 54th annual "Art of Fashion" Runway Show at The Inn at Rancho Santa Fe. Proceeds from the luncheon, fashion show, boutique shopping and wine tasting will benefit Voices for Children, which provides court advocates for children in foster care. Couture fashions presented will be provided by South Coast Plaza. For ticket information, please contact The Country Friends at 858/756-1192, Ext. 4 or via email at events@thecountryfriends.org.
September 14th - Crime Stoppers Golf Tournament.
October 16th - The Rainforest Alliance will host its gala. Details to follow.
October 17th - Sundt Memorial Fundraiser. Details to follow.
October 22nd - The Walden Family Services will host their 6th Annual wine D'Vine event. Please visit www.waldenfamily.org for more details.
November 7th - The Golden Hangers / FCC benefit for Make-A-Wish and San Diego Variety Children's Network.

____________________________________________________________
Photoshopping and Photography Services
Photos on this website available if it is of you
available by The Social Diary
~ 619-384-7333
email TheSocialDiary.com
_______________________________________________________________
Email Commentary to be added
email editor@thesocialdiary.com
* Margo Schwab, more formally known as Margaret E. Schwab, has produced, written, interviewed and photographed for various media organizations since 1989. Schwab attended Holton Arms School, La Jolla Country Day School and La Jolla High School. Schwab has a B.A. from Scripps College, spent a business internship with S.A.I.C., Science Applications International Corporation, and earned a Masters of Business degree, M.B.A., from the University of San Diego. Schwab additionally took college courses from Harvard University, and Syracuse University. Schwab volunteers for numerous charity organizations. She also continues to support animal organizations and the prevention of people and animal abuse. Schwab is the editor of The Social Diary.
The Social Diary is pleased to announce new partnerships with the San Diego Humane Society and San Diego News Network.
Warning ** photos, video and writing on this site are the
2009 copyright of The Social Diary LLC and its subsidiaries.
no reproduction of any part or parts is allowed without written permission by The Social Diary