Scorpion Bay Hotel, Private, Picturesque ........VIP and Club Memberships Available >>> Scorpion Bay Hotel
an international destination for World Class Surfing and Fishing
founded by Fred Borrelli
~~~~~~~~~~~~~~~~~~~~~~~~~~~~~~~~~~~~~~~~~~~~~~~~~~~~~~~~~~~~~~~~~~~~~~~~~~~~~~~
~ The Social Diary ~
~~~~~~~~~~~~~~~~~~~~~~~~~~~~~~~~~~~~~~~~~~~~~~~~~~~~~~~~~~~~~~~~~~~~~~~~~~~~~~~~~~~~~~~~
SummerFest Gala 2008
'Caviar Blinis, Peach Bellinis, & A Breathtaking Night of Fantasy & Music'
The La Jolla Music Society's SummerFest Gala 2008 was held August 9th, 2008 at the magnificent new La Jolla home of Maureen and Chad Carpenter.
It was an evening that promised 'instrumental virtuosity and imaginative cuisine,' with a 'dazzling performance' by SummerFest artists Cho-Lian Lin, Michelle Kim, Jeewon Lee, Joyce Yang, and David Chan. And dazzle they did.
Guests first enjoyed a front terrace reception with Blinis and Caviar, Champagne, and Peach Bellinis.
The Bellinis were the clever idea of La Jolla Music Society President and Artistic Director Christopher Beach. Christopher has been living part time in Venice for many years and hence the idea of Peach Bellinis à la Harry's Bar, Venice.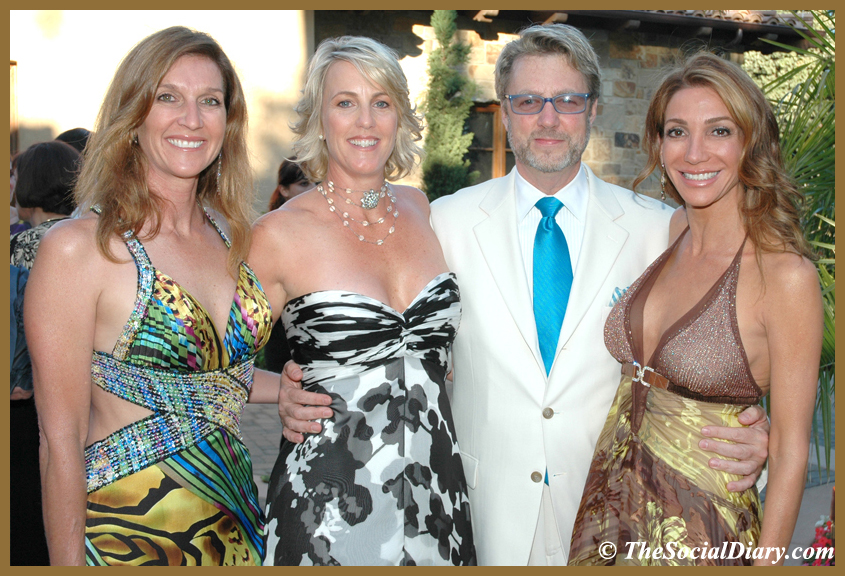 Debby Jacobs, Terri Bourne, Christopher Beach and Laleh Roudi
Guests there celebrating music included David Guss and Susanne Lodl, Ramin Pourteymoor, Ellen Revelle and her daughter Carolyn Revelle, Brenda Baker and Steve Baum, SummerFest Director Cho-Liang Lin who also performed, SummerFest Chair Terri Bourne, SummerFest Vice-Chair Martha Dennis, Gala Chair Laleh Roudi and Gala Honorary Chairs Barbara and Dick Enberg. More there included Debby Jacobs, Anne Otterson, Marilyn and Stephen Miles, Carolyn Yorston, Jeanne Jones and Don Breitenberg, Joy and Ed Frieman, Brett Dickinson, Ellen and Tim Zinn, and Susan and Richard Ulevitch.
A few striking a very fashionable chord included the 'Roberto Cavalli Girls,' Debby Jacobs and Laleh Roudi, and Jeanne Jones in a Chinese red cheongsam and red Chanel sunglasses. Very timely and Olympic Beijing-esque indeed!
Dinner poolside under the stars included a blue crab gazpacho starter, beef tenderloin with a Barolo spiced demi-glace, vegetables, and a patatine novelle alle erbe. That's fingerling potatoes with fresh herbs. Dinner continued with a choice of sorbets and cakes including carrot, dark chocolate mousse with Chantilly cream, and truffles. Every perfect bite from reception to dessert was the work of Giuseppe Fine Catering.
Dancing music after dinner was provided by the Mario Olivares Band which specializes in Latin jazz, classical guitar and flamenco!
SummerFest 2008 is host to over 70 world class artists with over 16 concerts that continue to August 24th, 2008. SummerFest is an important part of La Jolla Music Society's year round events and concerts. To learn more please visit www.LaJollaMusicSociety.org
Enjoy the photos!
Chad and Maureen Carpenter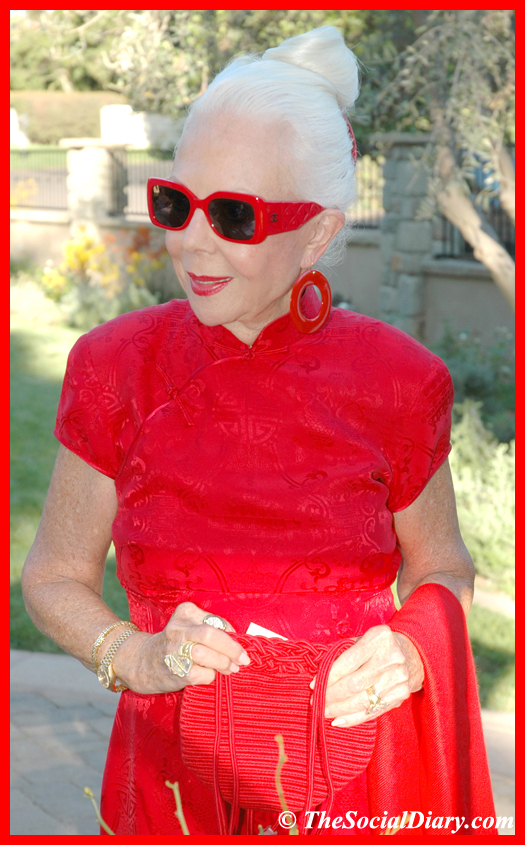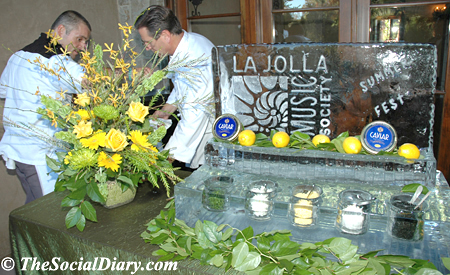 The Caviar Bar and Ice Sculpture
Guest with Terri Bourne ** Christopher Beach ** Carolyn Yorston
Terri Bourne with Laleh Roudi and Debby Jacobs ** Ellen Revelle and Steve Baum
Jeanne Jones and Don Breitenberg ** Don Breitenberg with Christopher Beach
Ellen Revelle with Guest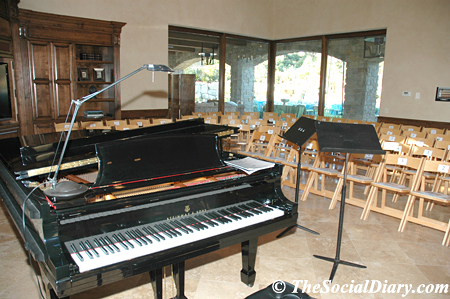 The Concert Setting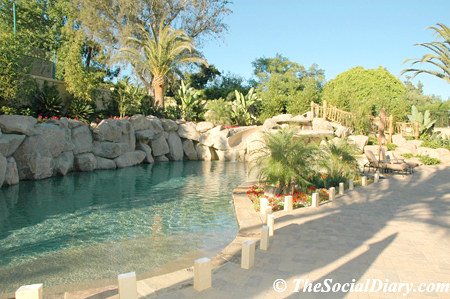 The Luminarios by the Poolside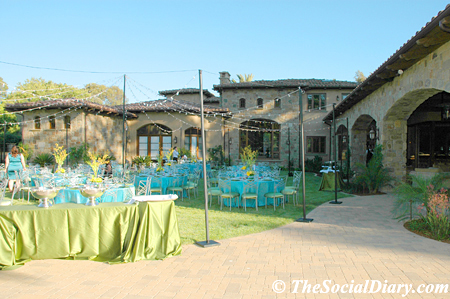 The Dinner Tables set by the Tuscany-esque home of Maureen and Chad Carpenter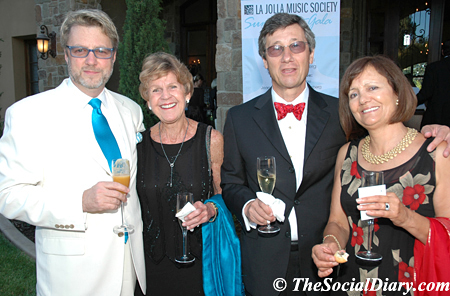 Christopher Beach and Guests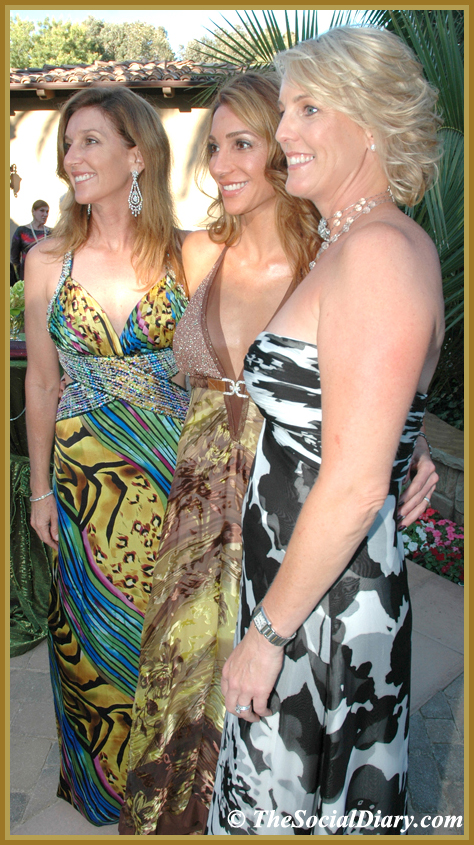 Debby Jacobs with Laleh Roudi and Terri Bourne
Patsy Marino ** Joy Frieman
Laleh Roudi ** Laleh Roudi with Debby Jacobs ** Martha and Ed Dennis
Laleh Roudi with Guests ** Ellen Revelle ** Debby Jacobs with Maureen Carpenter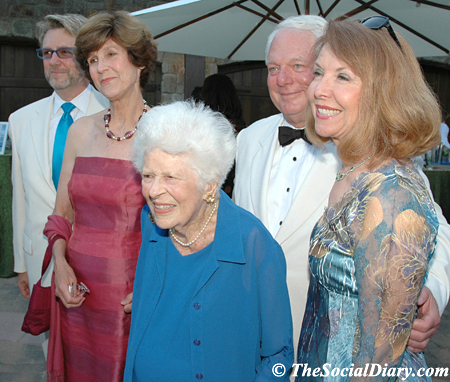 Christopher Beach with Carolyn Revelle, Ellen Revelle. and Steve Baum and Brenda Baker
Maureen Carpenter with Terri Bourne and Laleh Roudi
Susan and Richard Ulevitch
Juliette Miller ** The Backside of the Roberto Cavalli duo, Laleh Roudi and Debby Jacobs
Katherine Kennedy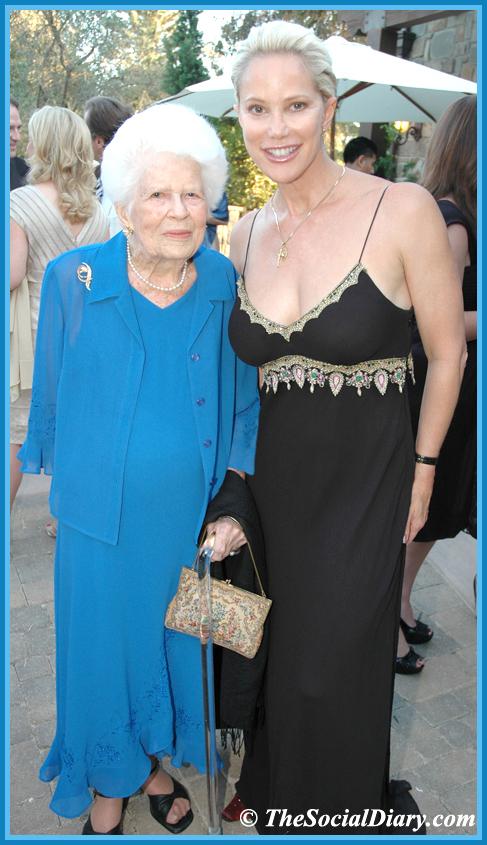 reported by Margo Schwab who is pictured here with fellow Scripps College Graduate, Ellen Revelle. Ellen attended the first year of Scripps College. I attended some years later.... we both learned to appreciate the arts at Scripps College.
Email Commentary to be added
* Margo Schwab, more formally known as Margaret E. Schwab, has produced, written, interviewed and photographed for various media organizations since 1989. Schwab attended Holton Arms School, La Jolla Country Day School and La Jolla High School. Schwab has a B.A. from Scripps College, spent a business internship with S.A.I.C., Science Applications International Corporation, and earned a Masters of Business degree, M.B.A., from the University of San Diego. Schwab volunteers for numerous charity organizations. She also continues to support animal organizations and the prevention of people and animal abuse. Schwab is the editor of The Social Diary.
Warning ** photos, video and writing on this site are the
copyright of The Social Diary, San Diego Social Diary
no reproduction of any part or parts is allowed without written permission by The Social Diary