Scorpion Bay Hotel, Private, Picturesque ........VIP and Club Memberships Available >>> Scorpion Bay Hotel
an international destination for World Class Surfing and Fishing
~ step back in time, where simplicity and the finest meet ~
founded by Fred Borrelli
~~~~~~~~~~~~~~~~~~~~~~~~~~~~~~~~~~~~~~~~~~~~~~~~~~~~~~~~~~~~~~~~~~~~~~~~~~~~~~~
~ The Social Diary ~
all photos and content are the copyright of TheSocialDiary.com
~~~~~~~~~~~~~~~~~~~~~~~~~~~~~~~~~~~~~~~~~~~~~~~~~~~~~~~~~~~~~~~~~~~~~~~~~~~~~~~~~~~~~~~~
Haute With Heart Fashion Luncheon
'Serving Adults with Developmental Disabilities'
The Haute With Heart Fashion Show was a sold out success August 23rd, 2008 at the Sheraton Harbor & Marina. In fact, as told by Honorary Chair Phyliss Parrish, there was so much support for St. Madeleine Sophie's Center, that the original target number of 400 was nearly doubled. That's ballroom capacity.
There was a wait list too.
And there was a lot of powerful support for St. Madeleine Sophie's Center and it's accoladed programs serving adults with developmental disabilities. Among the committee members; actor Mario Lopez, Rana Sampson and Mayor Jerry Sanders, Phyliss Parrish's Honorary Co-Chair and husband John Parrish, Sally B. Thornton, Joye Blount and Jesse Knight, Dixie Unruh, Marilyn Miles, Barbara McCall, Valerie and Harry Cooper, District Attorney Bonnie Dumanis, County Supervisors Pam Slater-Price and Dianne Jacob, Jeanne Jones and Don Breitenberg, Dee Ammon, Katherine and Julian Kaufman, Dian and Admiral Raymond Peet, Marilyn Miles, and Virginia Monday.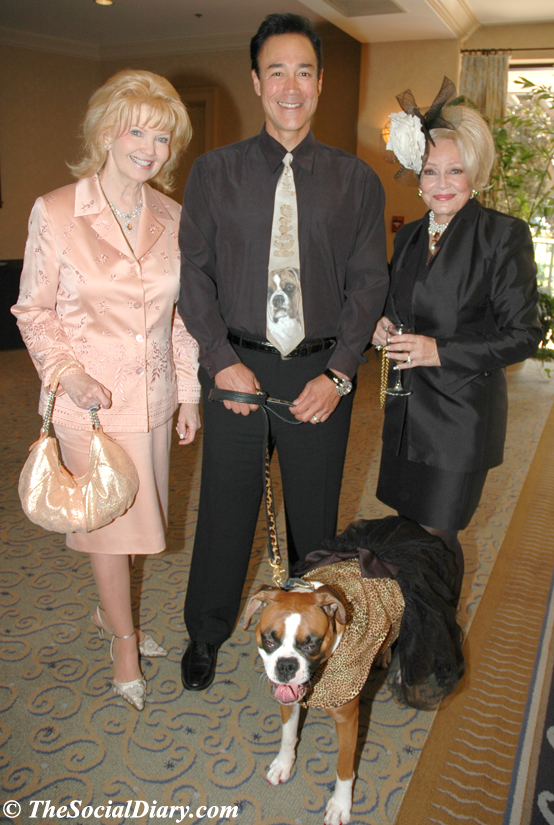 Cristull Hasson, Scott Johnston, Honorary Chairperson Phyliss Parrish, and Kima who is waking up for the excitement!!
There was a plethora of silent auction temptations, cocktails, and a Chef Steve Black perfect lunch of Portebello Mushroom with Pinot Noir Sauce, Grilled Salmon Roulade Salad and Dessert Trio. Chocolate was of course a part of that trio.
St. Madeleine Sophie's Center's Executive Director Debra Turner-Emerson and Board President Roger Roberts welcomed guests.
Community leaders were then presented. Among the list was Sally B. Thornton, Dede and Ron Carlson, Dian and Admiral Raymond Peet City of El Cajon Police Chief Pat Sprecco, John Parrish, Kate Seiber, the Executive Director of the Kraemer Endowment Foundation, and Sutherland.
Sutherland was a scene stealer and a wagger too. Sutherland is a St. Madeleine Sophie's Center Therapy Dog.
More scene stealers were to come. These included Evan Austria, Brian Axelson, Fran Axelson, Lisa Spencer, Wilma Sutton, Gene Poutous, Mark Rimland, Ryan Sage, Maureen Sage, Fedela Santiago, Christina Shihata, Heather Birch, Karla Bryan, Jonathan Copeland, John Duella, Marla Eaves, Clevester Gaither, David Mulvaney, Nick Perretta, Mary Beth Gillette, Craig Klareich, Amy Mansour, and Morgan Mulvaney.
A special performance by SMSC students enthralled guests. Performers included Charlie Lizzarraga, and dancers Jeff Alton, Jonathan Copeland, Adriana Diaz, Andrea Mosley and Lisa Spencer. They were accompanied by Music Therapist Darci Fontenot, and Assistant Program Manager Karla Bryant. They performed a heart warming and heart tugging rendition of Imagine.
More guests in the audience enjoying the show included Joy Furby, Cristull Hasson, Mary Walker, Esther Jane Paul, Carol Karlovich, Daran Grimm, and Jim Mulvaney.
Jim Mulvaney had a colorful artwork tie on. The tie's design is by one of St. Madeleine Sophie's Center's own.
Then it was time for more fashion. Colorful and fabulous was the Fashion Forward Show as declared by fashionistas Barbara ZoBell and Valerie Cooper. And brilliant it was. The show was produced by KUSI's Style Guy, Leonard Simpson.
Enjoy the Photos!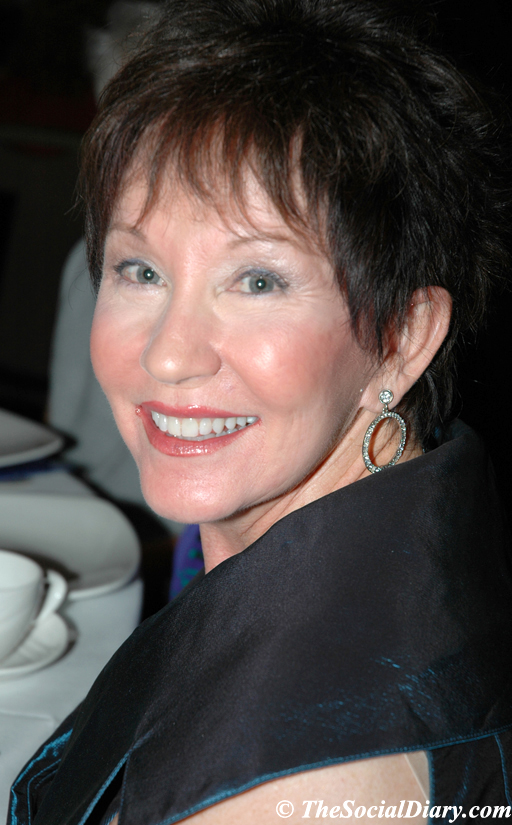 Dede Carlson
Honorary Chairs John and Phyliss Parrish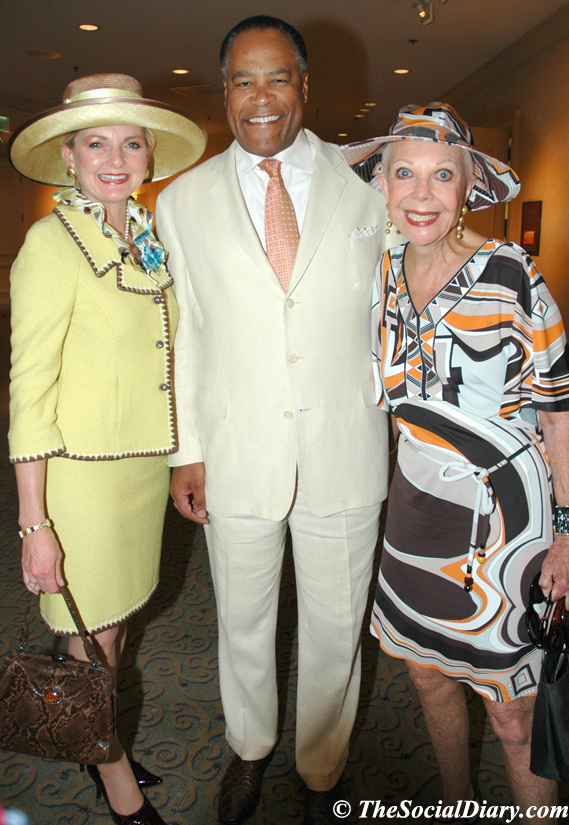 Joye and Jesse Knight with Jeanne Jones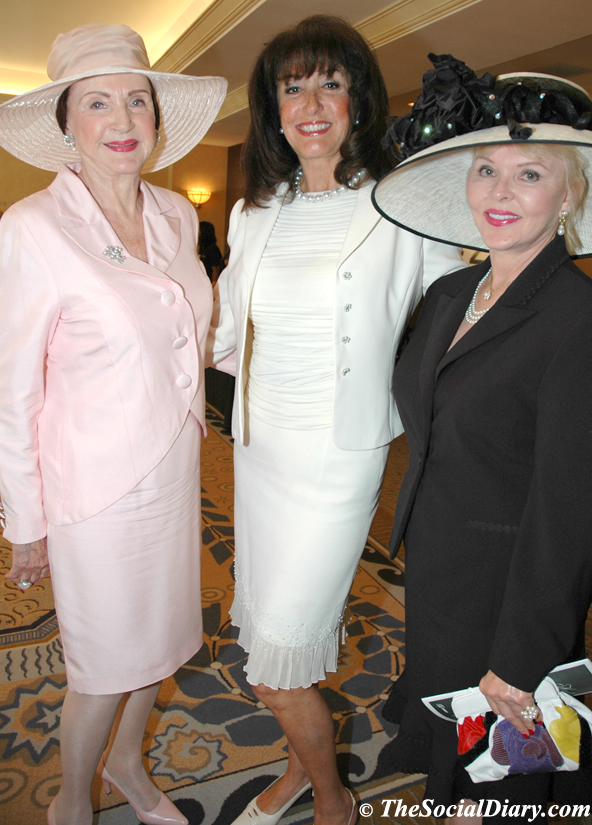 Mary Walker with Daran Grimm and Carol Karlovich
A pretty smile with Lizz Russell Purses ** Guest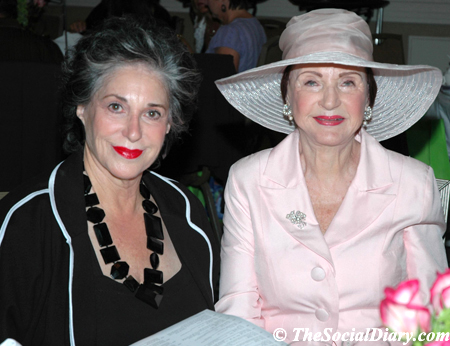 Esther Jane Paul with Mary Walker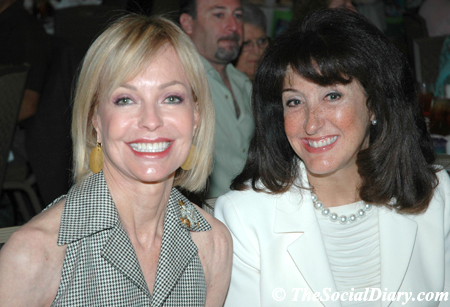 Barbara ZoBell with Daran Grimm
Chuck Hansen ** KUSI's Style Guy Leonard Simpson getting a kiss from Kima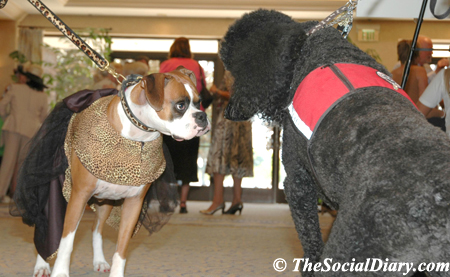 Kima meeting Sutherland, the SMSC Therapy Dog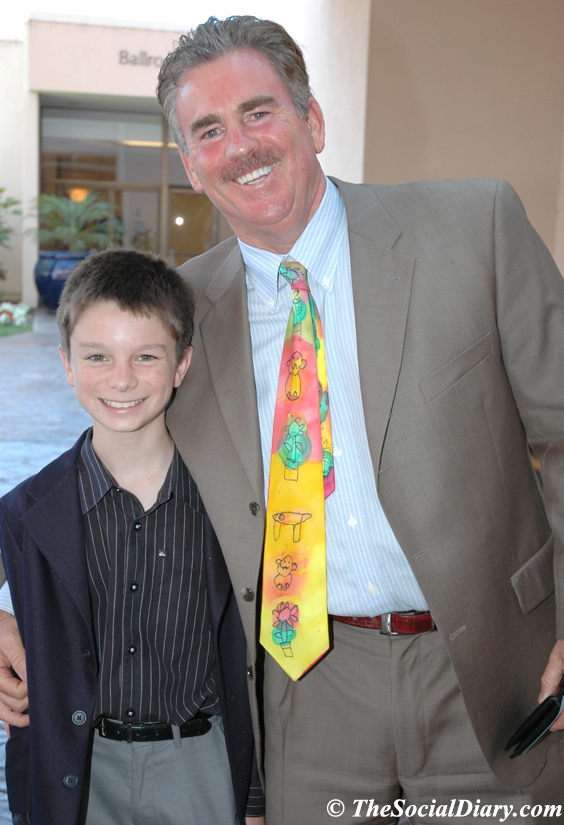 Jim Mulvaney with that great SMSC tie and his terrific son
Behind the scenes of the Fashion Forward Show....
La Martina of La Jolla Polo Fashions, Ooh La La, Mr. B's, Lizz Russell, Radiance International Fine Jewelry, Tommy Bahama and more...!!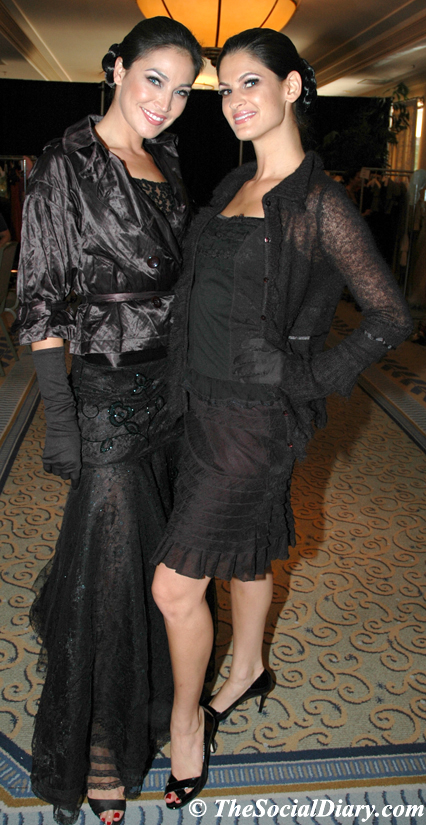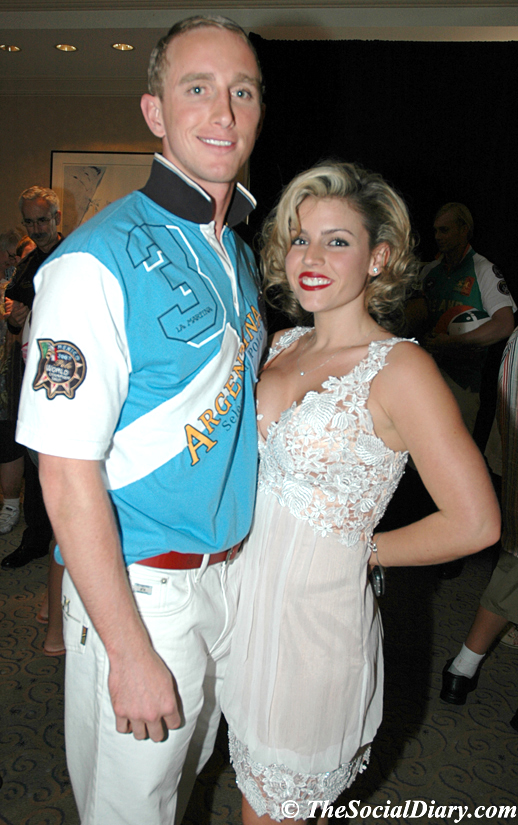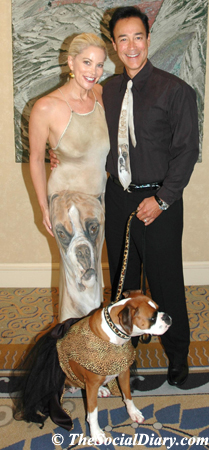 reported by Margo Schwab in a 'Kima Gown,' hand painted and Jordan designed gown, Kima in a custom gown by Jemima Garcia of La Jolla, and Scott Johnston in Polo with the perfect ' Kima Tie' by Jordan.
The Social Diary would like to say a big thank you to Jordan of www.jordanartcouture.com for our terrific Kima inspired outfits, and to Jemima Garcia
& a special thank you to Leonard Simpson of Fashion Forward for having The Social Diary's Margo Schwab, Scott Johnston and Kima in his show!!
To learn more about St. Madeleine Sophie's Center please visit
Sponsors for this event included Hai Elite, Sempra Energy, Sycuan Resort & Casino,Carlton Hair,
and Lead Sponsor, San Diego National Bank
Email Commentary to be added
"Just wanted to thank you again for the great coverage of our fashion show and for you and Scott and Kima walking the runway!!
We have added your story to our front page of website." - Erich Foeckler, CFRE, Director of Communications & Special Events,
St. Madeleine Sophie's Center
"What great coverage of the Fashion Show! Thank you so much for sharing your story about St. Madeleine's Fashion Show with me. I work directly with Erich Foeckler, the Director of Development for SMSC. I work all year on the Fashion Show with Erich; it is delightful to see the end result so well put together on your website. I am so pleased to see the St. Madeleine's family expanding. I will make sure the coverage goes out to our staff and Board of Trustees at St. Madeleine's! Thanks again." - Nora Boswell, St. Madeleine Sophie's Center
"Great dress! Veronica told me about it and it is great!" - Andréa Muir, Director of Development, Arthritis Foundation, San Diego Chapter
"Wow - Great pics. That's beautiful your dress with Kima's face." - Kyoko Trim
"MARGO THANK YOU AND SCOT AND KIMA FOR BEING IN THE SHOW. ALSO THE PICTURE OF BRITTANY AND RANDALL IS STUNNING THANK YOU FOR THAT." - Leonard Simpson
* Margo Schwab, more formally known as Margaret E. Schwab, has produced, written, interviewed and photographed for various media organizations since 1989. Schwab attended Holton Arms School, La Jolla Country Day School and La Jolla High School. Schwab has a B.A. from Scripps College, spent a business internship with S.A.I.C., Science Applications International Corporation, and earned a Masters of Business degree, M.B.A., from the University of San Diego. Schwab volunteers for numerous charity organizations. She also continues to support animal organizations and the prevention of people and animal abuse. Schwab is the editor of The Social Diary.
Warning ** photos, video and writing on this site are the
copyright of The Social Diary, San Diego Social Diary
no reproduction of any part or parts is allowed without written permission by The Social Diary