St. Germaine Silver Tea
The 26th Annual Silver Tea benefiting St. Germaine Children's Charity was held December 8th, 2009 at the La Jolla coastal home of Diane and Roy Bell.
The home is so spectacular it's been dubbed Seacliff, as it is literally a house on a sea cliff.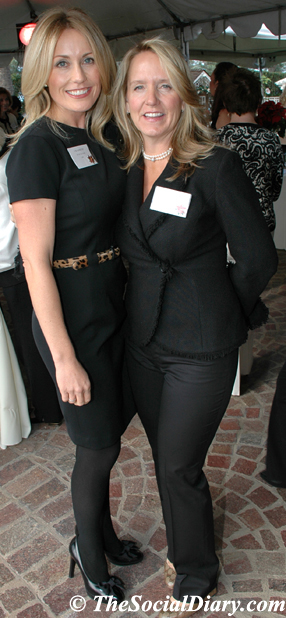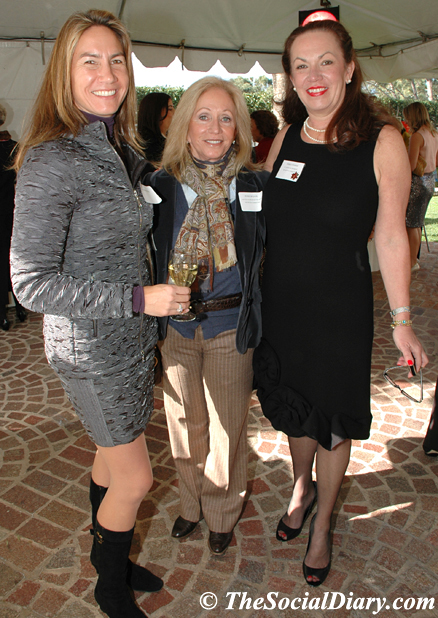 Event Chair Lisa Khoury and Event Co-Chair Tiffany Brown ** Natasha Reiss with Susie Spanos and St. Germaine President Terry Cooper
It's historic too! Originally built in 1901, the home has been masterfully renovated by San Diego architect Bill Hayer, and decorated by interior designer Fred Gemmel.
So with a spectacular setting, nearly 400 guests came and enjoyed tea sandwiches of egg salad with asparagus, cucumber sandwiches, cookies and mini dessert bars, and tea of course.
All food items were homemade by St. Germaine members. Tea and coffee was poured by members too. St. Germaine is after all an all-volunteer organization that raises monies for child abuse prevention programs.
Among those there enjoying the tea were St. Germaine president Terry Cooper, event chair Lisa Khoury, event co-chair Tiffany Brown, Merle Lotherington, Susie Spanos, Sue Kalish, Karen Miller, Gigi Cramer, Karin Camp, Marilee Warfield, Sally Irwin, Jeanie Carlstead, Kim Alessio, Sarah Burton, Nina Doede, Patty Elkus, May Zawaideh, Lisa Casey, Dede Carlson, and Susan Golding.
Susan is head of the Promises 2 Kids organization that helps prevent children's abuse. It's also one of the many charities funded by St. Germaine Children's Charity.
More there included Noni Senyei, she hosted last year's event, Jeanne Larson, Kathryn Murphy, Natasha Reiss, Joyce Dostart, Molly Eldredge, Anne Halsey-Smith, Patty Hambleton, Cristull Hasson, Cindy Goodman, Lauren Gross, Peggy Preuss, Mimi Swenson, Jill Mullen, Susan Oliver, Micki Olin, and Gloria Skoldberg and her son, artist Erik Skoldberg.
Erik donated a painting for the auction.
Pat Whalen was there, she wouldn't miss the tea, and neither would Shannon Turner, Lyn Krant, and those raffle ticket selling gents, Dale Miller and Greg Cooper.
The men wore tuxedos and they were very successful in coaxing extra donations out of the ladies.
Over 26 years. St. Germaine Children's Charity has awarded over $2.2 million in grants and over $1 million for in-kind gifts.


Please enjoy the photos. If you wish to purchase photos, please email your inquiry. No downloading of photos without express written permission by The Social Diary thank you.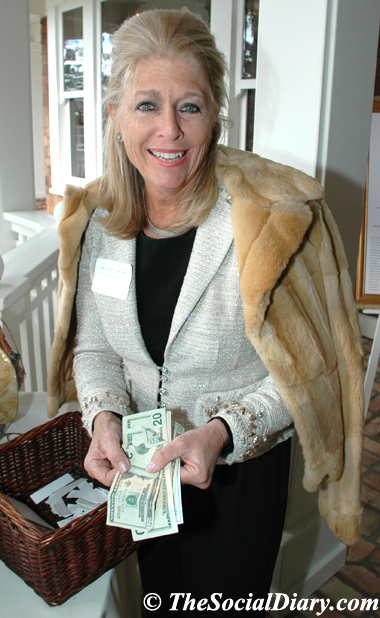 Shannon Turner keeping tabs on the opportunity drawing revenue ** Jill Mullen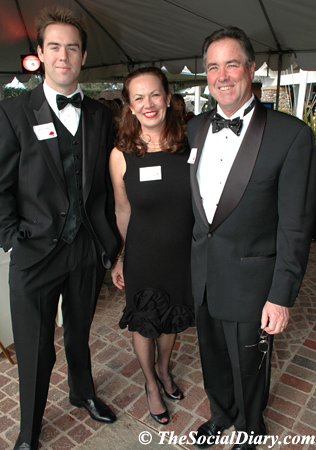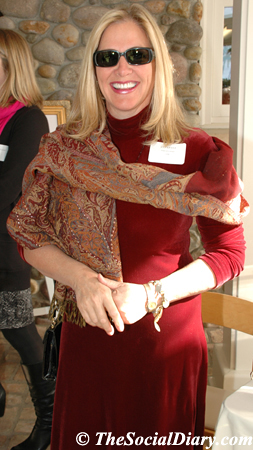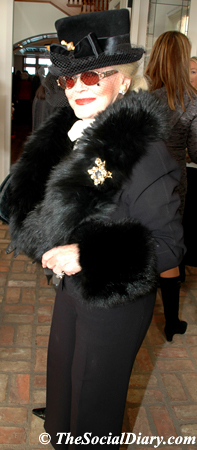 Grant Cooper with his parents Terry and Greg Cooper ** Lyn Krant of SK Sanctuary ** Phyllis Parrish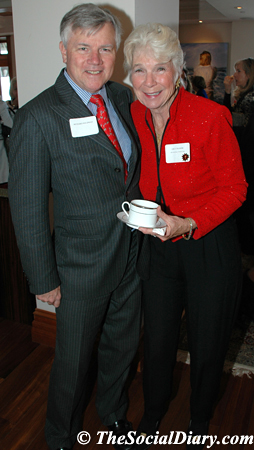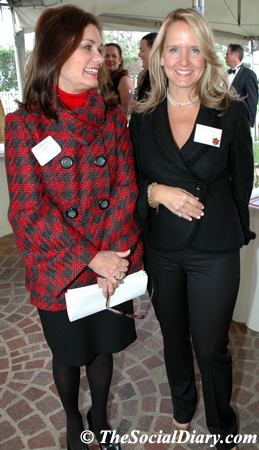 Rick Wildman with Gigi Cramer ** Sarah Burton and Tiffany Brown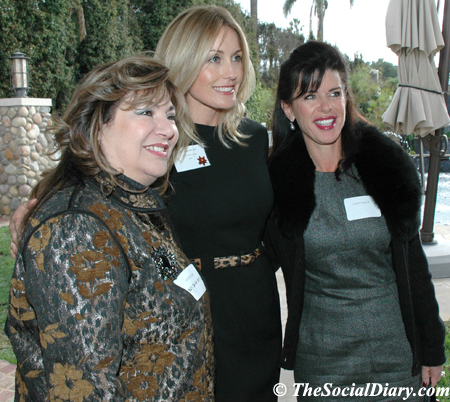 May Zawaideh with Lisa Khoury and Patty Elkus
Marilee Warfield with the check-in gals
advertisement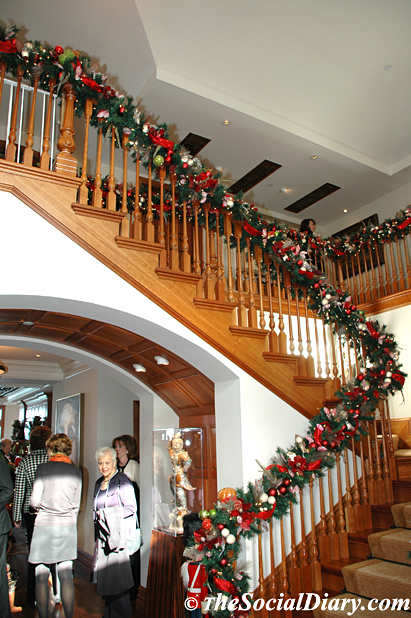 The Halls and Stairs were Decked in Holiday Spirit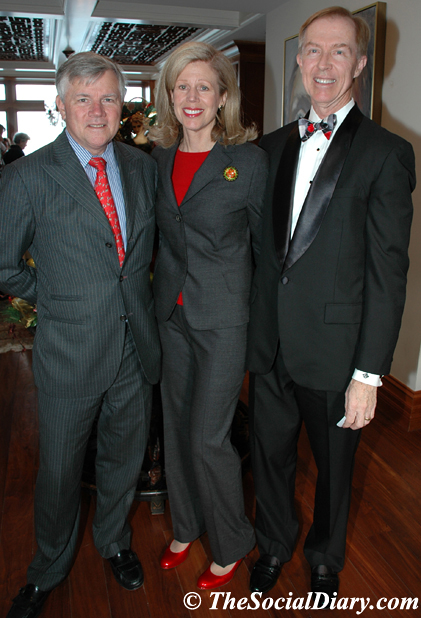 Rick Wildman with Karen and Dale Miller ** Tiffany Brown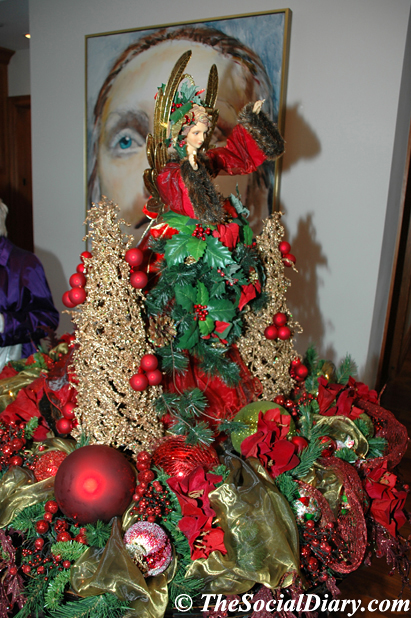 Holiday Decorations
The Silver Tea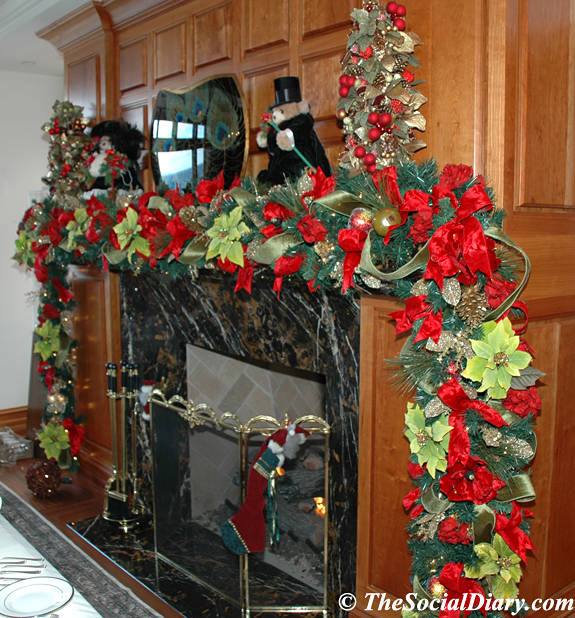 Holiday Decorations on the Fireplace Mantle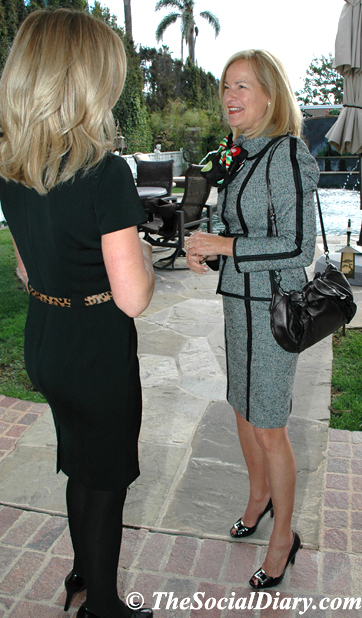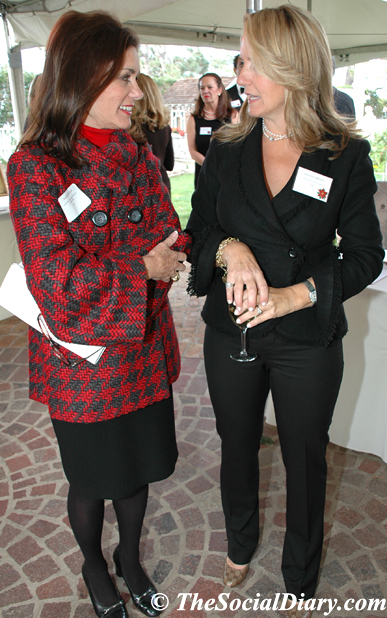 Lisa Khoury and Susan McClellan ** Sarah Burton with Tiffany Brown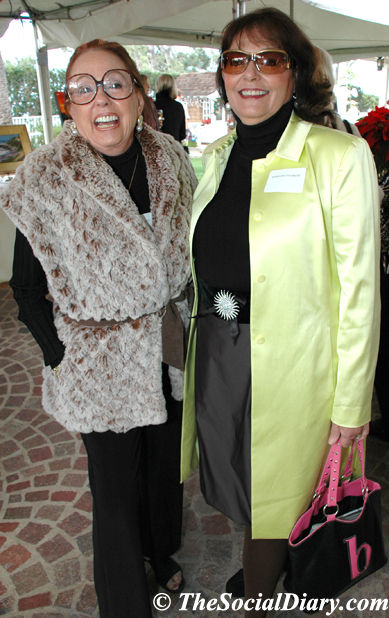 Pat Whalen with her daughter Barbara Colbrese ** Susie Barbey Booth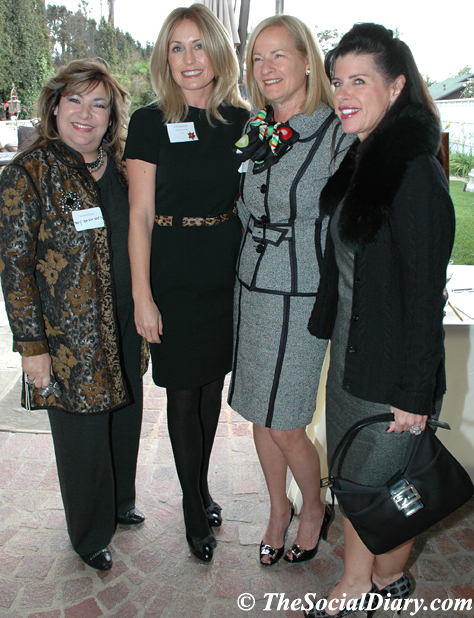 May Zawaideh with Lisa Khoury, Susan McClellan and Patty Elkus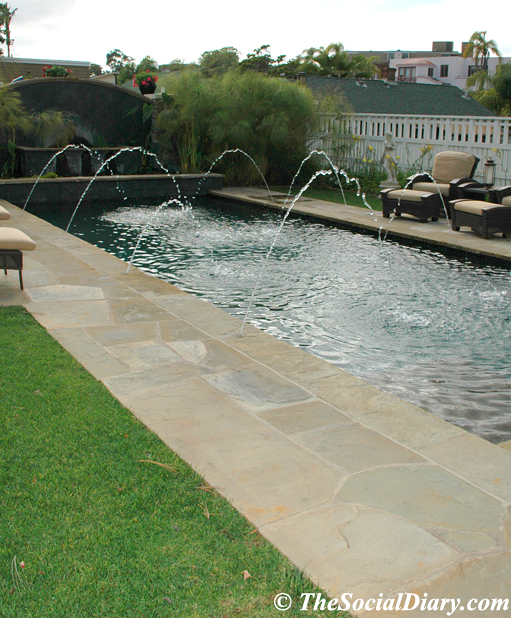 The Bells' Pool and Fountains
To learn more about St. Germaine Children's Charity, visit www.stgermainechildrenscharity.org
reported by Margo Schwab
photoshopping by Scott Johnston
The Buzz
Later that day Sarah B. Marsh- Rebelo hosted an exquisite private tea at the Lodge at Torrey Pines. This traditional tea has become a traditional event.
Tea, Champagne, tea sandwiches, sweets and those wickedly perfect scones were served.
Among the many dressed to the nines there were Valerie Cooper, Natasha Josefowitz, Lynda Kerr, Jennifer Greenfield, and Tanya Brandes.
Tanya, an MD from Stanford, was zipping from the tea to work a long shift in one of the public hospitals in L.A. A regular thing she does in addition to international medical missions.
A lovely day with a lot of lovely gals who do so much for San Diego and beyond!
......................
&
those animal loving girls.....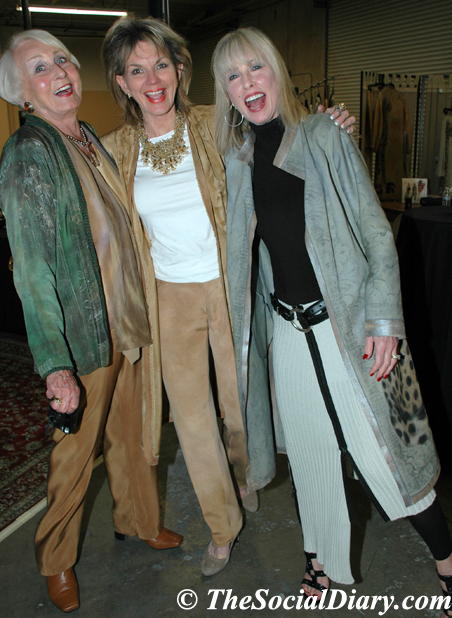 Lilo Miller with designer Jordan and Connie Basterache!!
The Designer Jordan just opened up her chic Salon / Studio in Sorrento Valley. Jordan is not only inviting clients to her workspace, but she has also already hosted private events too. One event to look forward to at Jordan's Salon is on May 20th. Dr. Laurie Marker of the Cheetah Conservation Fund will be hosting a fundraiser for the critically endangered cheetah.
Jordan, as you may or may not know, is famous in San Diego and beyond for her give back stance on animals. All hand painted couture designs by her help contribute to animal welfare. Check out
to learn more.
&
That 15 year old tenor................ If you have not heard this 15 year old from Australia sing opera, have a listen..... buzz at the recent Dow Diva meeting for the San Diego Opera is that Artistic Director Ian Campbell is already aware of this rare talent!
Have a listen and enjoy!
http://www.youtube.com/watch?v=LnOczKJ6LDk
Restaurant Week in La Jolla!?!.... Should be spectacular high tides at The Marine Room!
____________________________________________________________
Photoshopping and Photography Services
Photos on this website available if it is of you
available by The Social Diary
~ 619-384-7333
email TheSocialDiary.com
_______________________________________________________________
Email Commentary to be added
email editor@thesocialdiary.com
* Margo Schwab, more formally known as Margaret E. Schwab, has produced, written, interviewed and photographed for various media organizations since 1989. Schwab attended Holton Arms School, La Jolla Country Day School and La Jolla High School. Schwab has a B.A. from Scripps College, spent a business internship with S.A.I.C., Science Applications International Corporation, and earned a Masters of Business degree, M.B.A., from the University of San Diego. Schwab additionally took college courses from Harvard University, and Syracuse University. Schwab volunteers for numerous charity organizations. She also continues to support animal organizations and the prevention of people and animal abuse. Schwab is the editor of The Social Diary.
Margo Schwab and Scott Johnston of the Social Diary are pleased to announce partnerships with the San Diego Humane Society, San Diego Home & Garden Magazine, and San Diego News Network.
San Diego's The Social Diary would like to say a special thank you to our advertisers.
Valerie and Harry Cooper supporting the San Diego Opera
Valerie and Harry Cooper supporting The Museum of Contemporary Art San Diego
Judith C. Harris, Blair Harris, and Robert Singer, MD supporting the
Dian Fossey Gorrilla Fund International
Sammy's Woodfired Pizza
Roppongi Restaurant and Sushi Bar
Mosaic Catering
La Jolla Beach & Tennis Club
La Jolla Shores Hotel
The Shores Restaurant
The Marine Room
Dr. Laurie Marker of The Cheetah Conservation Fund
H. Moradi Fine & Estate Jewelers on Prospect Street in La Jolla
Pamela Pogue of Juelerie
Kary Favish of the Worth Collection
Diana Cavagnaro of Designer Millinery
Jordan of Jordan Art Couture and Animal Fashions by Jordan
Lizz Russell of The Lizz Russell Collection - Purses and Gowns
Gary Parker of WineSellar & Brasserie
Owner and Chef Pasquale of Cafe Milano on Pearl Street in La Jolla
Alex Gonzalez of Mercedes Benz of San Diego
Kevin Smith of Extreme Pizza in La Jolla
Jeremiah Sullivan of Neptunic Sharksuits
Drs. Sue and John Morizi of The Animal Hospital of La Jolla
Eugene Ladopoulos of Mistra Estates Olive Oil
Warning ** photos, video and writing on this site are the
2010 copyright of The Social Diary LLC and its subsidiaries.
no reproduction of any part or parts is allowed without written permission by The Social Diary