~ The Social Diary ~
the on-line magazine covering High Society ..& more
____________________________________________________________
Water Sports News from Hawai'i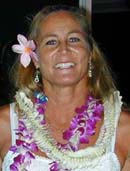 by the Social Diary Hawai'i & Water Sports Columnist Sonja Evensen
Column #1, February 8th, 2006
Oahu is probably the island most suited for any of our water sports…with the best waves, variety of breaks for all levels, and enough wind for kitesurfing. I might go out on a limb to say that it sometimes rivals Maui for windsurfing, (Backyards is practically empty these days) though Maui has long taken the seat as the Mecca for windsurfers.
(pictured here - Norwegian born, now a Hawaiian local, Sonja Evensen charging down an overhead wave off of Diamond Head, Oahu)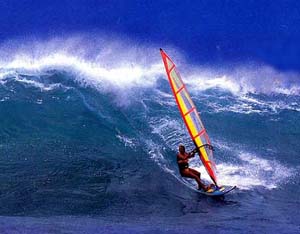 As far as waves go, there is no such thing as a secret spot anymore, but there are numerous less-known breaks all along the way that used to be people's backyard favorites. Those days are over. Well, at least the local residents get the first crack at it before the word gets out. To name a few of those cherished spots, I will rattle of some names such as: Silver Channels near Mokuleiea, Rainbows on the NE side, Mokuluas, Toes, "Secrets" (no secret anymore), China Walls, Rabbits, and Suicides to name a few around the island. (It will be your job to figure it out.) Some spots are easily accessed but others might either require a boat or a long paddle, or a local knowledge of where to get out.

Surf News Network (596-surf or surfnewsnetwork.com) gives updates three times a day plus a forecast, taking the guesswork out of it…except if you want to visit those other spots not mentioned in the standard reports. Generally you can count on North shore guys under calling wave heights, and south shore surfers sometimes getting carried away with a tad bit of exaggeration. Not long ago, the National Weather service here finally switched over to calling wave heights by the faces, which is what California has done for years. However, switching over was as unappealing to locals as the metric system to most Americans, so most radio stations are still running "Hawaiian" sized wave heights (calling the heights from the back of the wave). Most surf reporters will specify which system they are using to call wave heights.
Surfing has become so mainstream that almost anywhere you go will be crowded, with a fair share of aggression happening when people feel territorial. Typically the North Shore or even the West side has been known for fights in the water, but it happens everywhere. Who doesn't know what "stink eye" means? It's probably the last look you'd get before getting "cracks"---and the old movie "North Shore" and others has made almost caricatures out of those types. Indeed it happens, but it is mostly about respect. Most people are still very friendly, if approached respectfully.

Newcomers will hopefully follow some sort of etiquette that is expected in the water. If you don't know, ask someone or ask the lifeguard. Know your limitations for surf size and check the water for currents or other hazardous conditions.

Surf schools have sprouted up everywhere, and some of them have ventured out of the typical Waikiki scene to Diamond Head and other less crowded breaks.
Let me switch gears and talk about the kitesurfing scene, the last of the -'surf' vehicles to hit our waters. Windsurfers have become a rare breed and most of them have switched over to the newer version. There is less to carry, it's easier to travel, and you can go out in more conditions. You need less wind than a windsurfer, and it takes less time to become proficient. But wait, there is a catch. It is very expensive (though prices have come down a bit) but still a kite will cost in the $800 range. Then you find out you need 3 of them!

Kailua has a long, white sandy beach and ideal wind directions, with consistent sideshore winds of about 10-20 mph regularly. It has become one of the most popular kitesurfing spots on the island, and most lessons take place there. However, there has been a bit of an uproar within the past two years, and the Kailua Neighborhood board has convened several meetings to discuss the issue. Some unhappy residents would like to see the sport banned altogether. Neighbors fronting the kite launching spot in Kailua complain of kiters landing in their yard, cutting down trees to retrieve kites, dangers to beachgoers, and other potential hazards created by the sport. Kite surfers would like to self-regulate and have proposed several safety measures that they think should alleviate the problem.

The latest development in the discussion of kite safety has a proposal on the table to certify who is "competent" and who needs to be referred to a school. Who knows where that discussion will end? Until then, lessons continue to be offered, at a price of approximately $100 a lesson. It is definitely one of the most thrilling sports to try, or even to watch.

* Sonja Evensen is an ex-pro windsurfer who moved to Hawai'i from Norway over 25 years ago. She competed professionally for a little more than a decade. Currently she divides her time between windsurfing, surfing, and kitesurfing, not necessarily in that order. Besides her love of the water sports lifestyle, Sonja works as a program evaluation specialist for Pacific Resources for Education and Learning ( www.prel.org ), a job that takes her traveling throughout Micronesia and good surf spots.
More…..
She windsurfed across the Molokai Channel 3 times, "once out of curiosity, once for a race, and once for transportation." The last time she got stuck in the doldrums for hours in an unanticipated drop of wind. Her most exotic windsurf story was when she nearly ran into a hippopotamus while windsurfing in Lake Malawi (Africa).
Important people in Sonja's life include:

Rell Sunn was one of my best friends. She taught me how to surf!
"Heart of the Sea is an hour-long documentary about Hawaiian legend Rell "Kapolioka'ehukai" Sunn who died in January 1998 of breast cancer at the age of 47. Known worldwide as a pioneer of women's professional surfing, in the Islands Rell Sunn achieved the stature of an icon — not only for her physical power, grace and luminous beauty, but for her leadership in a community that loved her as much as she loved it. Named one of Hawai'i's most influential women of the 20th century by ABC television, Sunn - whose Hawaiian name means Heart of the Sea - was eulogized in the New York Times for having "captured the heart of Hawai'i during a 14-year battle with cancer." Heart of the Sea.
More of Sonja's friends ....
Artist Jeannie Chesser, mom of former pro surfer Todd Chesser, who died surfing several
years ago : www.surfingarts.com

Here is a video clip of one of my best friends, Erik Eck. I think this is probably the most radical footage of how kitesurfing can go wrong. At a 2001 event on the North shore, Erik caught a gust of wind when he was trying to land his kite on the beach and was lifted up two hundred feet in a thermal. But he managed to bring the kite back down and only dropped hard the last forty feet, walking away unscathed. Thankfully his cool-headedness saved him. This is the guy who taught me how to kitesurf. I almost quit after this happened to him.
http://video.tododo.com/airtime/airtime_by_radicool.net_wmv9_320x240.wmv
This is the link to Surf News Network (SNN). I do radio reports for them a couple of days of the week. SNN is the most information-rich surf reporting site in Hawaii. Surf News Network.

My favorite charity is to send some kids to a good school in Micronesia. There is no fund yet established for this. I do this on my own. My favorite organized charities are:
http://www.hadassah.org.il/English
http://www.weizmann.ac.il/

back to New this Week.........Sonja Evensen's Archives..........Home
Warning ** photos, video and writing on this site are the
copyright of the author, The Social Diary, San Diego Social Diary, margomargo.com and Margo Schwab.
no reproduction of any part or parts is allowed without written permission by Margo Schwab